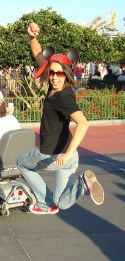 1. Guess what, it's Designer A;ex's birthday! Tell her happy birthday! She's like 17 or 24 or something, which means she's still a babypop. Alex's number one feeling is RuPaul. Alex wants to live in a treehouse on a deserted island and bang on the drums all day. When things just ain't right, Alex will shriek and then dive to the ground or bed and contract her body into a suitcase-sized package, like a small defense-savvy forest animal. When Alex first met me (Riese) and Haviland, she asked us where we like to go out dancing [Haviland: "We're not joking when we say we never go out."]. There is a video on youtube of some girls in their basement practicing Alex's signature dance move, the semicolon side-punch. In that photo right there she is getting some serious air while hopping through the Magic Kingdom. Last year we printed that photo on sugar cookies. They didn't taste very good, but they were the most amazing things probably ever made and we were very proud of ourselves. Tell her Happy Birthday! She's 24! I know! BABY, I tell you. (@autostraddle)
---
2. A former drag king and a blogger, 27 and 25, "have a politically subtle mission: to integrate the region's gay scene, which they say caters to crowds that are typically older, white, wealthier and male. Kids discuss what "New Gay" means, with great quotes  like; "The meaning of the word 'queer' has been reclaimed. The way we now look at gender is a lot different from a generation ago." Holler. Check out B.O.I Productions and New Gay, both discussed in the article. (@washington post)
---
3. Sigh. So this actually happened: a lesbian gym teacher is charged with having an inappropriate relationship with student. (@mercury news)
---
4. This is really fascinating –"In Mexico, Beyond Gay and Straight." it's a photo slideshow — "In the largely indigenous communities in and around the town of Juchitán, the world is not divided simply into gay and straight. While Mexico can be intolerant of homosexuality, it can also be quite liberal. In Mexico City, for instance, same-sex domestic partnerships are legally recognized. But nowhere are attitudes toward sex and gender quite as elastic as in towns like Juchitán, in the far reaches of the southern state of Oaxaca … Muxes are men who consider themselves women and live in a socially sanctioned netherworld between the two genders." (@the new york times)

---
5. Grey Gardens Preview! Starring Jessica Lange and Drew Barrymore and airing April 18, 2009 on HBO. We can't hardly wait.
Grey Gardens "sneak peek":
---
6. The Advocate has a nice piece on "The Cult of Grey Gardens," considered a "rite of passage for gay men." "Still, you don't need a degree in queer theory to see the attractions – Little Edie's famous, madcap approach to wardrobe; her equally hilarious flair for conversation, in which, like her clothing, she melds the utterly practical and sublimely absurd; and the fact that she was Jackie Kennedy's first cousin. What gay man wouldn't identify with someone who wore outlandish outfits, starred in her own movie, and was related to (and prettier than) Jackie?"  (@the advocate)

from alex
I recently got myself a pair of Feiyue Sneakers [@The Cool Hunter] and they are totally awesome. The Feiyue site has lots of styles and colors to choose from for around $65. But if you're cool with simple blank or white low or hi-tops, you can get them at the Martial Arts Mart for $27.99.