Today we woke up to find that the fragile non-enforcement of DADT ferociously defended by judge Virginia Phillips is still in place. For now. Mostly. I don't understand why this is even still an issue, I want to scream from my eyeballs. From The New York Times:
A federal district judge in California said Monday that she is inclined to deny the government's request to allow the Pentagon to enforce its "don't ask, don't tell" policy on gay and bisexual members of the military while her injunction against it is being appealed. "My tentative ruling is to deny the application for a stay," Judge Virginia A. Phillips said at a hearing on the government's request, according to Reuters. She is expected to issue a ruling to that effect on Tuesday. The Obama administration has defended the law, arguing that change should come from Congress, not the courts; last week the Department of Justice gave notice that if the request for a stay was denied or not resolved by Monday at noon, it intended to appeal to the Ninth Circuit "to allow the orderly litigation of the stay request before that court."
(@nytimes)
Even more tellingly/importantly, the Associated Press is reporting that the order has come down from high-level military officials that recruiting stations can no longer turn away applicants who are gay, which we theorize means that they foresee this injunction standing for at least the foreseeable future and thus are grudgingly abiding by it. They don't necessarily see it standing forever, though.
…Pentagon spokeswoman Cynthia Smith has announced that "top-level" guidance has been issued to recruiting commands telling them that the "don't ask, don't tell" policy prohibiting openly gay and lesbian people from serving in the military has been suspended, at least for now.
But recruiters have also been told to tell possible LGBT recruits that the moratorium could be re-instated at any time.
(@dallasvoice)
Pretty much every reputable source is advising soldiers to stay in the closet for the time being, as this is unlikely to be the final solution to the clusterfuck that is Don't Ask Don't Tell and out soldiers will probably still face consequences in the future. Dan Choi, however, is holding them to their word.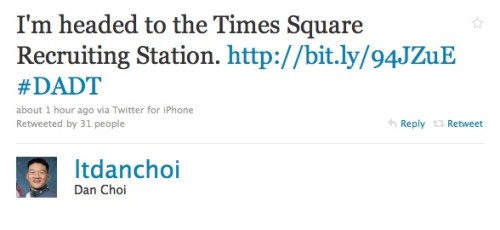 If he is indeed allowed to re-enlist (and I'm not sure he will be, it's possible that his insubordination/civil disobedience will still be enough to bar him besides his homosexuality) it will at least provide a very public way to track the reality vs. the theoretical status of DADT – that is, when Choi is eventually re-discharged, we'll all have a barometer for the abject failure of the government to handle this situation. Because lest you forget, the government IS trying to make sure this fails. Today a lawyer with the Clinton administration (which was responsible for DADT in the first place) stated that he thinks Obama should argue against Phillips' injunction BUT simultaneously argue to federal courts that the original DADT law in 1993 was unconstitutional.
"I would like, at the right time with the right military process being worked, to see the government actually switch its position," said Walter Dellinger, who served as acting solicitor general under President Bill Clinton. "The president, in his capacity as commander in chief, can make his own judgment that [don't ask] is not necessary. … He doesn't have to give judicial deference to the political branches."
Will the President take that advice? Only time will tell, but right now the betting money says that time will tell us "no." There's no way to foresee how this fight will develop, but if past performance is any indication, the people who will eventually be responsible for ending DADT will be individuals working their power to the best of their ability in defiance of the administration, and this presidency will have passed on one more opportunity to effect radical change.