This week on the show that no one besides me and Stef are talking about, it must be lunchtime at this shoddily constructed preschool of a mansion, because everyone's throwing tantrums and Farrah's fibbing to the class. James Deen was not your boyfriend, sweetheart.
Picking it up right where we left off, Taylor and Whitebread Simpson are still throwing the fit of their lives. Again, I'm 99% sure someone slipped the girl a couple twenties and told her to make like the Black Eyed Peas and get it started in here. Taylor's fiancé just wanted to go back to his room, take a shower, and use Taylor's oversized lips as a pillow. Now Taylor is on the phone with Dr. Jenn telling her that the accommodations are ridiculously unfit for her status as the least interesting person on the second least popular Real Housewives franchise.
Taylor: I can't live like this. I have pea green towels. Do you have pea green towels in your house?…I can't live in these conditions…I want to wake up with the same latte and filet mignon I have in my home.
Dr. Jenn says in her talking head that there is no way she is treating Taylor in Taylor's own home. Why? Well, that would probably be more responsible as a therapist and is much more highly recommended by the medical community but this is a reality show, kids. If we can't watch Taylor wipe her own ass with pea green towels while complaining that a servant isn't doing it for her, what's the point?
Sara intervenes, and YO. She gets the realest anyone on this show has gotten thus far. She points out that Taylor has not been playing the dumb diva prior to this tantrum, and it seems fakes as fuck. She reminds both Taylor and her fiancé Whitebread Simpson that they didn't come here to make total asses of themselves. Part of me was like, okay, wow, that's legit, but again…reality television. But! I think this speech was more about Taylor's unexpected and extremely irritating behavior, which Sara is probably super sick of and intensely sensitive to because Romi.
Next day in therapy, Dr. Jenn is wearing another checkerboard mesh top and Taylor says she only throws tantrums because the producers told her to, also she needs her house to be perfect because her life is far from perfect? Ghostface continues to be the Grand Emperor of Asshats and saying that he's not into Kelsey anymore because she was a stripper. Sometimes he refers to her solely as "a stripper" which further convinces me that he a) keeps forgetting her name, b) was blackmailed onto this show and has suddenly seen the opportunity to get out of here by blowing up this whole stripper thing, and c) is still kind of an asshat. At the end of the day, these two should not be together. Kelsey leaves in the middle of the session to join her flock of gloriously-crested cockatoos in a tree outside the house.
Now it's Farrah's turn to continue to be all therapified even though she is single on Couples Therapy. Luckily, that means it's also time for my favorite part of the episode, which is watching Farrah cry with all that plastic in her face. Good to see that her cry face is just as disturbing as it was pre-adjustments.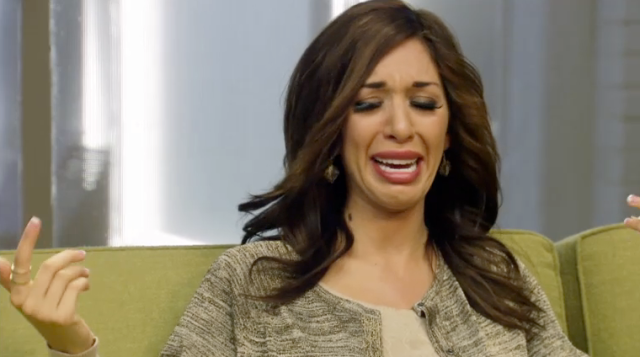 Then it's lunchtime, and Ghostface tells Kelsey that she's a smart woman and she knows how it is over a literal crock of Country Crock butter substitute. Maybe it's just the English major in me, but that is some serious symbolism right there.
The next day, Whitney and Sara forgot this wasn't The Real L Word and they're not obligated to pleasure each other on camera. Actually, I'll be real, it's pretty cute, especially when Sara does the little mini punches on Whitney's chest and then collapses into her. Probably less cute after we found out that Sara did real punches on Whitney's chest that one time at the club, but I'll take what cute lesbian moments I can get, okay?
And now, for the best part of the episode, which I wish I could just post as a clip because it is so unbelievably good. Farrah unknowingly walks directly into the trap to end all traps, by bringing up someone else doing porn. Sara uses this to segue into the question every person in the universe has wanted to pose to Farrah.
Farrah: Doesn't she do porn stuff?

Sara: Have you ever done that before?

Farrah: *in the most incredulous tone ever seen on this planet* Porn? No, I'm not in that industry.

Sara: Because my friend said she saw you in one yesterday.

Farrah: I have a sex tape with me and a boyfriend, yeah.
Okay, let's get a couple things straight. Sara does not have a "friend" who was watching "Backdoor Teen Mom" "yesterday." And after Farrah explains that she sold the tape to Vivid and named it herself, I think we can all agree that this is not a sex tape. As Sara succinctly puts it, girl thinks she's Kim Kardashian, but she's not. For example, Kim Kardashian runs a lucrative business, and is one of my favorite people in the world. Farrah is one of my least favorite people in the world, although I will pay top dollar for a compilation of her cry faces. The beauty of reality television and the culture it's created is that people I'd probably murder in real life if I had to spend more than five minutes around them are people I want to watch for hours and hours of marathoned episodes. I'm sure that I'd rather kill kittens than hang out with Romi, but I will personally fund a Romi and Dusty (RIP, Romi and Dusty) television show because that shit would be the most entertaining piece of media in the history of media.
The resident counselor, who has so far been little more than a maid and telephone operator and probably hates her life so much right now, tells the kids that there's a new couple today. Farrah pointedly tells Whitney and Sara that she hopes it's another gay couple, because she is such a champion for gay people right now. Also she thinks there's too much estrogen in the house, a cause she did not help by not bringing the other half of her "couple" to couples therapy.
Whitney does an awkward impression of I guess RiFF RAFF, because it would be super embarrassing if she was trying to use AAVE, right? Haha.
Whitney: Why you tryna step into our turf, you know what I'm sayin'? Like, we're like, a gang.
Eugh, wow. Speaking of eugh, wow, Jon Gosselin and girlfriend are here and Farrah's front and center to greet them. Also, oh my god, his girlfriend. Jon talks about how beautiful her smile is and how she lights up a room, and her introduction is literally, and this is a direct quote — "Jon is a fucking goofball."
Taylor is puzzled by their matching sweatshirt jawns. She does not believe that is something you should wear when you're going to meet people. She may be onto something.
For real, though, I'm already so in love with Jon's girlfriend Liz. Woman of mystery and elegance.
Also, can we talk about how everyone is eating wraps on this show? Is that why Taylor was complaining about feeding them? Because they only fix them salads or wraps?
Jon and Taylor get some therapifying from Dr. Jenn, who is about as effective as a loaf of bread, but she does get Liz to admit that she feels interchangeable. Honey, y'all got 11 kids together that you have to spread the love to and all that, I do not blame you for feeling taxed. Also, Jon has a reputation for moving through them like water and hanging out with Sarah Palin's daughter's impregnator, so if he knocks you up and boots you, I cannot say with good conscious that I did not see it coming. You should probably get out of there while you can and drop that pail of actual human garbage off at the curb. Dr. Jenn agrees with me.
Sara and Whitney decide to take one for the team and watch Farrah's "sex tape" to decide if it is a produced porn or not. (Spoiler alert: It is porn. I have seen it. My best friend has seen it. Most people I know have seen it, or parts of it. Search "Farrah Abraham Gifs" like I did, foolishly, to find gifs of her crying face for this series of recaps, and you'll see a lot of gifs from the porn. It is porn.) Thanks for that bold sacrifice, Sara and Whitney!
Whitney: I guess you can be godly and still suck dick.
Oh honey, you can be godly and suck on a LOT of things. Can't wait until next week, when more people with fake parts get real on a fake therapy show that is reality television.