Welcome to the eleventh episode of American Horror Story, where fingers, toes, and eyeballs are tossed about like confetti. Seriously, this episode was crazy violent. I need a comet enema for my soul.
This week's vocab word is: RIPBRB. We barely say goodbye to dead characters before they are immediately revived/become ghosts/get planted in the garden of a shit shack and bloom like fucking gardenias. The stakes have never been lower!
We open in 1830, where Delphine and Borquita are moving into their New Orleans mansion. Delphine is super bummed about leaving Paris for NOLA, when she should be focusing on the fabulously enormous blue dress she is wearing. That thing knows how to make an entrance.
Borquita captures a chicken in the yard and Delphine tells her to kill it so they can have dinner. Borquita doesn't have the stomach for it, which is really gonna suck when she's trapped in an attic eating shit sandwiches forever. Delphine grabs the chopper and kills the chicken herself. At this rate, Borquita is never getting a pet.
As the chicken blood covers Delphine's hands, she feels a sense of wonder… looks like someone just got their origin story. All she needs is a box of slides and a ribbed Henley and she'll be Dexter Morgan.
Later on, Delphine finds an injured slave in the house who is bleeding profusely from his leg. As soon as she touches the blood, she becomes entranced. Delphine clubs him over the head and ties him up, and a serial killer is born. Blegh.
The coven has assembled in the cemetery for Nan's funeral. Fiona and Marie do their best/worst to cover up the murder, Cordelia is feeling useless, and Misty isn't around to revive Nan. This funeral, much like this coven, is a hot mess. I think Marie's face just about sums it up:
Why don't they just hang onto Nan's body until they find Misty? I mean, they kept Madison in the doll attic for like a month, they can't put Nan on ice until Stevie Jr. shows up? I think they all just wanted to wear their brand new funeral hats.
Guess who shows up for the funeral? Queenie! She's alive!!
Queenie arrives with this season's hottest accessory: an old racist serial killer on a leash! Turns out she glued Delphine back together again! The dynamic duo is back! And by duo I mean Delphine and her bedazzled tiger sweater.
Queenie is pissed (and rightly so) that no one bothered to check whether she was alive or dead. Delphine spits on Marie and gets slapped down. Zoe and Madison are impressed that Queenie fixed up Delphine without any scars, and Queenie calls them out for making FrankenKyle with a hot glue gun and some Mod Podge.
Over at Delphi Trust, Renard and David(?) discuss covering up Hank's death and their revenge plans for the witches. I'm sure they're quaking in their stylish yet affordable boots.
Back at Miss Robichaux's Bad Hattitude Haberdashery, Delphine is giving pedicures and champagne to Fiona and Marie while they make plans to destroy the Delphi guys.
Delphine tells us in voiceover about her past as an animal mutilator/budding serial killer, and what a stone cold bummer it is to be reduced to a servant for a bunch of high drama witches. There are hats to clean, threesomes to clean up after, and endless cocktails for Fiona.
She is so disgruntled she fishes Madison's poop out of the toilet and makes a poop soup for all the witches. I can only assume that Queenie screened The Help right after B.A.P.S.
Oh yeah, and Delphine has to care for the baby because Marie stole a fucking baby, remember? So the baby storyline tracks through but we never find out what happened to the fucking dog?
Also, Marie yells "Who Dat!" in Delphine's face, so that's how we find out she's a Saints fan.
Meanwhile, Fiona is booty calling Axeman every night, Myrtle is comparing figs to Olympic ejaculate, and Cordelia is crying and chanting into her green smoothie. Business as fucking usual.
Basically, Delphine has lost that loving/murder feeling, so when the gardener shows up (hold on, there's a fucking gardener?!?) Delphine drags him up to the creepy doll attic for some dismemberment.
Meanwhile, Zoe is casting a spell in the bathroom while FrankenKyle watches.
She's hoping to find out who killed Nan, which is a waste of spell if you ask me. There are like, four other people in the house with you, girl. One of them is crying and the other is playing a theremin. Do the math!
While Zoe is trying to figure out why Fiona and Marie would kill Nan, Madison swans in. Zoe is sick of her shit, and tells Madison that they should have left her to rot. Burn.
Madison puts headphones on FrankenKyle, which is hilarious bc he's a fully formed person now, right? She's still pissed that FrankenKyle and Zoe fell in love and left her out, but Zoe denies it.
Madison doesn't believe her, and threatens to whip out her kneepads and blow FrankenKyle right there. Kneepads? Wow, stars are NOT just like us.
FrankenKyle refuses the BJ because he loves Zoe. Madison is pissed because she made FrankenKyle so she thinks she owns him. Zoe calls her a brat and Madison uses her telekinesis to smash up the room and throw a lamp at Zoe's head.
Myrtle comes in and reprimands Madison, who calls her a dried up old hot pocket, which is not an insult because hot pockets are delicious. I only hope that when I reach Myrtle's age, my pocket is still that hot.
Madison has no respect, and tells everyone that when she's the Supreme it'll be crotchless panties, BJ kneepads, and Eminem 24/7. Soooo… Arizona State? She tells FrankenKyle that making him was fun, but breaking him will be even better. Better break out the emergency Mod Podge, Zoe.
Meanwhile, over in DJ Jazzy Jeff's Jazzatorium, Fiona and Axeman are lounging around post-bang. Axeman tells Fiona that his family owns a country farm and he wants them to give up murder and magic and go do the Green Acres thing.
Fiona tells him she needs one favor and they'll do it. I'm pretty sure that favor has to do with his axe.
Meanwhile, Delphine has been planting flowers in the creepy doll attic. And by "planting flowers" I mean slicing up the poor gardener. Ghost Spalding appears, and Delphine tries to play off the murder with one of those "it's not what it looks like" excuses, which is pretty weak considering she's covered in blood and there are INTESTINES on the floor.
Ghost Spalding admires her work, because he is a creepster himself. OMG are they gonna hook up? I would be revolted/totally into that turn of events. Ghost Spalding tells her that the only way for her to die is through magical means, but first she must do him a favor… if I were a betting woman, I'd say 3-1 that favor involves dolls or night gowns. Or dolls IN night gowns.
It turns out that Ghost Spalding is a ghost racist, who doesn't want Marie tampering with the Salem bloodlines or messing with Fiona. If Delphine can kill Marie, then she'll be able to kill herself.
Downstairs, Queenie is emptying her old room of Misty's shit, since Misty has been gone a whole 45 minutes and no one is bothering to look for her. Cordelia comes in and welcomes her back while wearing the cutest skirt I have ever seen.
Queenie is like, what the actual fuck, I was gone for 2 days and now the covens are combined? Also, your husband shot me.
Can we talk about how victim blamey everyone in the coven is? Stop dumping on Cordelia just because she married a lying murdering douche! I have strong protective feelings for Cordelia, probably carried over from her Lana Banana days. She's gone through so much. Remember when she just wanted to have a baby?
Hold up, does she know about that baby Marie stole? GIVE THAT BABY TO CORDELIA SHE ACTUALLY WANTS IT! Or return it to the hospital. That would be cool too.
Queenie tells Cordelia she developed new powers, which means she can blow her brains out and survive, and she can't be killed by a silver bullet. Um, bc she's not a werewolf? Wait, is Queenie the new Supreme?! Please please please let this happen, first black Supreme in 2014! She's like Barack Obama with super powers!
Cordelia tries to apologize, although for what? Being a shitty schoolmarm I guess, but that's all she's done wrong! Queenie tells her she's weak and she always will be, and slams the door in her face.
Down in the potions parlor, Cordelia is concocting something that hopefully doesn't include poop soup or shit sandwiches. She rubs some goop around her eyes and cries. Fuck, I know where this is going.
Cordelia takes her garden shears and stabs her own eyes out. JESUS TAP DANCING CHRIST, garden shears? Also, those were brand new eyeballs! Poor Cordelia. There's more to life than seeking your mom's approval!
Fiona runs up the stairs, horrified to learn that Cordelia has blinded herself. Oh, NOW you're gonna be a caring mother, Fiona? Myrtle is bummed as well, since those new eyeballs were some of her best work yet.
Myrtle tells Fiona that Cordelia is something she'll never be: a hero to the coven. She sacrificed her eyes to get her second sight back, which is pretty fucking useless for outside threats against the coven unless Cordelia is close enough to face palm them. Although I think we can all agree that the real threat is everyone in the coven.
I don't want to give RyMurph too much credit, but I think this season is turning into a powerful metaphor about the ways in which women can be each other's worst enemies. This whole season is one big re-enactment of lady lobsters holding each other down in the pot while the water boils. Is that actually a thing that happens? I learned everything I know about marine biology from The L Word.
Fiona decides against seeing her daughter for fear that she'll see all her crimes. Myrtle can't wait for this to unfold. Guys, what if Cordelia's magic doesn't come back? That would be so fucked.
Meanwhile, back at the doll factory, Delphine arrives with her gift for Ghost Spalding. It's a fucking baby doll bc of course it is.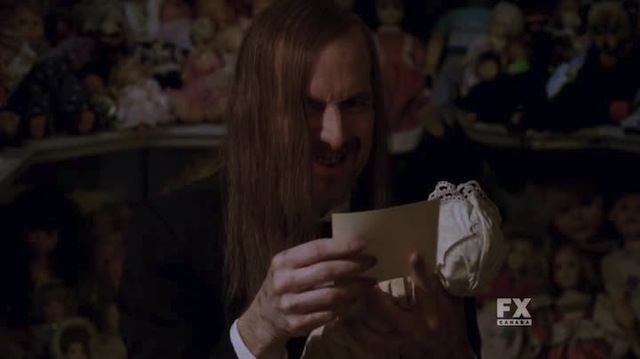 Delphine, who is plenty creepy herself, is really offput by Ghost Spalding's doll obsession. Aren't we all? Spalding then gives her the magic potion to kill Marie. Is it eye of newt? Tongue of frog? Heart of Splenda? NOPE NOPE NOPE. It's Benadryl!
Ghost Spalding, you sly bitch! He tells Delphine she can't even say the name aloud, like it's Voldemort or something. Looks like Marie is getting drugged up with anti-histamine tonight!
Downstairs in the potions room, Myrtle is jamming out on the theremin, and hopefully avoiding any ambient eyeball juice. Zoe comes downstairs and Myrtle gives her a jeweled harvester ant, which she describes in great detail and then DOESN'T show us, so fuck that.
Basically, Myrtle sees the love between Zoe and FrankenKyle, quotes some Keats, and tells Zoe to get the fuck out of there before they get murdered by Madison. Or Fiona. Or Delphine. Take your pick. Zoe doesn't want to leave, as she is still harboring delusions of being the next Supreme. Girl, you have no powers, let it go.
Then we get some background on Myrtle's love life (more of this please!). She was in love with Egon Von Furstenberg, but he dumped her. It turned out fine though, because he married Diane Von Fursternberg and she created the century's greatest invention, the wrap dress! I would have gone with the internet as greatest invention, but whatevs. This monologue is further proof that the entire writing staff of this show is on mescaline.
How great would it be if Diane Von Furstenberg did a cameo? Can this show last forever and just be Fiona and Myrtle name-dropping celebs and then said celebs showing up and playing themselves? I would watch the crap out of that.
Zoe refuses to leave and Myrtle slaps her for being so damn stupid and unromantic.
Myrtle tells her to sell the jeweled insect, take some money and FrankenKyle and run. She also gives Zoe two tickets to Epcot Center, because OF COURSE Myrtle would have season passes to Epcot Center and not Disney World. She probably doesn't even know there is a Disney World.
The Delphi trust guys rolls up in NOLA and go to a large conference room, ready to set down with Fiona and Marie. Fiona and Marie strut in looking incredible as always, and order up some drinks.
Marie calls Renard White Devil, which is amazing. Renard tells them that he will pay for the collateral damage to her shop in exchange for removing the curse from Delphi Trust. He's also negotiating for a 100 year peace treaty. Basically, he promises to leave them alone. The ladies respond with these faces:
Fiona makes a counter offer: they give up witch hunting forever, they disband their merry troop of assholes (the next Robin Hood film title) Renard gives Fiona his Barclay Square house plus a new paint job and a private jet for Marie, a unicorn that shits sapphires, two resurrected Beatles for a private reunion show, and Hillary Clinton's private cell number. JK, that bitch is already in their top five.
Meanwhile, the waiter is locking all the doors and taking out his axe… jk it's not a waiter, it's Axeman! Renard tells them he won't agree to the terms, so Fiona present a counter-counter offer of an axe to the face.
Axeman proceeds to murder all the patriarchy in the room except for Renard. Renard seems nonplussed and sips his coffee like a Bond villain. He tells them that killing him won't end the war.
Fiona takes the axe herself and whacks him in the neck. Goodbye Delphi Trust. Marie takes selfies with the dead bodies as Axeman makes out with a bloody Fiona.
Back at Miss Robichaux's Tailgate Party for the Death of the Patriarchy, Fiona and Marie are celebrating the defeat of Delphi with a champagne toast. As Fiona heads out to reward bang Axeman, Marie starts to feel the effects of the Benadryl cocktail.
A drugged up Marie stumbles into bed, with Delphine close behind. Marie slaps Delphine on the ass and laughs at her. Delphine takes a massive knife and plunges it into Marie's heart.
Marie is like, that shit hurts, what are you doing? Delphine tosses her the magic spell aka the info guide from inside the Benadryl box. Marie laughs at her, but is also pissed. She pulls out the knife and goes after Delphine.
Marie chases after Delphine with the knife, but Ghost Spalding clobbers her over the head with a doll and she tumbles down the stairs. Delphine stares up at him in surprise.
Ghost Spalding tells her he just wanted Marie gone, and Delphine is like, she's immortal, what now? Spalding tells her to bury her and find a way to keep her from digging herself out. Delphine says "turds on that," which might be my new favorite catch phrase.
We then head up to the doll house, where Ghost Spalding is wearing a nighty and playing "Now That's What I Call Creepy! 57". And guess who he has with him? That fucking infant! He says he finally has a living doll. Yikes yikes yikes.
Zoe tells FrankenKyle to pack as Epcot awaits, but FrankenKyle refuses to go. He's worried he'll hulk out and hurt Zoe. Turns out he can't control his emotions and wants to protect her from his overwhelming feelings. Ugh, who does this guy think he is, Caleb from Pretty Little Liars?
Zoe tells him she loves him, and the next shot we see is FrankenKyle and Zoe running for the Orlando bus with techno music playing in the background. Um, remember what happened the last time you got on a bus, FrankenKyle? Madison flipped it with her mind and shredded you like a Cuisinart.
NEXT WEEK: Papa Legba returns in search of coke! Misty gets dug up! And there are only four witches left on the road to becoming America's Next Top Supreme!