This week on The Real World: Ex-Plosion, Ari brought the gay.
First things first: Ari settles things with professional Hot Oil Thrower Ashley and then Jamie tells said HOT to stop pouring so much alcohol into her mouth. Later, Ari tells us her number and it makes Tegan and Sara proud.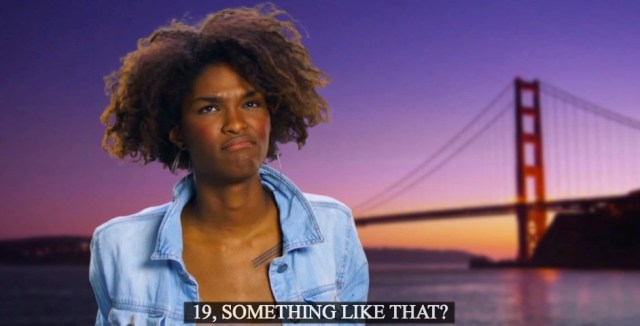 After these breakthrough moments, Ari was suddenly wearing gold. Somewhere in the background, Ashley echoed, "I don't care about other people's sex lives. Just mine."
That night, Ari took her housemates on a public transit bus to Q Bar in the Castro. Everything about this seems like impending gay doom but it turns out okay. Though admittedly, everyone treats it like gay doom. Sort of.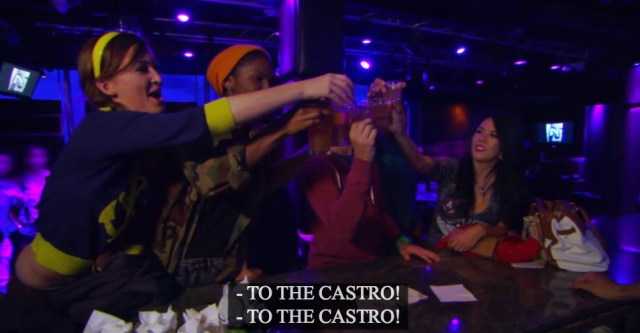 The party continues the next night when Ashley and Jenny do "Girls' Night Out" and Ari and the dudes instead go to a bar. I refuse to call it "Bro Night."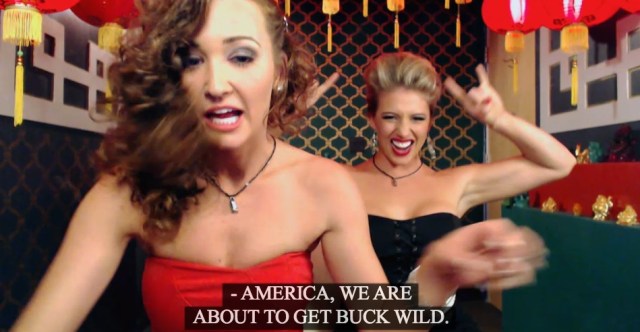 Ari meets a girl during "bar night out," but their perfect union is ruined by Cory's drunken antics. In response, she does what any lady does in that situation: tackles him to the ground.
These are the questions you had for Ari Nineteen-Going-On-Twenty Fitz.
This Week's #AutoAri Q&A
From Last Week
How the fuck did we miss this. How the fuck did I miss this. Such a worthy question.
@itsarifitz will Ashley ever not have a censored part of her body? #autoari Or is fuzz in season right now?

— Sam (@TravelWill6) January 9, 2014
Ha! You didn't know fur was back? I think fuzz will be the 8th roommate for now, it's how she keeps it classy.
On Werk
@itsarifitz #autoari So I haven't logged on to twitter since 2011 lol so for my question what inspired you to start filming? when & why — Sasha WIlliams (@SsAaWw101) January 16, 2014
Great question and thanks for hopping on Twitter just to ask! Stick around, maybe?
I've been a storyteller all my life, but film is a new love. I started writing and directing early 2013. I'm inspired to make horror as horror needs innovation. I think we're all tired of the big boobed girl running away from a man in a mask that wants to kill her.
I have an amazing opportunity – due to the way I live, the way I love, the friends I have – to tell a different kind of story. So I'm hopping in!
@itsarifitz how hard is it to get on Real World? #autoari — Reggie ✌ (@The_Tubanator) January 16, 2014
It's tough, but I think people who want to be on the show have to think about why. I'm excited to be a part of this season because I think they were looking for real people, not stereotypes. Many people go through the casting process trying to anticipate what character they will be, instead of being genuine. Whether I liked it or not, MTV saw who I was… flaws 'n all.
It's so much easier that way, you don't have to keep up a lie when you're in the house.
even though u don't like modeling, how did u get into doing it?i'd love to become a model @itsarifitz #autoari — BénieD'or (@nie_dor) January 16, 2014
Boo @itsarifitz How did you end up modeling? #Autoari — Claudia Solis (@claudia9s) January 16, 2014
For the record, I don't hate modeling. Lol! It's a great way for me to support myself and fund my filmmaking, plus I have fun getting into character when I werk.
That said, I met a photographer in SF last year at a festival that introduced me to the people at my agency and from then on I've been very fortunate to work a lot. It's funny I joined the same agency that told me "no" when I was 17.
My advice if you're looking to get in the industry is to start building a portfolio with a range and visit agencies when you have a book that shows you can do anything from lifestyle to runway. Also, never ever take "no" for an answer.
Say #bye and move to the next!
@itsarifitz why are you so perfect? #autoari — Harryyyyy (@_harrydejesus) January 16, 2014
My mommy made me this way! Can't take any credit there.
On Tom's Number & The Rest of the Show
Is @JamieChinaMTV #4??? #AutoAri — Mik (@One4theDagger) January 16, 2014
Ha! If you're asking what I think you're asking. Nope. I love my bae, Jamie, but we're just friends.
@itsarifitz if you could do this all over would you? #autoari — Mike Anthonie (@mikeanthonie) January 16, 2014
Yup. Not gonna lie, I was skeptical hence my apprehensive "What it do!" greeting coming into the house.
But, I learned so much. This – the house, the show, the roommates – continues to be personal development on steroids for me.
Is there anyone your not cool with now that the season is over? @itsarifitz #autoari

— 1/22/14 (@holdgold_) January 16, 2014
Hehe, well I had issues with everyone at one point. It's a family and you spend 24/7 with each other for a LONG time. You're gonna have some issues. Right now, I'm really close to Jamie and Tom and not the closest with Ashley M.
@itsarifitz Seriously, why the fuck is Ashley on this show? #autoari

— Isis Wilson (@IsisIceprincess) January 16, 2014
EDITOR'S NOTE: This question went unanswered, but I'll just leave this here. Spoiler Alert: I'm coming around to Ashley.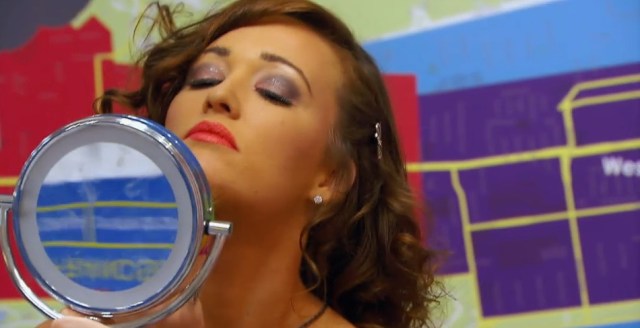 On San Francisco Living
@itsarifitz If I were your friend (which I am in my head) and came to San Fran to visit, where would you take me? #AutoAri

— Danny Mitchell (@_takeAgLANCE) January 16, 2014
Ah! This question right here though…
Well daytime I'd take you to the Haight and Mission to go thrifting. Lunch at this crazy underground sandwich spot called The Galley in the Mission. Early drinks at this underground bar in SoMa called Sofa Lounge, dinner at Starbelly in the Castro then we'd get it in at Q bar and The Cafe. Down?
@itsarifitz #AutoAri favorite roommate

— ▲ (@AlexSlimRice) January 16, 2014
Oh man, that's tough because we went through a lot together even though I'd never pick any of them out in a room and think "Yeah, we're gonna be tight." However, it's a close tie between Jamie & Tom as my faves.
On Ladies
who is the toppiest of all the female roommates be honest it's okay if it's a tie #autoari

— thusspokejenny (@thusspokejenny) January 16, 2014
Hmm… that's a tough one as I feel tops don't need to assert themselves, their power is felt rather than heard. On that, I'd say Tom. He had a lot of respect in the house, sure of himself and made sense when he spoke which is surprisingly tough to do in the house. Outside of well, me of course.
When did you first start accepting that you were gay? @itsarifitz #autoari

— Jessica Charles (@jessm_charles) January 16, 2014
Ya know… I never had a moment of acceptance about my identity or love preference. I just met a woman that made me forget about everything else. When I continued to meet incredible women, I just smiled and continued to love. I've never been one to hide things about myself and there was never any fear around loving openly and unapologetically.
My family struggled with this at first, but they know me to be well… me and came to accept it.
@itsarifitz how'd you meet Ashley C.? #autoari

— Kassandra (@kassandrac24) January 16, 2014
Ash C and I met on Craigslist….
And no, not like that. I was buying a concert ticket from her.
#autoari at first sight did you think any of the real world contestants (this season) were cute

— Michael ☾ (@MichaelHierl) January 16, 2014
Meh, ya know… none of them really attracted me physically. I knew Tom and Jamie were dope immediately, but just as friends. What about you!?
hey, #autoari … let's talk ab that girl u were with … the non roommate? after the club? blonde hair? @itsarifitz

— khoLi. (@khoLi) January 16, 2014
@itsarifitz #autoari Did you even get to fuck that girl after that huge fight?

— ~ (@LetitiaGaspard) January 16, 2014
Okay so nah, man! Cory messed that all up for me. She was a cutie, too. Honestly, I think the universe or something stopped her from coming back with me because yeah, that would've been trouble. Big trouble.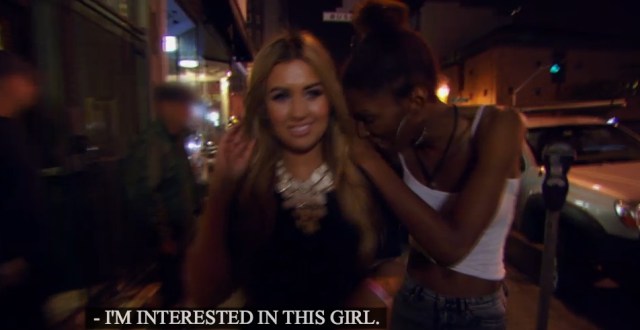 @itsarifitz do you date black girls jw? P.s you're hella cool & strong af!! Girl what. Is you doing? We need to workout sometimes!

— CookieJadoreStewart (@CookieJadoreOVO) January 16, 2014
Yes, dear. I do. The first woman I ever fell for was stunning, brilliant, sexy and black. Everything about her pulled me. I love black women and I love all women. If you're confident, if you can hold a conversation, if you can captivate and surprise me, smh… Yes.
P.S. First woman crush = Chilli. Like whoa…
@itsarifitz Who brought the U-Haul first? Lesbians or your straight roommates? #Autoari

— Isis Wilson (@IsisIceprincess) January 16, 2014
YOOO! Great question, clearly the straight people of the house. I mean day one, though! Lol!
This Is What Happens When Lizz Tweets About #AutoAri
@OhHeyItsLizz @itsarifitz @autostraddle what's your favorite nail color and do you like nail art? #autoari

— d.i.d. nails (@getyournailsdid) January 16, 2014
I keep my nails short and bare typically. I know, I know… boring. But, sometimes I'll go black or darker colors. Lol at Lizz's answer to this.
Our Winner(s)
Every week, Ari will pick her fave question out of the bunch and we will reward them with lavish prizes. This week's winners, @_takeAgLANCE and @SsAaWw101, get their very own Ari Fitz Vlog of Love!
https://www.youtube.com/watch?v=Rq5QmcmYyBc
Get Into It!
Each week, you can tune in to new episodes of The Real World and tweet your questions for Ari Fitz, raging queer, using the hashtag #AutoAri. ( We can only guarantee that tweets sent during the initial screenings of each episode will be included (10PM EST/PST and 9PM CST) in each week's roundup.) Whether you're curious about her films, what she's eating in the fifth scene, the music that hot tub montage was set to, or how she gets her hair to look damn good, feel free to dig in and pop a question. Within 48 hours of the episode, Ari will answer every single one here on Autostraddle.
In the meantime, you can follow Ari and Autostraddle on Twitter. (And me!)