We survived another week and now here is Boobs on Your Tube, with some television as a treat! To begin, it's basically now The Symone Show on Rupaul's Drag Race and we're not complaining! We brought back our Lost Movie Reviews project and Drew's telling us all about Water Lilies as a memory of gay adolescence. Drew's also here to tell you all about The Lady and the Dale on HBO Max — which she says is a fascinating portrait of trans con artist Elizabeth Carmichael, and that recommendation carries a lot weight with us! On Riverdale, Toni Topaz has finally become the major player we knew she was all along. Good Trouble returned for its third season, and Natalie wrote a stunning recap of our last year living under COVID. The TV Team took over the Batwoman recap — just for this week only! — to do our signature funny captions on screen caps, and you don't want to miss it! To L and Back keeps chugging away on L Word Season Six, despite the fact that it never happened (the guest star this week is our very own No Filter writer Christina Tucker, so you know it's a good time!).
We also have two very fun lists that you will enjoy with some hot cocoa this weekend:54 Straight Actresses Who Play Gay The Mostby Riese and '80s and '90s Sitcom Characters, Ranked by Lesbianism written by the entire team and curated for your hearts by our beloved Heather Hogan.
Notes from the TV Team: 
Black Lightning returned for its final season two weeks ago, but we haven't talked about it in this space because Grace Choi is still in her coma and Anissa hasn't had much to do. Well this week Anissa started making "friends" with another doctor at her mom's lab, Darius. They seem to be getting to know each other in a funny, kind, platonic way, but with Grace still in a coma I am on high alert until she returns. — Carmen
Queen Sugar also returned for a new season this week! And in the premiere episode, Nova Bordelon gives herself one helluva an absolutely gorgeous gay haircut. — Carmen
+ CBS giveth and it taketh away: the network — which currently ranks last among broadcast networks in LGBTQ representation — cancelled NCIS: New Orleans this week, ending Tammy Gregorio's time in the Big Easy. Thankfully, though, CBS will keep their paltry 2.9% rating in tact with Low Country starring Uzo Aduba. The former OINTB star will play a lesbian deputy sheriff in South Carolina's low country. — Natalie
+ I had high hopes for S.W.A.T.'s return this week. I thought watching her friend/roommate/mentee die would send Chris on a tailspin and we'd get to watch Lina Esco dig into some meaty material. Boy was I wrong! Instead, we got to watch Chris cry into her phone and men who'd barely shared a screen with Erika talk about their grief. Dreadful. — Natalie
---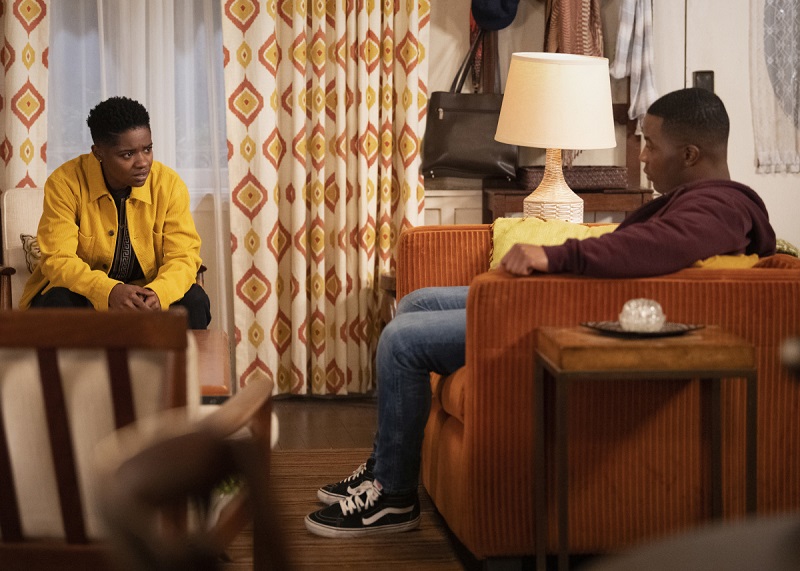 After last week's realization that Spencer holds Coop responsible for the shooting that injured his arm and has jeopardized his future, this week's episode of All American feels like a ticking time bomb. The entire hour is spent just waiting for the truth to come out and for the heart of this show to experience its first real fracture. For most of the hour, Spencer chooses avoidance over confrontation: he skips church, he sends her calls straight to voice mail, he avoids her when he spots her at school.
Coop's frustrated by the distance but her preoccupation with Tyrone's sister has her distracted. Mo's offering her legal services free of charge to everyone in the community and Coop's mystified that people can't see through her rouse. Patience seems willing to give Mo the benefit but Coop remains unconvinced: Mo's still "a wolf in a wolf's sweater" and she doesn't trust her. Eager to talk about anything else, Patience urges Coop to change the subject and she asks for an update on the lawsuit against JP. There's no news from Layla yet but her lawyers believe they have a good case. And, of course, right at that moment, Mo happens by and offers to use her experience with music contracts to help Patience.
"Actually, no, we don't need your help or your business card or your ear hustle, alright?" Coop interjects, before pulling Patience away.
But later, Patience circles back to meet with Mo. Worried about what a lawsuit might do to Layla's relationship with her father, Patience opts to handle it on her own and recruits Mo to help her. Before their meeting gets started, Patience makes her allegiances clear: she's Coop's girl and if Mo really only moved back to Crenshaw to get revenge on Coop, Mo will have to deal with her first. Mo takes the not-so-subtle threat in stride and offers her help to the budding songstress. Within days, Mo's able to secure Patience's release.
Sufficed to say, Coop doesn't take the news of Mo's involvement well. Patience urges Coop to let go of this "imaginary beef" and just live the dream they've always had to make music together. But Coop can't let go… later when she finally gets to sit down with Spencer, she's still fuming from Patience's betrayal. She explains that Patience accused her of going around looking for a fight and looks to him to share her dismay. He doesn't.
Spencer recalls all the times he warned Coop and she didn't listen — with Shawn, with the gang, with Tyrone — and now he's paying the price for her obstinance. Coop reminds Spencer that he was the one who told her the shooting wasn't her fault… which Spencer acknowledges.
He also acknowledges, with tears in his eyes, that he was wrong.
---
Nancy Drew 205: "The Drowned Woman"
In this week's Nancy Drew, lesbian love literally saved everyone's life. Well, almost everyone's life. The time had come to finally face the Aglaeca and her death curse, and when their first encounter with her was successful they thought they were safe for good but they quickly learned that violence wasn't the answer. So they decide that the next time they encountered the sea witch, they would appeal to the human inside her. More specifically, the lesbian inside her. So when she shows up, they all start reading her love letters to/from an Englishwoman to her, though it's not until they say the words they knew by heart that the Aglaeca turned into the lovely visage of Odette.
Nancy reaches for her, tells Odette that she's not her trauma, she's not what they did to her. "You are strength and sadness and fear and passion. You were human, you are not forgotten. You are loved."
Odette leaves in a bit of a storm (in which Nancy and Bess cling to one another JUST SAYING) but it seems their death curse is lifted for now…until they realize the storm knocked loose a harpoon decoration and impaled George. Nancy rushed off and found a magic shroud and brought George back to life, but suddenly the girl who couldn't make heads or tails of French is singing a French song fluently and Odette is lurking in her reflection, so I think we haven't seen the last of this lesbian ghostie.
Legacies 305: "This is What It Takes"
I still will forever ship Hope and Josie (for example, Josie was the only one to believe Hope before she restored their memories of her after another dip in the Malavore pond) but if I can't have that, I just want at least one of them to be dating a girl, and it seems like I might get my wish with Josie.
While probably not the one to date Josie, Hope might be starting to find her way back to herself after spending some time in the therapy box. She finds herself in an 80s slasher flick and all her friends are killed off one by one as she searches and searches for Landon. She finally finds herself alone and face to face with the killer and says she lost everything, says the bad guy won, but because she's Hope Mikaelson, she continues to fight. She bests the baddie only to learn that the killer was Landon. She lost all her friends because she was too focused on her boyfriend. A little on the nose but effective as far as metaphors go.
When Josie goes to orientation at Mystic Falls High, a new player enters the chat. Her name is Finch and her and Josie exchange immediately LOOKS and Finch leads her on a tour of the school. After the tour, Finch calls Josie out on staring at her and Josie asks why Ethan was so shifty with her earlier. Finch admits that she dated Maya and flipped out a bit when she left town, and even though Finch's whole vibe screamed queer, it was nice to get the facts out of the way right off the bat. Josie, emboldened by the possibility of having something that's just hers – not her dad's, not her sister's, not Hope's – asks Finch to eat lunch together. They flirt and it's VERY cute and Finch accepts the offer and as they walk away, Josie briefly loses her cool and smiles all giddy-like. It's perfectly adorable.
And for the first time in quite a few episodes, I finally have (pardon the expression) hope for the rest of the season.
---
Support Independent Queer Media
We're raising funds to make it through the end of July. 99% of the people who read this site don't support. Will you be one of the ones who do? Joining A+ is one of the best ways to support Autostraddle — plus you get access to bonus content while keeping the site 99% free for everyone. Will you join today?