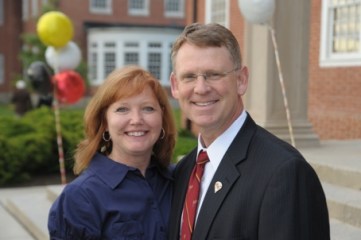 Earlier this week, Barbara Bush came out in support of gay marriage in New York. This was unexpected. So are all these things:
+ On Wednesday morning, Republican Sen. Allan Kittleman announced his support for marriage equality legislation in Maryland. Not only is Kittleman probably the only Senate Republican to back the legislation, he plans to testify in support of it at a hearing next week. And he's going against a Tuesday caucus vote that opposed the bill. In a statement to the press, Kittleman said:
"I see this issue as a civil rights issue. I was raised by a gentleman who joined with others in fighting racial discrimination in the 1950s and 1960s. Watching him fight for civil rights instilled in me the belief that everyone, regardless of race, sex, national origin or sexual orientation, is entitled to equal rights. […] As a strong proponent of personal and economic liberty/freedom, I simply could not, in good conscience, vote against SB 116."
He also said that while he is very religious, "our government is not a theocracy" and his spiritual life can't be the sole basis for his decisions as a senator.
+ GOProud's sponsorship of this month's Conservative Political Action Conference, the largest annual gathering of conservatives, has drawn criticism from right-wing extremist groups. The Family Research Council, Concerned Women for America, and the National Organization for Marriage, among others, have decided to boycott the conference because they disagree with GOProud's inclusion. GOProud supports a traditional conservative agenda while also advocating for gay rights, which executive director Jimmy LaSalvia says is not a contradiction:
"If you look at who will be at CPAC, there are organizations across the spectrum in the conservative movement. Our country over the past 20 years or so, is talking about gay people in a different way. And conservatives aren't any different than any other Americans."
+ Today, Obama attended the National Prayer Breakfast, an annual networking event. However, Citizens for Responsibility and Ethics in Washington, a watchdog/ethics group, criticized his attendance because the event was co-sponsored by a Christian evangelical network called The Fellowship, which (allegedly, but I mean for real they do) has links to the Ugandan legislation that supports the imprisonment and execution of gay people. A White House official said that Obama has spoken out against the legislation and that attendance is a tradition. In an interview in the New York Times, Melanie Sloan, the executive director for Citizens for Responsibility, said:
"It is a combination of the intolerance of the organization's views, and the secrecy surrounding the organization. It doesn't mean they shouldn't be allowed to hold their breakfast; of course they should. The question is, Should American officials be lending legitimacy to it, giving their imprimatur by showing up."
Michelle Obama, Hillary Clinton, and other Congressional leaders attended.
+ And finally, this year's National Gay and Lesbian Task Force convention, which began yesterday, deals with issues of faith far more than it has in previous years. According to the L.A. Times, convention organizer Sue Hyde has said the new focus is to help counter religious activists with anti-gay opinions.
In sum:
+ A leading Republican is for gay marriage
+ Economic conservatism and social liberalism are compatible (unless you're the FRC, in which case, good riddance)
+ Liberal values sometimes ignore huge red flags especially when it's convenient to
+ Religion can fall on both sides of the gay marriage debate.
What does all this mean? That political positions or religion don't necessarily translate into support or opposition of gay marriage, or anything else for that matter. And when gay marriage and equal rights aren't lumped in with those other issues, it's a lot easier to get things done.