Truth: I entered college with the intention that my love life would be defined by a series of hookups and casual flings. It's what I wanted. It's what the straight girls in high school had. It's what I'd tried to have with boys but was completely and totally grossed out by. College was going to be my time to explore the bounty of options that my woman's college was to provide me.
During my first week of college, as you may recall, I wasn't exactly making out with anyone, let alone having feelings and ending up in a relationship! But alas, that has what happened and therefore I cannot write about my crazy college hookups as they do not exist.
But what DOES exist? Cute dorm sleepovers, cute public hand-holding, and cute dates to museums! But cuteness might be boring and at times, and, let's admit it; often incredibly annoying to read about. But maybe that's just my extreme cynicism talking.
(Side note: Yes, I felt her in my legs before I even met her. Yes, I felt her in my heart and I didn't even know her. I may not be 19 yet but I knew this would happen. TEGAN TOLD ME IT WOULD!)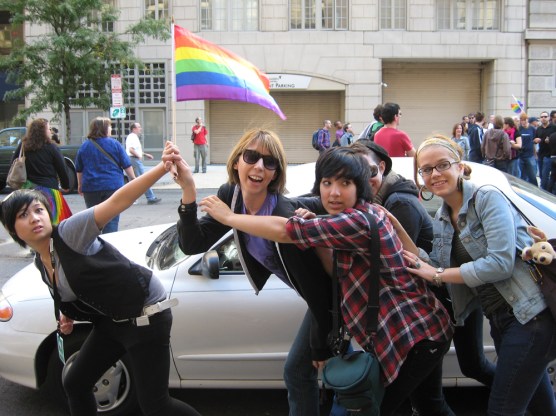 The least exciting thing was reading Eugene Onegin (if someone would like to explain to me what the hell is going on in this piece of "classic Russian literaturewp_postsI would greatly appreciate it and would love you forever).
What happens in between includes extreme procrastination, acing an Art History paper, and not acing a Women Studies paper—thus doubting my ability to study women. BUT I AM GREAT AT STUDYING WOMEN. At least I think so…
On a completely non-gay related topic
Remember how I used to be afraid of the dining hall? WELL NOW I WISH I WAS STILL AFRAID. Because freshman are forced to pay a ridiculous amount of money for an unlimited meal plan, my naturally frugal mind likes to converse with my naturally hungry stomach. Thus resulting in the consumption of millions upon millions of calories a day. Perhaps this would be ok if I was athletic (like everyone here seems to be) but even just crossing the street to go to a class at Columbia is a huge hassle and over-use of energy for me. Obviously I am not fit enough for my dreams of Olympic gold to ever come to fruition.
Tegan and Sara
Confession: I discovered Tegan and Sara only about seven months ago. For a long time I passed them off as bad whiny Canadian pop. Obviously I was wrong. My love for the ridiculously attractive twins has blossomed into a full on obsession in the past months, thus prompting me to pay money I do not have in order to attend their concert in NYC on October 30th. It was so worth it.
Of course I had expected (and was excited) to see a bunch of T&S look-alikes in the crowd, but more than that I was struck by the diversity of the attendees. Gay, straight, Americas Next Top Model Contestants, younger, older, parents with their kids, parents without their kids, etc. It was such an exciting place to be, not to mention the fact that the live music and banter was absolutely incredible.
Halloween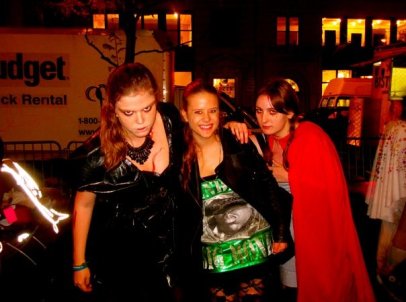 The day after I had my amazing T&S experience I had my first College and New York City Halloween experience.  Can we just talk about how wearing a red tank top and underwear does NOT constitute as a fireman "costume"?  And putting on a sailor hat and lingerie does NOT make you a sailor. It may have been funny in Mean Girls but it is not that amusing in real life (plus most people do not look like Rachel McAdams and Amanda Seyfried).
I did not spend my Halloween in the Columbia/Barnard vicinity but must say that on my way downtown I saw plenty of Ivy League ladies wearing very revealing outfits. BUT I also saw many of them wearing cleverly put together costumes thus restoring my faith in humanity.
My Liberal Comfort Zones
One of the more serious things that I have noticed during my time here is that Barnard, Columbia, and New York City are all bubbles. Even the high school I went to and the part of Florida where I lived were all bubbles. Bubbles of relatively liberal people — people who allowed me to be gay without having to worry about extreme opposition or hate crimes. I tend to forget that the whole world is not always like this.
And then I got a call from a best friend who is attending one of the large state schools in Florida. She missed our group of liberal minds, and she was angry because of a conversation she had just been thrust into while doing her laundry. A guy and girl were talking about a friend. The guy said in an accusatory tone that the friend is a lesbian. The girl begins to freak out and says "Oh my god, don't say that! No, no she is not. That is horrible!wp_postsMy best friend, pissed off, asks her ignorant classmate what's so wrong with the friend being a lesbian. The girl responds "Well, she like came into my room and asked to hang out."
Yeah.
I forget that people think this way. I forget that my own generation is still plagued with homophobia and ignorance. I tend to write about how great being gay in college is, but I forget that not every college is as open as my own. I even completely disregard the problems that the school I do attend still has with homophobia and heteronormative thinking.
So I have to wonder…am I blind to the homophobia that exists at my own school? Do I myself live in my own bubble? And what are other schools like? Other states? Other countries?
If anyone has any answers, please let me know — I would love to hear your awesome, amazing, beautiful opinions. I mean, if a state like Maine can shoot down gay marriage, what does that say for the fate of the rest of us?
So until next time just know that I love you all and that in my liberal bubble of a world, you can totally get gay married as much as you want!