THREESOMES: Are Threesomes In? Here's our first question: Were they ever OUT?
Anyhow, well, you may or may not be aware that Britney Spears's new single is about …. threesomes! It's a hot dance tune, though I personally prefer Fenix TX's ode to threesomes. Apparently this is an article for straight people about the terror and pleasures of threesomes. So close your eyes and pretend we live in a non-heteronormative world, and then consider this question posed by this incredibly idiotic awesome article:
"Britney Spears "3″ is one of the most popular songs out there right now, but how many of you have stopped to actually listen to the words? Britney claims that threesomes are the new "in." Well, that's what we're talking about today on the show. Are threesomes the new "in" or a disaster for your relationship?"
ENDURANCE: The Times of India, which for some reason is constantly publishing articles with bizarre premises and oft-hilarious translations, asks How Long Can You Last Without Sex? Really seriously they're always super funny to read. We haven't slept in a few days so we're hoping it's actually okay to make fun of terrible translations, like these examples:
Sex is, undoubtedly, a necessity of the body, based on two coordinates: reproduction and the tendency to socialize, to permanently cooperate with those around us. Survival on long periods of time is based to humans' abilities to live in groups, which involves the birth of relations, more or less lasting or enjoyable.
Practically, a non-existing sexual life causes a lot of reactions, more or less explicable, and in some extreme cases it can lead to severe physical and philological reactions: skin itches, irritations, anger etc. You could end up hurting the ones beside you, emotionally or even physically, because you did not "read" one of your body's cries for help.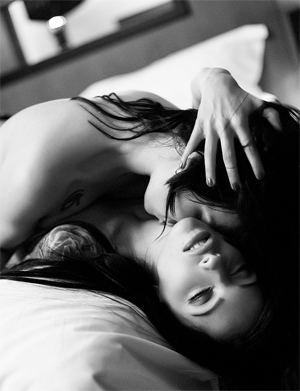 DILDOS: Review – Buck. Also, one out of the four women in the room I'm in right now also recommends this item and misses it more than she misses her relationship. (@sugarbutch)
DITA: Dita Von Teese is interviewed by Rachel Kramer Bussel at The Daily Beast about burlesque and her new flipbooks: "In America they're obsessed with pop stars and maybe they're a little bit afraid of having me on there because they think what I'm talking about and what I'm doing is too risqué."
How do you feel about lesbians in schoolgirl outfits having sex on the altar? Anyone?
SWEET: BTW yes there was a lesbian wet t-shirt contest on the Sweet cruise. Luckily the photographer was standing near us rather than across from us, where you could have witnessed our looks of alternating horror and laughter.
FANTASIES: If you've had a rape fantasy, and statistically it's quite possible that you have, you probs wonder … y'know. Why. Here's some theories. (@eros blog)
BABES: Bras are so old school, here's 68 babes who prefer belts. (@coed)

NERVE: Cinema Sutra … Cruel Intentions. Some advice for ladies who want to kiss ladies. And here's a little refresher if you forgot the video, or weren't burning with underground homosexual desires in the late 90s (or, conversely, burning sexual desires for Ryan Phillipe, who is hot):
BRAIN OF GOLD: Belle De Jour, the author of the blog Diary of a London Call Girl, which served as the inspiration for the Showtime Series "Secret Diary of a Call Girl," has been unmasked — she's a Cancer scientist! This is not surprising, because despite common belief, being a serious high-class full-time escort is really f*cking hard work; the fucking is the easy part, srsly.
Dr. Brooke Magnanti, and she's a 32-year old developmental neurotoxicology and cancer epidemiology specialist at the Bristol Initiative for Research of Child Health. (Her large number of degrees is impressive, but more so is the fact that she had a job with that many words in the title and also had time to write so much.)  She gave up escorting in 2004, but she's still writing extensively, and others are quick to praise the quality of her prose.