ANTI-GAY: Anti-gay ad on DC Metro buses tests gay community's definitions of free speech: The ad carries the website of StandForMarriageDC, a religiously motivated, anti-gay group that seeks to roll back the District's gay marriage law by forcing a voter referendum on the issue. (@metro weekly)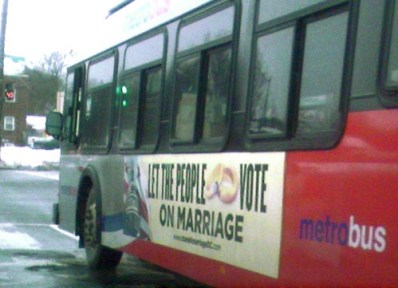 TWO AND A HALF MEN: There has never been a better opportunity to kill two birds with one stone as there is at this time. Granted; one of these stones is the most irreprehensable act a man can commit — beating his wife. One of them is just a TV show we don't like which we feel makes too many misogynistic jokes. But in light of Charlie Sheen's recent arrest for domestic violence, is it really appropriate for Two and a Half Men to be on the air?
To be honest, Charlie's record is one of many things I haven't liked about this show from the get-go. He was like popularly known as a hard-partying, womanizer in the 90's and then was charged with misdemeanor battery in '96 when his ex-girlfriend filed charges claiming he physically abused her. It's so weird that someone so evil could be the son of Jed Bartlett! (@nypost)
FICTION: Everyone is Invited, by Lydia Davis: "I Know we're supposed to be happy on this day. How odd that is. Usually I'm just nervous — probably because I'm supposed to be happy. I think about other years. When you're very young, you're usually happy — at least you're ready to be. You get older and see things more clearly and there's less to be happy about. Also, you start losing people — your family." (@nytimes)
AFTER-CHRISTMAS SALES: You can't always get what you want, but if you try sometimes, you just might find, you get something even cheaper:
RANDOM: Video Game Accesories are all On Sale, Athletic Shoes are 70% Off (a lot of New Balance & Adidas), get your Flip-cam Kodak Zi6 HD Pocket Video Camera for $99, 25% off all Bumble & Bumble Products, and find a heap of Calvin Klein, Diesel, and other Boyshorts 25% Off Or More.
SEX: 70% off the Doc Johnson Lucid Dream #14 Multi-Speed, Waterproof G-Spot Vibrator, Twist-bottom Control! It's only like 10 bucks. That's like ten cents an orgasm. Or the famous Doc Johnson i-Vibe Rabbit Vibrator is 64% off, or just go for the gold and get a 75% off Pipedream Products Jelly Eager Beaver Pink Adult Sex Toy Kit. You're welcome!
DVD: The entire first season of one of the best shows ever, The West Wing, is $16.99 (72% off) and the Complete Second Season is $18.99, SNL – Best of Gilda Radner is $6.49, The L Word – The Complete Fifth Season is 50% off ($29.49), and a DVD you probably didn't even know existed called Lilith Fair – A Celebration of Women in Music is $7.49.
(Check out all of amazon's After-Christmas Deals)
Get an extra 20% off clearance at Hanes.com. This offer is valid now through Feb. 7th.
$5 off any title at Magazines.com.
BUS: Blogger Jesse James interviews our friend out actress Haviland Stillwell. (@jesse james)
ORNAMENTS: An ornament featuring well-known celebrity drag performer Hedda Lettuce has the right-wing outraged the night before Christmas – "What Andrew Breitbart seems to be implying with his commentary on the ornament is that gender variant people of all stripes aren't American citizens." (@phb)
DATING: ABC News Nightline with the assistance of Steve Harvey ask why so many successful Black women are single (42%, double the rate for white women). Harvey suggests they fix this problem by lowering their standards. Autostraddle suggests they fix this problem by going lez and dating hot successful lez women.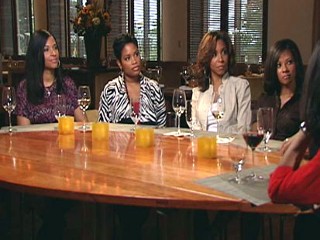 The story says: "Let's take 100 black men. By the time you eliminate those without a high school diploma (21 percent, compared to 14.5% of white men), the unemployed (17 percent) and those ages 25-34 who are incarcerated (8 percent), you have only half of black men, 54 percent, whom many black women find acceptable." The best part is how the women stick to their guns when challenged to "compromise." The worst part is that (granted, they only had seven minutes, so this would have been a bit of a tangent) no one mentions how it's the separate & unequal public school system created by rich white men that is primarily to blame for the statistical inequity between black men & white men w/r/t education & incarceration rates and maybe we should look into that if we want long-term change. And also the fact that the narrator seemed resigned, but not disturbed, by the proclamation that "white men don't date black women." (also white men and black men aren't the only kinds of men in the world) Sigh. Anyhoo. (@abc news)
TEEVEE: The AV Club's favorite TV moments that stuck with us in 2009: "some moving, some shocking, some thrilling, some embarrassing" – probs the best TV-related list we've seen this year. (@theonion)
CHRISTMAS CAROLS: The Muppets sing the 12 Days of Christmas on Jimmy Fallon
Do They Know It's Christmas? – An all-star comedy Christmas Carol. Sung by the Comedy Death-Ray Xmas Nativity Choir (feat. Paul F. Tompkins, R.O. Manse, Tig Notaro, Rob Huebel, Patton Oswalt, Mike Phirman, Jimmy Pardo, Brian Posehn & Scott Aukerman, Garfunkel & Oates, Aimee Mann, Chris Hardwick, Paul Scheer & June Diane Raphael, Doug Benson, Mary Lynn Rajskub, Nick Thune, "Weird Al" Yankovic, Cracked Out, Dragon Boy Suede, Natasha Leggero, Thomas Lennon & Ed Helms)