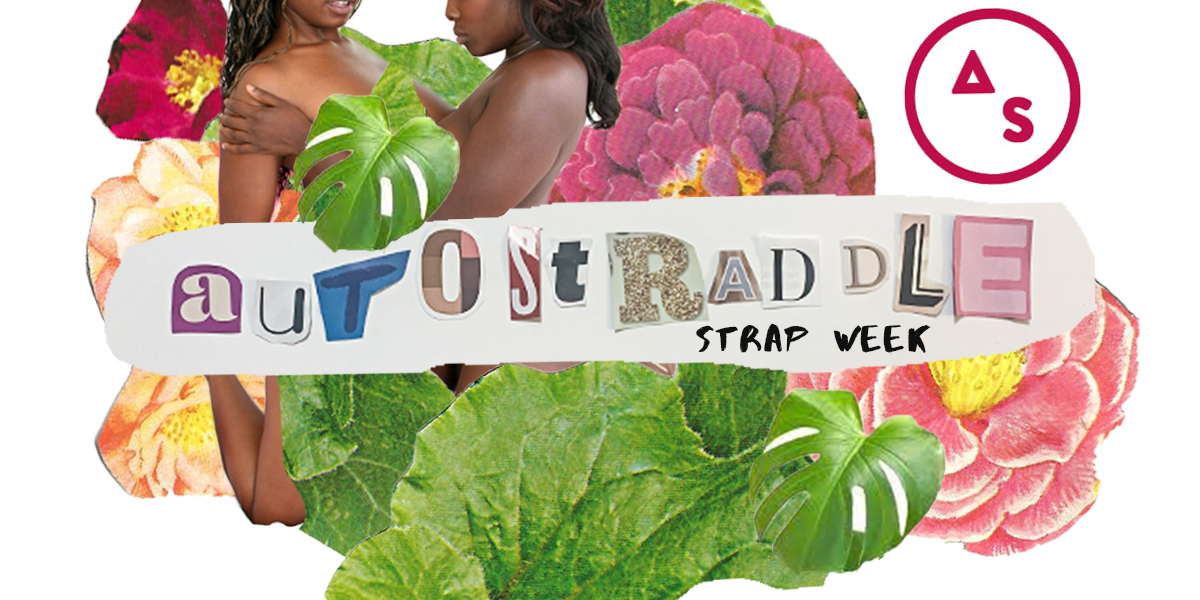 Autostraddle Strap Week 2021 – All Images by Demetria.
In this series, two babes chat through both sides of one strapping topic — sharing personal narratives with you on their perspective at this point in their queer story. Next up — Very Realistic or Wildly Fictional, Which style strap is calling your name?
---
Getting Realistic
"For it to no longer be my strap, but to be my dick, my cock. For it to be an extension of me."
I bought my first strap-on in 1999 at Babeland (then Toys in Babeland) in Seattle. Though they had the best selection of toys I had ever seen, most of them were un-realistic insertable toys with flared bases in cute shapes like dolphins and astrological signs that seemed specifically marketed specifically to lesbians — or, at least, all the lesbians I knew. They all insisted that strapping on was good queer fun, but would never dare to have something that looked even remotely like a factory-installed penis.
That was the requirement of my former girlfriend when we went shopping for a strap to use together: she said, "Nothing realistic, and absolutely no balls."
I left with a bright red silicone dildo named Leo.
It took years for me to figure out that I wanted something realistic. And it took even longer for the shame of wanting something realistic to fade. Part of why it took me so long to come around to realistic dildos was because I was worried about what it might mean for my gender if I wanted something that matched my body better. Wanting a realistic strap-on might have to do with my gender, but it doesn't have to. That's a puzzle I am still figuring out. Equating penetration with masculinity reinforces the gender binary at best and can be flat-out transphobic.
Whether it was transphobia, misandry, homophobia, or something else entirely, I got the message very clear early on that lesbians and realistic strap ons don't go together.
But now, more than 20 years later, I don't believe that at all.
It has helped that I've been an avid consumer of all things strap since Leo — and that things have changed significantly in the last two decades. There are so many more realistic options now than I've ever seen before. Prosthetics (generally marketed toward trans men) are not just in realistic shades and shapes, but hyper-realistic, with veins, foreskin, and other features. Dipping into the prosthetic options has brought a whole new relationship to strapping on, feeling more and more like it's my own, an extension of my body, and maybe even like what I would have if I had one.
The features of realistics often mean more sensation, too. Some have skin that slides, or bases that are wider and with texture to rub up against my own body in delicious ways. I'm always in search of more sensation, and to feel more like it's part of me. Because that's what I really want: to embody my strap. For it to no longer be my strap, but to be my dick, my cock. For it to be an extension of me. I like when it compliments my skin, when it feels like the right size, shape, and weight for it to be part of my body. It's easier for me to add it to the mental outline of my body shape, to feel it in my proprioception when it is in concert with my body.
It's helped to disconnect the desire for a realistic, functional cock from my own gender, and someone else's gendered expectations. It helped to move into a nonbinary gender expression and identity where I understand don't need to categorize things I want as belonging to any particular gender. I want what I want, I crave what I crave, and I try to let myself have those things. Regardless of gender, there are ways to penetrate a body, with fingers and tongues and appendages that we buy in stores, and some folks have bodies that like to be penetrated. Penetration doesn't necessarily have anything to do with gender, it has to do with consent, pleasure, exploration, and connection. We each get to find out the ways we like.
There are so many things I like: to feel the contraction and pulse of someone around my fingers, my tongue, my cock; to witness that moment of opening and surrender when someone relaxes and releases; to look down and see a cock that suits my body. What I like, perhaps most of all is to feel like the dick I'm wearing is part of me, whether it's a brief quickie or long luxurious hours that I'm strapped on.
---
Feeling Knotty With Fantasy Dildos
I am unsure if social media and fandoms have helped popularize fictional-themed dildos, but they are here to stay. After discovering them for the first time, I was quite uncomfortable with the idea of using something so —outlandish— as a sex toy. But as I grew into my identity as a non-binary and asexual person, and as my trauma made me reject the idea of vanilla sex, I found myself diving more into kink.
I have always been more interested in sci-fi and fantasy-themed erotica, where I could detach from the mindset of being stuck by human convention. In fantasy, I can be anyone and anything. The turning point for me was when I discovered a game called Corruption of Champions, I stayed up all night playing and ended up skipping my college classes because I was so absorbed in it. In it, I felt that my kinks and identity could be wholly explored, and through that, my interest in using fictional-themed strap-on's arose. Tentacles, ovipositors, a werewolf, or a dragon tail — just to name a few — were some I found that further inspired me in fantasy and roleplay. I have been able to explore my interests and kinks firsthand, rather than just simply reading or watching erotica and porn. That all led to my partner and I having a truly immersive roleplay experience.
They add play and interest and aid in avoiding monotony; things never get old. Most importantly, I feel my identity is secure and not inherently based in a heteronormative perspective of sex. For my own body, the idea of having genitals at all can be dysphoric, but dysphoria and discomfort become a non-issue when the toys I'm using don't contribute to those feelings. And for my partner, I'm not wrapped up in pretending to have a penis to get them off when I'm strapping them down.
Imagine your sex toy drawer or chest and really think about each of the toys that you own. Is there really much of a difference in them aside from color? Now admit how incredibly boring that is. For the most part, there is minimal texture on standard toys and at best there may be silicone veins but that is surely nothing to write home about. Fantasy dildos can have an endless array of textures to aid in pleasure. My favorite toy is a tentacle dildo with a knot near the end. There are ridges and suckers along the base which add more sensation and added girth that aids in testing limits for certain types of play/kink. Each of these is added purely for the sake of additional sensory, pleasure — and fun.
Fictional dildos for sex and strapping don't have to just be about the fantasy and kink element. Gender, sexual identity, and preference are a spectrum so wide that no two people are alike. For anyone who is penis-opposed or repulsed, fantasy dildos can provide a chance to use toys when it otherwise would not have been possible. While some are shaped like penises, there are those out there that don't come close to resembling them. They help people who have suffered trauma but later still want to use toys in the bedroom. I found myself unsure of how to navigate sex with my partner after my assault. When I was ready to try again, it was through using these dildos that helped remind me that sex is supposed to be about fun and play and even used to help embrace the inordinary. They helped in avoiding re-opening trauma wounds and made sure everyone was having a comfortable and thrilling time.
I feel secure knowing that I'm able to explore my kinks safely and consensually. Using these toys allows me to feel confident that my partner and I can have the kind of sex we want to, allowing us to be as intimate as possible. Sex should be a completely safe experience — mentally and physically — and including fictional-themed toys for strapping in your toy collection may help guarantee just that.
---