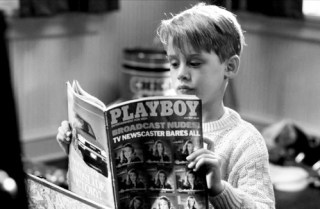 Hi welcome to another installment of "Things I Read That I Love," wherein I share with you some of the longer-form journalism/essays I've read recently so that you can read them too and we can all know more about serial killers and labiaplasty! This "column" is less feminist/queer focused than the rest of the site because when something is feminist/queer focused, I put it on the rest of the site. Here is where the other things are.
Also this week the thing I read that I loved the most was THE HUNGER GAMES TRILOGY. I feel like my life is empty now that I've finished reading it, like I'm lost in a sea of words that are not the words of the three books of The Hunger Games. Now I'm just like the rest of you, waiting for the movie.
Love in 2-D (July 2009), The New York Times: About a subculture of male anime fans in Japan who have foregone 3-D "reality" relationships for relationships with body pillows bearing a rendered depiction of a character from popular anime games/movies/books/etc.
Shock and Awe: Racially Profiled and Cuffed in Detroit (September 2011), Shebshi: This piece opened my eyes really wide. A writer who describes herself as "a half-Arab, half-Jewish housewife living in suburban Ohio" had just landed in Detroit on a commercial flight when she was taken into custody on 9-11, along with two Indian men, on "terrorist"-related suspicions that had nothing to do with anything besides, clearly, what they looked like.
My Hard-Core Porn Obsession (Nov 2011), GQ: "Threesomes, fishnets, dirty talk—those are the vanilla sorts of fantasies we admit to. Then there's the truly filthy porn we actually watch when we're alone. Shalom Auslander discovers that everyone has his guiltiest pleasure."
What Made This University Professor Snap? (Feb 2011), Wired: "Every once in a while, though, brainy weirdos turn out to be brutal killers."
Shattered Glass (Sep 1998), Vanity Fair: I've read a few stories and seen the movie about Stephen Glass, a New Republic reporter who made up like ten billion stories in the 90s and then got caught, but this one I found this week (via the writer who also wrote the book/article that became Friday Night Lights)  I feel is an especially good overview.
Straight Time (Dec 2011), Los Angeles Magazine: Many of LA's most prominent families thought Steve was helping their kids stay sober at his nonresidential rehab-ish facility. Then he was arrested on drug possession and sexual assault charges! It's like Running With Scissors meets Law & Order: Special Victims Unit.
Miss America's Crown of Thorns (Jan 1985),  Rolling Stone: Following Vanessa Williams in the aftermath of the Penthouse photo scandal that led to the first African-American Miss America getting de-throned.
Inside the Bloody World of Illegal Surgery (Nov 2010), This Magazine: This story begins in a solarium owned by a piercer/"body modifier" who is giving his friend a labioplasty because she wants one and it's too expensive to obtain legally. Totally freaked me out.
The Disadvantage of an Elite Education (Summer 2008), The American Scholar: I stumbled upon this article again this week, having already read it in 2008, but I read it again because it's just that good and makes a number of brilliant points.
How the Plummeting Price of Cocaine Fueled the Nationwide Drop in Violent Crime (Dec 2011), The Atlantic: Freakonomics attributed the nationwide drop in violent crime to the legalization of abortion 20 years prior, but actually it was because of "the collapse of the U.S. cocaine market," maybe.
The Muppets in Movieland (June 1979), The New York Times Magazine: A profile on Jim Henson and the success of The Muppets just before the first muppet movie came out – "That day in the taxi, beneath the controlled calmness of Henson's conversation one could detect an undercurrent of anxiety lest the unity that he and Jane have so carefully maintained over the 23 years of Kermit's magical life be undermined, not by failure, but by a sudden flood of big successes."
How The GOP Became the Party of the Rich (Nov 2011), Rolling Stone: The modern GOP has undergone a radical transformation, reorganizing itself around a grotesque proposition: that the wealthy should grow wealthier still, whatever the consequences for the rest of us… With 14 million Americans out of work, and with one in seven families turning to food stamps simply to feed their children, Republicans have responded to the worst economic crisis since the Great Depression by slashing inheritance taxes, extending the Bush tax cuts for millionaires and billionaires, and endorsing a tax amnesty for big corporations that have hidden billions in profits in offshore tax havens. They also wrecked the nation's credit rating by rejecting a debt-ceiling deal that would have slashed future deficits by $4 trillion – simply because one-quarter of the money would have come from closing tax loopholes on the rich."