Well! First Kill is here and you're obsessed and we're obsessed and Shelli's review is exactly what you're looking for! Shelli's also been busy editing a billion pieces out of Tribeca this week: Dani wrote about how this is likely the queerest Tribeca Film Festival yet. She also reviewed Three-Headed Beast. Drew reviewed Attachment and Petit Mal. And Amari Gaiter reviewed You Can Live Forever.
Gentleman Jack closed out its second season, and of course Heather recapped it. Love, Victor dropped its third season and Carmen wrote a lovely review. Heather encrouaged you to warm up for Prime Video's A League of Their Own reboot with the brilliant and hilarious Canadian shortform series, Slo Pitch. Stef R reviewed HBO Max's abortion documentary, The Janes. And a friendly reminder that Kristen Stewart is still seeking gay ghost hunters.
Notes from the TV Team:
+ When Rhona's mother, Mary, arrived in Emmerdale, she admitted that she was looking for a respite from the loneliness she'd felt in COVID's wake. Between her estrangement from Rhona, the death of her friend/neighbor and the solitude of quarantine, she needed an escape from the darkness so she came back to the Dales. But what Mary left out of the story she told back in March was this bit of truth: she's gay and the friend/neighbor she lost was the love of her life. She's been holding onto that truth for her entire life but this week on Emmerdale, Mary finally let it out: first to Kim Tate and then to her daughter, Rhona. The revelation is met with disbelief and disdain but eventually Rhona's persuaded by the harsh realities that her mother would've had to face and they reconcile. — Natalie
+ While I'm talking about soaps: a belated hat-tip to Aussie soap, Neighbours, which recently wrapped filming after 37 years on the air. The show, which will continue to air in Australia and the UK through August 1, has a long history of featuring LGBT characters, including a young Margot Robbie as Donna Freedman. — Natalie
+ If you love women's basketball, you simply must watch the 30-for-30 doc, Dream On, which landed this week and just made my heart absolutely burst with pride. It's about 1996 Team USA, the team that literally changed everything about women's sports. Just trust me on this. It's everything. — Heather
+ Summer Camp Island, the UK import full of heart-warming stories and queer characters, is on HBO Max now! Add it to your watch list if your watch list includes cartoons LIKE IT SHOULD. — Heather
+In For All Mankind's second episode of season three, we do indeed see Ellen again, albeit briefly. She's trying to pick a running mate for her presidential campaign that will be right-leaning like she is but not TOO far right because she is a closeted lesbian, after all. Her and her beard husband do have a child now though so they're really committed to the bit. Which makes me nervous for a) whether we'll see her with a gal pal this season and, perhaps more nerve-wracking, b) what will happen if her running mate sees her with a gal pal this season. — Valerie Anne
---
Charmed 413: "The End is Never the End"
The series finale of Charmed kicks off with Josefina warning the Charmed Ones that they have to change their fate if they want to save the world. She shows them the tape of their potential future and they all run around trying to fix it. This includes Mel gently scolding Roxie for wanting to tuck in for her seven year nap without saying goodbye. Mel tells her to hold on this time, she'll find her way back before time is up.
The new Charmed Ones run around to try to find the original Charmed Ones; they find Ishani at a bowling alley, and the Guardian at a fight club. The Originals tell them about the magical failsafe they built; if the Lost One can use it to destroy all magic.
They decide the only option is to raise Inara and reason with her. Inara's sisters give her a tearful apology, but she sets off the magic bomb anyway. Mel, Maggie, and Kaela go stand in front of the beams to absorb the energy and save the magical world, but the Original Charmed Ones realize that they can break the cycle, and they take that on instead. They save the world, together.
Mel makes it back in time to say goodbye to Roxie and says she can't promise she'll be waiting for her relationship-wise, she will take care of the bar and welcome her back in seven years.
Three months later, Josefina is a bartender/interior decorator of the bar, Maggie is moving in with Jordan, Kaela is painting. They're happy. They get called to the video store and go through a door with their power of three sigil on it, and find themselves on a familiar-looking porch. The series ends with the new Charmed Ones opening the door and wandering inside the Halliwell House. And it's too bad things got off on the wrong foot with the original franchise, otherwise Piper and/or Pheobe might have been there to greet them. But either way, it was a nice full-circle moment to end the series on.
---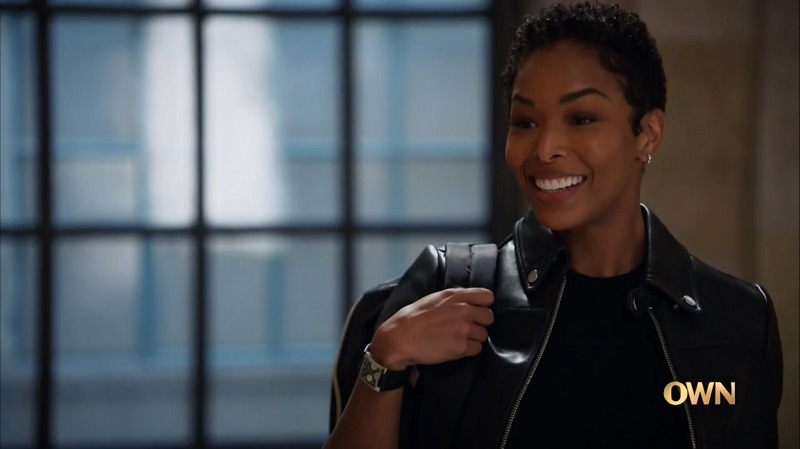 This week's episode of All Rise left me with a conundrum. On the one hand, there's still no sign of Samantha Powell or explanation of her absence. It feels more noticeable this week, as Mark takes on a big case and a new assistant, Teddy Biswas, acts as his second chair. In the previous iteration of All Rise, it would've been Sam in that chair and the show would've been more cognizant of the gender dynamics of a sexual assault case. On the personal front, the show ends with a party for Ness — a celebration of her impending bar exam results — and Sam's not there. Last we saw her and Ness together, they were kissing on the rooftop of the HOJ and now she's just gone, missing from this pivotal moment in a young lawyer's life.
Sam Powell's not the first television character to just disappear into the ether (Justice for Erica Hahn!) but there's something disconcerting about it happening when it's connected to a character's queerness. Because you know what else TV shows are prone to do? Degaying their characters. All I'm looking for is an acknowledgement of Sam…a nod to Ness' personal history and Mark's professional one. Surely, if All Rise can explain where Emily's ex, Joaquin, is, they could do the same for Sam (especially since she was a series regular!).
But here's the conundrum: even as Sam's absence continues to frustrate, All Rise surprised me this week by introducing a new queer character. Though it seemed as though Dahlia Burke, the new bailiff in Courtroom 802, was being introduced as another potential foil for Emily and Luke, it turns out the pair are just friends. They meet up during a recess to share a sandwich and Dahlia tries to goad Luke into a conversation about Emily. He resists, insisting that he and Emily are just friends, so Dahlia pushes him to consider some of the other single women of the HOJ. But Luke's not having that either: he's focused on proving himself as a public defender. Okay, Dahlia acknowledges, "if you don't want them, I will take on the challenge."
The addition of a new queer character is a positive development, particularly if one of the single ladies Dahlia crosses paths with is Ness…who will undoubtedly need some comforting after receiving the news that she failed the bar exam. Fingers crossed.
---
The citizens of Roswell who know aliens exist are working HARD to convince the town the weird purple sky they saw was a real scientific phenomenon called St. Elmo's Fire.
And no one is working harder than Isobel, whose reporter girlfriend is obsessed with getting to the bottom of it, and seeing if it's linked with the string of mysterious bank robberies that have been happening.
Also, while Isobel is chasing Anatsa around town, Liz gets a mysterious invite to the roof, and meets her mentor Allie Meyers' wife! It seems like they might not have been able to get Shiri Appleby back for the whole season so they gave her a wife and daughter! Shivani is a tech billionaire and she wants to help Liz unlock the secrets of the universe. Wanky.
In devastating news, Isobel got so panicked about how close Anatsa was getting to the alien truth, that she does the one thing she promised herself she would never do after what she went through, and she tabula rasas Anatsa, mind-powering her into dropping the alien leads she found. To protect her family. This broke my heart because there's no way this relationship can recover from this unless Isobel comes out to Anatsa, which seems unlikely with the new aliens on the loose.
The Isobel/Kyle thing is still lurking like a dark cloud, and at first I thought a woman arrived to save us by flirting with Kyle, but Isobel goes to find her friend and is bummed when she sees him with another girl.
Plus they maybe buried Alex alive?? Remember last week when I praised this show for having two queer couples, then they added a third (or half of a third) but now might be taking two away?? Careful where you step, Roswell! Let me love you!
In lighter news, FBI Freya (I know that's not her name but she'll always be Gay Aunt Freya to me) was trying to find out if someone was gay and asked if he preferred, "Cornhole at the Pony or darts at Planet Seven" and it made me laugh very hard.
---
Legacies 420:"Just Don't Be a Stranger, Okay?"
In the series finale of Legacies, we open on the memorial for Ethan, miraculously the only life lost in a battle with a literal god.
Hope gets Klaus's ashes and wants to spread them at the school…but then the headmaster says he's closing the school. He's seen too many kids die, and he doesn't think he can promise to protect them anymore.
The Super Squad scatters. Hope and MG immediately start fighting to change his mind. Lizzie starts packing. She's tired of fighting and she can just go stay with her sister. MG thinks that's her running away. And then Lizzie and Hope get a letter from Josie. Hope gives the headmaster her necklace that makes quiet things heard, and hopes he can see what this school means to those who call it home.
Jed realizes that he's no longer a werewolf, which works out since his boyfriend is no longer a demi-god. They decide to be regular human boyfriends, and Jed gives the pack over to Finch, the tiniest lesbian alpha.
Hope summons Landon and asks him if he can use his new Ferryman powers to find her father because she needs some guidance. Klaus found peace, so he can't come talk to her, but he sent a message back, telling his littlest wolf that she's the best decision he ever made. He tells her the most important thing she can do in life is live it, and that he loves her. Always and forever.
Lizzie finds MG and says she realizes he's right; Josie is happy in Europe, but Lizzie needs to find her own happiness. And as if to bring me MY happiness, the doors swing open to reveal: CAROLINE!!!! I'd given up hope that she would return, and audibly gasped when I saw her. In even better news, she's going to be replacing the headmaster! And I know this might not have been the plan if there WAS going to be another season, but I want a full season of Headmistress Caroline.
The students are reinvigorated now that the school will stay open. Hope sends the only tribrid-killing weapon to the person she trusts the most: Josie. She scatters Klaus's ashes in the lake so he can witness his legacy. Hope thought she came from a long line of villains, but she knows better now. The world isn't as black and white as that. And you are the ferryman of your own fate.
Caroline gathers the Super Squad together and has Hope go out to greet the new students. She smiles brightly at the next generation and says, "Welcome home."
I'll miss our band of queer witches, vamps and wolves very much. But I have faith this isn't the last tale we've heard from Mystic Falls. The show might have been canceled, but if it taught me anything, it's that…there's always a loophole.