The coronavirus math is bad out there, y'all. All across the U.S. — and in many other countries — case counts are absolutely out of control, and winter travel is going to make it worse. My spouse Wynn and I accepted a while ago that we couldn't travel safely to see friends and family during the holigays, and we are pretty heartbroken about it. None of this is our fault as individuals, and our individual choices only go so far in mitigating the spread of COVID-19. We're all having to make impossible calculations with limited information. But like a lot of people, Wynn and I are spending Thanksgiving on our own this year, not even a local Friendsgiving celebration in the works.
Still, we're trying not to resign ourselves to loneliness. Wynn and I are planning a few different ways to connect with bio and chosen family in the next few weeks. Perhaps some of these might help you and your loved ones feel close in these lonely and far-away times, too! Not everything can be replaced virtually, but some things really can still have at least some of the same possibilities for deepening connection and creating fun memories. Here are my suggestions! Please share your ideas in the comments.
Make Food With Your Loved Ones
Food is such an important part of shared life together, and I really really miss it. But I think there are ways to share space around a meal even if it's not the same. Here's what we're planning to try with my in-laws: We're going to pick one dessert (maybe flan??) we've never made before and each prepare it in our homes. Then we'll share pictures, compare our strategies, laugh at our mistakes and zoom while we dig in together.
If you're not sure where to start, don't worry, Autostraddle can help. Take a gander at some of our recipe series like Femme Brûlée and The Dyke Kitchen, or go wild and peruse 19 pages of recipes from the past ten years.
Research Land Back and Indigenous Reparations Actions You Can Take in Your Region
Thanksgiving is a holiday rooted in the violent colonialist myths about the founding of the U.S. So, if you are not Indigenous, it is an extra great time to learn more about the many movements to restore the sovereignty of Indigenous tribes, force the U.S. government to honor treaties, and much much more. Then, you can share what you learned with friends and family, set up a fundraising pool, commit time to educating others, and consider long-term plans for how to orient yourself in solidarity with Indigenous people.
A starting point, if you haven't done this, is to research whose land you are on, then research how you can support the priorities that those tribes and communities may have for monetary and land reparations, legal support, advocacy, and education. For a broader view and understanding, Resource Generation has a great resource round-up that I am planning to spend my Thanksgiving break working through with Wynn. This holiday season, you could ask a family member or loved one to partner with you to do some political education and action, not just for the next few weeks but in a long-term, sustainable way.
Play Some Virtual Games
Growing up, my family always played tons of games when we were together. Spades, Yahtzee, Dominoes, and Monopoly were among our favorites (though Monopoly usually led to a lot of cheating and yelling). Board games and card games can be a wonderful way to pass the time and the internet is full of ways to play games together online. Jackbox Games has some amazing options (our favorite is Drawful). The games cost a medium amount of money, but if one person has Steam and purchases the games, you can then share over Zoom and everyone can play from multiple locations! Here's a step-by-step guide. Among Us has recently exploded in popularity, and although I personally do not understand how to play it, people really like it! If your family and friends prefer classic games, Wynn found the platform PlayingCards.io where you can create any card game and play it virtually; they have other classic games as well. You'll need a phone call or Zoom-type situation in order to chat while you play.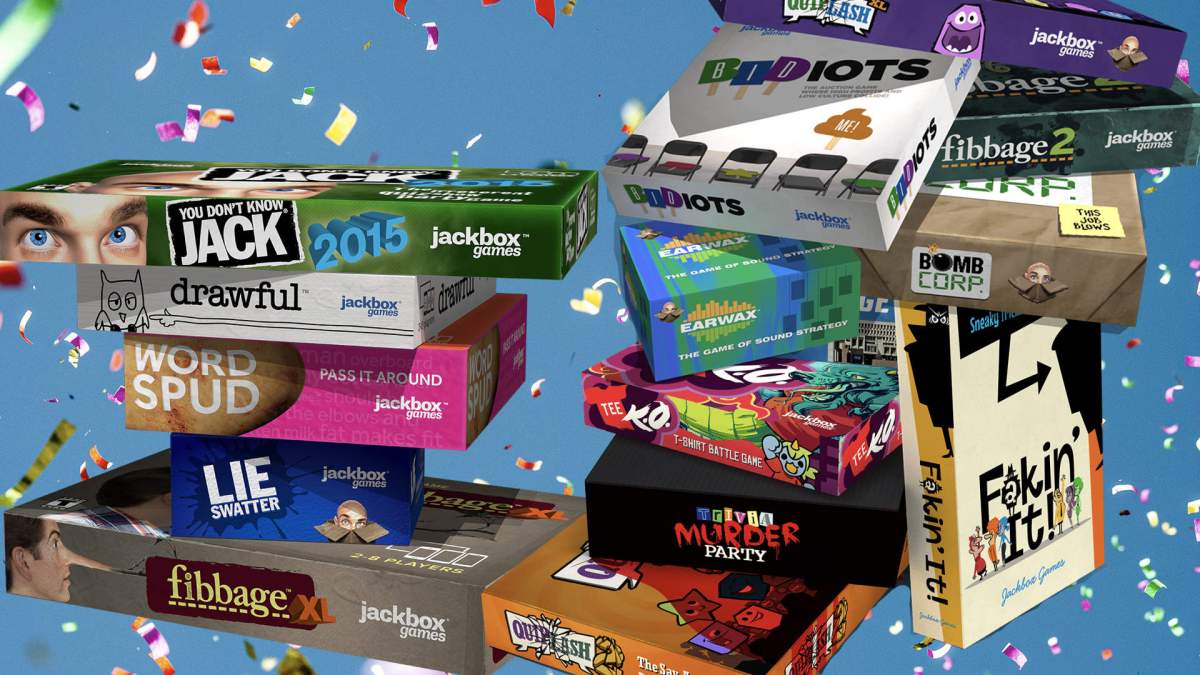 Finally, for a lower-tech version, my friend Frances recommends puzzles. Basically, everyone in their family is working on different puzzles, and they are sharing progress photos and updates over text. Sometimes just knowing that someone you love is out there also yelling about where the last freaking edge piece is can create a feeling of togetherness and give you something new to bond over.
A Good Ol' Fashioned Group Movie Watch
The long-distance movie watch has been a staple of queer (and straight, I guess?) LDRs for many moons, and for good reason! Not to be too earnest, but experiencing stories together is at the core of the human experience. Now, most streaming services have some kind of "watch party" option where one person hits play and it plays synchronously for everyone in the group. I recently watched 90s classic Kazaam on Disney+ with a friend for their birthday and it was just as weird as I remembered!! We set up a group text so we could share our reactions.
Perhaps you and your loved ones would enjoy watching modern lesbian Christmas classic Carol, or forthcoming lesbian Christmas classics Happiest Season (Hulu) or A New York Christmas Wedding (Netflix)! If you can't choose, you could always grab your favorite movie snack and cozy up on your separate couches for a marathon.
For a lower tech option, you and your family and/or pals could choose a book to all read and then discuss on the phone when you finish!
Take A Break From Intense Togetherness This Year
I'd be remiss if I didn't throw out this last option. For many queer people, the holiday season carries a tint of dread about having to deal with the more complicated components of our families of origin. Never has there been a better excuse than a literal pandemic to bow out of family events during the holiday season. The suggestions above are meant to inspire you to spend time with the people you want to spend time with, not to create new obligations to people who harm you! Maybe this is the year you can eat exactly what you want, make hot cocoa for one to enjoy in a hot bath, catch up on household projects, or just get some extra sleep. This year has been one catastrophe after another, and we deserve some real rest. Take care of yourself and your household first and foremost.
---
How do you plan to celebrate the holigays? Are you coming up with creative ways to connect with friends and family? Share your ideas in the comments!