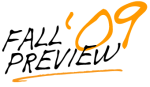 We set up an official guide for everything Fall Preview 2009. Which also includes a really, really, really, really important opportunity for you to support this season and the potential of future seasons by throwing some cash at Autostraddle! And maybe even get a little something extra for yourself …
Yesterday, Alex created for your viewing pleasure our first ever Terrible/Awesome Forecast Grid!!
The day before that we brought you the Big Gay Fall TV Preview, which offers you lots of LOLs and our roundtable-esque witty banter.
On Wednesday we live-blogged Glee (and the presidential address a little) and played the Glee Drinking Game.
Yesterdays Daily Fix: the day Obama kicked ass/took names and Ellen announced as 4th American Idol judge and more!

+News & Politics
BAR RAID: "At approximately 11:30pm on Thursday, September 10, 2009, a gay bar in Atlanta, the Atlanta Eagle, was raided by the Atlanta Police Department. Several bar staff, male dancers, and patrons were arrested between approximately 12:30am and 1am and taken away in paddy wagons, but it is not immediately clear why." (@atlanta progressive)
From RACHEL MADDOW: "The Right finds 9/11 Ripe for Exploitation."
REAL GAY HERO: "Powering the charge on United Flight 93 was 31-year-old Mark Bingham: rugby champion; PR firm owner; friend to hundreds; fervent University of California, Berkeley, booster; and gay man. His death—and, when his story hit the wires, his life—gave America an authentic gay hero." (@the advocate)
Keith Olberman's Special Comment on Joe Wilson and about all the stuff George W. Bush said that never made anyone call him out. A must-see.
Also if you haven't seen this incredible Keith Olberman in a minute video, your life is about to get changed. (Sidenote; we love him):
CASTER SEMENYA: Caster Semenya Has No Womb and Internal Testes. Does That Make Her a Man? – What does of any of this mean? That Semenya is intersexed — which, while a curious revelation for the media to pounce on (especially because they get to use the word "hermaphrodite"), is not all that abnormal. (@queerty) A breakdown analysis on Jezebel.
CHRISTIANS BE CRAZY: Christian Billboards Inspire and Outrage with Gay-Friendly Messages. (@edge boston)
CRAZY JOE WILSON: Joe Wilson — This One's Too Easy– Racism and discrimination are rarely overt in twenty-first century America. They are usually veiled in disparate acts of disrespect and unfairness … When did we become so afraid to call out racism? (@huffpo)
+Arts & Culture
ELLEN AIN'T CRAZY: Bitch magazine asks: Will Ellen DeGeneres make American Idol a gayer place? And Defamer says: "Another reason DeGeneres gives us a thrill: she's a lesbian. Shocking, yes, but it's true. After homosexual Adam Lambert made it so far last season, Idol producers are now publicly acknowledging — or, at least, accepting — the show's innate gayness."

SEX SELLS, YOU CRAZY?: Fleshbot reports that we can see Lady Gaga's boobs in full if we so desire. Also, The Daily Beast debuts Sexy Beast, which includes a Lady Gaga gallery.
CRAZYTOWN: Nine Turkish girls rescued from a fake reality tv show – Mothers took their daughters to audition for a reality show to be stars. They were expecting Big Brother but they were surprised to find pics of them by the pool and exercsising in skimpy clothing sold online, as well as bikini fighting videos, which were voted on by the users who wanted to see more.
TENNIS: The US Open is full of sexy tennis players! (@huffington post)
ROCK N ROLL CRAZYTON: Five Lesbian Indie Rockers: Includes Girl in a Coma, Erase Errata, Mirah and more! (@queerty)
LILO IS SHOWING TWITTER HER CRAZY: The Twitter Ballad of Samantha & Lindsay: Thank god Samantha doesn't pick up her phone, because then we get to see these glorious tweets." (@jezebel)


Auto-Straddler of the Day

On: Autostraddle's Terrible/Awesome Forecast Grid – The Fall Preview Edition
The Intern Comeback Award
Heather: This straddles the line between awesome and awesome.
Intern Rachel: I feel like if we had a contest for "effectively working the word "straddlewp_postsinto a comment,wp_poststhis would win it. way to straddle.
The bcw Award for being bcw
bcw: ellen is judging american idol? YOU LIE!

from Intern X:
Sometimes vandalism can be really cool! Check out this gallery of street art that involves putting googly eyes on urban objects and making them look alive. It's so neat!
+
+

from Riese: Until I was eight my family lived on the road, travelling around Ireland by horsedrawn wagon. Instead of going to school, my siblings and I, like many children from travelling families, were taught about the arts, music and dance: My Gypsy Childhood.
+
from KC Danger: Tired of storm cloud graphics and five-day forecasts? Head over here for a an update on the f*cking weather.