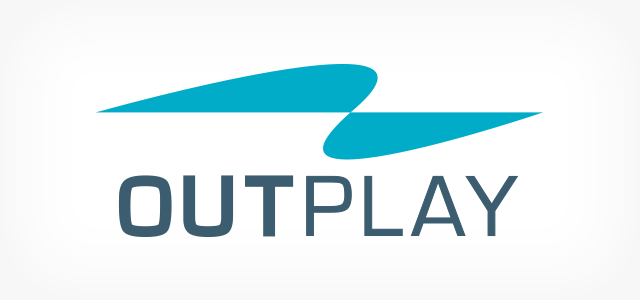 Confession time: despite this upcoming A-Camp (May 29th to June 3rd) being my sixth, I've never actually gone in the pool at the A-Camp pool party. I've put my toes in; I've counseled Alice Motes about a wet hard drive next to the pool; I've cheered on Team Blue as they've lost spectacularly at the pool games competition. But I've never not once gone in. This is because my one and only swimsuit situation includes a sports bra and a pair of board shorts so old that they've been chlorined into that weird pink-black fade color. Not cute. And I've resisted buying a swimsuit since swimsuit shopping is pretty much the worst thing ever for masculine women and, frankly, I don't like the water that much so it's never been a huge issue for me. Still, it'd be kinda nice, right? To go in the pool? With all the rad beautiful queers? Ah well, I guess I'll just stay out here and watch Gilles dance around in the shallow end…
Gender-neutral sport and swimwear company
WELL NO LONGER. My mom got me an Outplay swimsuit a while back because she recognizes how hard it is for me to find something I like (shoutout to Moms who randomly get their almost-30-year-old daughters gifts just to make their lives easier!). Outplay makes swimsuits specifically for the gendercreative among us with boobs. Compression swimsuits, people, a choice of high or low on every style top. Run, don't walk. It's all designed by Marialexandra Garcia, a former bridal designer who loves to make clothes that actually fit people and make them feel better and more comfortable. No more terrible swimsuit shopping torture!
Compression swimsuits, people, a choice of high or low on every style top.
Outplay makes boardshorts and rash guards and stuff, but I opted for the two pieces that, when put together, make me look like an old-timey gentleman in a swim costume (I have this one in red and this one in grey, if you're curious). Totally mix and match, so it feels very design-your-own.
When Outplay came to us wanting to donate a full-tuition Campership for one lucky A-Camper, I knew I had to write the post. Not only will the Campership winner get free entry to camp courtesy of Outplay (a $625 value), but you'll also get a choice of a top and bottom swim pieces so you'll never be in the position I've been in—watching everyone else have fun in the pool. Jump in with both feet and apply!
What You'll Win
Full paid tuition to A-Camp, including lodging and all meals, courtesy of Outplay
Shuttle transportation to and from LAX airport, if needed
A choice of top and bottom pieces from Outplay
The time of your damn life
Note: Winner is responsible for their own transportation to A-Camp (or LAX Airport)
---
How to Enter to Win the Outplay Campership:
You may apply for a campership if you already registered but you won't get your $75 non-refundable deposit back, but also we really do encourage you to only apply if you don't have a spot and/or aren't able to afford camp without a campership.
1) Sign up for the Outplay email list
2) Follow @out_play on Instagram
3) Post a photo of your most creative summer pose and be sure to tag @out_play and @autostraddle
And y'all know how I feel about supporting small businesses that support the queer community, so I urge every one of you to take a look at Outplay's web store—see if your perfect swimsuit is waiting for you there.
You'll have until end of day Sunday, April 10th to enter and post your photo.
The winner will be chosen and notified on Monday, April 11th.
Good luck and happy campershipping!