We've talked about Cameron Esposito here before: there was the Autostraddle interview, the clip that went viral promoting the album, and the time she got called "the future of comedy" by Jay Leno. She's been seen or heard on the Late Late Show with Craig Ferguson, Chelsea Lately, Maron, Last Call with Carson Daly, and Adventure Time. She hosts the live standup podcast "Put Your Hands Together" at UCB Theater LA and has a biweekly AV Club column "Who In The World Is Cameron Esposito?" By now you have no excuse to NOT know who she is.
The album was recorded in Portland and absolutely takes advantage of the live element. It's not sterile and pristine with an audience that laughs as if on cue and quietly sits and enjoys their time because that's not what live performances are like. Now of course there's the chance that someone will be a craphole when you have an audience that really feels like it's partly their comedy album (which I think a few people did) but for the most part, it only led to special moments that upon relistening will keep the material feeling vibrant. Especially when it comes to the moment where a bunch of lesbians go off on a dude for being sexist!
The beginning of Same Sex Symbol has a lot of material on what it was like for Esposito growing up as an unknowingly gay kid in the suburbs of Chicago that didn't know any gay people or even that gay was a real thing you could be. Of course her troubles didn't end there as she had to wear an eyepatch for a large portion of her childhood and she was like the living embodiment of a Lumberjanes character but probably without the cool catchphrases. We're taken on a quick tour of her life, from eye patch to engagement and treated to funny anecdotes, classic misdirection bits, and what she refers to as a TED Talk on why hooking up with a lesbian if you are a straight dude is a terrible idea.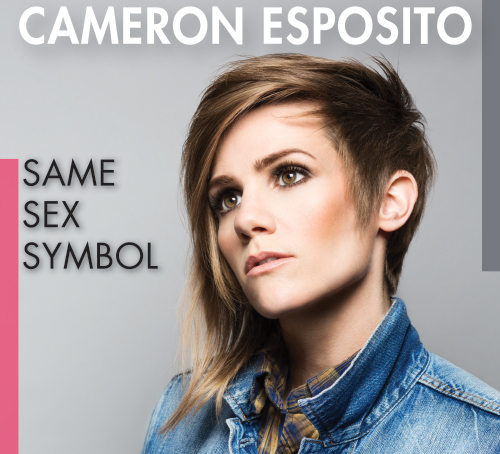 There are times in which the entire performance felt like a TED Talk hidden inside of a stand-up act. To me a TED Talk is this life-changing way of viewing the world couched in something simple and engaging. In this case, add very funny to that list. It never feels corny or gimmicky or finger-waggy. She's doing what every other comic is trying to do by owning her point of view. Cameron Esposito is the comic they're all trying to be, it only appears "different" because her identity isn't that of a straight white male. I mean what do people think straight white dude comics are talking about? It's their experience being straight white dudes! At this point I don't know how a straight white dude comic wielding his privilege all over the place without even realizing the underlying irony in all of his jokes isn't widely referred to as a gimmick.
Being a lesbian comic on the road with material largely surrounding your own identity indicates a trust in your material, your message, and people's ability to listen, learn, and relate. A pretty optimistic approach given how many of her stories involve someone being sort of shitty to her. Despite that, she never falters in her message and she never fails to be anything short of hilarious as she encourages you to try to understand where everyone is coming from because at the end of the day, we're all just trying to find ourselves so we can be confident enough to rock a side mullet. At one point Cameron characterizes Chicago as optimistic and Portland as specific and I think this album perfectly embodies both of those things. Download it at Kill Rock Stars now. It's already hit #1 on iTunes for a reason.