The most important news in today's Boob(s On Your) Tube is that Natalie is hosting GAY SMOOCHING MARCH MADNESS. (That's not the official name, but maybe next year.)
This week Kayla had some very complicated feelings about Riverdale, Riese wrote about a show she loves called You Me Her, Carmen recapped the latest Black Lightning and shared some beautiful thoughts on The Fosters season finale, and Valerie wrote about the triumphs of feminist storytelling in Jessica Jones' second season.
Here's what else!
---
The Arrangement: Season Two
Written by Riese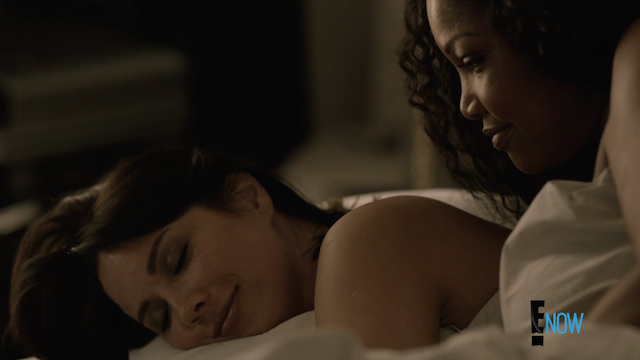 One of E!'s few scripted series, The Arrangement follows a young actress, Megan Morrison, who scores an audition opposite Kyle West, a massive star heavily involved with an organization called The Institute for The Higher Mind.(AHEM it's about Scientology!) Megan and Kyle hit it off, and she snags a role in his film and the role of his girlfriend — yannow, like the Katie Holmes / Tom Cruise thing. The Institute is headed up by Terrence, a tightly wound smooth talker sociopath. In the first season we learn that he has a very rocky open relationship with his wife, Deann, who at first seems like a scheming Alpha Bitch but eventually reveals herself to be the far more competent, intelligent and level-headed member of their little leadership team. Her bisexuality is revealed to us in Season One via a torrid, clumsy situation with an idiotic white woman they hire to do some recon that eventually leads to a blackmail thing and it seemed likely that Deann's lady-feelings could quite possibly fade into the background with that little mess and never appear again.
But my friends, they most certainly did not! Season Two's first episode finds Deann texting with "Mason," a lover she apparently sees one weekend a year and is truly itching to see again. When Mason strolls into the bar — Mason is a lady, surprise! — Deann lights up like a g-ddamn Chanukkah bush. In the second episode, Deann and Mason are tangled up in the sheets together in post-coital bliss, which's gorgeous because they are and also because we so rarely see two women of color in a relationship on the teevee! Mason can stay in town extra long this time, she says, and Deann says oh but if you do that it will be an affair, not just a weekend, but also clearly she cannot resist the siren song of this potential affair. The way Deann acts around Mason is radically different than we've ever seen her before. Like, she seems happy? I love Deann.
Meanwhile, their marriage counselor tells Deann and Terrance that a successful open relationship involves sleeping with each other, not just other partners, but at the end of the episode, Deann tells Terrance that they should just chill on the sex pressure right now because she's super stressed about the movie. But the real reason is that she's gonna spend the season in bed with Mason and I am very excited about this. I won't be offering regular mini-caps in BOYT 'cause I'm pretty sure nobody on earth besides me watches this show, but if it's worth an end-of-season write-up or anything otherwise earth-shattering happens, I will report back.
---
We often romanticize memories of our college years. We talk about how free from the expectations of our families we were able to explore and experiment and, ultimately, figure out who we wanted to be, both personally and professionally. But what often gets left out of that romanticized version of the story? The truth: finding yourself can be messy AF. It's a lesson Ana learns the hard way this week on grown-ish.
The girls are getting ready for the freshman formal, perfecting their hair and make-up, accessorizing with Zoey's eBay finds (in some very weird product placement) and getting sufficiently lit by playing a little game called "Never Have I Ever." The game — which was, for the record, the bane of my college existence — reveals that Ana hasn't really done anything: no smoking weed, no skinny-dipping, no DUI on a bike and, certainly, no kissing girls. She may have left her parents' expectations behind in Florida, but Ana's feeling the pressure from a whole different set of expectations at Cal U and to cope, she commits to getting white girl wasted.
Everyone's having a fun at formal, dancing and snapping plenty of pictures/video to capture the moments… Ana, especially, since she keeps taking sips from a flask that she's hiding in her bosom. Once the intermission arrives, Nomi invites a drunken Ana to go get water with her, a request that Ana responds to a little too gleefully and, already, you can see where this is going.
Later, Ana tries to pull Nomi back on the dance floor but Nomi resists — because, in the same episode that grown-ish is pimping eBay Fashion, they're also putting a college freshman in Louboutins — so, instead, Ana just dances up against Nomi. Content to let her drunk friend do her thing, Nomi grins and bears it until Ana leans in for a kiss. Nomi responds harshly, saying that she won't be some girl's experiment.
She just wanted to live, Ana says in her defense, pointing out that Nomi had to kiss her first girl at some point. Nomi takes her point but points out a clear distinction, "I did it 'cause I had legit feelings for her, not 'cause I was checking off boxes on some freshman bucket list."
But, as mad as Nomi is about the near kiss, she still spends the night taking care of her drunken friend, eventually taking Ana home and tucking her into bed. It's a stark contrast from the scene recounted in grown-ish's first episode, where Ana gets drunk, embarrases herself and Zoey abandons her. Before she drifts off, Ana apologizes for offending Nomi and is rewarded with a kiss.
"There," Nomi says. "You've lived, bitch."
Ultimately, it's less about the kiss and more about the message: exploring your identity and experimenting sexually are, for the most part, good things but that exploration and experimentation shouldn't come at the expense of others, especially not without their consent. Nomi (and all LGBT women) deserve more than to be treated like sample stations at Costco by straight women. It was refreshing to see that play out on television.
But also: did you see Emily Arlook in that suit?
---
This week's episode opens with Sara mid-nightmare, seeing a little girl screaming her little head off, and Sara wakes up in a panic. But luckily, Ava is there in bed with her and immediately reaches out to calm her.
record scratch
AVA. IS IN BED. WITH SARA.
And is comforting her about her nightmare.
Ava asks, kindly, not accusingly, about John, a name Sara was calling out in her sleep. Sara says he's a demonologist who maybe she sort of slept with a few weeks ago. But Sara assures Ava it was before she had a girlfriend. GIRLFRIEND. Sara hasn't had a girlfriend — hasn't even come close — since Nyssa al Ghul disappeared from her life. And here she is, good ol' Sara Lance, smiling up at a girl she wants to call her girlfriend.
They giggle and start to go under the covers together and it's so FUCKING CUTE but then Gideon interrupts because time itself is falling apart or whatever.
Now listen I don't usually have much to say one way or the other about Nate, but he nonchalantly says good morning to his captain and just as nonchalantly asks where "Mrs. Captain" is and she nonchalantly answers and it's nonchalantly BEAUTIFUL.
As soon as the Legends split up to fix some time cracks and Sara finds herself alone no the Waverider, she feels the Death Totem calling to her and follows the call. The Black Canary appears, just as Sara looked after she died the…second time? back in season three of Arrow. She tries to tempt our White Canary, saying she can stop feeling guilt over the lives she's taken, bring back her sister. Become a commander of death.
Sara can't fight the darkness, so she puts the Death Totem on.
When Zari and Amaya, aka The Dream Team, aka only I call them that, Gideon is half shut down, Ray is unconscious and injured, and it is immediately clear that chaos is afoot. They quickly find Sara, but it's not the Sara they know. It's not the White Canary, it's not even the Black Canary. It's the Death Canary.
Mallus (which I keep hearing as Mollusk even though I know it's not true) speaks through Sara, saying their captain is lost to them, but her team calls out to her anyway. With good reason, because Sara is not lost, she's just in the Ravenswood-blue-filtered land of Mallus.
Mallus tries to keep her there while saying this is the monster Sara truly is, just what she's always feared; and while her team doesn't believe her evil, they know a Death Totum amplifying an assassin/demon combo can't be great.
Ava holograms in and tries to be nice about Sara's new goth vibes but when she walks right through her without saying a word, Ava knows something's up with her girl.
She goes to the Legends and explains how she's dead-set on getting her Sara back, and so she doesn't bat an eye when she has to go to the very man she was just experiencing jealousy about to save her.
Constantine's first suggestion is to kill Sara, but Ava a) will not stand for that b) explains that Sara is bonded with the Death Totem, so Constantine knows they have to handle this more delicately.
Constantine says he's going in after Sara and Ava demands she go too; she has just as much of a connection with Constantine, if not more. Constantine is amused and asks for Ava's hand, which Ava laughs at, and gives him one finger as a compromise. It's a very cute scene.
Alas, that plan doesn't work.
Ava admits to Constantine that she was a little jealous of him, because she's not sure if Sara is a one-woman woman, but Constantine points out that Sara Lance is worth the risk. Using D&D as a guide, Gary, of all people, gives Constantine an idea of how to find the Legends and the Waverider.
Constantine kisses him on the mouth and Gary smiles like he just defeated an ancient black dragon with your blood axe after a long and harrowing battle. Long story short, they have to try to locate the totems, not the ship or the Legends themselves.
Meanwhile, Nora tries to woo Sara into the darkness, saying the darkness is part of them, saying Sara can't fight her true nature, saying once a killer always a killer. Nora shows her a vision of when she was in the League of Assassins and she killed a target, only to find out he had a daughter. A pang of guilt she's carried with her; though one she might have started to let go until this whole Mallus thing, given we haven't seen the little girl until now, and the girl mentioned something about having been away.
Eventually Ava, Constantine and Gary show up and throw holy water on Sara and call out to Ava. Mick uses the fire totem to knock Sara down, and Ava rushes to her side to try to bring her girl back.
Nora tries to use Ava against her, asking if Ava knows what Sara has done, but the thing is, she has. And Ava's voice is in her head now, calling her brave and strong, begging her to come back, asking her to come home.
Ava puts her hand over Sara's heart, the way she did this morning when she woke up from her nightmare, and Sara looks at Nora with a renewed sense of determination. Sara doesn't want to give up on her life, she doesn't want to belong to Mallus, even if it would supposedly be a life without pain.
Sara will not wield death. She will not bring more death to this world.
Sara comes back into her body and her eyes get their blue sparkle back. She smiles at Ava and says, "You saved me again," and Ava just laugh-cries her relief.
Later, Sara and Constantine celebrate with a drink, and Sara admits she's afraid of hurting Ava. That fear carries her through to her bedroom, where Ava is waiting for her. But she just used her own Canary hands to break the bones and beat the blood out of the people she cares about most, so she can't risk hurting Ava, too. She says she is death, and even though Ava thinks death becomes her, even though Sara is the happiest she's ever been, Sara breaks up with Ava with a wavering voice and teary eyes.
After Ava leaves, Sara lies down in her bed and finds a note under her pillow saying the spot was reserved for "the girlfriend of Sara Lance." So Sara gets up with renewed purpose, in what I can only imagine was a fierce determination to defeat Mallus and Darhk once and for all so she can get her girl back. Hopefully. All I know is Ava Sharpe isn't going to give up the girl without a fight.
Though, then again, Ava Sharpe has secrets of her own, many of them, all with her same face, marching all over next week's episode. Dun dun dun!
---
Nicole's storylines continue to surprise and delight me on Fresh Off the Boat. This week she and Eddie and their friends decide to wear the orange and blue tuxes from Dumb and Dumber to a school dance — man, they love Jim Carrey — but are thwarted by the adult dance committee who jumps in at the last minute and says girls have to wear dresses and boys have to wear pants. At first Eddie doesn't get why Nicole's so upset about it; she wears skirts all the time. She busts out the word "gender conformity" and says she'll wear a skirt when she wants to wear a skirt; what she's not down with is the PTA expecting boys and girls to look and act a certain way. "What they're really trying to say is girls need to like boys and boys need to like girls," she snaps. "They want us to all be a certain way but some of us aren't!"
Eddie gets it. He knows what it's like to be different and so he shows up at Nicole's house the night of the dance wearing a tux top and a cheerleading skirt bottom. He even shaved his legs because if he's gonna show 'em, he's gonna show 'em. Their friends band together with them, Rudy-style, saying if Nicole and Eddie are banned then they're all going to be banned.
And do they all get banned.
But! Two "bisexual sirens" flirt with them in the parking lot and even though they blow it, they still have their yearbooks to try to track them down and ask them out.
Special shout out to Jessica, who finally got her book — A Case of the Knife in the Brain — published with a cover quote she lifted from Stephen King's restraining order against her. Kubrick will never go Kubricking all over the work of her genius.
---
Quick Hits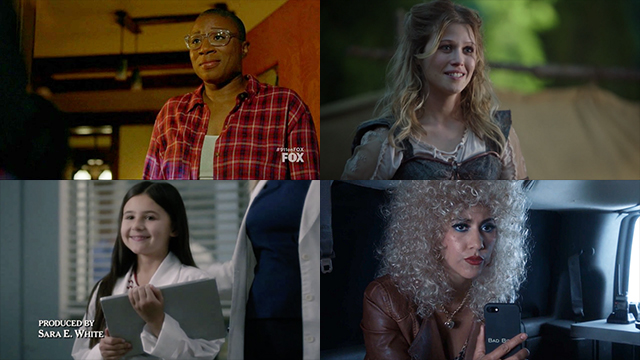 9-1-1 110: "A Whole New You"
This week was the finale of 9-1-1's first season and — surprise, surprise — it ended happily for Hen Wilson. At the end of the hour, Karen returns home to her wife, with a plea to not make her regret the move. The reconciliation felt a little unearned — aside from the dearth of groveling, Hen never really explored what made her cheat in the first place — so I fear for the future, but for now, I'll just celebrate that we had a black lesbian firefighter on a Ryan Murphy show and she survived. — Natalie
Once Upon a Time 713: "Knightfall"
Not a lot happened on Once Upon A Time last week for our interests, but they covered a bit of Alice's origin story, which, casts her as a "Rapunzel" figure. She's locked in a tower by Mother Gothel and cannot get out. I like the twist! In real time, Alice's cursed persona, Tilly, is being framed by Gothel for murder. Don't worry, I suspect the accusations won't stick! Mostly I am writing this to tell you that tonight's episode is Robin and Alice's meet cute! I know someone in the comment section was asking when that would happen. We will catch up on it during next Friday's Boobs Tube column! — Carmen
Grey's Anatomy 1416: "Caught Somewhere in Time"
For Arizona Robbins it's Bring Your Daughter to Work Day! Which means we all were treated with a few wonderful scenes with one of my favorite Grey's kids, Sofia Robbin Sloan Torres! Sofia is sad because she misses New York and she misses her other Mom (Join the club, kid! We all miss Callie Torres everyday!), so Arizona treats her to a day around the hospital. It's all very cute, and I hope we get to see more of Arizona and Sofia bonding in the future. Also, Candis Cayne made another appearance as Dr. Michelle Velez. She received her gender confirmation surgery, but not without some funny side drama between my favorite mother/son duo — Catherine and Jackson Avery — first. It all worked out in the end for Dr. Velez, and I hope we get at least one more episode with her before she departs for good. — Carmen
Brooklyn Nine-Nine 512: "Safe House"
Brooklyn Nine-Nine's back! While Rosa's waiting for Gina Rodriguez to show up and sweep her off her feet, she goes undercover at a salon to try to get a hairdresser to gossip about where her boyfriend, the crime boss who's threatening Holt's husband. It's an absolute joy for two reasons: 1) Marc Evan Jackson as Kevin Cozner is never not hilarious. 2) Rosa goes blonde and gets a perm. — Heather
Life Sentence 102: "Re-Inventing The Abbots"
Nothing gay to report on the second episode of Life Sentence, except Ida is not apologizing for "coming out as a bi" and after I finished watching it I said to my cat, "I like this show and I don't care what anybody else thinks." — Heather