You Me Her, a charming little television program that bills itself as "TV's first polyromantic comedy," returned to the elusive Audience Network last night for its third season, promising further explorations into questions like "is three a crowd or the secret to true happiness?" and "how do we hold onto the 'me' in 'You Me Her'? Although its tone is more conventional than the subject matter suggests,You Me Her is a winning, feel-good series with eminently lovable characters and a smart indie rom-com feel that tackles issues rarely explored on television and, relevant to your interests right here in this space, has two bisexual female protagonists.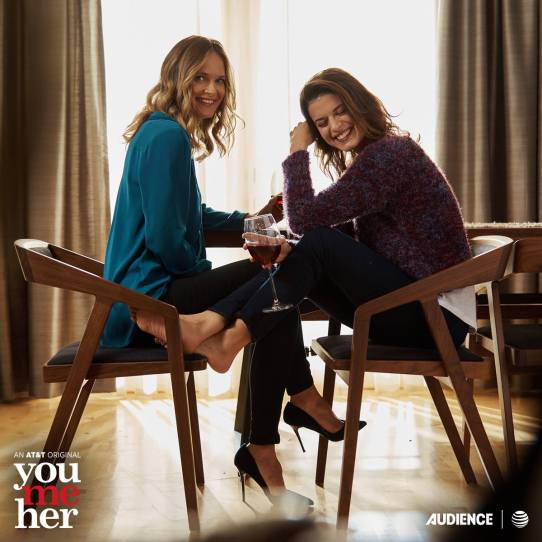 We've not talked to you about You Me Her before, which's strange and unlike us but also kinda like us 'cause it's hard to find! It's been released on Netflix in Canada and abroad, but not the U.S.. Stateside, your only access to You Me Her is through its network, Audience, which's available exclusively to Direct TV and AT & T U-verse Subscribers. DirectTV Now's free trials and cheap monthly plans aren't too pricey, though, and you'll also get access to Audience Network's original show Mr. Mercedes, which features Breeda Wool as a lesbian techie and also stars Mary Louise Parker, Holland Taylor and Kelly Lynch. But listen, we're all here now and they sent me screeners and we're gonna talk about it.
The backstory goes like this: Jack (Greg Poehler, sister of Amy) and Emma (Rachel Blanchard) are a middle-class couple who live in what they refer to as "the suburbs of Portland"1 (a very odd choice for a show in which literally everybody is scandalized by polyamory) (I'd venture to suggest that You Me Her would've been better set in literally any American city EXCEPT Portland) and are trying to get pregnant but also rarely have sex. Following his terrible brother's advice, Jack hires an escort to re-invigorate his sexual spark — Izzy, a spunky, scattered grad student. They hit it off, kiss a little, he feels guilty, and immediately tells Emma about it. Emma responds gamely by booking her own appointment with Izzy, during which she receives an admirable under-the-table foot job and sparks fly all over the place. Emma reveals to Jack that she saw Izzy and by the way, she's actually been with women before and in fact dated multiple women but for some reason this never came up throughout nine years of marriage in, I must remind you, PORTLAND. Although "sex worker falling for a client" is my least favorite sex worker trope (for its very real-world ramifications of clients expecting sex workers to fall in love with them), I forgive it here, mostly 'cause it involves a girl but also 'cause there's so much excitement around Izzy's frenzied feelings for Emma and Jack that I didn't have the time to care.
Season One sees Jack and Emma struggling with their growing genuine feelings for Izzy and Izzy's feelings for them both. In Season Two, they make an official public stab at thrupledom, but eventually Jack starts feeling squeezed out, begins to fear that Emma's actually a lesbian and, as they start considering surrogacy, Emma starts wondering if she really wants kids or if that was mostly Jack's thing.
Season Two ended with the trio at a crossroads: Emma had been offered a prestigious architecture job in Seattle that improbably came with access to a private jet, and in the last episode's final moments, we see Emma boarding the improbable private jet while Izzy and Jack sit on a random bench, gushing over Izzy's genuine desire to have children.
A few months have passed before Season Three rings its opening bell. Between then and now, Izzy and Jack have settled into semi-blissful coupledom, divorce papers are in the works, and Emma is semi-blissfully sipping champagne on a Seattle rooftop with her power lesbian girlfriend Kylie. But previews suggest the love story is far from over for Direct TV's favorite throuple, and Season Three will see them drawn back to the tangled web they've woven.
I was torn by the premiere's series of events — I'm always delighted by a lesbian couple, of course, but still shipping hard for Emma and Izzy in whatever context that transpires. Furthermore, preview clips featuring a reference to "Seattle's top five power lesbians" has ignited a deep, primal joy within me that the atmosphere could never hope to contain. But Jack's assertion that Emma "realized she was gay" was puzzling, too, considering everything that happened before and also the Season Three trailer being 50% Jack/Emma/Izzy being a throuple, but I'll reserve further puzzlement until we see how it all shakes out. The series copy asks:
Will Emma return to her "lesbian dream life" in Seattle, leaving suddenly heteronormative couple Jack and Izzy to start a family without her? Or will they realize being together was complicated but being apart is unbearable?
You Me Her's creator, John Scott Shepherd, was apparently inspired to make this show by "Sugar On Top," a Playboy article about a Sugar Daddy / Sugar Mommy couple who had a regular thing going with a college student they'd met on Seeking Arrangements dot com. He "wanted to look at the ways extramarital sex could benefit a relationship, rather than harm it." It's a refreshing angle and an authentic one, too — having been in that situation many times myself and seen friends do it, bringing in a third partner or seeking out other lovers on your own can have a surprisingly invigorating impact on sex with your primary partner, and that dynamic is rarely portrayed on television. Seeing Jack and Emma react to each other's initial liaisons with Izzy without completely losing their shit and leaving the relationship was refreshing.
There's a lot I love — a lot to love — about You Me Her. Emma and Izzy are incredibly hot together and they're together a lot — with Jack and without Jack. It's witty and clever with a surprisingly magnetic (if annoyingly to me personally heteronormative) ensemble of friends and neighbors. It maintains conflict and drama without succumbing to the lure of cliche. I love the premise, in and of itself, and that a television show with an otherwise entirely mainstream aesthetic is telling the story of a non-traditional, poly relationship involving two queer women. As a person who once upon a time dated an established opposite-sex couple and kept it mostly a secret as it was happening, it's always interesting to see these complicated emotional negotiations played out onscreen, which I've really only seen before on reality shows. But at times it did feel like the team had been informed about certain poly concepts and wanted to employ them but said employment often betrayed a lack of genuine understanding of the concepts themselves.
You Me Her is adept at the nuts and bolts of good television, but sometimes the characters within it, while emotionally authentic, can feel undercooked. Although… maybe I'm just talking about Jack. Every lesbian or bisexual woman I've talked to about You Me Her shares the same primary complaint with it, and although we all fear a bias towards women on TV in general could influence our opinion, here it is: Jack fails to impress as an interesting, funny, unique or captivating partner — certainly not the kind of guy a woman as irresistible as Izzy could fall for as quickly as she does (read: immediately). He also is a sucker for bad advice and doesn't seem to have anything in common with Izzy or Emma besides enjoying sexual intercourse. I kept wondering how on earth this guy landed himself two girlfriends?!  Admittedly I quit the series once before due to my overwhelming underwhelming feelings about Jack, but then I grew as a person and returned with a more intentionally objective attitude.
When assessing fictional romantic relationships for authenticity I often impose a When Harry Met Sally Test of my own divination: could Izzy or Emma write a speech for Jack akin to the one Harry gives Sally at the end of the film? My friends, I do not think they could, at least not using information the audience is privy to. In my lesbian defense, I could definitely write WHMS speech for Kevin, one-third of my favorite ever thruple, Shameless's Kevin/Svetlana/Vanessa!
You Me Her's production team is mostly female, and the first season was anchored by out lesbian Co-EP/Director Nisha Ganatra, who also Directed/Produced Transparent and Better Things as well as the lesbian film Chutney Popcorn. As Natalie noted in the comments of a BOYT before she became an Autostraddle Staff writer, "[Ganatra]'s deft direction creates a level of intimacy that's almost palpable." Subsequent seasons have brought on another female director, Sara St. Onge, a Canadian with a few indie films under her belt, as director. It's unclear, though, if anybody poly or LGBTQ is presently involved with the production, or you know, anybody who's spent any time in Portland outside of shooting there (although most of the show is shot in Toronto). (I mean literally at one point Jack, a straight cis white man, calls himself "the first person in this town to do something new" 'cause he hired an escort. IN PORTLAND!!!!) (PORTLAND!?!!) It'd be interesting to see how the show could grow with more input from the communities it represents or having the characters come into contact with AHEM Portland's THRIVING queer and/or poly community. This trailer, though, is promising:
I'm honestly stoked for Season Three and will absolutely be watching — even though the previews give a lot away, the path between here and there is unpredictable, and for a story like this one, there are few tropes we can use to fill in the blanks.
In conclusion, Priscilla Faia is so adorable I can't stand it and I'm excited for her to make out with Emma again:
---
1 Jack and Emma refer to their neighborhood as Hawthorne and appear to live on the corner of 22nd and Market, which's Southeast Portland, not the suburbs. Also, it's chock-full of queers, hipsters, hippies, and poly folks!