I'm starting to think Luisa's not going to make it back on this season of Jane the Virgin, and it's breaking my heart. I pined away for her in front of last night's episode; alas, she never arrived! There's actually not much new to report at all since Friday's Boob(s On Your) Tube due to the recent genocide of lesbian TV characters and the fact that the regular season is winding down. Wynonna Earp, though? Wynonna Earp came through with that gayness, as promised!
---
Orphan Black
Thursdays on BBC America at 9:00 p.m.
A friendly reminder that Orphan Black comes back this Thursday night! You can watch the first four minutes of the new season below and I'm planning to recap it on Fridays for you.
---
Wynonna Earp
Fridays on Syfy at 10:00 p.m.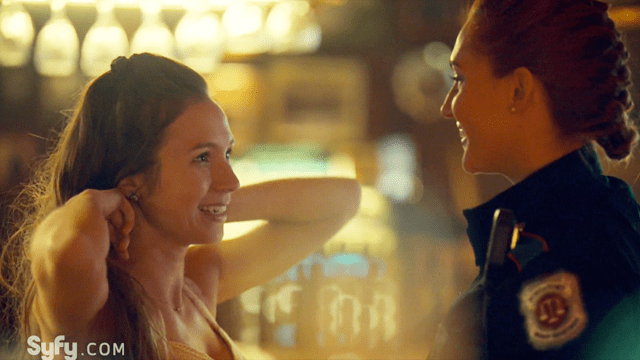 Wynonna Earp took everything I loved about the pilot and expanded on it, wasting no time walking confidently into the identity it obviously settled on before that first episode was even filmed. This week, the mythology of the show expands as we begin to learn more about Wynonna's world. For starters, only the Peacemaker can send the Revenants back to hell. There's a talisman that guards the Earp property (and thank goodness for that because it means Wynonna and Waverly are moving onto the farm to live with their aunt, just three ladies doin' it for themselves, sassing each other and killing demons). And Waverly's "imaginary friend" from childhood is actually a leader of the Revenant gang.
Despite her pilot protestations, Wynonna easily slides into that Slayer lifestyle this week, gunning down multiple Revenants, schooling her new partner in the ways of supernatural crime-fighting, and protecting her family at every turn. She embraces the black badge, but so does Waverly. She gets recruited to join the team, and she couldn't be happier. She's been researching these hellbeasts for her whole life, practically, and she can't wait to start destroying them in an official capacity. When she installs the talisman that protects the Earp land and launches a Revenant across her family's property, she looks like Christmas morning.
It's not all gun-slinging for little Waverly, though; no, siree. She's cleaning the bar where she works early one morning when Officer Haught wanders in asking for a cappuccino, and things get real queer real fast. Haught says when she wants a thing she wants it now, by which she means coffee but also Waverly. And Waverly knows it. She gets really flushed, and then gets tangled up in her beer-soaked tank top and has to get Haught's help to get out of it ("Officer!"), and then starts babbling about how she's in a relationship ("with a 'boy-man'"). Haught asks out Waverly, but she says she needs to make plans sometimes two (or maybe even THREE) days in advance, so no. But Haught says she'll be back. Their chemistry is fantastic. If you've ever wanted to watch a hybrid Hermione Granger/Piper Perabo's character from Coyote Ugly realize she's bisexual, you are very much in luck.
There's more of these two next episode, so now you have a couple of days to catch up!