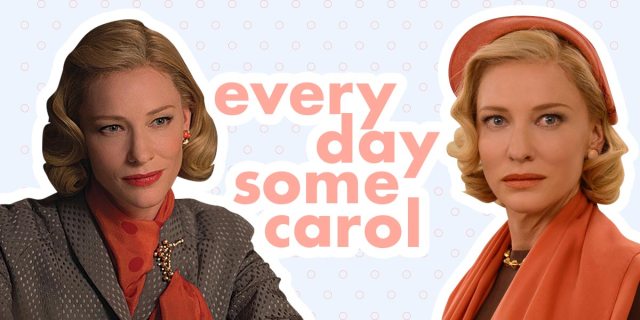 In The Price of Salt, Roberta Walls is described as a woman who "flew up and down counters and from one corner of the floor to the other, from nine in the morning to six at night." This would be Therese's manager at Frankenberg's, or as we experienced her in Carol, the see-you-next-Tuesday-iest version of a character brought to life. Sorry for partying, but…… The book also relays that Roberta was angling for a promotion at Frankberg's, and this combined with the description of her frantic physical state of being implies a Type A personality. Fine. Everyone needs a Tonya to their Dana to their Alice to their Shane.
But like, what was movie Roberta up to? You can be Type-A and not be the most ghoulish co-worker to have ever co-worked. Roberta Walls is a member of the Snaps When Getting Someone's Attention Society, AKA some of the worst to ever do it. Therese asks Roberta for a pen and paper and Roberta – who's two feet away doing absolutely nothing – looks at Therese like they're outside and she's across the street with a precarious armful of items and Therese has asked for her help in retrieving a pencil shaving from the ground.
Person: "Hey, could I borrow a pen to write down information a customer is telling me?"
Roberta:
And then in the middle of Therese actively talking to a customer screaming from across the room "BELIVET, MISS BELIVET" so loudly that Therese is forced to apologize and excuse herself. Which by the way for someone looking to be promoted is terrible managing? Correct me if I'm wrong but there's a little thing called Frankenberg material and interrupting a customer with shouts isn't a part of its makeup. Frankenberg's is about: 16 spaces after a period, hygienically moral or morally hygienic appearances, business-like manners, and nothing else.
Roberta Walls: have a relax.