After months spent lobbying for the job, it appears Gina Rodriguez really truly finally has been cast as Rosa Diaz's girlfriend on Brooklyn Nine-Nine. Terry Crews posted a picture from the set of the show (which has since been deleted) and it showed him and Steph Beatriz and Gina and that's really all the confirmation even TV Line needs.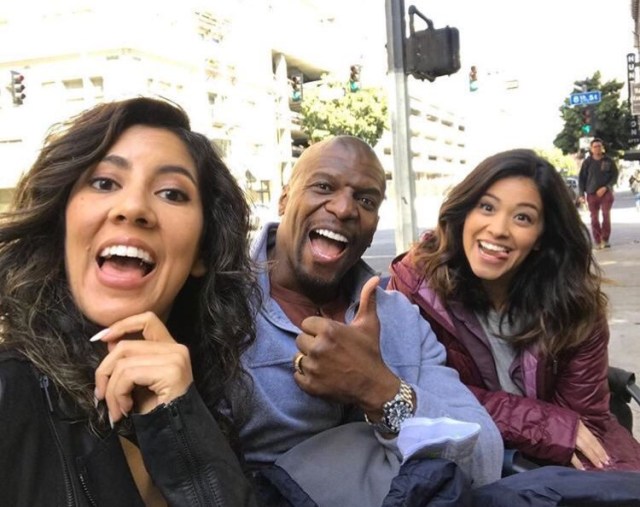 Meet Laura's girlfriend from the final season of Hulu's Casual.
The Heathers reboot has been pretty universally loathed by critics and now Paramount has decided to put a pin in it due to the Parkland school shooting.
The trailer for Evan Rachel Wood's Allure is here.
A 9 to 5 reboot with Lily Tomlin and Dolly Parton and Jane Fonda is in the works?????
Vulture wonders why there are so many bisexuals on TV all of a sudden. This is an interesting read but my main takeaway is New York Magazine is a believer in Eleanor and Tahani's love. Behold: "…Eleanor Shellstrop low-key lusting for Tahani…"
Evan Rachel Wood, Kelly Marie Tran played "Guess Who? #MeToo" for Funny or Die.
Lena Waithe signed a major deal with Sight Unseen Pictures.
Trace Lysette wrote an op-ed for Variety about speaking up against Jeffrey Tambor on the set of Transparent.
The internet had a lot of takes on the ending of Annihilation but io9 had my favorite one: Annihilation Is Actually a Warning About How Dangerous the World of Pokémon Really Is
Over at IndieWire: Everything you need to know about season two of The Handmaid's Tale.