The holiday season is here at last and the reason I know is because Shondaland aired its midseason finales last night and HOLY CRICKETS. I actually need the weekend to get caught up with How to Get Away With Murder, the last two episodes of which I will be ready to discuss in Tuesday's column. Here's everything else that happened this week!
---
Once Upon a Time
Sundays on ABC at 8:00 p.m.
It's been a while since we've visited Storybrooke and for good reason. But this past week, we finally got everyone's favorite swordswoman, Mulan, back in our lives. I'm not going to even attempt to recap the season because it's a clusterfuck of nonsense, so let's get right to Mulan and her potential girlfriends.
It's revealed in a flashback that Merida (Oh, yeah, Merida from Brave is a side character in Season 5.) and Mulan are old friends. Back then, Merida wanted to fight with the men and her Bear King dad was like, "OK fine. I got someone to train you because you're not ready, though" and Merida was like "What's a man got to do with me?" and then this warrior trainer appeared and bested Merida in hand-to-hand combat. SURPRISE. It's Mulan! Mulan whipped off her helmet and her shiny, long hair cascaded down her shoulders. Mulan was like, "We don't need boys. I can teach you a lot of things, girl." Mmhmm.
Is this a Merida/Mulan ship I see? They make a lot of knowing eyes at each other and connect as badass brave women warriors. Honestly, I kind of hope this isn't the thing, because Merida is Miss Independent and I want her to stay that way. But cue the fanfic, anyway.
Flashforward to the current OUAT storyline, where Merida finds Mulan, who has turned to a life of petty crime since we last saw her (and since Aurora dumped her) and asks for her help with a mission. Shortly after that, Mulan goes to find the witch that cursed Merida's family (It's a long story. Don't worry about it.) and instead finds a snarling grey attack wolf in the witch's cabin.
But Mulan isn't afraid. The wolf has her pinned to the ground all angry-like and Mulan gives this soft butch smirk like, "I see you, femme fetale. I can appreciate a femme top," and dumps a potion on the wolf. Lo and behold, it's Ruby. Yes, that Ruby! Somehow, Ruby goes from straddling Mulan as the wolf to chastely sitting next to her when she transforms back. There's some homophobia in that potion, methinks. Ruby and Mulan make lots of googly eyes at each other without ever actually expressing any sort of affection or phsyical intimacy for the rest of the episode.
At the end, Mulan admits that she was absolutely devastated by a broken heart and, like talking to your Republican uncle about your girlfriend at Thanksgiving dinner, she carefully avoids using any pronouns. Ruby suggests that Mulan join her on "her path" and that it might lead Mulan to her own path. I hope the path is scissoring. Whether you're shipping Merida/Mulan or Ruby/Mulan or some sort of lesbian thruple, the queerbaiting is strong on OUAT right now. It might be time to tune back in if you want to wait patiently for a chaste lesbian kiss that may or may not happen between these gal pals in the second half of Season 5.
---
Fresh off the Boat
Tuesdays on ABC at 8:00 p.m.
This week, the Huangs host Thanksgiving. Eddie is excited to hang with cousin Justin and listen to Pearl Jam, who they've identified as musical common ground between Eddie's love of rap and Justin's love of grunge. Unfortunately, Justin is now into straight edge ska, meaning Pearl Jam is out. They decide to look up sexy ladies on the internet instead.
Since it's 1995 and pictures take a long time to download, Eddie and Justin have to pick a sexy lady to look at ahead of time. Eddie's interested in Janet Jackson, while Justin wants to see Janeane Garofolo. They compromise on a smart, talented female musician with lots of opinions on social change: Tracy Chapman.
"Sensible vest," says a visibly disappointed looking Eddie.
Jessica's gay ex-boyfriend Oscar Chow also makes an appearance this episode, bringing his new NPR-listening boyfriend, Michael.
---
Empire
Wednesdays on Fox at 9:00 p.m.
Shots fired! Lucious has invited all of the entertainment bloggers to Leviticus to issue a challenge to Hakeem through a performance by Freda Gatz. She basically calls him a punk and says that she is going to battle him for his last name. Dude, I have never met a man that is willing to strip his name from one of his sons. I hope and pray that Empire's writers are not banking on the idea that stripping Hakeem of the family name and giving it to Freda makes Lucious look any less of a self-serving ass.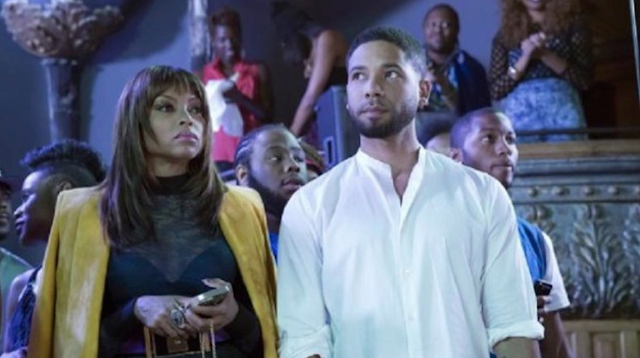 Jamal is being considered by Pepsi to be the new face of the company. Great product placement, Pepsi. Normally series have to create fake drinks for that kind of storyline so obviously people are still placing high value on the show, even if their ratings and the quality of the show are declining. Anywho, Jamal has to come up with a new song to pitch to Pepsi to win the spot in the campaign. He has a song that he has been secretly working on with Cookie, but of course Lucious has his own plan to work his way into the arrangement. Jamal likes both songs and invites his parents to a session where they can merge the two. That plan last all of 30 seconds before Cookie and Lucious are at it again and demanding that he choose between them. I personally think both song suck and he shouldn't chose either one. Jamal manages to fuse the songs without the cooperation of his parents and wins the Pepsi contract.
Boo Boo Kitty is standing in tears at her vanity mirror with a knife in her right hand and her left wrist out. Stop right there! Two weeks ago BET's Being Mary Jane did an AMAZING episode that dealt with black women and suicide. It was raw, emotional and started a lot of much needed conversations about black women, the superwoman syndrome, mental health and suicide. Watching Anika stand there like that, the only thought in my head was please God, PLEASE do not let Empire try to take on the issue of suicide amongst black women! They will SURELY fuck it up and it is too important to be subjected to the Empire treatment. That's all I will say about that. It turns out that Anika is pregnant by Hakeem who later tells her that he is in love Laura. The mental unraveling of Anika has begun.
Last week Lucious and Mimi initiated a horrible threesome. This week they can't stand each other. Empire's stock is still falling on Wall Street and Mimi is not pleased. She eventually has to remind Lucious that she is the one with money on the line and she is ultimately the boss. This must really bruise his ego because he later calls the woman he claimed he was going to protect from and says he doesn't give a damn about her. I really and truly wish that they had not gone down this road with those two characters.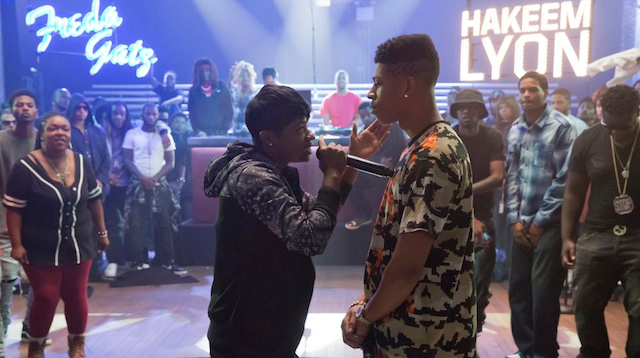 It's time for the battle for the Lyon's name with legendary Funkmaster Flex as the battle DJ. Once again Freda Gatz proves herself to be the best female rapper in real life and still the most talented musical artist on Empire. This whole scene was made even MORE disrespectful to the legacy of hip hop's legendary battle MC's because Funkmaster Flex dropped the beat for Craig Mack's classic "Flava In Ya Ear" and Hakeem dropped the wackest bars ever over it. But this isn't real life; this is TV, and of course Hakeem wins. The only place where Hakeem could beat Freda Gatz is on TV where writers determine who wins. Freda Gatz is the truth. A real MC. Next week we will tackle what seems to be a real fear of the Empire style crew: letting Freda look too butch.
The real surprise was when Vivica Fox appeared as Cookie's bourgie sister Candice. I stood up and cheered! They got that casting call so right! Vivica and Taraji together lit up the screen. Of course I have questions. She comes to tell Cookie that her sister Carol is out on a drug bender. Cookie calls Carol a scammer and con-artist. I'm sorry, wasn't that scammer helping her navigate the first season? Will we see as Cookie and Candice head to Philly? Really I just need to see Taraji and Vivica on screen together as much as possible.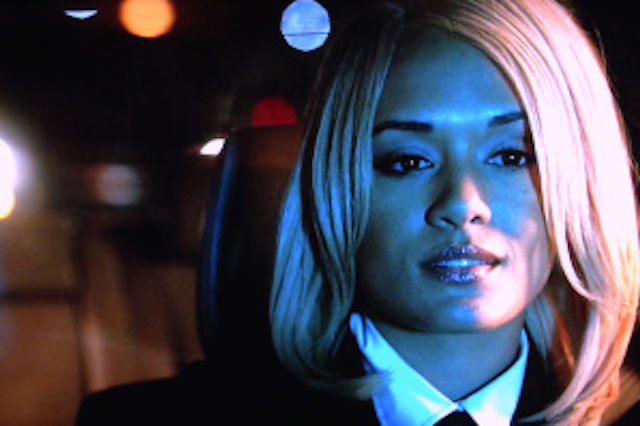 In the end Hakeem emerges from the club with his girl victorious and he puts her in a private car to go home. Who is her driver? The newly unhinged Boo Boo Kitty. Y'all better buckle up for next week's episode!
---
Rosewood
Wednesdays on Fox at 10:00 p.m.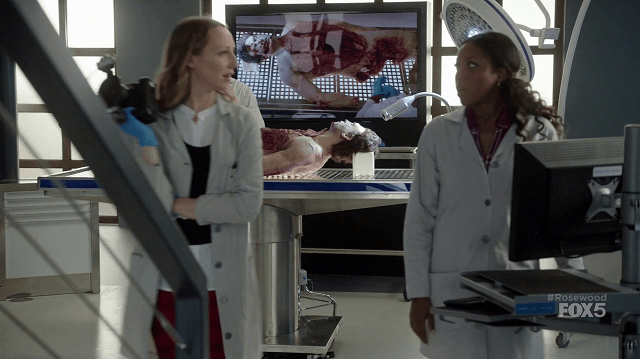 Oh, hey, an amazing thing happened on Rosewood last night: Pippy got a backstory! After karaoke-ing with Rosie, we found out she was one time accepted to freaking Juliard but took a pass to become an outstanding scientist person and work with her brother. Obviously Rosie thinks everything on this earth is about him, so he basically fired Pippy and told her to pursue her dreams of being a singer because he is a benevolent patriarch or whatever, but she told him to eat some raisins and hush because she likes singing but she loves science and also she's not leaving the love of her life to go traipsing off to cold, dark New York City. TMI was glad. She thought for a hot second she was losing her fiance. But Pippy said she'd split the world in half to stay with TMI. It was very sweet, you guys!
---
Grey's Anatomy
Thursdays on ABC at 8:00 p.m.
Written by Aja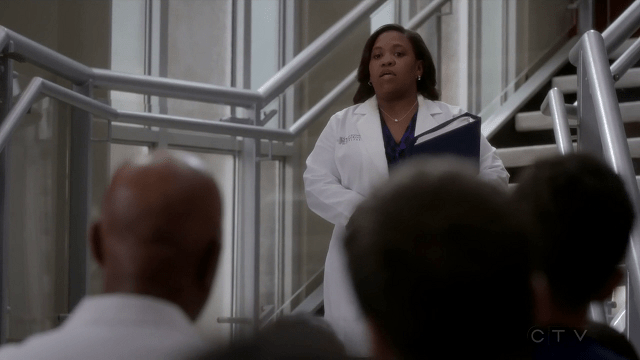 Rumors are spreading like wildfire in this lackluster midseason finale, and it's a hair on the nose considering an actual wildfire has tossed Bailey's first crisis as chief into her nervous little lap. Spoiler alert: All this gossip is just an excuse for Callie to say "scuttlebutt" as much as possible.
As the inner circles at Grey Sloan Memorial wonder aloud at the ongoing beef between Hunt and Riggs — why does that sound like the moniker for a beardo hipster outfitter? — ash raining down from the heavens is mistaken for snow while forty-some badly injured firefighters are ER-bound. Four crews succumbed to shifting conditions and the hospital will be stretched to capacity as they arrive, so all hands are on deck and Bailey quickly resorts to converting the cafeteria into a makeshift triage unit as one of her many tough calls this episode.
Sure, it sounds grim, but triage cafeteria is where the girl-on-girl magic happens! Arizona's hands are full of smokin' hot lady buns, literally, because a chipper brunette firefighter has burns on her equally perky bum. She'd like Arizona to try and "keep her full moon under wraps," and to prove how totally lame I am at picking up crystal clear pings on the old gaydar, I totally and completely missed the subtext when she said, "No guy has seen that since a middle school wardrobe malfunction." (Way to go, Aj.) Because Arizona's re-entry into singlehood is a clumsy one, she reassures the patient that she'll be alright like so: "The burn is confined to one cheek and luckily I have a good one to compare it to." THIS IS A SHOW ABOUT BUTTS.
Our new favorite wingman Webber humors Arizona's adorable but very silly concerns about asking the patient out but ultimately is like, "I'm not gonna wingman a patient for you!" (As someone who dated her own chiropractor once, I'm gonna go ahead and say he's kinda right.) Arizona asks her out anyway, but the firefighter thinks she means a follow-up appointment, so she panics and goes back to Richard for more advice. His pep talk includes calling her creepy but also smart and confident, "Stretch out your wings, Robbins! Feel the air!" so she asks the firefighter out a second time before sending her home, but a smokin' hot redhead bursts in from nowhere, a flurry of worry and kisses and hugs for her girlfriend…the firefighter (of course). So that happened.
Take heart, Robbins. There isn't a ring on it! People break up all the time! Off to the lesbian bar she and Webber go again. (No, seriously, he's been dreaming of those jalapeno poppers. Shonda, can we please make this a movie? PLEASE! And since I'm asking you for stuff, can we please please please do a trade with Penny for this brunette firefighter? LUV U, SHONDA.)
Riggs and Meredith butt heads because Riggs is doing his idiot cowboy thing, proving yet again his tedious issues with communication and female authority. When Owen's mother arrives at the bedside of her boyfriend (one of the firefighters), we learn that Riggs calls her "ma" and things devolve from there. Owen continues to shut Amelia out and eventually loses it, hitting Riggs twice in a hallway confrontation. Grey has a heart-to-heart with Owen's mom and finds out Owen has or had a sister. Amelia, spiraling in the dark, is desperate to know what's going on and lashes out at Meredith, who won't tell her what she's learned. The thing is, Amelia resorts to cruelty when faced with betrayal or the unknown in matters of the heart. It's amazing that she can't see that she, too, pushes others away, it just sounds and looks different than when Owen does it. When it gets her kicked out of the Haus of Sister Lady Chiefs by Mere, she sinks herself into a vodka tonic…and possibly Riggs.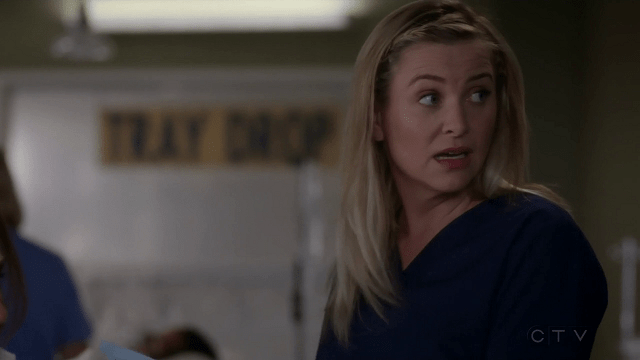 The overarching theme may very well be what happens when your person changes or is no longer available to you. "You're my person" is probably one of the most universal truths this show has taught us, and we loved it because it felt real and infallible, mirroring what we all want all in our closest, most intimate relationships. What happens when your person dies, when they leave, when you no longer recognize them, when they've done something that irrevocably alters a bond you believed was unbreakable with every cell in your body? And how Herculean a task is it to find and nurture a person — your person — to begin with?
Have fun thinking on that for the next three months. We'll be back in February!
Miscellany: Callie's weirdly obsessed with having inappropriate workplace conversations about sex. Jo and Stephanie make up, but it's tepid. Karev proposes to Jo, but it's a disaster. April and Avery fight like it's the boss level of a divorce-themed video game. Cliffhangers abound!
---
Carmilla
Tuesdays and Thursdays on YouTube
Written by Karly
Carmilla is ready to hunker down for the apocalypse. She is even less helpful than she was in season one. To calm Mel, Perry says she tried to cast a spell to make LaFontaine stay on campus because she was afraid LaF was going to leave. LaFerry feels! This did not calm Mel's fears.
Mel says this stuff reminds her of A Midsummer Night's Dream. Perry finds her mythology textbook and they find out Titania was based on a real fae queen Tythia who uses the power of the Moon Blood to gain strength. Perry is beside herself: a real faerie! The book says Tythia was trapped in a bloodwood tree, but Carmilla says she could've been freed because that wood was used a lot in the 18th century for furniture, carvings, and jewelry. As she learned in her 18th century woodworking class, of course. Carmilla trying to hide her age/vampirism from Perry and Mel is one of my favorite things about season 0. Carm is a very bad liar.
Carmilla continues that a spell or even a wish could have freed Tythia. A lot of shit happens because of wishes (Faeries, I wish for Carmilla season 3, angst, and Hollstein kisses). They'd need the wisher to trap Tythia again. Perry looks guilty: she may be behind this after all…but I doubt it.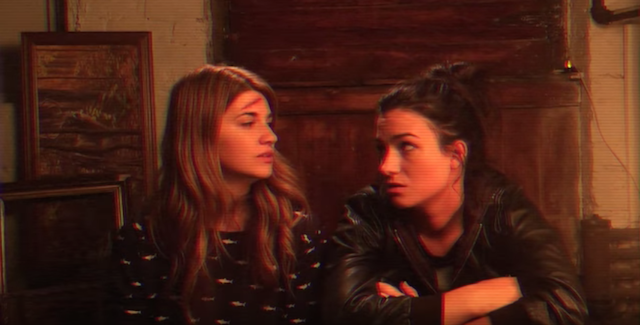 The tape pauses and Laura cannot wrap her brain around this mystery and Perry. How could Perry have changed that much? Then Laura asks Carm right out: you did something terrible to Perry, right? Carmilla definitely did something to Perry.