Carmen's Team Pick:
Art Attack week is over, and that makes me sad. Especially since I didn't find out about BLOOM until yesterday, when I read this article about it. (Thank you, Tumblr!)
I'm nine years too late to something I think I'd probably find beautiful for the next nine.
In 2003,  Anna Schuleit was working at the Massachusetts Mental Health Center (MMHC), and that same year it was slated for demolition. (The center would one day return to the same site, but its services were moved temporarily as an entirely new structure was built.) The institution was deserving of a memorial, and thus BLOOM was born:
When a building is closed after nine decades of continuous use, its long history moves from a physical setting to an abstract place in our memory. In the course of closing the Massachusetts Mental Health Center, the people who worked and stayed in this building for years, whose lives were affected – often unconsciously – by its dimensions, directions, and traffic ways, are moved to a new environment. In the end, it is their memories that remain connected with the site and keep it alive.
In the end there were a lot of flowers replacing what used to be a lot of sterility and a lack of beauty, or really of anything. Twenty-eight thousand potted flowers filled corridors, hallways, offices, even swimming pools within the MMHC.
The exhibit was open for four days and covered almost every square foot of the center. People who passed through were moved to tears and deeply appreciative. How could you not be that way in a room full of flowers?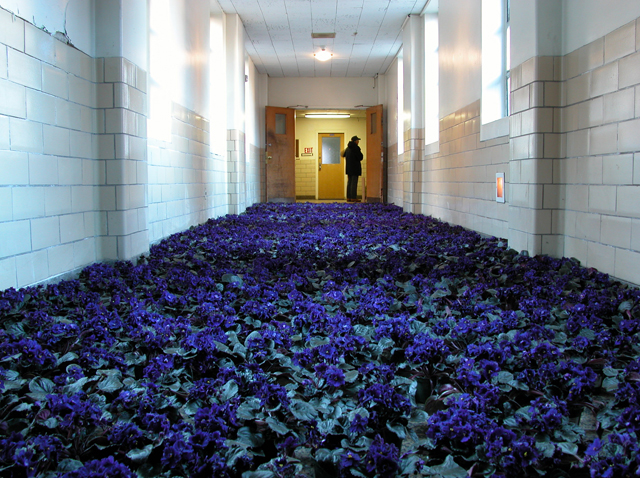 Schuleit developed the idea for an installation project memorializing the building in "about a week," but it took three months to execute her vision in which flowers were arranged to cover the floors in specific areas of the center. All of the flowers in each room were different than the ones in other rooms – and each room was filled with one kind of flower.
The flowers were meant to symbolize what was "missing" in the buildings to truly memorialize. The experiences of those who had passed through, or remained, or worked hard, or played a part in the history of its work – they were missing. You couldn't see that by looking at a hollow building, at a center with no patients, at a demolition site. But you could see it in a room full of flowers:
I was hoping to create a work that would bring aspects of play into the seriousness of the institution, an element of the absurd. It would have been infinitely easier to work with just a few hundred flowers, or a few thousand even, but I wanted to reach my goal of twenty-eight thousand, because it had occurred to me at the beginning of the project that that was the minimum number that was missing here. If it had been a project merely for photography, we wouldn't have needed so many. But it was really a project for the passing visitor, someone coming in, in real time, from the street and finding this sea of color inside the building, and throughout. A multitude of greetings on every floor. Really, simply, a work of the imagination. That's all I hoped for. I was amazed by how many people wandered through the building on those four days.
When the exhibit was no longer standing, it didn't just disappear — it remained in the community via the flowers, which lived on in different places and further memorialized the entire thing:
After four public days of "Bloom," the building was closed for good and we delivered all twenty-eight thousand flowers to shelters, half-way houses, and psychiatric hospitals throughout New England—which is why I didn't want to work with cut flowers. I wanted these flowers to continue onward, after the installation. Bloom was a reflection on the healing symbolism of flowers given to the sick when they are bedridden and confined to hospital settings. As a visiting artist I had observed an astonishing absence of flowers in psychiatric settings. Here, patients receive few, if any, flowers during their stay. Bloom was created to address this absence, in the spirit of offering and transition.
Reading about the exhibit made me wish, more than anything, that I had been able to stand in those spaces with those flowers and feel like a part of a sweet and gentle goodbye. I've always thought of flowers as sincere things with only good intentions, so I think BLOOM was pretty spot-on in memorializing such an important institution.
You obviously remember that I love a woman who loves flowers and anything that comes of that perfect union. But maybe, even more importantly, BLOOM proves that thinking about flowers as "what's missing" is a good way to think about the world.