Congratulations, you made it through another week! Here's what happened on screen while you were busy living life:
Lena Headey is once again playing queer in Beacon 23, but Valerie wants to know — at what cost?? A Murder at the End of the World is a mystery worthy of our grief. Natlie watched Candace Parker: Unapologetic and reminded us that behind every G.O.A.T. is a love story. Carmen has spent all week thinking about that one scene from The Marvels.
Happy Scott Pilgrim Anime Day to everyone who celebrate, Scott Pilgrim Takes Off centers bisexual blader Ramona Flowers!! Drew got high and watched Tello's latest lesbian Christmas movie, A Holiday I Do (are you looking for a good laugh after a long week? We have you covered). Anya said goodbye to a great one, Survivor Season 45's Kellie Nalbandian could've been a contender. Mutt is now streaming on Netflix and Drew revisited her Sundance review.We're still updating our epic streaming guides, and here's a new one for you: 40 Lesbian, Queer & Bisexual Amazon Prime Video Original TV Shows.
Lastly, and we are so excited about this, Drew interviewed thee Todd Haynes(yes, of Carol fame) about his newest film, May/December, queer community, and making art in a vile word.
And here's what else!
---
Black Cake Episode 105: "Mother"
Written by Nic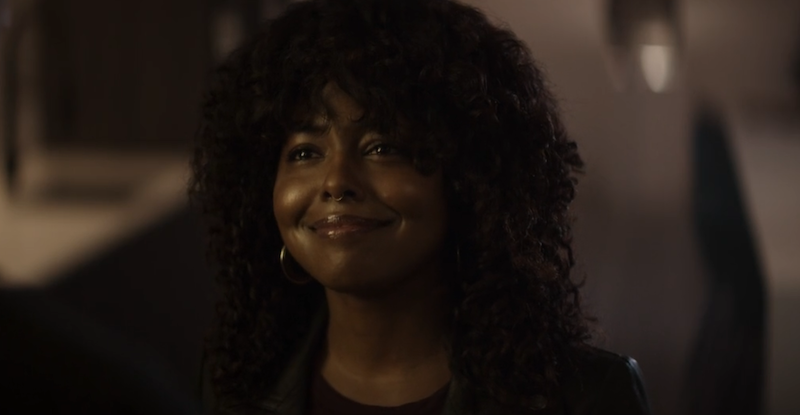 This week's episode of Black Cake centers on a woman named Mabel who is revealed to be Eleanor's first-born child, more than likely borne of her assault by her boss. She's been living her life as a white woman with no clue that she's adopted and has Caribbean ancestry. When B&B learn that they have an older sister, Benny's first instinct is to immediately assume that the reason she never felt good enough for her mother was because Eleanor was probably thinking about her first daughter every time she looked at Benny. On first watch, I was immediately annoyed with Benny for only thinking of herself and dismissing any accountability she might've in the way Eleanor may have reacted to her shenanigans in the past. During my second watch though, I realized it's more complicated than that. It's entirely possible that subconsciously Eleanor was comparing Benny to a fantasy of the daughter she never knew, and that colored her view of the daughter in her life. The fuck of it, is that the same way it's impossible for us as viewers to know, Benny can't know what was going through her mother's mind. She missed her chance.
Later, Steve calls to ask Benny again about selling their sculpture, and Benny tells him that she just wants to go see it one last time. Even though Steve's not home, Benny uses her key to get into his place. Once she's there and lays eyes on the sculpture, runs her hands along the representation of her own body, she knows what she has to do. She picks up the nearest heavy object and smashes it to pieces. As she destroys the art, she smiles and laughs and I'm willing to bet it's the first time she's felt truly free in years. Steve shows up back home sooner than anticipated, so in a brilliant move that Past!Benny never would have made, she calls Byron and drops a digital pin so he knows exactly where she is in case something happens.
Before Steve can even get going, Benny reads him for absolute filth, telling him that he took her best years from her and that he doesn't own her body or her talent, and that the sculpture is gone. As she storms out, Steve goes after her apologizing, admitting that she's right, that he can't lose her and he doesn't know how he can live without her; he hits every classic abuser line. I worried for a minute that Benny would go back to him, but that worry didn't last long because soon Byron speeds up and confronts Steve. Steve feigns having Benny's back and accuses Byron of not being there for her for eight years (let's not rewrite history here, bud) and calls him a joke. Byron responds by pummeling Steve before cops arrive. I can only hope that shutting down Steve is the turning point for Benny; that she'll start to feel and believe her worth within herself.