This week's episode of Survivor was a great episode of television; there's no doubt about it. And that's what made it so devastating.
At the beginning of the episode, it seems that Jake O'Kane is at the bottom. He was clearly voting with Kaleb Gebrewold, who was just voted out. Furthermore, everyone knows Jake is aligned with Bruce Perreault, and the tide has gradually been turning against Bruce for the last couple of episodes. So Jake is an easy, agreeable target, right? Right…
The biggest event of this episode was the Survivor Auction, which returned after over 15 seasons of omission. But as with everything in the "modern" era of Survivor, there's a twist — or several twists, actually. The first twist is that players have to fight for the spending money; they find tubes of money (lol) scattered around the beach before the Auction begins. The second twist is that there are no advantages in this Auction, meaning there's no incentive to save your money (which is arguably what made the Auctions unexciting before). And actually, there is incentive to spend your money, because whoever ends the Auction with the most money loses their vote at the following Tribal Council. Oh and one more thing: Only the first five Auction items are guaranteed. After that, the Auction could end at any moment.
At the Auction, most people successfully get to eat normal meals, except for poor Katurah Topps who takes a gamble on a concealed item which ends up being… fish eyes. Yikes! It's terrible! I actually had to leave the room, because that was body horror to me!
Bruce ends up losing the Auction, which is unsurprising since he made very little effort to find money back at the beach, so he ultimately had very little spending power. So Bruce has no vote. Most of the tribe seems to be annoyed or mildly annoyed with Bruce at this point, so he sure seems like an easy target. But the episode is far from over.
The immunity challenge is an endurance one. Each person must hold heavier and heavier weights, using only one arm. Additionally, four people chose to sit out in order to earn the team a much-needed bag of rice. There's only one person who desperately needs to win the immunity challenge, and he knows it: Bruce. And guess freaking what. He does. Even though I don't love Bruce, it always is amazing to see someone beat the odds and win in the exact moment when they really need to. And Bruce did just that!
So in a weird and unprecedented twist, one contestant has no vote but also has immunity. In other words, he'll basically be a spectator at Tribal Council, which Kellie Nalbandian points out — he's safe, and he has no way of impacting the votes. This throws a wrench in Kellie's plan. She had finally decided she would try to discard Bruce once and for all, but now she can't.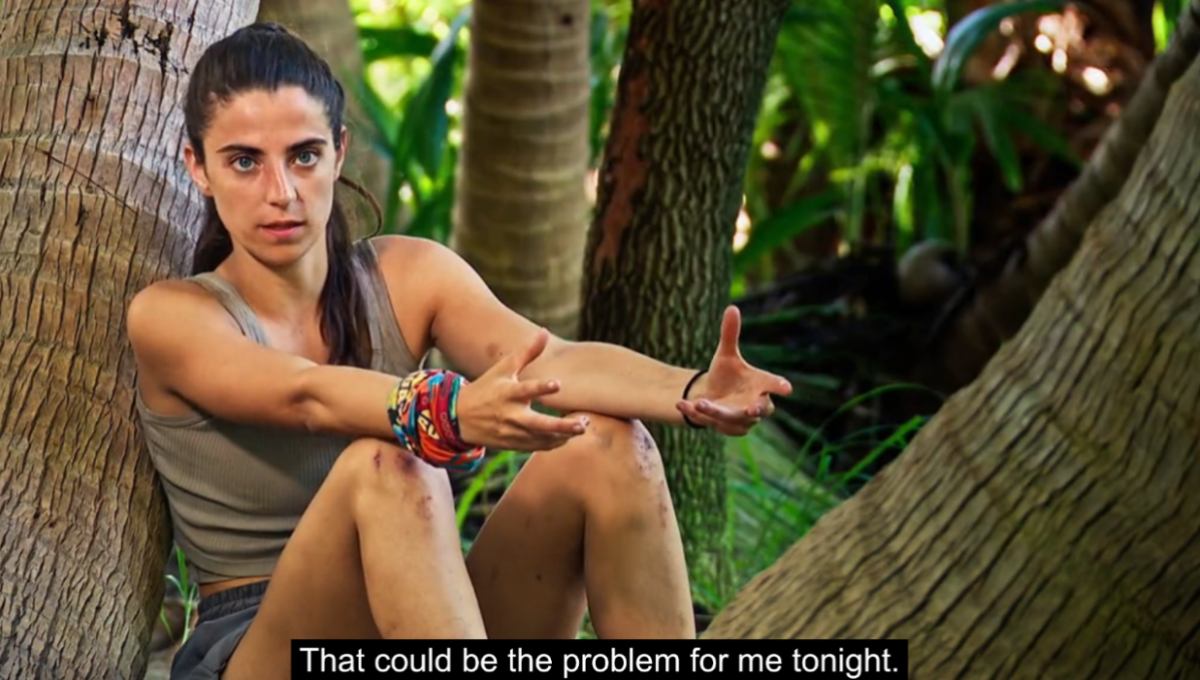 Around the beach, most people seem to want to vote Jake, just like at the start of the episode. Julie Alley wants him out because he voted for her last episode. Dee Valladares wants him out because Julie is her ally. Drew Basile and Austin Li Coon want him out because he's a former Belo tribe member (like Bruce, Kellie, Kendra McQuarrie and Katurah), and they want to get rid of all of Belo. Briefly, Drew considers: What if they switch the vote to Kellie instead? They'll still be getting out a Belo tribe member, and Bruce's proclaimed #1 ally at that. But everyone likes Kellie. It seems unlikely that they will rally against her.
At Tribal Council, I have to hand it to Jake. I thought his "accidentally" spilling that he has an idol (which he doesn't) seemed SO obviously false, but the terrified looks on his tribemates' faces suggested they fully bought it. (They also know he's allies with Bruce, and that Bruce really does have an idol, so perhaps they reasoned Bruce might've given him his idol for this Tribal.)
When Jeff tallies the votes, it's a Survivor classic, one I and I imagine many viewers love to see: it's a total blindside. As soon as she hears her name, Kellie's face drops. And so does mine. Kellie seemed so stable, so utterly capable, that it barely crossed my mind that folks would vote her out this (relatively) early in the game. But all of the original Reba tribe — Drew, Austin, Dee, Julie — and Emily (who has very firmly aligned herself with them) vote for Kellie. And the original Belo tribe only has three votes — Bruce doesn't have a vote, and Jake decides to play his Shot in the Dark, forfeiting his vote. So Belo's three votes for Jake — from Kellie, Kendra, and Katurah — don't matter. Kellie — one of the season's queer women — goes home.
In this season of Survivor, some of the strongest players have already been eliminated: Sabiyah went home before even making it to merge; Kaleb went home after successfully using his shot in the dark; and now Kellie has gone home because… Bruce won immunity. It's a weird season!
Looking ahead, Austin has more advantages than I can even remember, and Dee is just an all-around legend. I think it's hers to lose.
---
What do you think is to come in this season? How do you feel about Kellie's departure? Let me know in the comments!