When someone says "queer sports movies" what titles come to mind? Bend It Like Beckham? A League of Their Own? Love and Basketball? Bring It On?
If your first thought is subtext, you're not alone. These films still hold a grasp on our collective hearts unlike any queer sports movies where the queerness is explicit. Despite queer people's major involvement in sports — especially in women's sports — Hollywood has long neglected our stories.
That's finally starting to change.
Today NYAD, the true story of lesbian swimmer Diana Nyad, was released on Netflix and it joins a series of other recent sports movies that aim to fill in this long-held gap. In Hollywood and beyond, more queer sports movies are being made every year, but there still aren't enough. You'll notice this list is lacking in trans movies — something I've personally tried to change with my trans girl soccer movie but after two failed development processes, no luck. You'll also notice, despite the very queer WNBA, there isn't a single movie here about women's basketball — something my far more successful friends have tried to change, also no luck.
Nevertheless, as we ask for more, let's celebrate what does exist. This list has queer women testing their physical limits, queer men confronting their toxic masculinity, and even a few cute and sporty gay romances. The definition of sports is nebulous, but I decided not to include movies about dance or skateboarding and only one movie from the canon of queer cheerleading. There are also quite a few queer sports movies not available or not yet released in the U.S. that I wasn't able to watch!
Brush off your cleats, pump up your balls, and join us in celebrating the very best explicitly queer sports movies of all time.
---
Queer Sports Movies Not Yet Released In the U.S.:
Golden Delicious (dir. Jason Karman, 2022)
Marinette (dir. Virginie Verrier, 2023)
Summer with Hope (dir. Sadaf Foroughi, 2022)
Queer Sports Movies Not Currently Available In the U.S.:
Ciao Bella (dir. Mani Maserrat-Agah, 2007)
Guys and Balls (dir. Sherry Hormann, 2004)
Like It Is (dir. Paul Oremland, 1998)
The Shiny Shrimps (dir. Maxime Govare and Cédric Le Gallo, 2019)
Zen In the Ice Rift (dir. Margherita Ferri, 2018)
Queer Movies That Feature Sports But Don't Center Sports:
Absent (dir. Marco Berger, 2011)
Blue Jean (dir. Georgia Oakley, 2022)
Breakfast with Scot (dir. Laurie Lynd, 2007)
The Broken Hearts Club: A Romantic Comedy (dir. Greg Berlanti, 2000)
Crush (dir. Sammi Cohen, 2022)
The Half Of It (dir. Alice Wu, 2020)
Queer Sports Movies That Didn't Make the Cut:
1:54 (dir. Yan England, 2016)
Beautiful Boxer (dir. Ekachai Uekrongtham, 2003)
Breaking the Surface: The Greg Louganis Story (dir. Steven Hilliard Stern, 1997)
Bruised (dir. Halle Berry, 2020)
Boys (dir. Mischa Kamp, 2014)
Eleven Men Out (dir. Róbert I. Douglas, 2005)
Like a Virgin (dir. Lee Hae-Jun and Lee Hae-young, 2006)
Morgan (dir. Michael D. Akers, 2012)
The Pass (dir. Ben A. Williams, 2016)
Summer Storm (dir. Marco Kreuzpaintner, 2004)
---
The Top 12 Queer Sports Movies of All Time
12. Handsome Devil (2016)
dir. John Butler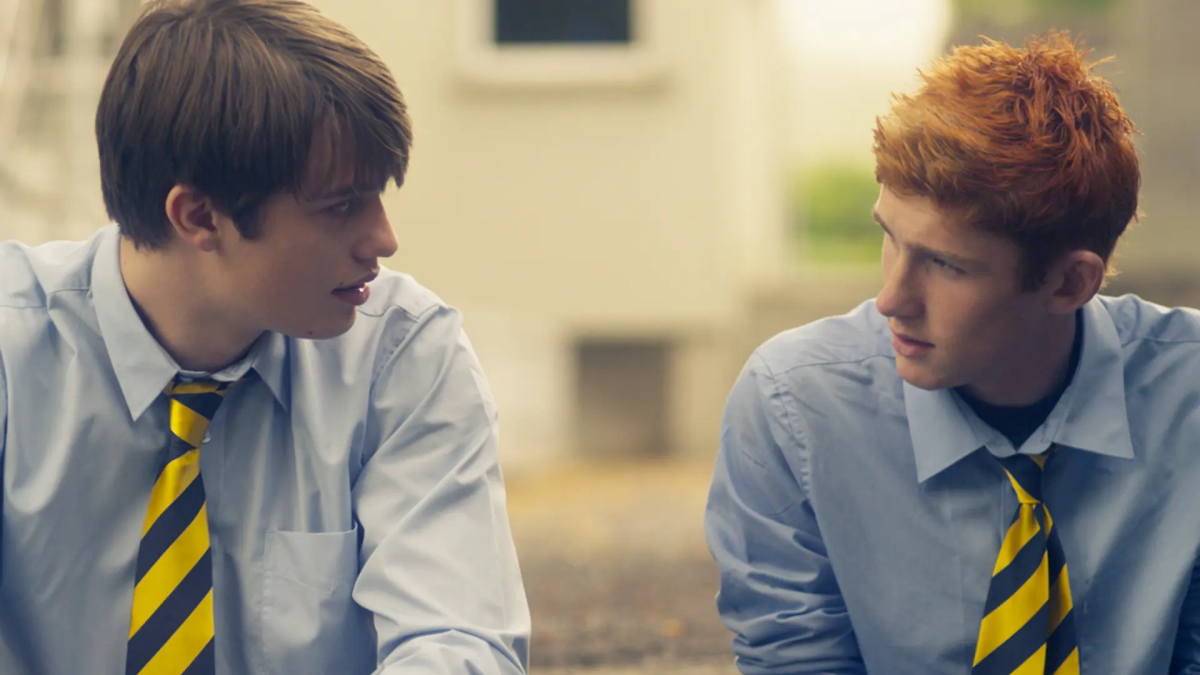 If you liked "can you play basketball and do the school play," you'll love "can you play rugby and be gay." This Irish charmer may hit familiar beats but it's noteworthy for being the rare coming-out-age movie to center friendship and mentorship over romance. It also features a wonderful performance from Andrew Scott in the classic role of gay English teacher.
11. Play It to The Bone (1999)
dir. Ron Shelton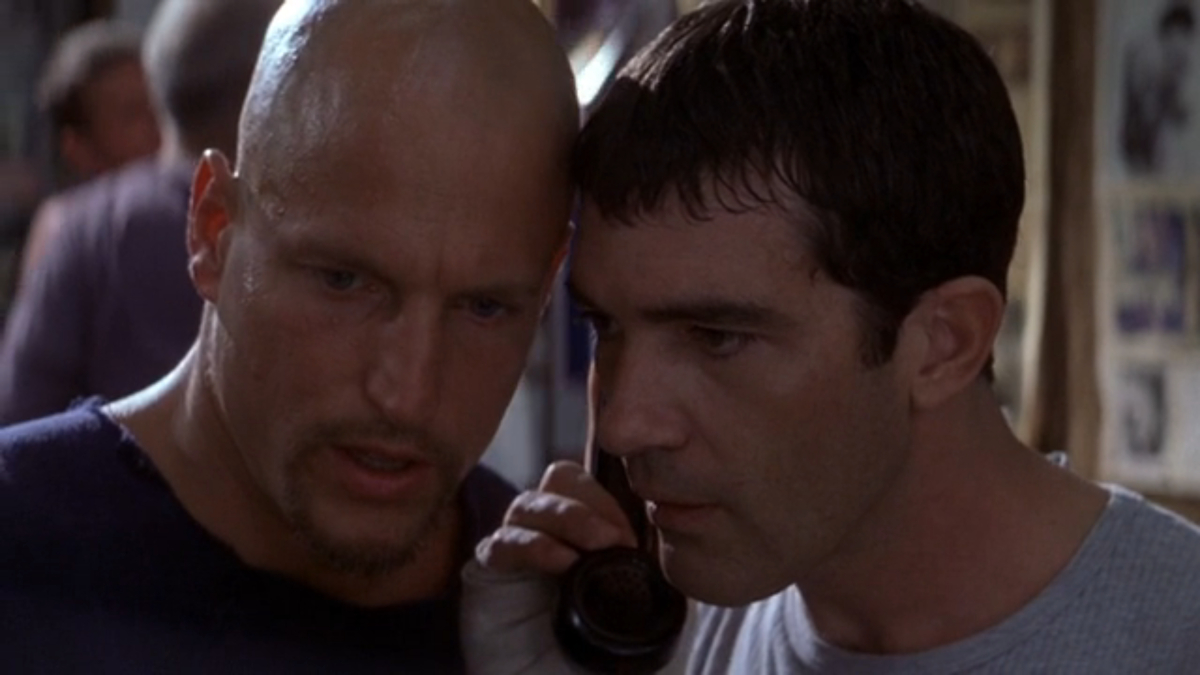 Universally panned upon its release, and still disliked by most today, Ron Shelton's least known sports movie isn't exactly an undiscovered masterpiece. That said, I do think it's deserving of a better reputation — especially since its 90s sexism and homophobia have aged into something that feels more like commentary than offense. Antonio Banderas and Woody Harrelson play best friends and has-been boxers who get the chance to fight each other for a title shot. The movie follows the two of them on their road trip to Vegas for the fight, alongside their shared ex-girlfriend, played by Lolita Davidovich, and a horny stranger played by Lucy Liu. At one point, Banderas' character admits that in the past he's tried being "a fag." Maybe intended as a homophobic joke — and certainly crass — Banderas, who got his start portraying queer characters in Almodóvar films, grounds the moment in reality. His character reads now simply as a bisexual man — a bisexual man trapped in the toxic world of boxing.
10. Cassandro (2023)
dir. Roger Ross Williams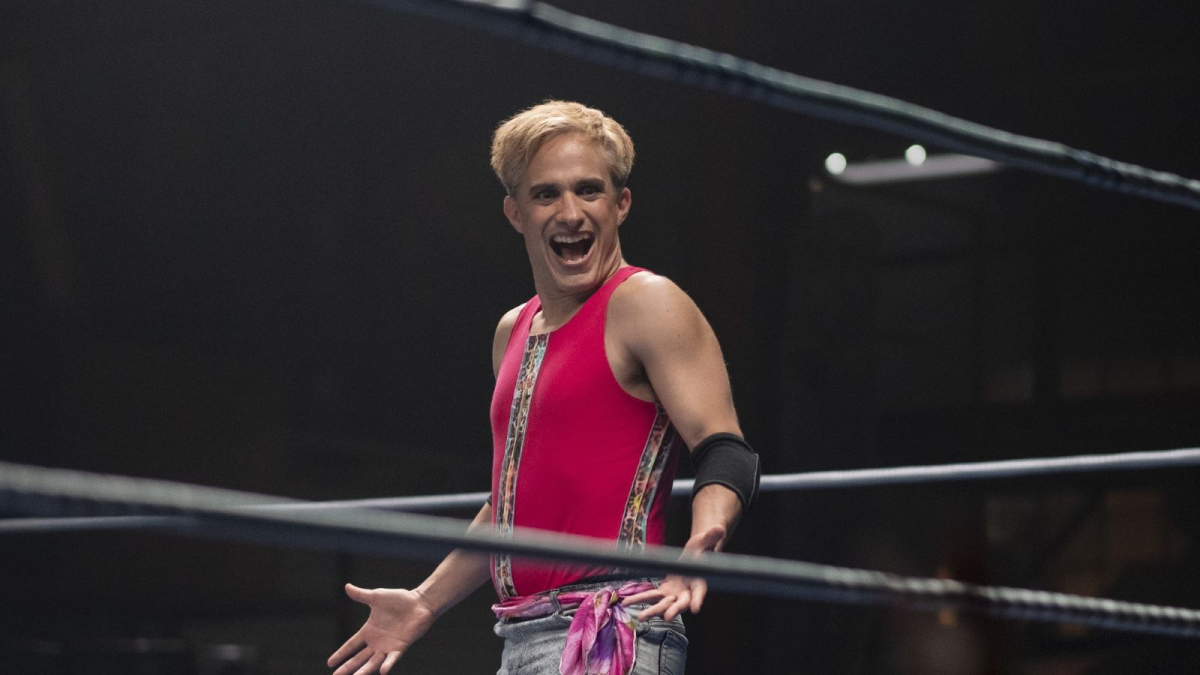 Based on the true story of Saúl Armendáriz a.k.a. Cassandro, this crowdpleaser set in the world of lucha libre wrestling is an unabashed celebration of flamboyance. Gael García Bernal plays the title role, an exótico who finds strength in his overt queerness, and through that embrace of self achieves success. Bernal is joined by a fantastic supporting cast that includes Raúl Castillo, Bad Bunny, and queer icon Roberta Colindrez. Most male-led queer sports movies center masc athletes who keep their queerness hidden; Cassandro is a femme icon who chose to be loud and proud.
dir. Jonathan Dayton and Valerie Faris
Speaking of icons, Billie Jean King is a queer icon, a tennis icon, and an icon of the sports world at large. This movie does her legacy justice with pathos and charm. Focusing on her much-publicized match against Bobby Riggs, the film acts as both a portrait of King and a rallying cry for women's sports. It also features a very sultry haircut scene between Emma Stone as King and Andrea Riseborough as her hairdresser and lover Marilyn Barnett. This Hollywood tale may brush over the pricklier aspects of King's story — especially with Barnett— but it's still a rousing story of lesbians, tennis, and putting an annoying straight man in his place.
8. Punch (2022)
dir. Welby Ings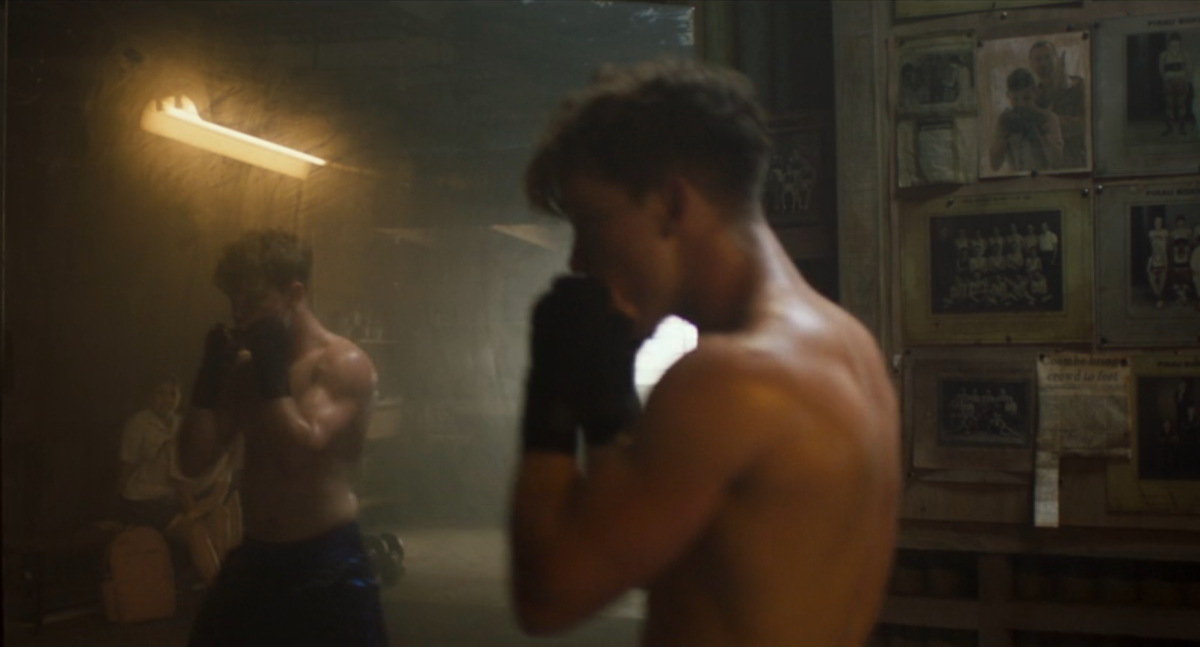 This recent New Zealand film hits many familiar beats of both queer coming-of-age movies and boxing movies. It also happens to hit them with the skill of a champion fighter. By focusing on specificity of character, the film grounds its clichés. This is a beautifully crafted film that's emotional yet never maudlin. It also touches upon the specific challenge of today's queer youth who are exposed to celebrations of Gay Pride while still facing discrimination — overt and subtle — from within their communities.
7. Signature Move (2017)
dir. Jennifer Reeder
Before Jennifer Reeder was making idiosyncratic horror features and Fawzia Mirza was embracing full auteur status, they teamed up for this late-in-life coming-of-age lucha libre romance. Mirza plays Zaynab, a Pakistani lesbian lawyer who is training as a wrestler on the side. Her life is complicated when she begins a romance with a woman played by Sari Sanchez who challenges her to fully embrace herself. One-third romcom, one-third family dramedy, and one-third queer sports movie, all the pieces click for an entertaining, nuanced, and heartfelt experience.
6. Sarah Prefers to Run (2013)
dir. Chloé Robichaud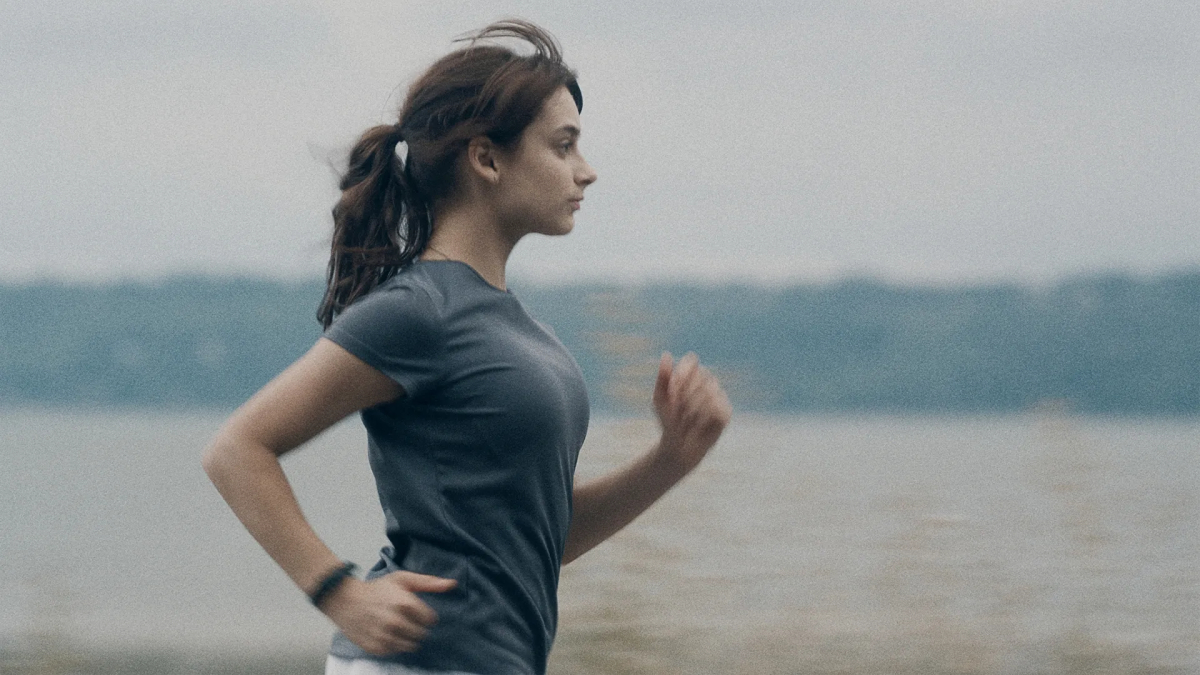 Days of Happiness director Chloé Robichaud's debut feature follows another ambitious woman at a different stage in her life. As Sarah cautiously steps into young adulthood, all she wants to do is run. She gets offered a position on the track team at McGill, and, in order to shoulder the financial cost, enters into a questionable, and possibly dangerous, financial agreement with an older male roommate. The film lives in Sarah's point-of-view, never providing easy answers while still making Sarah's queer feelings obvious even as they elude Sarah herself. Grounded in a melancholy realism, Robichaud's film is a quiet and painful tribute to the complex simplicities of youth. It also has an all-time great queer karaoke scene.
5. Backspot (2023)
dir. D.W. Waterson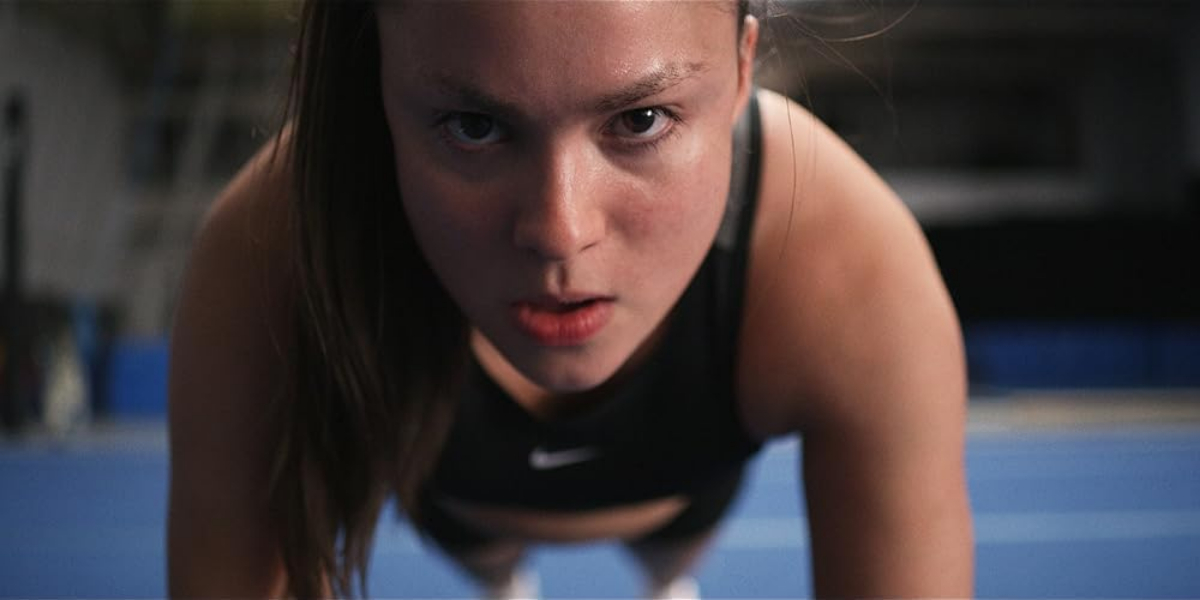 This film hasn't been released yet, but I was lucky enough to see it at TIFF! When putting together this list, I couldn't decide whether to include cheer. I would never question the athleticism required, but I also wouldn't question the athleticism required for dance and I decided I had to leave that off. Well, D.W. Waterson's debut starring Devery Jacobs, Kudakwashe Rutendo, and Evan Rachel Wood, made the inclusion of cheer undeniable. This is an excellent film about a young athlete pushing her body, her mind, and her personal life to the limits and should be in any future conversations of the best queer sports movies. (Full disclosure: I know D.W. and Devery but, even with my bias, I really think you're all going to love this when it comes out next year.)
4. Mario (2018)
dir. Marcel Gisler
While a lot of films on this list embody that classic sports movie triumph, this Swiss drama takes a harsher look at homophobia in professional sports. New player Leon immediately catches the eye of star player Mario, but their budding romance quickly gets in the way of their chances at advancing to professional soccer careers. The film wisely avoids melodrama, focusing instead on the painful day-to-day experience of having to lie about who you are in order to play the sport you love.
3. NYAD (2023)
dir. Elizabeth Chai Vasarhelyi and Jimmy Chin
When I saw this film at TIFF, I used it as an excuse to examine transphobia in sports. But now that the real-life Diana Nyad has changed her stance on trans women inclusion in athletics, I just want to celebrate it as a remarkable entry in the canon of queer sports movies. Annette Bening as Nyad and Jodie Foster as Bonnie, Nyad's best friend and coach, have a crackling friendship chemistry. It's the sort of relationship between two older queer women rarely shown on-screen. And the swimming sequences are as exceptional as the character development. The film's directors have a history in extreme sport documentary and use those skills to immerse us in Nyad's mission. It's an exhilarating experience and wonderful portrait of a woman who tested the limits of not only her own body but the human body.
dir. Robert Towne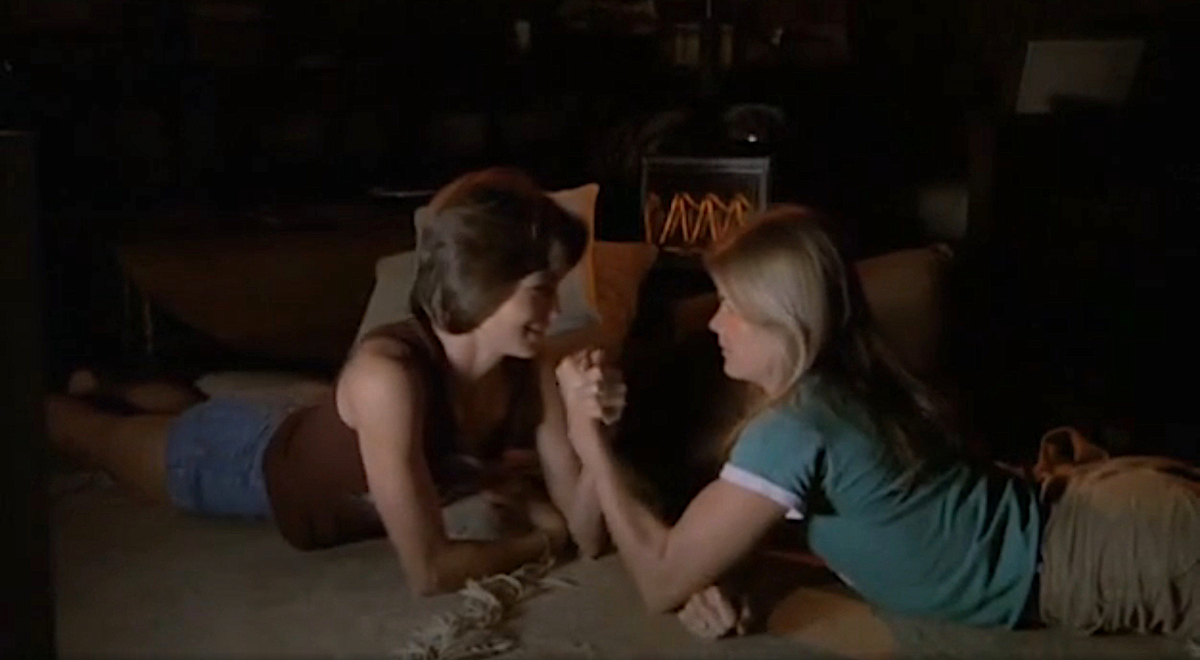 This is the classic queer sports movie and it's a classic for a reason. Starring Mariel Hemingway and Patrice Donnelly as track and field competitors to lovers, Robert Towne's film is a sweaty, sexy, groundbreaking masterpiece of athletics and lesbianism. While not without its moments of casual 80s bigotry, overall the movie holds up as a portrait of two women who bond over their desire to be the very best. This movie is Capricorn4Capricorn representation and, as a queer woman Capricorn myself, I love it dearly.
dir. Lauren Hadaway
Pulsing with raw energy, Lauren Hadaway's feature directorial debut was inspired by her own experience rowing crew. This is a movie made by an athlete, made by an artist, who approaches her craft as a filmmaker with the same attention to detail as her ambitious protagonist approaches her sport. Isabelle Fuhrman plays Alex, a college freshman we learn little about beyond her compulsive need to be the best novice on the crew team. By stripping down the story to bare essentials, Hadaway trusts in her cinematography, sound design, and stunning lead performance. This is the best queer sports movie of all time, because it commits to an athlete's point of view. Everything but the goal of being the best is mere distraction. We are with Alex as she trains, as she pushes, as she destroys herself for a singular purpose. It's a frightening portrait of athletic determination and a stunning cinematic achievement.
---
What are your favorite queer sports movies of all time?