Hi ladies! We're back in New York City after a week of celesbians, alcohol, island-hopping, tanning, friend-making and aggressive networking & interviewing and we are already sad and miss the boat and have been wandering around waiting for someone to feed us. No one has fed us. Actual life is slightly depressing. Where's our H-List at?
We will have to feed ourselves. So will Jill Bennett, Dani Campbell, Jamie Babbit, Nicol Paone, Erin Foley, Suzanne Westenhoefer, Edie Carey, Gloria Bigelow, Sandra Valls, Kate McKinnon, Cathy DeBuono, Natalie Garcia, DJ Saratonin, JD Disalvatore and all the other ladies who were on the boat. Some of you may read that paragraph and think this sounds like your worst nightmare, and most of you will realize that you must be there next time! Everyone had the chance to really make the trip their own. We like to call ours "Autostraddle's Life on the Z-List" and we had an awesome awesome time.

Because internet access on the Sweet Caribbean Cruise was about 500 times worse than we even expected, we'll be playing catch-up all week so bear with us!
You can read our live-blog of the cruise here, and you can also look forward to a ton of features we put together while on board, like interviews with lesbian comics and businesswomen, awesome video of our fantastic adventures and on-board performances, more photos and heaps of business features that will hopefully answer the oft-posed question "where was Autostraddle's chief operating officer Brooke all week?"
Also if anyone is looking to sell their Mac laptop, our cruise contest winner Julia had hers stolen right before the cruise. Just throwin' it out there!
Here's a cute little video from one of of Intern "Editorial Assistant" Jess's chats with Jill Bennett and Cathy DeBuono, click on the link to watch the video: Jill & Cathy on the Sweet Cruise! We'll have a more full article about them later this week.

Also we'd like to give a HUGE THANK YOU TO Intern Sarah, who took over while we were lost at sea with concussions. She did an awesome job, as did everyone on the team who worked extra hard last week for us. She's our hero and one day I will vanish and leave her in charge hahah.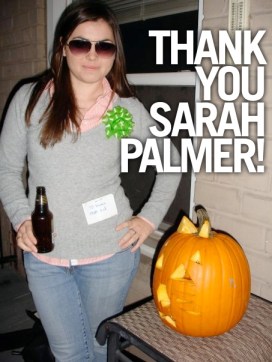 LADY GAGA: Last night Lady Gaga was on Gossip Girl, which was one of about ten plot devices on November 16th's episode that made our heads explode as we watched it on the teevee while flying from New Orleans to New York City. You can look forward to more on Gossip Girl's three in the Televisionary we will attempt to compile although Carlytron is in Buenos Aires.
TILA TEQUILA: Sabrina from OurScene TV (we hung out with her in Cozumel, she is certified awesome) and who is awesome got Dani Campbell's reaction to the big news that Tila Tequila is a full-fledged lesbian. Unfortunately, this news does nothing for the fact that Tila is also a complete idiot.
OPRAH: For some reason people are still trying to get Oprah and Gayle King to admit that they are lesbian lovers.
LESBIAN GOSSIP: This article has a point, somewhere deep inside of it, regarding Katie Price's lesbian affair (who is Katie Price), with references to Janice Dickinson and Samantha Fox, and some other stuff, and if you can decode it, you can win a canoeing trip down a pond in your backyard if you happen to own a pond.
LOHAN: Lindsay Lohan allegedly has a crush on Leonardo DiCaprio. If this is the best shit they can come up with, rock on times of India. I also have a crush on Leonardo Dicaprio of the 90's, because he is beautiful, almost like a hot girl.