Another year, another opportunity to create a kickass calendar of smokin' hot lesbians. If you've not picked up the 2012 calendar yet, now would be the time — they're available for the post-holiday price of $10! For 2013 we did something completely different yet totally spectacular.
Are you ready to meet the 2013 Calendar Girls?

video edited by Sarah Croce and Lauren Aadland
Now, onward and upward — here's Robin!
Artist's Statement:
For the 2013 Autostraddle Calendar, we put on our bathing suits and hit the water! My goal this year was to do a black and white series that was playful, sexy, and all about the women. I sought to capture images that would reflect the models' feelings of freedom and comfort in their own skin. We chose a simple expanse of sand and water where the horizon is somewhat indistinguishable, and it was the perfect setting for a very personal and introspective look at each of these extraordinary women.
As a photographer, photographing an entire day at the beach is a great challenge. You need to maintain consistency as the light changes drastically throughout the day and the tides ebb and flow. This adds an interesting element in the images as over the course of the day, we watched them play and interact from sunrise to sunset. We closed the day with some very quiet, intimate interactions between the women who'd come to know each other over the course of those hours.
I love coming away from these shoots knowing that all of these women are now friends, and I hope that these images reflect those bonds formed.
A huge thank you to our beautiful models and our amazing crew for a job well-done. A special thank you to stylist and co-producer Sara Medd for being my partner in this project.
Robin, Photographer
Crew:
Robin Roemer, Photographer and Co-producer
Sara Medd, Stylist and Co-producer
Sarah Croce, Production coordinator and video
Lauren Aaland, video
Alex Vega, designer
Christina Natale, Make-up
Brandi Andrews, Make-up
Taylor Stevenson, Hair
Michelle McCaw, Hair
Sabrina Bringuier, Photo Assistant
Our October Ladies are KP and Michelle:
+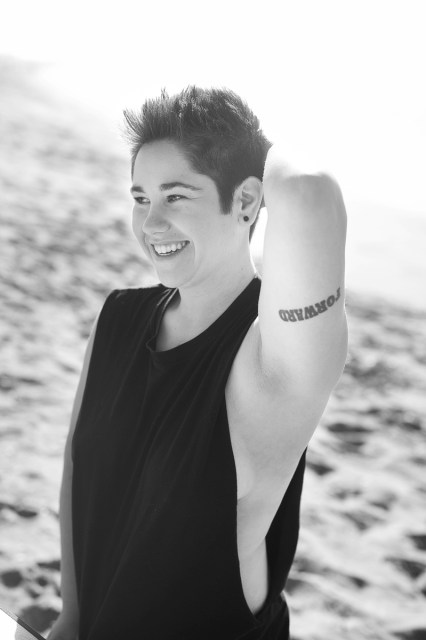 +
+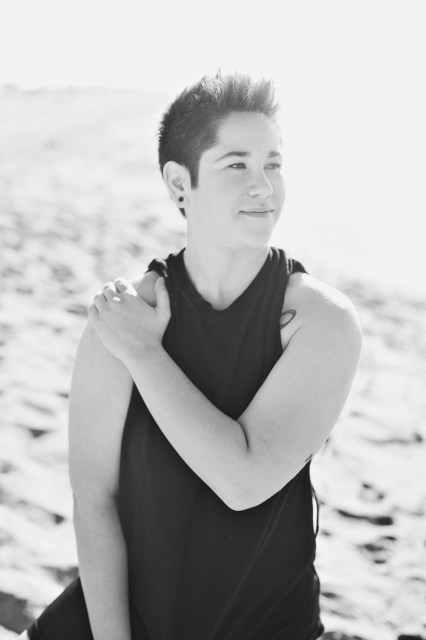 +
KP in her own words:
Hey. My name is Kate Przylepa, but due to not being boi enough for rugby I was dubbed KP. I'm 25 and have a little bit of a travel bug. In the past 10 years I've lived in 5 different states. I was born in Baltimore, Maryland. GO RAVENS. I've also lived in Australia, North Carolina, New York, Georgia, and now Los Angeles.
In 2011, I drove from Atlanta to Los Angeles with my Dad, stopping only for the epitome of gay daughter and father bonding: Las Vegas. After money lost and drunken fun, we ended up in West Hollywood, California during Gay Pride. Rather than being shocked, my Dad thought the sight of lesbians and gay men dancing nakedly was rather amusing. He patted me on the head and said 'go get 'em Tiger.'
Professionally, I'm a freelance post-production coordinator/producer, but my real love comes from work on passion projects with ChillRoom Productions, including the first season of Autostraddle's web series Unicorn Plan-It and the Season 2 Real L World Spoof. My goal is to bring smart and funny shows to an audience that appreciates them, whether it be online or network television.
I currently live with my girlfriend Julia, cat Tegan, dog Sara, lovely animal trainer Mary Tully, and her dog Kai. It's a full house, but always fun. Thanks so much to Robin Roemer, Sara Medd, everyone part of the crew for this production and Autostraddle for a fun and new experience.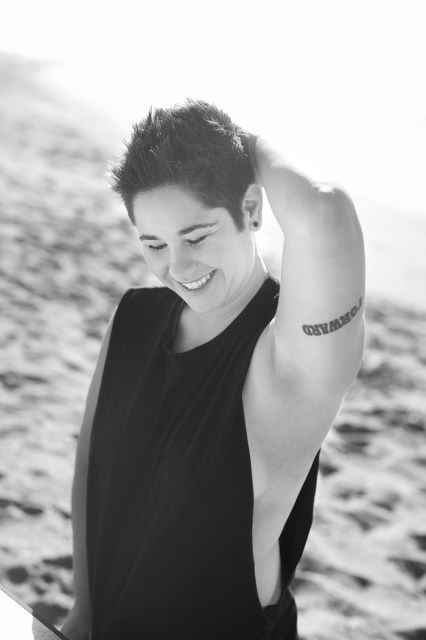 +
Robin's Phoner with KP
KP was one of our videographers on set as well as Miss October!
Are you freelancing these days? What are you up to?
Ha. Well, I am actually working for a Playboy channel show right now.
Oh well… excuuuuse me. I'm going to have some questions about that.
I feel like I've seen my fair pair of boobs.
OMG, you've probably seen a whole lot more than I have. And I thought my job was fun.
I'm a producer/ post production coordinator, so I handle the budget, write scripts, and watch the shows for mistakes so they meet network guidelines. I do things like tell the editor "Ok we need a close up on that boob, but don't hang too long on it."
Ha! Do you hang at the mansion and drink Cristal?
Well I have been drinking a lot more red wine, but a girl can dream.
I used to watch The Girls Next Door religiously.
I hate crap TV.
What TV do you like?
Hmm, I like funny and smart TV. Oh and I watch football. I thought after the canceling of Firefly my heart would never hurt the same way and then Arrested Development happened and it was like "Oh, I remember this feeling."
Some shows are just too smart for their own good and its unfortunate.
I just love topical shows where at the end I don't feel like I wasted my time.
So you've lived a bunch of different places before moving out to the west coast right?
I grew up in Maryland. From ages 9-11, I lived in Alice Springs, Australia. At age 18 I went to East Carolina University in North Carolina and then moved to NY to go to Hofstra when I was 19 to about 23. I also lived in Atlanta for a year before moving to LA! I hate staying places. The fun is in the travel.

You have a dog?
I do! The internet girls may like this… when I lived in New York I got a cat and she looked Irish to me so I thought "Oh man, Tegan, what a cool name." And then Julia and I got a girl dog… and so.. we named her Sara. Sara is a rescue German shepherd and Tegan is a rescue cat.
You just killed everyone. They are dead.

+
+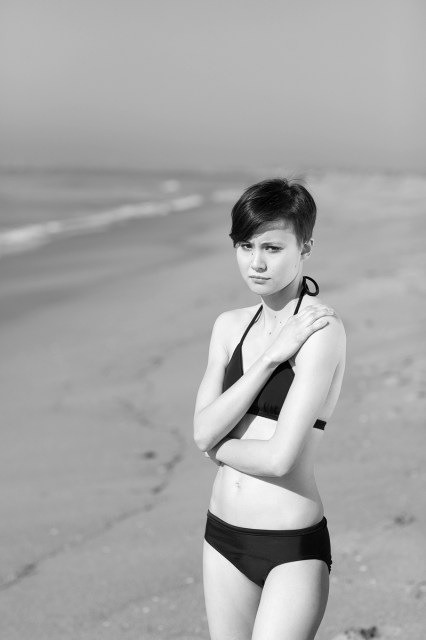 +
Michelle in her own words:
My name is Michelle and for this introductory paragraph, I seriously considered copying and pasting my OkCupid profile, but then I remembered that my profile is terrible, and also why I'm single. So, I'm starting from scratch.
I was born and raised in beautiful Vancouver, British Columbia. And although my sisters had to migrate across the country in order to find better opportunities for school and work, I decided to stay because I love this city. So much so, that I wrote the Queer Girl City Guide for Van. Currently, I'm a fourth year Communications student at SFU and I also have a diploma from Vancouver Film School. I want to be involved in broadcast journalism, ideally as a reporter, but I still have a long journey ahead. I work at a retro 5-pin (Canadian style) bowling alley on the weekends, which is a little embarrassing, but at the same time amazingly chill. In my spare time I play the cello or guitar and I love to read and write poetry.
I've discovered a lot about myself lately. Most importantly, I've come to realize that I don't identify as a woman, but as genderqueer. I still go by female pronouns, even though they don't fit, but that might change. I've only been "out" for about two years, so the complex and sometimes terrifying world of gender identity politics is still somewhat new to me. But I have always, always loved girls.
Like a lot of us, I grew up not understanding and hating my own body and feeling somehow that something wasn't right. When I came out, I realized there's nothing wrong with me, and began to accept my weirdly asexual frame. This is part of the reason why I participated in the shoot. I want to finally be able to celebrate how I look and accept that I am desirable, just the way I am. And I feel like, in the end, that's what we're all looking for: to be accepted and loved in the face of the ignorance and hatred we face in a heteronormative world.
Autostraddle pretty much taught me how to be a lesbian. I didn't know a single gay person before I came out and I randomly found the site. From the beginning, it gave me a community to draw support from when I felt disconnected from queer culture, and for that, it will always have a super special place in my heart. Thank you for letting me be a part of this magical experience, especially as a relatively anonymous outsider who crashed this really, really, ridiculously good-looking party.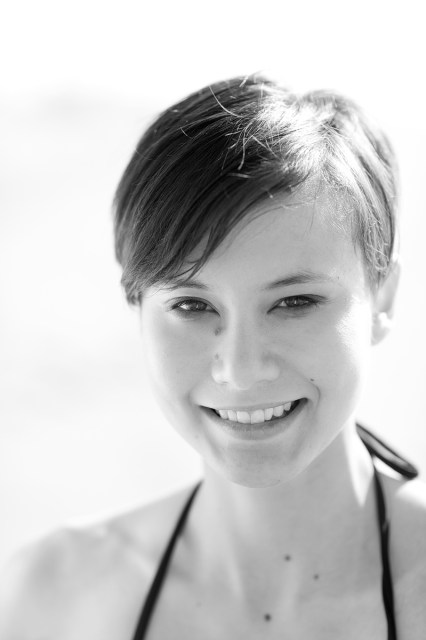 +
Robin's Phoner with Michelle
+
What got you interested in the calendar and willing to come ALL the way down from Canada?!
Autostraddle was a guiding light for me when I was first coming out of the closet. I was so incredibly pleased to find a whole community of people who happened to like most the same things I do. The writing is witty and funny and most importantly, it doesn't take itself too seriously. Which I love. Because I'm a ridiculous person.
What makes you a ridiculous person in particular?
I'm just silly. And I want to clarify that, because I think I might have come off as super serious in the video interview because I was really nervous. I'm really just painfully shy.
And then we took you to a topless bar and it was all over after that.
Yes, yes you did
Remember that?? So professional of us.
That weekend will live on in infamy. You took my WeHo virginity. I'm so glad I decided to fly down.
Me too! I've heard really amazing things about Vancouver! Do you think you'll always live in Canada?
I don't know. If I can get work in the States, I'd definitely move, but I love my home. And I'm really proud of being a Canadian.
You are into poetry. Do you have a favorite poet?
I have a lot of favourite poets. Namely, Eileen Myles, Gertrude Stein, Audre Lorde, Arthur Rimbaud, Charles Baudelaire, and of course, Whitman.
You want to go into broadcast journalism? Are you going to be the next Rachel Maddow?
One can dream!
That would be amazing! Do you like being in front of the camera, even as a shy lady?
I'm getting better at it! I think this whole experience is going to do wonders for my self-esteem, and for that, I thank you!
One more thing- retro Canada style bowling sounds fun!
Yes 5-pin is the best. But they're tearing down the complex I work in next year, so it will be no more. It's really rare to find 5-pin nowadays.
I've never heard of it, but I like the sound of having to hit less pins, like maybe somehow its easier?
No, it's actually a lot harder. So I'm kind of proud of my archaic skill.
Oh no, I don't want to go anymore.
I promise I'll let you win!

Special Note: As of December 2010, we request that the comments on Calendar Girls posts, unlike every other post on this site, be exclusively positive. These posts exist to celebrate women, so any shit-talking or criticisms of the model's appearance will get deleted. Direct questions/concerns about the project or website as a whole can be directed to robin at autostraddle dot com or riese at autostraddle dot com!