I was born and raised in San Diego. I've played tour guide to plenty of visitors and the more I learn about San Diego, the more I love it. The majority of the city is gay friendly, but like any city, the best part is the gayborhood. About three miles north of downtown sits San Diego's own gayborhood, Hillcrest. Hillcrest is home to some of the best restaurants, bars and thrift stores in the city. The neighborhoods surrounding Hillcrest are also vibrant little gems as well. It's where my heart is happiest.
The Gossip Grill (1440 University Avenue) Like many cities, the LGBT scene is male dominated. Gossip Grill is the one bar/restaurant where the ladies always outnumber the dudes. They have a full menu and dining area and an amazing happy hour. Every day from 2-7pm and from 2- Close on Wednesday when you buy one drink, you get a token for the next drink FREE. The best part is you don't have to use it the same night. There is no expiration date. It goes without saying that Wednesdays at Gossip are very popular with the female loving set. Seriously, it gets packed. Arrive early to grab a table or stake out your territory. Every other day Gossip Grill has theme nights and drink specials. Theme nights change often, so be sure to check the website for the latest updates in the Events section.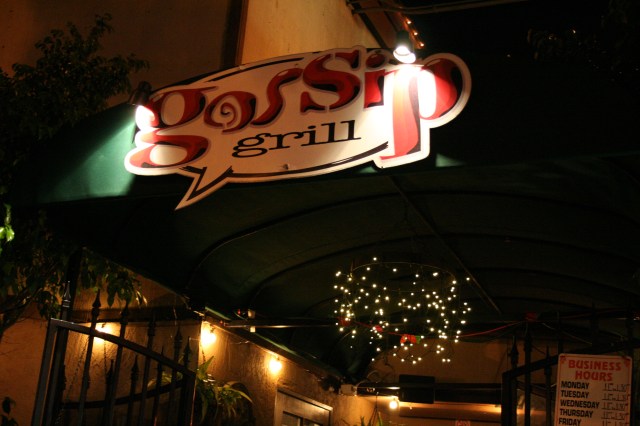 Manic Monday at Brass Rail (3796 Fifth Avenue) Just another Manic Monday? Not with $1-$2 wells and the best 80's dance music at Brass Rail! Brass Rail is the oldest gay club in San Diego and Manic Monday is by far the best night to go. Mondays are not exclusively a ladies night, but there is never a shortage of women. I love this place. Cover is $5.
Repent at Rich's (1051 University Avenue) Repent is lesbian night at Rich's. Every Thursday you can come pelvic thrust to your gay little heart's content. Music is the usual top 40 and hip hop. Cover is in the $5-10 range, depending on the event.
Juicy at Bourbon Street  (4612 Park Boulevard) My Sunday fundays end at Juicy at Bourbon Street. After a full day of imbibing, all I want to do is shake my ass until early Monday morning. And the best part: NO COVER! Woot! Save that money for your Monday morning hangover latte.
+ 
A few words about San Diego and Beer:
Lesbians (and San Diego as a whole, really) love their microbrews. While I usually stick to lambic in these establishments, I do enjoy the bars and pubs that specialize in microbrews and imported beers. The bar food is particularly awesome and there are vegan options at all of them! I recommend you pop into Small Bar (4628 Park Boulevard), Hamilton's Tavern (1531 30th Street) or Toronado (4026 30th Street) for a brew.
+
Brunch
Let me start by saying: I love day drinking. Bottomless mimosas are a huge draw on weekends and Sunday funday is kind of a big deal in San Diego. My lovely girlfriend loves breakfast; I hate it. So weekend brunch solves a lot of our adorable lovers quarrels.
R Gang Eatery (3683 Fifth Avenue) If you like bottomless mimosas with Tang and tater tots that taste like they dropped from the heavens, come to R Gang.
Baja Betty's (1421 University Avenue) What's that? You don't just like bottomless mimosas? You desire and all-you-can-eat buffet as well? Baja Betty's is your answer to that, serving Mexican food and some traditional breakfasty things. The best thing at Baja Betty's are the margaritas. You heard it here first, best margaritas in town. They have big ones, small ones, sweet ones and sour ones. Give the pomegranate margarita a go; you'll be glad you did.
Snooze Eatery (3940 Fifth Avenue) I know Snooze isn't a uniquely San Diego restaurant; I believe they originated in Colorado. But everything I have tasted here is yummy. The only downside is that, since it recently opened, the lines are ridiculous. We're talking 2 hour waits. So if you have the time to kill and have a lot of patience, go to Snooze.
Deli Llama (3702 Fifth Avenue) This place is cute, has fresh ingredients, and is my favorite deli in San Diego.
Sushi Deli 1 (228 W. Washington Street) Remember Goldilocks and the Three Bears? Well, I am Goldilocks and the three Sushi Delis are the three bears. Sushi Deli #2 is too small. Sushi Deli #3 is too big. But Sushi Deli #1 is just right. It's also close to the gayborhood, and therefore more convenient for bar hopping afterwards. They have delicious food and very affordable prices and dollar beers are a delightful plus.
Hillcrest Brewing Company (1458 University Avenue) Remember how I told you San Diegans loves their microbrews? Well, it's no surprise that the first gay brewery opened right here in San Diego earlier this year. I have had a sampling of some of their liquid offerings and I'm here to tell you that they are tasty and potent. But even I have to admit, I don't come here for the booze; I come here for the food. And by food, I mean pizza.
+
Caffeine and Desserts
Lestatís Coffee Shop (3343 Adams Ave. & 4496 Park Blvd.)  I love this café. The coffee and tea are yummy, there's plenty of seating indoors and some seating outside and an eclectic crowd gathers at either location. It's great for people watching or awkwardly staring at people you find attractive.
Filter Coffee House (1295 University Ave.) The brownies here are delicious. I am pretty sure there is ground up unicorn bone and liquid rainbows in the batter. They're THAT good. Actually, everything (coffee, paninis, teas, hot chocolate, etc) is all really tasty. And it's open late in case you have studies and whatnot.
Extraordinary Desserts (2929 Fifth Ave.) Got a date in San Diego? Bring her here to this delicious little cottage of wonder in Hillcrest. There are amazing desserts on intimate candle lit tables. Very romantic.
+
Universities
There are three major universities in San Diego: San Diego State University, University of San Diego, and University of California San Diego. In addition to these there are nine community colleges.
+
Sports
San Diego has a couple of Roller Derby teams: San Diego Derby Dolls and San Diego Roller Derby. There is also an LGBT softball league, America's Finest City Soft Ball League. Professionally there is an NFL team, the Chargers, and MLB team, the Padres. San Diego Pride even has an event with the San Diego Padres, Out at the Park, which gives the LGBT community a chance to show support for the local baseball team.
+
Neighborhoods
You'll usually find me in Hillcrest, University Heights or Normal Heights. North Park just underwent some major gentrification. Pro: much safer at night. Con: lost a lot of my favorite neighborhood bars and gained a lot more college douche bags. I usually steer clear. Little Italy is where you will find a load of Italian restaurants. (Surprise!!) There are also a lot of galleries, an amazing art store and adorable cafes. It's a great place to take a date. Gaslamp District is downtown,and I tend to avoid it. It's very touristy which translates to overpriced drinks and food, ridiculous cover charges at bars and nightclubs with dress codes.
+
 The Center and LGBT Support
The Center (3909 Centre Street) I have to admit, I was not aware of half of the services that The Center provides for the San Diego LGBT community. But now that I know I am impressed: there are all sorts of group meet ups that occur at The Center, from Coming Out/Questioning Support Groups, to transgender counseling to substance abuse counseling. In addition it is a great resource or LGBT friendly health services, provides HIV testing and can recommend fertility clinics. The center is also home to the Toni Atkins Lesbian Health Fund which assists low income and uninsured lesbian, bisexual and transgender women in accessing health care.
+
Pride!
The first San Diego Pride was in 1974. It included a pot luck (I wish this still existed because yum!) and an informal parade. Today, San Diego Pride is much larger; festivities take place over three days. SD Pride was the stage for awesome historical moments in more recent years. Last year, hundreds of military service members marched for the first time in the parade after the repeal of DADT and earlier this year the Department of Defense gave their approval for branches to march in uniform.
Pride festivities kick off with the Stonewall Rally — new this year — the Hillcrest Block Party. The Parade pops off on Normal Street and travels down University Avenue and down Sixth Avenue ending at Balboa Park, the location of the Pride Festival. The festival runs for two fabulous days with a variety of music, booths and of course, beer.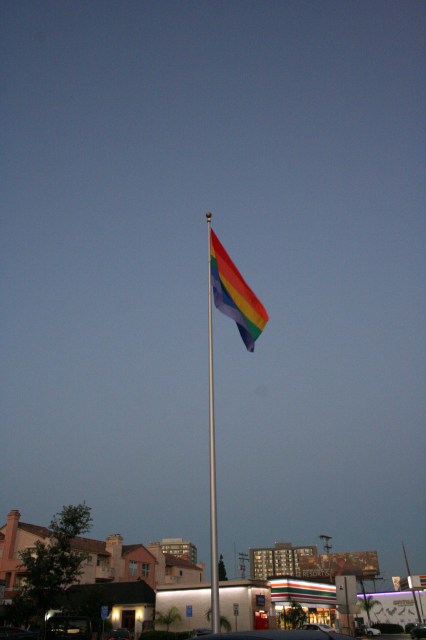 +
LGBT Books and Reading
UCSD Women's Center  (9500 Gilman Dr. #0096) Has an amazing feminist library and has a feminist book club that meets once a week. If you prefer to purchase, make sure you check out the Controversial Bookstore (3063 University Ave.) and Bluestocking Books (3817 Fifth Ave.). For some sexy time reads try The Rubber Rose (917 E Street). I friggin' love this store. It calls itself a "sexuality boutique." but it's not your usual sex shop. It has toys, yes, but it's inclusive of all orientations. So, you won't feel like a creep when you go in to purchase goodies with your partner or have some creepy dude in the corner staring at you. And it's not just toys, it also has some good reads, hence my filing it under the books and reading section. You'll find a variety of topics including erotic reads and stuff specifically for bisexuals, threesomes, lesbians, etc.
++
Performing Arts
Wanna get your artsy on? Try catching a play at Diversionary Theater (4545 Park Blvd.). It gets +10 points for being San Diego's premier LGBT theater. It's dedicated to providing the community with plays that portray LGBT characters as multidimensional. For film, the Birch North Park Theater (2891 University Ave.) is the place to go. It's home to FilmOut, San Diego's LGBT Film Festival.
+
Salons
Hair Drezzers on Fire (3463 Adams Ave.) and  Mary Jane Salon (3919 4th Ave.) will get your hairs happy
+
Tattoos and Bod Mods
Try Enigma Piercing  (3041 Adams Ave.), Vital Lines (2183 Sunset Cliffs Blvd.), and  Full Circle Tattoo (2312 30th St.).
+
Other Good Times
Just when you think your liver has fully recovered from Pride, your sun burn has healed, and you have shooed off the last of your Pride admirers, it's time for City Fest! City Fest is the gayborhood block party, also known as Pride Light. And it ends up being exactly that: a baby Pride. Because one is just not enough for SD LGBT crowd.
Comic Con International It's every year. It's internationally known. And if you're a huge geek, you're gonna feel right at home. Even if you're not a geek, this increasingly mainstream convention will have something to interest you whether it's Star Wars, cosplay, horror film trailers or just ogling booth girls.
++
Places to Avoid
I find San Diego to be a safe place. Please use some common sense. The buddy system doesn't hurt (Unless it is your ex. Then that might be painful.) Stay out of dark, spooky alleys. Most of the uptown neighborhoods (North Park, South Park, Hillcrest, Bankers Hill, Normal Heights) are gay friendly. I would stay away from City Heights as it can be a little dodgey in places. The beach areas (La Jolla, Ocean Beach, Coronado) are picturesque and safe as well.
San Diego is full of friendly people; it must be all the sun and tacos. The LGBT community gets along pretty well for the most part. I have a diverse group of friends and I have never encountered any discrimination or bad vibes from anyone within the LGBT community. San Diego is a great place to visit an amazing place to live.
Stay classy, Autostraddlers.