Usually we take a slightly queer-er tack for Autostraddle Book Club; for instance, Dorothy Allison and Eileen Myles come to mind. As far as I can tell, there's nothing particularly gay about The Hunger Games without doing some serious slashfiction work of your own. But the 2/3 of the editorial team who has read it is obsessed with it, and I feel like the only way I can justify taking the time to read it to myself is to make it about work, so here we are! Seriously though, I don't think any of us will regret this. Remember how excited Laneia was about the trailer for the movie? I know, right?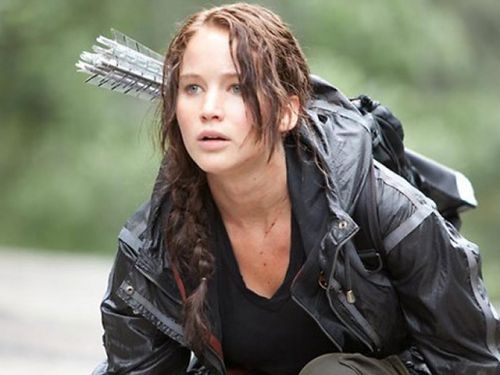 Before there was a movie, however, there was a trilogy of books — The Hunger Games, Catching Fire, and Mockingjay — which every single person I knew was reading but I still didn't pay attention to because, I don't know, a lot of people also like Rachael Ray's show. But it would appear that they are very enjoyable books to read! And unlike a certain other popular book series that has since become a major motion picture, The Hunger Games features a strong female protagonist who, like, makes decisions and stuff. What decisions exactly? I DON'T KNOW. I HAVE TO READ THEM TO FIND OUT. I do not believe they are entirely centered around a dude, though, so that's cool.
We'll be reading all three books, which sounds like a lot but from what I hear you will have no problem finishing the whole trilogy over the course of a week. What's that, you say? You didn't get the trilogy for Christmahanakwanzakah and you're not sure whether you want to buy three whole books, even though it seems like a foregone conclusion that you'll love them? Well, you lucky dog, this is your day, because we are giving away one set of books to a randomly chosen commenter! I have yet to have anyone satisfactorily explain to me why the deadly competition in THG is called a "hunger game" specifically, but it always makes me want a sandwich when I think about it. So, to enter your name into the giveaway, leave a comment on this post explaining what delicious thing you plan on snacking on while reading for book club, and we'll enter your name into a random drawing to win the trilogy for free! We'll keep taking comments up until midnight EST on Wednesday (as in, the end of Wednesday and the beginning of Thursday) and announce the winner on Friday. My answer is Hyderabadi Hungama flavor Masala Munchies. What about you?
After we all have our books and have read them like the bright-eyed chipper little fans that we are, having been prepared for this opportunity by years of intense Harry Potter devotion, we will reconvene here in the last week of March to share our feelings. Does that sound good? Good! Go forth and comment, and then later read! May the odds be ever in your favor! I saw that on the Internet somewhere!