If you couldn't tell from the Caster Semenya controversy, elite level athletics—especially track and field—have a sketchy relationship with so-called "gender policing." From sex chromatin tests to DNA based methods, since the 1960s athletic governing bodies have felt the need to verify the sex of female athletes. What began under the guise of preventing Communist countries from entering men into women's competitions transformed into policies and procedures steeped in sexism, chauvinism, and ignorance. Despite the testing's inaccuracies and constant failings, the IAAF (track and field's governing body) continues to test women whom they suspect may be incorrectly sexed. This has led female athletes, fearing they may have their privacy and human rights trampled upon while being humiliated by the media, to undergo treatment to make them less masculine.
The IAAF has set out to determine the male threshold for testosterone. In order for women to be allowed to compete, their levels must not venture into this territory. If they do, the athlete must have surgery or receive hormone therapy. Whether or not the extra hormones that cause the concern benefit the athlete does not preclude them from the intense round of examinations. Of course, male athletes are left completely out of the conversation. No one cares what their hormone levels are. Surely there are some men whose testosterone exceeds what might be considered a normal range but it's ok because for men, the sky is the limit. In a sport where the goal is to be the fastest, if you're a woman you can still be accused of being too fast.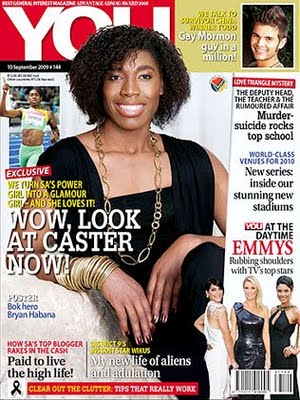 When the whole Caster situation popped off, an Italian runner named Elisa Piccione said, "These kind of people should not run with us. For me, she's not a woman. She's a man." Someone should have informed her that had Caster not competed, her ass still would have come in 5th place, so maybe she should shut the hell up. What began as a xenophobic measure to prevent cheating is now a gendered take on racial profiling. With officials' prejudices and fears in charge, anyone who doesn't sit right with them is liable to be tested. This process is sending a codified message through athletics about possibly intersexed athletes: You're too good to be a woman but not good enough to be a man.
One of the questions brought to the surface by these happenings is what, exactly, constitutes an 'unfair advantage.' In athletics, the entire purpose is to have an edge on the competition. Is it right to deny athletes a naturally gained advantage? How is this different than any natural gift that separates elite athletes from the rest of the population? Whether members of the athletic community believe it is unfair or not, it does not give anyone the right to scrutinize or question another's sex based on assumptions about appearance and performance that were formed in a sexist society.
The policing of femininity on the national stage should make you wonder how much of what we deem masculine is based on science and how much is sociologically informed. We are seeing international politics and Eurocentric standards of beauty imposed upon other nations. The number of athletes undergoing this therapy is confidential but I'd be willing to bet there was a disparate percentage of people of color that underwent testing.
What's interesting to me is the blatant disregard for every other factor that contributes to becoming a world-class athlete. If you continuously pumped random ladies full of testosterone and plopped them on a track, field, or what-have-you, they wouldn't automatically rise to the top of the ranks. There's a lot more that goes into sports than being muscular, recovering quickly, or whatever advantages these hormones may (but probably don't) provide. No matter what natural advantage you have, if you don't have an extraordinary skill set, knowledge of your sport, and participate in intense training, you're never going to be an Olympic-caliber athlete.
To discredit the life of hard work someone has put in because you think they're "too manly" is utterly ridiculous and disrespectful to all athletes, male or female. Given the conversations around the inclusion of trans* athletes, these committees are well aware that issues of sex and gender are not cut-and-dried. They need to realize the only way for intersex athletes to compete without stigmatization is by eliminating all sex verification procedures.