Back in 2009, a petition was circulated on a domestic partnership law in Washington state. The bill, which would legalize domestic partnership for same-sex couples, had been been approved by Washington's state government and governor, but a referendum campaign sponsored by Protect Marriage Washington was a last-ditch effort to stop it from becoming a reality. Domestic partnerships in Washington passed by 53%, the first time that a voter referendum has ended up in the gays' favor (although actual marriage equality has yet to be passed at the ballot). Afterwards, however, controversy arose when domestic partnership supporters wanted the names of the people who signed the anti-DP Protect Marriage Washington petition released to the public — a right that's guaranteed by law (to protect against fraud). Protect Marriage Washington claimed that doing so would expose the petition signers to violence and harassment, and took the issue to court. Today, this debate was finally resolved — a U.S. District judge has required that the names of the petition signers be released to the Associated Press. 
In keeping with their argument, Protect Marriage has expressed displeasure and apprehension through their spokesman, Gary Randall, who was quoted as saying "I believe there will certainly be harassment, and I pray to God there isn't more than that." Back on October 3, when the hearing with Judge Benjamin Settle originally occurred, Protect Marriage Washington posted the following on their website:
Amazingly, and in spite of hundreds of examples brought forward as evidence, McKenna's attorney (Anne Egeler) continues to deny that any harassment whatsoever took place during the R-71 campaign. The AG's strategy is to trivialize the many confrontations, threats, obscenity laced e-mails and phone calls that many of us on our side endured during the campaign, and to redefine clear examples of harassment as protected "political speech."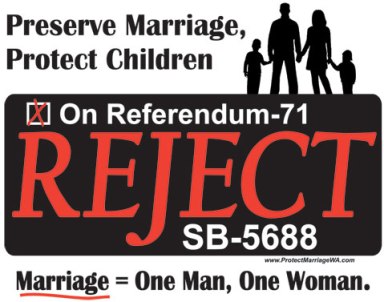 Unfortunately for Protect Marriage, Judge Settle appears to be of the same opinion as Egeler as far as whether Protect Marriage members have really experienced 'harassment:'
U.S. District Judge Benjamin Settle said in his ruling Monday morning that petitioners who advocated for privacy provided only a few experiences of indecent statements and other uncomfortable conversations. Also, there was only speculation that those incidents were connected to the issue, he said. If just a few instances of harassment were used as the standard for preventing the release of names, then disclosure would become the exception, rather than the rule, Settle said.
 This is (sadly) reminiscent of some moments of the Proposition 8 trial, in which Protect Marriage tried to pull out more controversial (read: incompetent and damning) witnesses because they were 'in danger of harassment,' while apparently totally unaware of or indifferent to the actual harassment and violence that queer people have to legitimately fear. (For supplemental reading, see Peter LaBarbera, who when actually harassed this weekend because of his anti-gay views, upgraded it to a hate crime, thereby demonstrating a fundamental lack of understanding of the term 'hate crime.')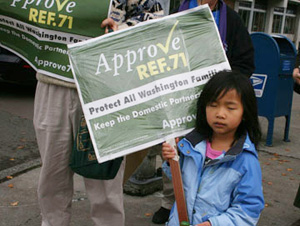 Assuming that Judge Settle's assessment of the level of backlash that Protect Marriage has to fear is correct, it seems like a lot of fear and alarmism because of a few "uncomfortable conversations." But then again, isn't that how it often goes? Wanting to hold your discriminatory and harmful anti-family political stance but avoid any "uncomfortable conversations" with the people that your stance actually affects? Freedom of speech and political views in America does guarantee a lot of things, but absolution from any consequences of your actions isn't one of them. Actual marriage equality still isn't legal in Washington; until it is, let the "uncomfortable conversations" commence.