Hello friends and food fans. Yesterday was my birthday and so today we're going to talk about birthday cake. You may take a look at the recipe and say, "Nothing's more boring than a white cake," but you would be wrong. Getting a "Flirty Girl Fitness" video for your birthday is more boring. This cake is the cat's pajamas. It's very moist (succulent for those of you who don't like that word) and easy to change to suit your tastes. The vanilla in the cake and icing can be substituted for any other extract or juice so that you can make a lemon, chai, or margarita cake. Between stirring and stirring and decorating, this cake is rough on your hands. Find a friend so that you can share the work and the cake.
For le cake, you will need:
+6 cups of cake flour
+2 tablespoons of baking powder
+1½ cups of butter, room temperature
+3 cups of sugar
+2 cups of milk
+1 teaspoon of vanilla
+12 egg whites, room temperature (they're easier to separate when they're cold so do that first and then let them sit)
Unlike most things I make, I actually paid attention to the directions for this one. You should take the time to let the egg whites and butter come to room temperature and mix things in the right order because the cake will taste better. Like every baked good ever, it tastes better the next day so plan accordingly. With that in mind, let's make a cake!
First prep your pans. Coat them with the edible lubricant of your choice (oil, butter, pam, whatever) and put a piece of parchment paper on the bottom. Also preheat your oven to 325F.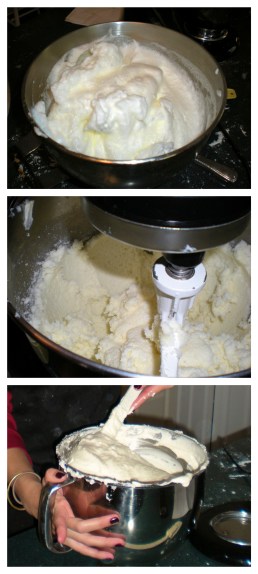 Now beat your egg whites on a nice high setting until they're stiff but not dry. If, like me, you have no idea what that means, take a gander at the photo. Cover that bowl with saran wrap for now.
Cream together the butter and sugar. At this point you can't really over-mix, so let it go a lot longer than you think is necessary. The properly-creamed cream should stick to the bowl. Again, I've included a picture to help.
Stir the flour and baking powder together and set it aside. In another bowl (or pan if you're running out of bowls at this point), mix the milk and vanilla.
Now go back to the buttersugarcream. You're going to add 2 cups of the flour mixture and stir it in. Then add 1 cup of the milk mixture and stir. Then 2 cups of flour. Then the rest of the milk. Then the rest of the flour. You're almost done, I promise! Take the cover off the egg whites and fold them into the batter until everything is thoroughly incorporated.
There's this really helpful page that tells you what size pans you can use, how much batter to put in each pan, how long to cook the cake, and how much icing you'll need. This recipe makes 12 cups of batter so you're going to end up with a massive cake or about a thousand little ones. It's a win/win situation.
Here's a poem to read while everything's baking.
For 3 cups of icing, you're going to mix up:
+1 stick of Butter
+1 teaspoon of clear Vanilla
+4 cups of Powdered Sugar
+2 tablespoons of Milk
Again, use that page to figure out how much you'll need to make.
Icing a cake is actually really easy. Here are my mama's secrets:
+Let the cake cool completely before you even think about touching it.
+Start with a crumb coat. If you do a really thin layer or icing and let it dry, you can do another layer and none of the crumbs show through.
+Use the right kind of knife and dip it in a cup of hot water to make the icing spread easily.
+No one cares if the cake isn't perfectly smooth. You're going to be piping all kinds of beautiful things over it anyway.
+Thin your icing with milk if you're going to be doing small piping.
+Use toothpicks to add dye and start with just a little. You'll be surprised how much a tiny bit spreads.
+If you absolutely must make black icing, for god's sake start with chocolate icing so that you don't turn everyone's mouth black with the gallon of dye it takes to turn white icing black.
If you've made it this far, you deserve to take a bite of icing. Eating the cake is obviously the best part, but decorating is a very close second.
Here's what you need to do it:
+Icing dye
+Piping bags
+Couplers
+Decorating Tips 
I would suggest practicing on parchment paper first. It's good to keep the bag at a 90 degree angle and not to overfill it. It also helps to have a plan. I've never decorated a cake before but I have done mehndi, so I just went with what I knew. The truth is that you can't really mess up here. People are so impressed that you didn't buy a cake that you could draw a giant smiley face and call it a day and they'd still ooh and ahh over it. Also you're all talented and special so I'm sure you'll come up with something fancy and tasty.