Amy T. Falcone is kind of a favorite around here. I've already written about something she worked on when I covered Erica Greco's (who I had the pleasure of meeting at A-Camp) comic Mix Tape, which Falcone colored. Another of her comics, Cardigan Weather, was also featured in Hansen's post about Seven Queer Webcomics That Aren't DAR. Plus, back when the comic I'll be  talking about today was still in its kickstarter mode, Ali interviewed Falcone about it. So, I'm pretty dang pumped to be writing about Clique Refresh, Falcone's current awesome webcomic about a group of friends who are bonded through playing a fantasy mmorpg called Ether Ruin.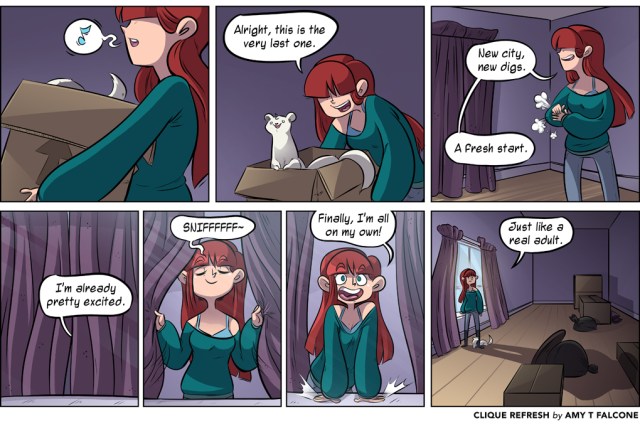 The main character of this comic is a young woman named Ellie, who's just moved into her own place with her pet ferret in a new city and is finally getting her act together, "just like a real adult." And just like any real adult I know, pretty much the first thing she checks when she moves in is whether or not her internet is working. Priorities, people. Although her internet isn't hooked up, Ellie isn't going to mope (well, she does for a little while). She's going to go out and be an adult (that's kind of a theme of the early comics). She even sings the theme song of adulthood, "I'm an adult and I do wha' I want… I buy whole bags of chips to eat all at once." But her adventure out into the real world turns south pretty quick as she runs into trouble after trouble.
Just when she's feeling her lowest, she comes across a really beautiful view of the city. She remembers why she's there, and that she has great things ahead of her. Now, remember, this entire character arc is just in the intro. We haven't even gotten to the meat of the story yet. Ellie's finally found some internet she can use in her house, and checks in with her group of online friends. After a little good-natured ribbing by her online community of pals, Ellie logs in to Ether Ruin and her sweet Harpy avatar takes over.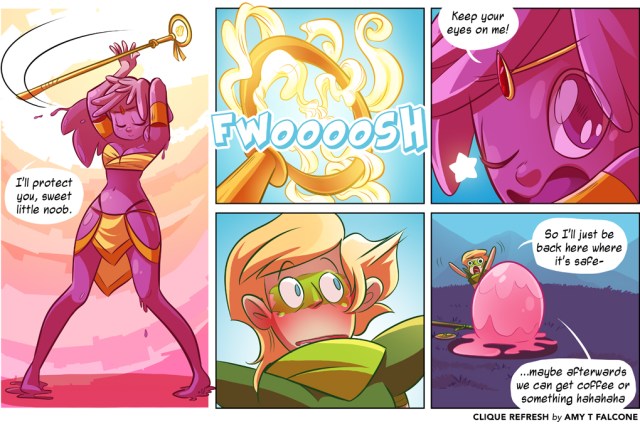 Ellie sees her friends Lia and Jeremy nearby about to take on a super-dangerous-looking cat monster. After Lia's failed attempt at taking it down, a sexy and gooey slime enchantress shows up to be her hero. I don't really want to spoil too much more of the comic. Let's just say that it's funny, full of adventure and it totally reminds me of some of my favorite parts of online friendships. In the latest update as of my writing this, the group's fourth member, Rose, has just shown up, and I can't wait to see all of them in action together.
As someone who has a ton of online friends, I'm absolutely loving this comic. I mean, I already love it because of the art, the cool female characters, the fantasy online game setting and the writing, but my love goes to a whole other level on this one. If you're reading this, then the theme of online community probably resonates with you too; this is Autostraddle, after all. Since "internet friendships" often get made fun of or are seen as not being as real as other friendships, this comic provides a valuable reassurance that those relationships are just as valid and valuable.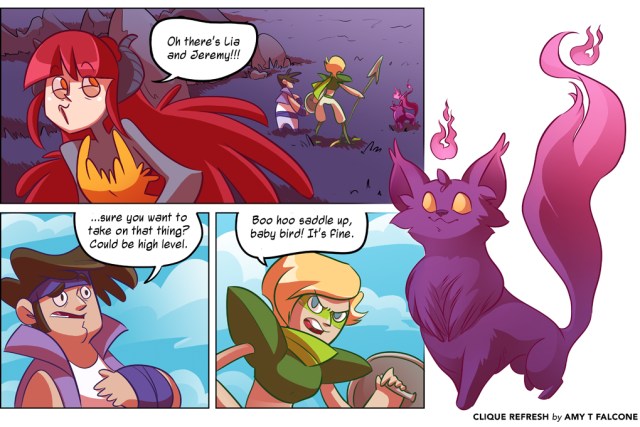 Now, let's talk about the art. Falcone's art is so fun and full of life that you don't even need the dialogue to have a good time reading the comic. Plus, her character design shows a ton of work put in, as each character looks totally different and unique, and while their appearances give you a great idea as to what the characters are like, they don't look like stereotypes. And the world of the game, from what we've seen of it so far, is equally well thought out. Plus, the coloring, done by Mary Cagle, is totally top notch and adds a ton to the comic. Some of the pages are just jaw-droppingly beautiful.
This is one of those webcomics that you wish would update more often. Not in the way that it barely ever updates (it updates twice a week, on Tuesdays and Fridays), but in the way that you would be happy reading it every day of the week. Every time I read it I have a huge smile on my face. To keep track of Clique Refresh (apart from just reading it), you can check out its facebook page and of course, Falcone's tumblr and twitter and Cagle's tumblr.
Comic Releases (July 2)
Angel and Faith Season 10 #4 (Dark Horse)
Avatar the Last Airbender The Rift #1 (Dark Horse)
Harley Quinn #2 (Amanda Conner Variant Cover 4th Printing) (DC)
I Am Rosa Parks HC (Dial Books)
New Vampirella #2 (Dynamite)
Luba and Her Family: A Love and Rockets Book (Fantagraphics)
Hack Slash Son of Samhain #1 (Image)
Avengers Assemble #25 (Kelly Sue Deconnick Signed Edition) (Marvel)
Black Widow #8 (Marvel)
Ms. Marvel #3 (Variant Cover 2nd Printing) (Marvel)
---
Welcome to Drawn to Comics! From diary comics to superheroes, from webcomics to graphic novels – this is where we'll be taking a look at comics by, featuring and for queer ladies. So whether you love to look at detailed personal accounts of other people's lives, explore new and creative worlds, or you just love to see hot ladies in spandex, we've got something for you.

If you have a comic that you'd like to see me review, you can email me at mey [at] autostraddle [dot] com.