Erika Greco is a Seattle based designer who works for Penny Arcade, one of the internet's most popular webcomic companies. She recently published her own short online comic, Mixtape, which uses the format of an Ani DiFranco mixtape to tell her own personal story of how she figured out her own identity and eventually came out as queer. This comic takes us all the way from her childhood as a stereotype-breaking punk, to her teen years trying to figure out what made her happy, to her marriage, eventual divorce and finally finding peace with herself. Along the way, we see how Greco sometimes seemed to sail easily along, and other times struggled to match up her priorities with what society seemed to want from her. Combining powerful visuals, emotional music and superb writing, Mixtape is a can't miss story for anyone who has ever tried to figure out who they are and what their place in the world is.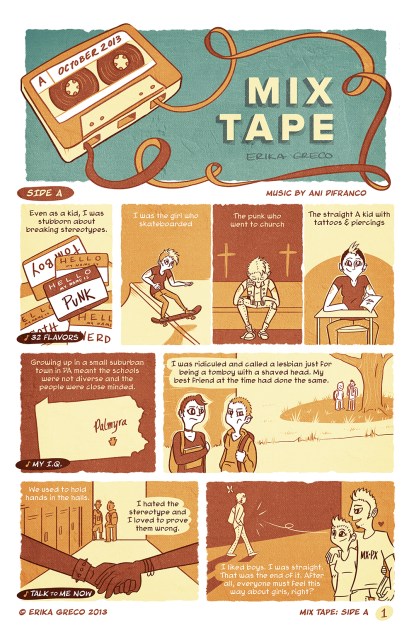 Comics are a great way to tell personal stories. Greco has a beautiful way with words and while the story is definitely her own, but there are also parts here and there where my heart ached out of familiarity for what she was going through. The art is also wonderful, with early panels showing the wide-eyed optimism of her early years, and later panels showing the difficulty of her struggles to figure out who she was. The colors, provided by Amy T. Falcone, also provide visual cues for how Greco was feeling, using warmer colors during her happier times and cooler colors to represent her sadness and confusion. By choosing to tell her story through a comic, Greco is able to not only tell us how she was feeling, but also show us in full detail.
I work as a designer at a company (Penny Arcade) whose big claim to fame is a webcomic. My best friends are professional illustrators and cartoonists and so comics in general are an integral part of my life.

When I was struggling at my lowest I was just trying to find any outlet I could to help me express what I was going through. I started writing, drawing, and playing music and it was so cathartic. When I decided that I was ready to tell my close friends about what I was going through I knew there was no more accurate or personal way for me to share that than through comics.

It was a place were I could be as raw, honest, and vulnerable as I wanted to be and when I was ready to share it with others, I had distance from it and felt stronger than I would have if I had talked to each person face to face. It's like public speaking for people afraid of crowds.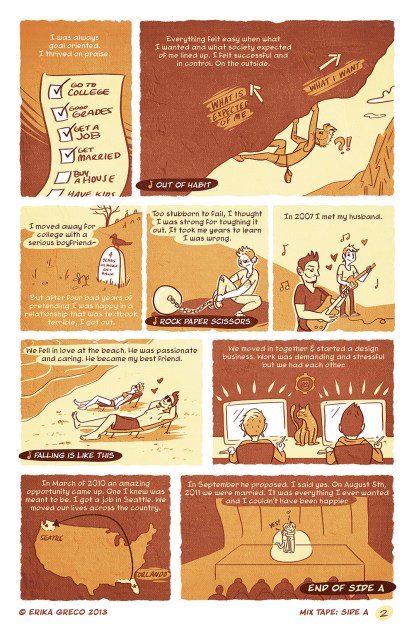 Greco also uses one of my favorite literary devices when she matches up a list of songs, all from DiFranco, with moments from her life story. This gives the comic a very cinematic feeling and puts the reader right into the middle of the story in a unique and powerful way. Really, reading the comic without the music is an entirely different experience from reading it with the songs. Greco does an absolutely spot-on job of matching the music to the mood of the comic. It almost seems as though DiFranco wrote the songs just for this story.
I have been listening to her music since I was a young-lady-teen and it's always made me feel strong and empowered. When depressed I tend to surround myself in a safety net of nostalgia. So, I began listening to the same songs that I had memorized the words to over 13 years ago only now they spoke to me in a way that I had never heard before. It was like hearing each song for the first time.
Throughout her musical career she shares about learning who she is, what it means to be a "strong" female in a patriarchal society, the trials of being gay, and more so, being queer, what it meant to be married and how it felt to get divorced. I literally related to every single song. I felt like as I grew and learned about myself over the past year, her music grew with me and guided me along. It made me feel less alone and it gave me an anthem.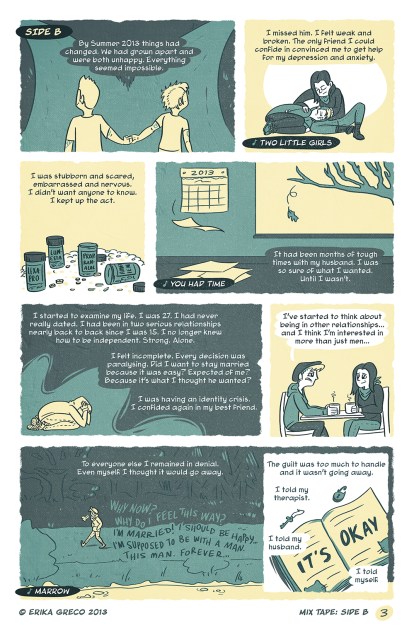 As if telling her coming out story in the form of a comic wasn't enough evidence of how much the medium means to her, Greco also stresses the importance of other people's comics in her coming out story. In one panel Greco says that friends gave her comics to read that helped, I noticed Erika Moen's DAR, Ellen Forney's Marbles and the comic anthology Anything That Loves.
Erika Moen is a friend of mine and so I've got a her DAR books signed and dated 2011, back when we first met. When I was struggling with my identity I decided to pull her books back off the shelf and they turned out to be exactly what I needed. I went from there to the rest of her online comics, as well as another friend, Amy Falcone's online work, Cardigan Weather.

It lead me on a path to find more queer comics where I learned about myself through the stories of others. Marbles really spoke to me on many levels as a book that not only deals with identity and sexuality but also the struggles of being a creative dealing with mental illness. Anything That Loves is a book I cannot recommend enough to anyone who is not sure what it means to fall somewhere in between gay and straight.
It's not a book or comic but honestly, (forgive my gushing) it was during this time of identity crisis  that a friend introduced me to Autostraddle and I read absolutely everything posted under "How to be Gay," immediately. I fell in love with the positivity and safe space of the community and now nearly 8 months later I am a daily reader, commenter and also looking forward to attending my first A-Camp in May. </gush>
By deciding to put her story up online, Greco knew that she was putting herself out there with the possibility that not everyone would be happy for her. But she was also taking a brave step where she was not only sharing her story, but also letting others know that they're not alone when they go through similar things.
The reaction has been 100% positive. Honestly, I could not be happier with the response. I was very nervous putting myself out there in such a big way and was prepared for judgmental, negative comments since the internet can be so volatile at times. Instead, what I received was an outpouring of support from the community and messages in my inbox with personal stories from others that are strikingly similar to my own.
It's incredible how much others will share with you if you choose to share with them. I wanted to show that I wasn't ashamed of who I was and that I didn't feel that I needed to hide in my community. I want other people to read this and know they don't have to hide, either. I want them to be able to take a piece from my story, no matter how small and apply it to their own journey. I've now received messages from people echoing that very sentiment and so I couldn't be more humbled and thankful for the feedback I've received.
---
Welcome to Drawn to Comics! From diary comics to superheroes, from webcomics to graphic novels – this is where we'll be taking a look at comics by, featuring and for queer ladies. So whether you love to look at detailed personal accounts of other people's lives, explore new and creative worlds, or you just love to see hot ladies in spandex, we've got something for you.
If you have a comic that you'd like to see me review, you can email me at mey [at] autostraddle [dot] com.
Header by Rory Midhani