This week on , everyone seemed really high and Ari looked really fucking great.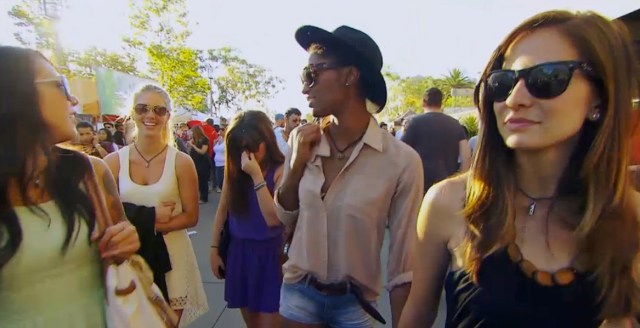 The episode introduced some new and old characters into the Real World haus, most notably Tom's twin brother, Stephen. Geneva thinks he's better looking than Tom, and I don't. It's really none of our business anyway. My theory is that he brought a lot of good weed, thus making it possible for this week's episode to be named "Burned to Ashes."
Somehow, thought, the drama continues. Hailey and Tom are still fighting, Jay and Jenna are still fighting, and Jenny and Brian are still fighting. Somehow, though, they go on.
At least they're learning something about themselves, right?
Hailey realizes about halfway through the episode that she needs to leave, which is good news for everyone else who was weirded out by how often her and Tom talked about their respective virginities. Also because she got mad violent last episode.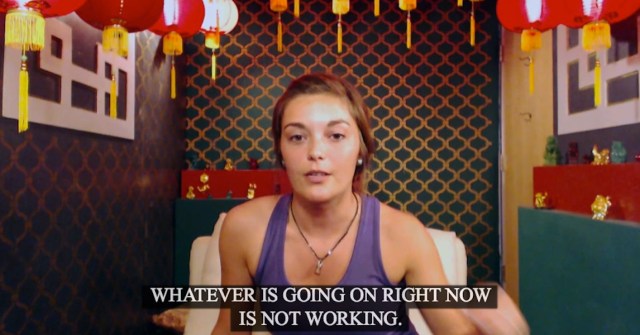 Ari breaks the tension this week as she usually does, this time by encouraging her roomies to do what lesbians do best: eat out.
A lot of weird behavior begins occuring at this point, thus further proving my point earlier re: Stephen's dank weed.
While some roomies are living on the lighter side, Jay and his boys go to a bar to aggressively hit on women despite the fact that nobody finds that endearing on planet Earth.
Later on, Jenny brings back Hurricane Ashley for a final trip down remember when this show sucked for other reasons lane.
Nobody regretted Ashley's rekindled presence more than I, but there was one very high point there, and it was the point where they both drunkenly laughed at Brian's dumb man-child ass.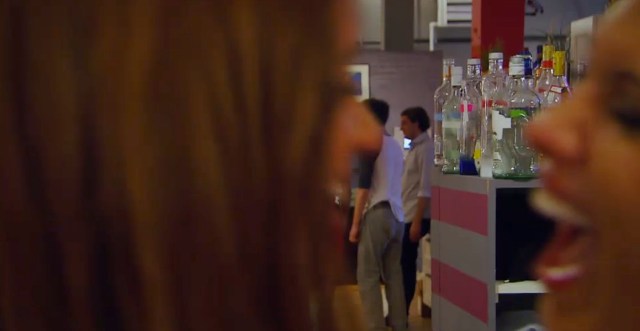 Meanwhile, in Normieville, Jay is fantasizing about his sexxxy Jenna and feeling a twinge of regret for the sexy emails of days past.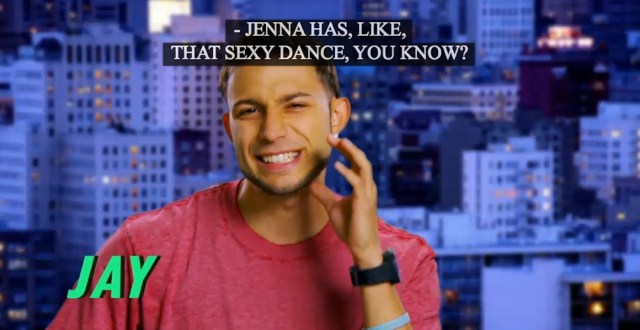 Things don't fare much better at home, where Brian's burns outlast Ashley's visit.
All in all, the person I liked most this week was Stephen, and he leaves at the end like most people I love. Here's to saying goodbye to one of the two highest people on the show.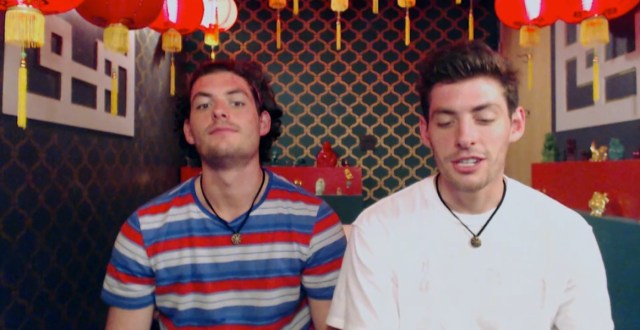 These are the questions you had for Ari Totally Not High Fitz this week.
This Week's #AutoAri Q&A
On TRW
@itsarifitz did the producers ever explain why they allow more violence in your season? Even Challenge kids get kicked for punches. #autoari

— PettyVille (@kaiboi25) March 20, 2014
I thought 1of the real world rules was the moment u put your hands on another roommate you're out #autoari @itsarifitz

— AF (@ArlynFernandez) March 20, 2014
Zero clue why this changed for my season. We all thought you'd get kicked out, too. Instead they just brought in bouncers or made the person stay in a hotel for a night to cool down.
@itsarifitz Your face was absolutely priceless when you saw Ashley M! What were you really thinking #autoari

— C. Lotta (@LottaShyt2) March 20, 2014

What was I thinking? "Umm… who are you again?"
https://twitter.com/rachelisdtf/status/446475930332954624
Just didn't understand why she was there. We'd all forgotten her, tbh. Well except Jenny.
@itsarifitz do you think @jennycdelich is demonic with or without liqour lol ? #Autoari

— Naim (@jaria1998) March 20, 2014

Jenny, demonic? Nah… She's just batshit crazy with and without liquor.
Who done the grocery shoppin n if the crew did y'all get to give grocery lists? And did thy mke y'all go out clubn' every so often? #autoari

— Terra Chaney (@libraz83) March 20, 2014
Haha trying to cram all those questions in one huh? Lets see here… we did all of our own grocery shopping and we decided if/when we went out. I got bored going to the same clubs so I stopped going. Lol!
@itsarifitz favorite @jennycdelich quote? #autoari

— Toni ✌ (@Look_its_Toni) March 20, 2014
Not a quote, but I just love all of her Almond Milk bars.
Did anyone run outta $ after being there for awhile? #drinksain'tcheap #autoari #RealWorldExplosion

— Terra Chaney (@libraz83) March 20, 2014
YES. A lot of us went broke there, it was tough. Many people think that being on the show is glamorous… free drinks, cameras, fame, etc. It's nothing like that. That's why I'm working so hard now!
@itsarifitz #autoari did Jamie get in your relationship? I don't like the fact she feels the need to get in Jay and Jenna's shit

— sıllǝ⊥ (@Chief_Tellis) March 20, 2014
Great question. Not really. Almost everyone assumed Ash and I were perfect so they didn't touch it, us.
but real talk @itsarifitz do you and tom share beanies because the beanie game is too strong with yall two #autoari

— 🎆SPECIAL NEGRO🎆 (@AmayasTotem) March 20, 2014
HA! We did! We actually talked about starting a beanie company while living in the house, I just got too busy after we moved out.
Do you want jay and Jenna together? #AutoAri @itsarifitz

— 🇺🇸Shonnie Marie🇺🇸 (@shonniemac23) March 20, 2014
I don't think it's a very healthy relationship at this stage in the show. I think they both need to figure out what the hell they want and stop ignoring very clear signs that certain things aren't working.
https://twitter.com/rachelisdtf/status/446476752693366784
OMG. One is more than enough!
Film Buffs
If you could do a film anywhere in the world, where would it be and why? #AutoAri

— Jasmine☁⚡☯ (@jasmine__aac) March 20, 2014
Love this question. I'd go back to Brazil and film a thriller in the favelas of Salvador da Bahia. I used to live there and my heart pounded the whole time I visited the favelas. Tight spaces, narrow corridors, hushed conversations everywhere… it was intense and sexy. Everything I look for in a narrative.
#autoari Who is your favorite mainstream filmmaker?

— ItsStaci (@ItsStaci) March 20, 2014
Right now… Adam Wingard. This answer is constantly changing soon. Can't wait to say…. me. ;)
What draws you to horror in terms of filmmaking? What do you like most/least about the genre? #AutoAri

— Bunny (@yourfriendbunny) March 20, 2014

It's a genre I can do anything with. There are very few expectations in horror… the only one is simply to shock. The limitless of it challenges me. The thing I like least about it is one of the big reasons I work in the genre: there are very few women who look like me, who love like me working in horror. It's an opportunity to open the door for others.
@itsarifitz @autostraddle #autoari what do you have planned next with your filming?

— youtube trash (@helloitsbless) March 20, 2014
Next big project launching is a short I filmed in the Real World House. It's a short called, "Open Call". Might actually get a sneak peek of it on the next episode.
https://twitter.com/hannahrahmin/status/446469509889527808
Jenny, Tom, Jamie. In that order.
OMFG
…If your ex didn't come, on a scale of Mother Theresa to Kim Kardashian, how loose would you have been @itsarifitz?? Lol. #AutoAri

— Steve Jr. (@DwayneJay) March 20, 2014
BEST. QUESTION. EVER. Probably Cara-kissing-MRod-at-a-game loose.
So people people in San Fran just sit on the green grass all the time just like in Full House @itsarifitz #autoari

— X Æ Ashli-12 (@ashdmitch) March 20, 2014
Seriously. That's all we do. In fact, sitting on green grass outside as I type this to you now.
On Ari
@itsarifitz What was the one thing you couldn't live without while in the house??? #autoari

— 💋Rebecca💕 (@_itsmeReba) March 20, 2014
My camera. I even shot a little short film with the cast-mates.
Let's try again. What's your favorite pizza topping ??? #autoari @itsarifitz

— brenda delacruz (@aimh_swl) March 20, 2014
Oh that's a good one. Totally depends on time of day. Early pizza: Hawaiian. Late pizza: Pesto Chicken. Boom!
@itsarifitz what inspired you to become a model? Because you are gorgeous

— Kyndall-Dicaprio (@Queeen_ofHearts) March 20, 2014
Thanks dearie! I actually just fell into it. A photographer "discovered" me at a festival and from then on.. I started working.
Biggest career goal for post-real world life? @itsarifitz @autostraddle #autoari

— Cranjis McBasketball (@_jshiggins) March 20, 2014
Love it. Biggest career goal —> producing and directing films until my late eighties. ;)
https://twitter.com/ThePizzaPoPo/status/446470087143215105
5'10 of Ari-ness.
@itsarifitz seems like you're ALWAYS eating! What's your favorite food…other than pizza, perhaps #autoari

— C. Lotta (@LottaShyt2) March 20, 2014
Lol, actually my favorite type of food is Ethiopian. Second best, thanks to Jamie on the show, is Korean.
@itsarifitz @autostraddle #autoari when every other couple is arguing in the house, were you and ashley hooking up? If so, priorities are 

— youtube trash (@helloitsbless) March 20, 2014
You know it!
https://twitter.com/rachelisdtf/status/446477341603004416
Working. You'll see it all come together in this coming episode.
https://twitter.com/hannahrahmin/status/446479038299652098
I don't but I want to! I can't stop randomly climbing things. Proof at 4:35 in this video…
https://www.youtube.com/watch?v=KZQhGff5tw4
@itsarifitz What's your ideal hangover food? #autoari

— Courtney Doyle (@doyleca4) March 20, 2014
Vietnamese Pho, for sure. If not that, then well…. cold pizza.
@itsarifitz Any advice for young people trying to figure out what they want to do with their lives #autoari

— Delaney Allyn (@delaneyallyn) March 20, 2014
Whoa, serious question. First thought, don't. Life's too short to decide how you will live for the rest of your life in one sitting. Experience a lot of different things, work on a ton of projects and then dedicate yourself to the few things you can't stop thinking about.
Also watch this daily: https://vimeo.com/24715531
Ari. Girl. HOW?? How do you stay so chill/real/down to earth in the midst of such intense chaos and drama? #zenfordays #AutoAri

— Lane (@LaneStreet) March 20, 2014
Easy. I just imagine everyone naked while it's going on and it makes everything so much more amusing.
https://twitter.com/BlondieBear21/status/446481728777887744
All depends on how you met and the breakup. I'm not close with a lot of my exes because the breakups were bad. Also, we were never really friends before hand. If you're close before you decide to date, I think it's easier to go back to being friends.
What do you think has contributed to your strong confident personality? #AutoAri

— Kelly lemmers (@Klemmers13) March 20, 2014
Aww, Kelly how sweet of you. That's an easy one. My strong confident personality comes from the queen of strength and confidence: my mom.
Our Winner
Every week, Ari will pick her fave question out of the bunch and we will reward them with lavish prizes. This week's winner, @ashdmitch, is getting a video from Ari!
Get Into It!
Each week, you can tune in to new episodes of The Real World and tweet your questions for Ari Fitz, raging queer, using the hashtag #AutoAri. ( We can only guarantee that tweets sent during the initial screenings of each episode will be included (10PM EST/PST and 9PM CST) in each week's roundup.) Whether you're curious about her films, what she's eating in the fifth scene, the music that hot tub montage was set to, or how she gets her hair to look damn good, feel free to dig in and pop a question. Within 48 hours of the episode, Ari will answer every single one here on Autostraddle.
In the meantime, you can follow Ari and Autostraddle on Twitter. (And me!)