I wanted to write this article yesterday, but it was National Be Late To Something Day. Here's the stories we missed this week!
Did you know an election is happening? It is! The Campaign for American Values released a video about it because gay marriage makes them feel weird.
Meanwhile, the DNC this week was kind of the event of a lifetime because Michelle Obama's arms. Come one come all, young and old! Let's all talk about how Mitt Romney wants to destroy the last shreds of LGBT rights. No matter how easy it is to get laid as an undercover gay Republican at the RNC, it is undeniable that the DNC was a big ol' gay lovefest:
Addressing the Democratic National Convention on Sept. 4, the openly gay treasurer of the Democratic National Committee, said, "The Democratic Party under the leadership of Barack Obama has dramatically improved the lives of millions of lesbian, gay, transgender and bisexual Americans and at no cost to anyone else."
Andrew Tobias, addressing thousands of delegates, talked about politics, equality and being out and proud.
He said, "In college, I thought I was the only guy in the world who liked other guys. Later I found there was someone else like me, our 26-year-old resident tutor. He and I never talked about it at the time. No one talked about being gay back then. People killed themselves over being gay. Tragically, some kids still do. But, the progress we have made. Eight weeks ago, I attended that young tutor's wedding! To a guy! He and I never talked about it at the time. Love that had been unspeakable 46 years ago was celebrated by hundreds of people — straight and gay, surfers and senators.
But if you're looking to think to yourself, "chuckle chuckle ha ha" you could always read about the black lesbian who is probably voting for Mitt Romney. Or maybe you would rather feel super awkward about the anti-gay campaign invoking the spirit of Mussolini in Italy. I bet all of these homophobes are already thinking about the shit they can't do in Canada anymore since they just stopped an anti-gay Lesbanese pop star from even visiting.
But none of this matters because how are the rappers doing is really the important news, you know? The hip-hop game is really just tumultuous to be honest. This week Stevie Wonder said Frank Ocean is just confused. Nicki Minaj said she was voting for Mitt Romney (sort of. In a lyric.) and then we tried to convince ourselves it was not a true statement! Kanye West went to his first gender theory class, then tweeted about the word "bitch" and gave me hella feelings.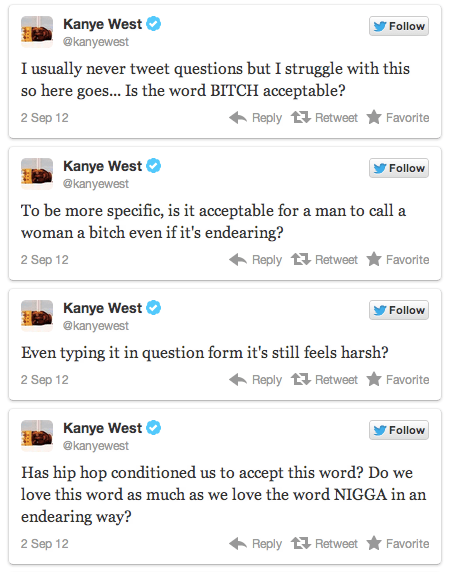 Then Azealia Banks released the video for her new single, "1991!"
But this week we also lost feminist writer Shulamith Firestone at 67. Pia Sundhage, lesbian coach of the US Women's Soccer Team, stepped down. But the new Canadian Medical Associati0n President is an out lesbian because when one door closes, another opens. And if the new one takes you toward Scientology, take a step back into the hallway:
At one time, Relkin had convinced some officials in the church that Scientology needed to reach out to the gay community in a big way. He talked the church into printing thousands of booklets to hand out in West Hollywood and other gay enclaves. But just before that happened, higher-level executives learned about the plan and quashed it, telling actress Anne Archer that she would not, in fact, appear at a launch party for the new pamphlet.
Relkin was crushed. He spent the next year and a half going through intense Scientology interrogations that convinced him the entire debacle had been his own fault. Then, over the last four years of his life, he continued to struggle through his church training, trying to understand where he'd gone wrong.
Two days before he died, Relkin sent a short e-mail to a friend.
"I think my new policy when talking to Flag staff will be to just blurt out 'I'm gay.' And watch them run," he wrote.
Whatever. We all have so much to learn from Melissa Harris-Perry anyway.

This article was brought to you by the hardworking people of Autostraddle, the world's leading independently owned queer-lady website! If you loved it, you should donate to our bitchin' fundraiser and be part of the revolution! We've got until September 7th to reach our new fundraising goal and you can read more about what's in it for you here. Every little bit counts. Thank you!