Watching Ann Romney's and Michelle Obama's convention speeches back to back, it's impossible not to notice just how similar they are in some ways. Both women reminisced about first dates, talked about their roles as mothers, told stories about their own parents who deferred dreams so that their children could make it in America and finished, to a standing ovation, with "God bless you and God bless America." But the similarities end there. While Romney's came off as a heavy-handed open love letter to her husband, Obama's speech was impassioned, intimate and — according to plenty of commentators — "politically masterful."
Both Obama and Romney a good amount of their time telling us about their love for their husbands. Historically, that's been the purpose of the candidate's spouse's speech — to humanize the candidates. For Romney, whose husband is overwhelmingly seen as cold and unrelatable, that was enough of a task to take on. While she stuck to anecdotes that revealed Mitt's softer side, Obama imbued each of her stories with an underlying message. "When we were first married," the first lady said, "our combined monthly student loan bills were actually higher than our mortgage. We were so young, so in love, and so in debt." Not only does Barack remember what it's like to be buried in bills, he's invested in helping students today who are dealing with the same issues and is fighting to preserve student financial aid. In her speech, Obama stood behind her husband's policies and made a connection between his character and his politics; "being president doesn't change who you are — it reveals who you are."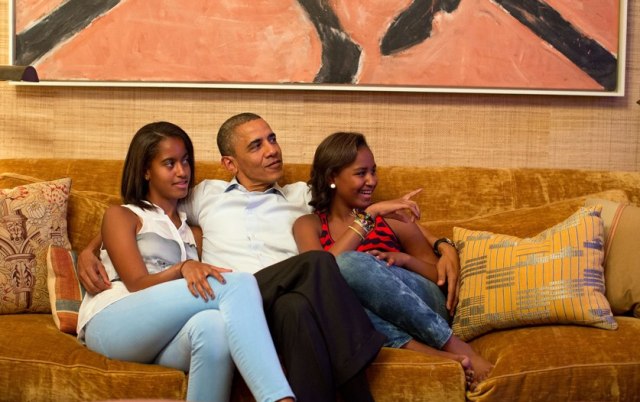 When it came time to talk about their parents, Romney spoke about being the granddaughter of a Welsh coal miner while Obama told the crowd about her father, a pump operator at a water plant who struggled with multiple sclerosis. As hard as she tried, Romney's attempt to paint her and Mitt's upbringings as middle class fell flat and was, frankly, disingenuous. Her own father was the mayor of her town while Mitt's dad, a high school graduate, became governor of Michigan. In contrast, here are Obama's tales of her early life:
[E]ven as a kid, I knew there were plenty of days when [my father] was in pain… I knew there were plenty of mornings when it was a struggle for him to simply get out of bed. But despite these challenges, my dad hardly ever missed a day of work… he and my mom were determined to give me and my brother the kind of education they could only dream of. And when my brother and I finally made it to college, nearly all of our tuition came from student loans and grants. But my dad still had to pay a tiny portion of that tuition himself. And every semester, he was determined to pay that bill right on time, even taking out loans when he fell short. He was so proud to be sending his kids to college… and he made sure we never missed a registration deadline because his check was late.
As the Washington Post points out, implicit in Obama's story is the message that government programs are okay and that "people who receive government aid can be, and usually are, very responsible citizens." With Republicans going to town with the whole "we built that" meme (Romney: "There, [my father] started a business — one he built himself, by the way."), Obama acknowledged the importance of hard work without sacrificing her and her husband's belief that we owe so much of our success to our families and our society. In one of the most powerful soundbites of the night, she laid it out like this:
"[H]e believes that when you've worked hard, and done well, and walked through that doorway of opportunity… you do not slam it shut behind you…you reach back, and you give other folks the same chances that helped you succeed."
Speaking to women (and their fans), Obama didn't disappoint. She drew attention to the fact that Barack "believes that women are more than capable of making our own choices about our bodies and our health care" and pointed out that "he signed the Lilly Ledbetter Fair Pay Act to help women get equal pay for equal work." And while her "mom-in-chief" comment was undoubtedly a nod to traditional gender roles, Obama's speech showed that her dream for the country — and her husband's plan for us — sees women as so much more than just mothers or wives. And the gay stuff! The gay stuff! Call it pandering if you must, the the fact that Michelle Obama recognizes our struggles as just as legitimate as those of depression-era families, tireless civil rights workers, and suffragists who were imprisoned for seeking the right to vote was enough to make me tear up just a little.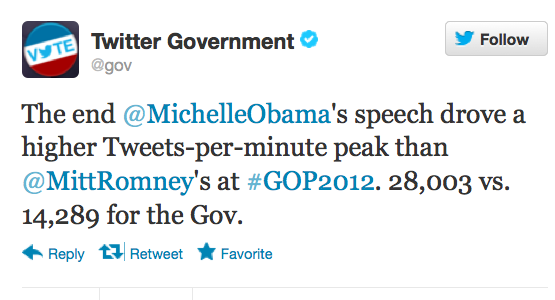 After bringing the crowd to their feet, Mrs. Obama left the way any rockstar should — to Beyoncé's "Get Me Bodied". With the rest of the convention happening over the next two days and the president's speech scheduled for Thursday night, we've got plenty to look forward to.

This article was brought to you by the hardworking people of Autostraddle, the world's leading independently owned queer-lady website! If you loved it, you should donate to our bitchin' fundraiser and be part of the revolution! We've got until September 7th to reach our new fundraising goal and you can read more about what's in it for you here. Every little bit counts. Thank you!