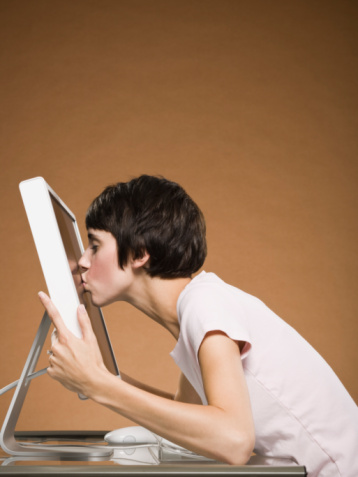 + The New Yorker has a fascinating in-depth look at the psychology and business and history of online dating, which is probably very relevant to your interests because 3 in 5 gay couples meet online.
"If the dating sites had a mixer, you might find OK Cupid by the bar, muttering factoids and jokes, and Match.com in the middle of the room, conspicuously dropping everyone's first names into his sentences. The clean-shaven gentleman on the couch, with the excellent posture, the pastel golf shirt, and that strangely chaste yet fiery look in his eye? That would be eHarmony."
+ Do you remember how gay California judge Vaughn Walker said Prop 8 was unconstitutional, and then people said he was unfit to do rule on that because of his gay "personal bias," and then another judge said he was fine to rule on gay-related things because duh? Now the anti-gay people have appealed yet again to a higher court, arguing once more that Judge Walker doesn't have a say on gay things.
+ The Department of Health and Human Services will be collecting data on sexual orientation and gender identity as a part of its data gathering efforts for a 2013 release.
+ The San Antonio Current talks to Danny Olvera, co-founder of xQsí Magazine, about "being a queer man in the traditionally male-dominated and thoroughly religious Latino community."
+ As a part of NPR's "The Baby Project," a lesbian woman discussed adjusting her family legally and emotionally to the upcoming presence of her new baby.
+ Chris Anderson Proposes New Rules For Email and I like them, especially the acronym NNTR –"no need to respond — mentioned in this write-up at GOOD Magazine
+ A group of gays and lesbians in Cuba hosted an "Independent" Gay Pride Parade on a Havana boulevard on Tuesday for Gay Pride Day.
+ Zerlina on Feministing grapples with the definition of rape as it's handled in Bristol Palin's memoir and in her own life.
+ You go (shy) girl! "Sometimes I fear that in our well-intentioned advocacy for more assertive, more outspoken girls, we've sometimes made those whose style is naturally quieter and less showy feel as if they aren't bonafide leaders."
+ Enough is Enough – amazing speech by Senator Bernie Sanders — "America is not about giving tax breaks to billionaires and attacking the most vulnerable people in our country. We must not allow that to happen."
+ Have I been waiting for this information all my life? I feel like I have: The Shocking True Tale of The Mad Genius Who Invented Sea Monkeys.
+ Brazil celebrated its first gay marriage! The two men converted their civil union into a full-fledged marriage with the approval of a state judge and the constitution to back them up.
+ Alec Baldwin took down a gay-basher on Twitter and outlined the proper way to make all of the gays disappear.
+ In "Someone Pretending To Be Gay On The Internet" news, an Israeli actor pretended to be "a gay activist spurned by the Gaza aid flotilla" on the Internet. Great.
+ Parents in India are using genitoplasty and hormone treatments to change young girls into the more preferable young boys, according to Jezebel.
+ Nine teenagers were arrested after allegedly beating, robbing and verbally attacking a gay man in Springfield, Mass. The incident "has been determined to be a hate crime."
+ During his divorce in 2001, Rudy Giuliani promised a couple that he would preside over their wedding if same-sex marriage was ever legalized in New York. This appears to have been a lie.