Welcome to Almost Famous, a weekly segment where we ask up-and-coming queer musicians some hard-hitting questions about music and life and maybe even convince them to show us photos of their pets. Get to know intimate details about your new favorite artist or band before they hit the Big Time and become too famous for us to interview for real.
Header by Rory Midhani

---
Kings
Brooklyn, NY
Emily Bielagus, Robert Maril and Steph Bishop founded Kings in September 2011. Kings carries queer narratives with polished strings and sweet twang. Their music is full of tight vocal harmonies, stomps, and jars of beans. Their hearts are full of feelings. They just released a new single, "I Got Stuck", which is available on Bandcamp. Emily answered our questions!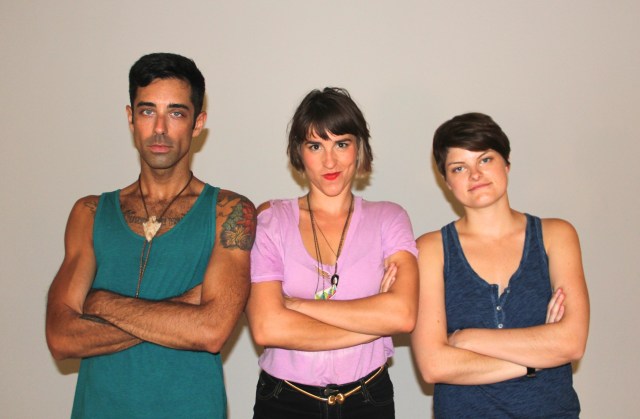 How would you describe your music?
Our live shows are like the best whiskey-soaked campfire sing-along ever. BTW it's a queer camp where all the campers are former Riot Grrls.
What instrument/s do you play?
I've been singing my whole life, and playing guitar for about ten years. I'm also trying to learn the banjo, and I frequently "play" a jar filled with dry beans at shows. Robert is a classically trained musician who came out of the womb playing piano and cello, and fun fact: he has a Masters in singing opera. Steph picked up the guitar in college, and even though she's never had a lesson in her whole life, she really plays guitar just naturally better than anyone I've ever met – it's like an extension of her fingers.
Which song would you most like Autostraddle readers to hear?
I think y'all would enjoy our song "I Got Stuck."  It's a real hootenanny about a lesbian wedding gone awry – a bride leaves her bride at the altar.
[soundcloud url="http://api.soundcloud.com/tracks/67259549″ width="100%" height="166″ iframe="true" /]
What has been the most memorable moment of your music career to date?
The day we were all in the studio together for the first time, we were there for about thirteen hours straight, and we literally didn't want to leave, ever. We could have stayed there for at least thirteen more hours. We all felt like we were experiencing a dream coming true in real time, and we felt incredibly lucky to have confirmation that yes, we actually really love making music together as much as we thought we would, whether we're doing it live, or in rehearsal, or in the studio. Hearing the rough mixes together after that day at like 1 a.m., with our producer and engineer in the room, was an incredible way to finish the day – we all cried and felt relieved and felt inspired and felt exhausted and it all just felt right.
What was the last song you wrote about?
It's called "Wolf at the Door." Steph and I have both been with our girlfriends for a long time, and this song came out of a conversation we were having about navigating the future of a long-term relationship: can you stay monogamous for "x" amount of years? Do you lose a part of yourself being part of a couple for so long? Can you ever get over past betrayals? But it's also a love song to our partners and it's hopeful – it's a reiteration of commitment and a prayer that we'll be able to find the answers to these questions together.
Would you ever date someone whose favorite artist/band was your least favorite?
I hate to say it, but – no! I don't think I could.  What would you listen to on long road trips, or while cooking dinner? How could you make mixes for each other? I really try to explore and learn from all different genres, but I just don't think I could stand to listen to, say, scary screamy hateful death metal all day long, even if my partner loved it. I also think your music taste says a lot about who you are and what's important to you.
CDs, MP3s or vinyl?
Tapes! I really wish everyone still made mixtapes for each other.  I used to make the BEST mixtape covers – I would even paint the case with glitter nail polish! It was a serious middle school hobby of mine.
What is the best and worst thing about touring?
The best thing about touring is that the three of us are most at home and happy when we're singing together onstage.  The worst part about touring is that we haven't been able to do it yet! A little tour is on the horizon, once we finish this EP, and we can't wait.
Do you have any pre-show rituals?
If you count Steph tuning her mandolin while Robert and I apply bronzer as a "ritual", then yes?
Do you have any pets?
My cats, Macaroni and Stevie Nicks, are like our unofficial rehearsal mascots.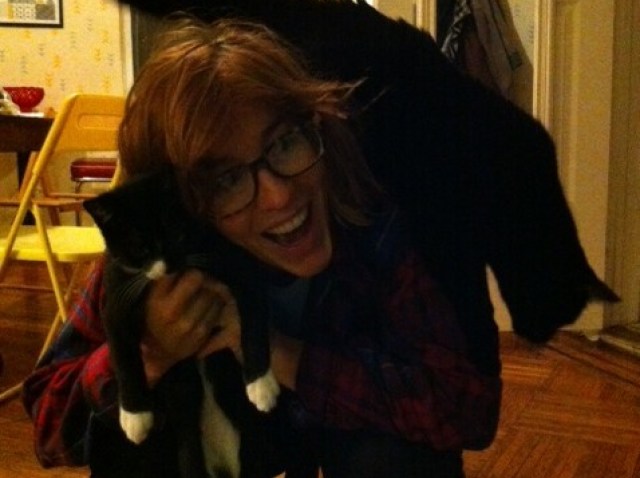 Everything else you'd like to know about Kings you can find here:
Kingskingskings.tumblr.com
twitter.com/KingsSinging
www.facebook.com/KingsKingsKings
www.youtube.com/user/KINGSsinging
soundcloud.com/kingskingskings/
www.sonicbids.com/Kings4
Kingskingskings.bandcamp.com
---
If you are, or know of, a queer artist or band that should be featured in Almost Famous, send the details to crystal [at] autostraddle [dot] com. Please write 'Almost Famous' in the subject line!