Welcome to Almost Famous, a weekly segment where we ask up-and-coming queer musicians some hard-hitting questions about music and life and maybe even convince them to show us photos of their pets. Get to know intimate details about your new favorite artist or band before they hit the Big Time and become too famous for us to interview for real.
Header by Rory Midhani

---
Celisse Henderson
New York, New York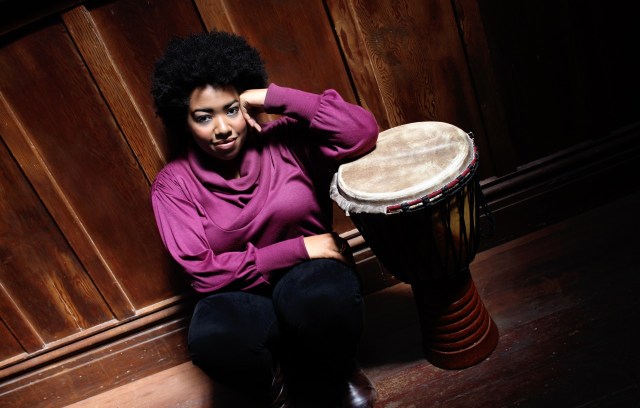 Celisse Henderson is a queer Californian-born, New York-based singer/songwriter and actress who makes those of us who play less than five instruments look bad. Her decade-long career spans from television to concert halls and all the way to the Broadway stage. And with that voice it's not at all surprising that she's in such high demand. Celisse's brand-new album, Celisse LIVE @ Rockwood Music Hall is now available on iTunes for your listening pleasure.
How would you describe your music?
Ahh!! The age old question! The quick answer I tell people is "Acoustic Soul" because then people immediately think of India Arie which makes EVERYONE go "yeesssss"! So why not be associated with all the magic she is?!
However, I guess the more detailed answer is this: I come from an INCREDIBLY musical family so my musical influences really are wide and vast! Picture a kid who grew up playing classical piano, singing gospel music in church, sneaking Mariah Carey and Oasis behind her parents back, falling in love with all things percussive, who stumbled upon Joni Mitchell at 20 years old. That's what my music sounds like.
What instrument/s do you play and how long have you been at it?
Piano – 20+ years. I started when I was 4 years old. God bless my parents for forcing me to stay with it.
Drums – 14 years. I was in marching band (yikes… I know) and started on the glockenspiel, and then moved to snare and quints. (Triple points if you know what quints are). Then I started to get into world percussion, like the Djembe, Talking Drum, Udu, etc. I recently picked up some drum kit skills too.
Guitar – 10 years. I bought an cheap Ibanez acoustic guitar at Guitar Center so I could teach myself. I also bought Jewel's "Pieces of You" Guitar Tab book and never looked back!
Ukulele – 5 Years. I auditioned for a Broadway show (that I later was cast in) where they wanted me to start the song playing the ukulele! I had never played before and so I bought a little Martin SO uke and started to teach myself. It is another instrument that I TOTALLY fell in love with! What a sweet, tender sound.
If someone held a gun to my head, I could probably fake my way through string bass, tuba (don't ask), saxophone and flute.
Which song would you most like Autostraddle readers to hear?
Aww man, what a tough one! Well, since this is an introduction, we should start with my cover of The Beatles' "Yesterday".
Ed. note: This week Clarisse released a video for a new original track, "Enough" that you can check it out here. 
What were the first and last records/albums you bought?

First record I ever bought (and I mean record as in LP for this one) was Barbra Streisand Live @ the Bon Soir! I was 9 years old and paid .25 cents at the local hospice for this record and literally listened to it every. single. day. I think hearing artists live at the beginning of their careers is one of the most exhilarating things ever.
Last album purchased was John Mayer's Born and Raised acoustic EP. People, run, DON'T WALK to buy it! The acoustic versions of his songs are out of this world.
What inspires you to write?
The human condition. It is quite amazing how similar we all are having all come from completely different backgrounds. Everyone loves. Everyone hurts. Everyone wants to be accepted. Everyone wants. to. be. heard. I am inspired by the stories I watch unfold in my life and in the lives of the people around me.
What was the last song you wrote about?
The last song I wrote was an intro to a concert. I like to start my shows off with a spoken word type piece with just me and my drum that kind of introduces people to who I am. For this particular one, I was filming/recording the gig for later release so the whole intro was about owning up to the fact that I am human and therefore nervous! But if you stick with me, I know I have some music and words to lift your heart up.
Do you have any pre-show rituals?
It sounds cheesy but I like to pray before a gig. I think it is important to get in the right mind/heart space to be a vessel for something greater than myself. My interest is in people leaving a show and having felt something and I think the best way to do that is to honor where the light and inspiration comes from and for me it is God.
CDs, MP3s or vinyl?
Vinyl. Duh.
What do you do outside of making music?
I am also an actress! I spent the past year in a Broadway revival of Godspell. I've also done a fair amount of television. And babysitting… whatever pays the bills!
If you could share a line-up with any two other artists?
Only 2?! That sucks but I'll follow the rules.
#1. My favorite singer-songwriter currently out there is Tina Dico. If you don't know who she is, find her now! She is an incredibly beautiful storyteller, on top of having an amazing voice. She is most popular in Denmark, but has had some US success as well. I just love this woman and would be so lucky to share the stage with her.
#2. Cliche maybe… but Jason Mraz. We all know that he is an incredible writer, incredible vocalist, incredible performer..but I so deeply respond to the fact that he puts spreading joy, love, peace and truth at the forefront of everything he does. It is incredibly inspiring to me to see an artist be as successful as he is, living with such integrity in his work.
Do you have any pets?
I do not have a pet, but I DO have two VERY important supporters in my life…
Celisse LIVE @ Rockwood Music Hall is out now via iTunes, and 2013 tour announcements are expected soon.
Want more Celisse in your life? Get on to these things:
www.celissehenderson.com
http://twitter.com/CelisseMusic
http://www.facebook.com/pages/Celisse-Henderson/184772095010
https://www.youtube.com/CelisseMusic
If you are, or know of, a queer artist or band that should be featured in Almost Famous, drop me the details via crystal [at] autostraddle [dot] com. Please write 'Almost Famous' in the subject line!