After the massacre in Newtown, Connecticut that killed 20 young children and seven adults, there's no longer any delaying the national conversation about gun control. While there are other, larger conversations to be had – about how a culture of violence is fostered and how it can be healed, about what role access to mental health care plays in these incidents, about why the vast majority of mass shooters are white males – but the conversation that many people seem to be most ready to have is around how horrifically violent incidents like the Sandy Hook shooting are made possible by America's current laws around access to firearms. Today, Barack Obama made his most promising statement to date about gun control legislation — which we'll get to in a minute.
Although originally published this July, Mother Jones' comprehensive analysis of mass shootings in recent US history is newly relevant. In the incidents they looked at between 1982 and 2012, 79% of the shooters accessed their weapons legally. The shootings occurred all over the country,  making it clear that the factors leading to these incidents can't be isolated to a particular region or community.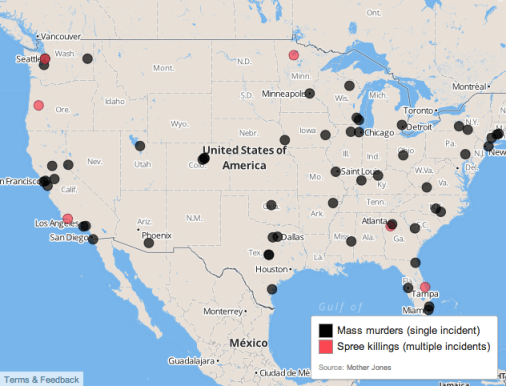 Our Past and Present with Guns
Mother Jones' coverage has continued, analyzing not only the shootings themselves but drawing conclusions about what they mean in terms of how we can try to make sense of the senseless and make our future look different. One of those conclusions is that in the 62 shootings over the last 30 years, not a single violent shooter was stopped by a civilian with a gun. This includes some states where citizens can be granted lawful concealed carry permits – like in Colorado, where the Aurora shooter bought his weapon legally. Colorado also explicitly allows carrying concealed weapons on college campuses. And while  Colorado's requirements for a concealed carry permit demand that an applicant be a resident, pass a background check, and not be addicted to controlled substances, plenty of other states are much less stringent. In Virginia, an online test qualifies as firearms safety training. In Missouri, civilians can legally fire a gun when intoxicated if it's in self-defense. Regardless of the legal ease with which residents of any of these states can exercise access to and use of firearms, the mass shootings in Virginia and Colorado continued without intervention by an armed citizen.
Gun rights enthusiasts might argue that all these avenues of access to guns are well within the rights of an American citizen. But not all guns are created equal, and neither is access to them. The guns most heavily featured in recent mass shootings are semiautomatic handguns and assault weapons, which are generally used for military and law enforcement purposes. Limiting access to these weapons wouldn't affect those people who use firearms for, say, hunting. Semiautomatic handguns and assault weapons are created for the express purpose of hurting and killing other humans; as has been expressed countless times in the past week, it's perhaps shocking that our country needs to be pushed so hard before considering why such a high number of average citizens should feel the need to own them – and why our government feels that they should be provided.
It's shocking that it's taken this long because aside from the 62 mass shootings that have occurred in the last 30 years, the United States also has a homicide by firearm rate of 3.2 per 100,000 citizens. That may not sound like much, but the rate for Switzerland, which has half as many civilian firearms per 100 citizens (46 to the US's 89) is only 0.7. Even without looking at mass shootings, a shocking number of people – individual people – in the US are killed by guns. 60% of the US's homicides are committed with a firearm, which in some ways may create a sense of desensitization. When we grieve over a murder like Trayvon Martin's, we sometimes forget that we're not just grieving over a murder, but specifically a shooting. George Zimmerman isn't just a man who believed that he could reasonably need to perform "self-defense" against a 13-year-old because he was black and wearing a hoodie. Zimmerman is a man who genuinely believed that, and who legally obtained and carried a semiautomatic weapon – a model popular for concealed carry.
What's interesting is that while many feel that Zimmerman's (and, legally, Adam Lanza's) right to own and operate firearms is inalienable, this wouldn't be true in most other places and times. First of all, the US's history of gun control shows that access to firearms was much more restricted for most of our history as a nation. In fact, Congress passed a bill making it illegal to own or transfer most semiautomatic weapons in 1994, but that bill expired in 2004 and hasn't been resurrected. Since then, access to firearms has only gotten easier. Requirements for training or experience haven't increased along with greater access – requirements on competency with firearms can be lax depending upon the state and the firearm, and in some sales of firearms – for instance, those sales made by private citizens or at a gun show – don't legally need a background check, depending on the state.
Although private citizens often have access to a similar grade of weapon as is used by professional law enforcement officers, the difference between what we expect of a law enforcement officer and a private citizen when it comes to a gun is striking. A law enforcement officer uses a gun after intensive training and education about both the use of their gun and when its use is appropriate; every time a law enforcement officer discharges their weapon, the state has a right to hold them accountable for its discharge, and punish them if the weapon's use wasn't called for. In contrast, many of the guns owned by private citizens aren't even registered, and the experience with and respect for firearms that are required to obtain them are often laughable. Why would we expect untrained private citizens to behave more responsibly with firearms than professional law enforcement officers?
---
Other Ways of Doing Guns and Gun Control
Other countries certainly don't. While the US comprises only about 5% of the world's population, it makes up 42% of the world's privately owned firearms. It seems not coincidental that the rate of homicide by firearm is 200-800% higher in the US than in developed countries with stricter gun control laws, like the UK or Japan. Of course, countries like the UK and Japan differ from the US wildly in terms of history, culture, and political construction – America's relationship with guns is deeply intertwined with our genesis as a country born from armed revolution, with our cultural emphasis on individuality and self-sufficiency, and our complicated national narrative around states' rights and the extent to which government powers should reach. All of these factors and more should be taken into account when comparing gun control in other countries to that of the US.
But that said, it's instructive to look at how accessing firearms works in England. Applicants for firearms are required to explain exactly why they want a gun, and are told they need to provide a "good reason;" guns which are designed to be use for a specific purpose require an explanation of why one needs that model in particular. In a drastic contrast to the US's system, gun applicants are essentially asked to "[prove] to police officers that you are not a danger to society… In short, it has been designed to put as many barriers in the way as possible and to assume the worst, rather than hope for the best."
The UK's remarkably strict laws haven't eliminated all gun violence. The shooting in Cumbria in June of 2010 were perpetrated by Derrick Bird, who had obtained his firearm completely legally, jumping through every hoop that the application process set out for him. But the hoops that Bird had to jump through were in direct and considered response to other tragedies before him: a massacre of 16 people which led to the ban of semiautomatic rifles, and a massacre of 16 schoolchildren which led to the banning of all handguns. The sweeping firearm reforms that took place after the 1996 shooting of schoolchildren in Dunblane also included firearms amnesties, in which thousands of firearms were given up. If anyone is now found possessing illegal firearms, the punishments include up to ten years of prison time.
In contrast to the US, so heavily invested in its gun culture, the public in the UK generally supported and cooperated with the ban, viewing it as necessary and appropriate. Although the rate of gun crimes initially showed little change, crimes involving handguns eventually dropped by 44% between 2002 and 2011. Although firearms amnesties would likely be understood as the storied fear of a federal government coming to "take away our guns," it might be one of the only effective solutions to the already enormous amount of firearms in circulation in the US. Although stopping their sale from official points of purchase would be a start, there are already about 88 firearms to every 100 Americans, and those guns wouldn't magically disappear.
At the time of the Cumbria shooting,  the UK was also working on how to combat the "criminal conversion of imitation firearms" – so, locking down illegal access to firearms as well as legal access – and working to create a dynamic interaction between the police force and the healthcare system to keep doctors informed of whether their unstable or potentially suicidal patients have firearms in the home. While the cultural and political differences between the US and the UK may not make all of those changes feasible for the US, at least one major difference is notable: the UK responded directly to each of their mass shootings, while the US has had seven mass shootings in the last year alone, and gun ownership is now easier than ever. Similarly, Japan has banned almost all forms of private gun ownership, and has reduced its firearms homicide rate to as low as two a year. There are dozens of reasons why those differences exist; it's misleading to hang all our fears and hopes about violence to gun control, and the cultural and political differences between these two countries and the US mean that their methods may or may not be as effective here. But the most notable difference is that they've done something. 
What Could Happen Next
It's beginning to seem like the senseless murder of 20 children in the place where they were supposed to learn about consonants and vowels may be the push which allows the US to change something as well. Even the NRA has made a statement promising that it is "prepared to offer meaningful contributions to help make sure this never happens again," although it's not clear what those contributions will be until their press conference on Friday.
President Obama has already begun offering up his support for a variety of changes. He's said he would actively support a reinstatement on the ban on assault weapons, and promises that that ban is part of a "wide-ranging effort" which is "taking shape." The President may also be "willing to consider limiting the capacity of ammunition magazines and closing a loophole allowing individuals to purchase firearms at gun shows without a background check." Obama has promised to make gun control a "central issue" in his second term, and will be presenting his plan to Congress no later than January.
Obama also plans to address issues of access to mental healthcare, saying, "We are going to need to work on making access to mental health care at least as easy as access to guns." It's important to note, also, that the ideas introduced by Obama will be legislative, which means that no matter how much he supports them, Congress has to also. There's significant doubt about whether the House of Republicans will support reinstating the assault weapons ban, even if Obama and many citizens do. The incoming chairman of the House Judiciary Committee has already said that "We're going to take a look at what happened there and what can be done to help avoid it in the future, but gun control is not going to be something that I would support."
What are the possible plans being considered? To the disappointment of some, it's very unlikely that a sweeping change like the laws in place in Japan or the UK will come about. The Supreme Court has fairly clearly demonstrated that Americans have a constitutional right to own handguns. It seems very likely that any change in US laws on gun ownership will come in terms of specific guns and specific groups of gun owners, rather than a fundamental shift in policy which might lead us to a situation like the UK's, where any applicant for gun ownership is assumed unqualified until proven otherwise. In NPR's excellent breakdown of the legislative situation, they explain that the major questions at stake will be "who should be allowed to buy guns, how should they be allowed to buy them and what should they be allowed to buy?"
Some changes can be made without stepping on actual gun control toes; for instance, better updated and more comprehensive mental health records could make it easier to restrict gun sales to the mentally ill. But there's significant roadblocks even in this area; for instance, last year the House passed a bill that blocks the Department of Veterans from designating a veteran as mentally incompetent for gun ownership, leaving that decision up to a judge instead. The "loopholes" Obama is talking about, which make it possible for up to 40% of gun sales to be made without background checks, are also on the list of priorities, but many other attempts to close them have already failed, and the momentum of Sandy Hook may not be enough to push it forward this time. It's not clear whether the assault weapons ban will be able to hold water, either, in the face of the House and the powerful gun lobby. Another approach, which would be to limit the clip size available for firearms, could potentially be more palatable, but there are no guarantees.
Pro-gun politicians are suggesting that the post-Newtown focus should be solely on preventing "mentally ill" people from getting guns, but in addition to the obvious stigmatizing of a broad swath of U.S. citizens, it's incredibly problematic to declare all "mentally ill" persons less qualified to own guns than those without diagnosed mental health issues. In fact, only about 4 percent of violence in the United States can be attributed to people with mental illness. Substance abuse is a far greater predictor of violence. According to Richard. A. Friedman in the New York Times, although "it's possible that preventing people with schizophrenia, bipolar disorder and other serious mental illnesses from getting guns might decrease the risk of mass killings," it's worth noting "mass killings are very rare events, and because people with mental illness contribute so little to overall violence, these measures would have little impact on everyday firearm-related killings." Shoddy science has already spread over the internet about Adam Lanza's possible Aspergers diagnosis playing a role in the killings, but there is absolutely no link whatsoever between Aspergers and violence.
Ultimately, even those experts whom acknowledge the need for drastic change around our country's relationship with firearms remain somewhat skeptical. Sweeping changes are unlikely to survive the intensely partisan atmosphere of Congress, which as so far been unable to agree on even such seemingly no-brainer pieces of legislation as the Violence Against Women Act. And even if they did, the legislation at hand is somewhat piecemeal.
As Harry L. Wilson, director of the Institute for Policy and Opinion Research at Roanoke College, explains for NPR, many mass shooters (and shooters of individuals) have been able to pass background checks. If a shooter is experienced, they can easily and quickly reload a more traditional weapon and fire many rounds in a short period of time if assault weapons are banned. And while certainly increased background checks on those buying weapons seem like a good idea, there's a limit to how helpful they might be, and how helpful they've been in the past. Adam Lanza was, in fact, turned off by the three-day waiting period and instead just went ahead and used those that belonged to his mother, another legal owner. Eric Harris and Dylan Klebold of the Columbine shooting were too young to buy guns at a gun show in 1998, so they returned the next day with an 18-year-old female friend to buy guns for them. Even if individuals are subject to background checks, that may not be effective in changing the larger reality that there are guns everywhere in America, and plenty are available without going through the process of formally purchasing one. If gun enthusiasts react to the threat of new gun control legislation by stockpiling the weapons that are currently available, the problem might actually be exacerbated.
The chances that America is ready to adopt an outlook on guns like Japan, which seems like it might be the only absolute solution to the problem of the constant potential for senseless violence, are slim. Which means that, if we acknowledge that we probably can't look forward to a nation which doesn't have close to as many civilian-owned guns as it does citizens, we also need to start looking at how to address the systemic culture of violence and underlying factors that make us not just a nation full of guns, but a nation full of people who want desperately to use them.