After the massacre in Newtown, Connecticut that killed 20 young children and seven adults, there's no longer any delaying the national conversation about gun control. While there are other, larger conversations to be had – about how a culture of violence is fostered and how it can be healed, about what role access to mental health care plays in these incidents, about why the vast majority of mass shooters are white males – but the conversation that many people seem to be most ready to have is around how horrifically violent incidents like the Sandy Hook shooting are made possible by America's current laws around access to firearms. Today, Barack Obama made his most promising statement to date about gun control legislation — which we'll get to in a minute.
Although originally published this July, Mother Jones' comprehensive analysis of mass shootings in recent US history is newly relevant. In the incidents they looked at between 1982 and 2012, 79% of the shooters accessed their weapons legally. The shootings occurred all over the country,  making it clear that the factors leading to these incidents can't be isolated to a particular region or community.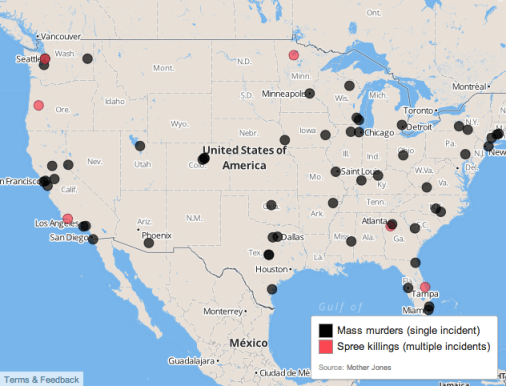 Our Past and Present with Guns
Mother Jones' coverage has continued, analyzing not only the shootings themselves but drawing conclusions about what they mean in terms of how we can try to make sense of the senseless and make our future look different. One of those conclusions is that in the 62 shootings over the last 30 years, not a single violent shooter was stopped by a civilian with a gun. This includes some states where citizens can be granted lawful concealed carry permits – like in Colorado, where the Aurora shooter bought his weapon legally. Colorado also explicitly allows carrying concealed weapons on college campuses. And while  Colorado's requirements for a concealed carry permit demand that an applicant be a resident, pass a background check, and not be addicted to controlled substances, plenty of other states are much less stringent. In Virginia, an online test qualifies as firearms safety training. In Missouri, civilians can legally fire a gun when intoxicated if it's in self-defense. Regardless of the legal ease with which residents of any of these states can exercise access to and use of firearms, the mass shootings in Virginia and Colorado continued without intervention by an armed citizen.
Gun rights enthusiasts might argue that all these avenues of access to guns are well within the rights of an American citizen. But not all guns are created equal, and neither is access to them. The guns most heavily featured in recent mass shootings are semiautomatic handguns and assault weapons, which are generally used for military and law enforcement purposes. Limiting access to these weapons wouldn't affect those people who use firearms for, say, hunting. Semiautomatic handguns and assault weapons are created for the express purpose of hurting and killing other humans; as has been expressed countless times in the past week, it's perhaps shocking that our country needs to be pushed so hard before considering why such a high number of average citizens should feel the need to own them – and why our government feels that they should be provided.
It's shocking that it's taken this long because aside from the 62 mass shootings that have occurred in the last 30 years, the United States also has a homicide by firearm rate of 3.2 per 100,000 citizens. That may not sound like much, but the rate for Switzerland, which has half as many civilian firearms per 100 citizens (46 to the US's 89) is only 0.7. Even without looking at mass shootings, a shocking number of people – individual people – in the US are killed by guns. 60% of the US's homicides are committed with a firearm, which in some ways may create a sense of desensitization. When we grieve over a murder like Trayvon Martin's, we sometimes forget that we're not just grieving over a murder, but specifically a shooting. George Zimmerman isn't just a man who believed that he could reasonably need to perform "self-defense" against a 13-year-old because he was black and wearing a hoodie. Zimmerman is a man who genuinely believed that, and who legally obtained and carried a semiautomatic weapon – a model popular for concealed carry.
What's interesting is that while many feel that Zimmerman's (and, legally, Adam Lanza's) right to own and operate firearms is inalienable, this wouldn't be true in most other places and times. First of all, the US's history of gun control shows that access to firearms was much more restricted for most of our history as a nation. In fact, Congress passed a bill making it illegal to own or transfer most semiautomatic weapons in 1994, but that bill expired in 2004 and hasn't been resurrected. Since then, access to firearms has only gotten easier. Requirements for training or experience haven't increased along with greater access – requirements on competency with firearms can be lax depending upon the state and the firearm, and in some sales of firearms – for instance, those sales made by private citizens or at a gun show – don't legally need a background check, depending on the state.
Although private citizens often have access to a similar grade of weapon as is used by professional law enforcement officers, the difference between what we expect of a law enforcement officer and a private citizen when it comes to a gun is striking. A law enforcement officer uses a gun after intensive training and education about both the use of their gun and when its use is appropriate; every time a law enforcement officer discharges their weapon, the state has a right to hold them accountable for its discharge, and punish them if the weapon's use wasn't called for. In contrast, many of the guns owned by private citizens aren't even registered, and the experience with and respect for firearms that are required to obtain them are often laughable. Why would we expect untrained private citizens to behave more responsibly with firearms than professional law enforcement officers?
---
Next: How other countries do Gun Control and What Could Happen Now.
Pages: 1 2See entire article on one page