It's a pretty sweet dang week for gay boys on TV, with Netflix dropping the second season of Heartstopper and Prime Video releasing their rom-com adaptation of Casey McQuiston's beloved queer romance novel, Red, White & Royal Blue. Pretty sweet dang week for kittens, too; a whole squad of them got held by Sara Ramirez on this week's And Just Like That. Our Bravo Dyke, Kayka, breaks down Morgan Wade's "Fall in Love With Me" music video. Carmen and Natlie got together to chat about Netflix's hip-hop documentary, Ladies First. Are we still talking about Barbie? Mm hmm! Sure are! Allan, for example, is absolutely coded as nonbinary. And! Finally! Riese made you a quiz to see how many queer fantasy/sci-fi characters you can guess.
Notes from the TV Team:
+ Just as a heads up, Sigourney Weaver plays a lesbian grandmother in The Lost Flowers of Alice Hart, which also stars Alycia Debnam-Carey. I'm watching and enjoying and will be back with a full review at season's end! — Valerie Anne
+ Fellow TV-teamer Nic alerted me to the fact that Strange Planet went from being a beloved Instagram account to an Apple TV+ animated series, and I'm here to tell you that it's very cute and also the 'beings' are all ungendered so everyone uses they/them pronouns which I find delightful. Plus, I think any connoisseur of queer TV will recognize a few voices, like Hannah Einbinder, D'Arcy Carden, Fortune Feimster, and more! — Valerie Anne
---
Written by Nic
If you've been following along here then you might be thinking "surely Statler has mentioned wanting to move in with Dempsey with, oh I don't know… Dempsey, instead of everyone but.wp_postsAnd I'm sorry to report dear reader, but you would be incorrect because this week on 90 Day Fiancé: Before the 90 Days Statler shares that information with … Dempsey's dad at their first meeting. It's the morning of the meeting and Statler is taking her first shower since she's been in England, and it's a cold one just like everything else about this part of the country. As the gal pals get ready, Dempsey reminds Statler that her dad's opinion is super important to her and that he liked her ex-girlfriend at first before things went steadily downhill. And as if Statler's anxiety wasn't already through the room, Dempsey tells her that if her dad doesn't like her, then she'd have to reconsider the relationship. Yikes.
One of the reasons Dempsey hasn't told her dad about their relationship is because of the novel idea that she wants to get to know Statler better before introducing her to important people in her life, and she's worried that Statler is moving faster than Dempsey herself is ready. To prove that point, on their way to the meeting, Statler off-handedly says "oh, to be in love!", immediately realizes what she's implied, and reacts just as awkwardly as you'd expect. The meeting itself actually goes well by this show's standards though; sure Dempsey's dad is hella protective of his daughter, but he seems to like Statler and they have fairly easy conversation right up until Statler shares with him that her lease in the States is up shortly after she returns, so she's thinking of moving in with Dempsey. This sets off some major alarm bells for Papa Dempsey and he suggests to his daughter that she slow down a bit and take her time.
His words are still rolling around in Dempsey's head the next morning which just so happens to be Valentine's Day! Statler starts the day by giving Dempsey a foot massage before work and can't stop gushing about how well she thinks the meeting went. Dempsey is less enthusiastic but continues to smile and smooch her girl. While Dempsey's off at work, Statler starts her task for the day which is setting up a Valentine's Day scavenger hunt for Dempsey. Her plan is to end the night with drinks, a fire, and a declaration of love that's sincere and less word vomity than her previous one. If all goes well by Statler's standards, then Dempsey will return the sentiment and be open to talking about moving in. Next week, we see what Dempsey's reaction is!!
---
Nancy Drew Episode 411: "The Sinner's Sacrifice"
This week, Nancy wakes up having been kidnapped by the Glasses. Before they sacrifice her, the last sinner, she asks if they can do her the favor of letting her know her last sin. But before they can use the artifact on her, Ryan busts in and saves her, breaking the artifact in the process.
Ryan and Nancy burst into the seemingly empty Claw and Nancy says all she saw before the artifact broke was a flash of flame, so she wants to research all fire-related incidents in the past two weeks. Nancy hears a yelp and immediately identifies it as Bess, which…I'm sorry, is gay.
After Ryan leaves, Bess tells Nancy about the burned body in the morgue and Ace's ghost girlfriend and Nancy begs Bess for help. It stresses her out but Bess would do anything for Nancy, so she agrees and steals Ace's badge for her so she can go to the morgue for clues.
While she's following the clues she gets at the morgue, she runs into her dad's girlfriend, who tells a weird lie about bunions and who we later find out lied because she's pregnant.
Meanwhile, Ryan and Nick's sleuthing leads them to find a connection between the legacy of the Sineater and Callie Farquad (not her real name…close enough) aka the Historical Society Stealer.
At the Claw, Ace leads a Passover seder that Nancy accidentally crashes and drags Bess away from. Nancy begs Bess to help her talk to Ace's ghost and they have a cute rage-love fight about it. Nancy tells her about the magic bomb the Glasses put in her spine and Bess is furious that Nancy seems to care more about her eaten sin than saving her own life but Nancy is just trying to control what she can; Bess promises to find a solution for one problem while Nancy goes on her ghost adventure to solve the other.
When Nancy does contact Ace's ghost, Jane Doe is not happy about the interrogation. She causes a small indoor tornado that only stops when Ace tells Nancy that he doesn't want her to solve Jane Doe's death because he doesn't want her ghost to leave; she makes him happy.
Nancy leaves and answers a text from Tristan that ends up being a trap and the Glasses start the ritual to kill Nancy and cure their son. But the Drew Crew swoops in just in time to save her, along with Lady Farquad; turns out she is one of a long line of people in charge of protecting the Sineater legacy. And thus, a hypocrite.
Bess extracts Nancy's magical time bomb, and Nancy goes to find Ace (who had just learned he can touch his ghost girlfriend) and says that she thinks both she AND Ace were responsible for Jane Doe's death.
---
Only Murders in the Building Episode 301 & 302: "The Show Must…" & "The Beat Goes On"
Our favorite bisexual murder mystery podcaster is back!
Though we start in a flashback, in 1962, where a little blonde girl watches the musical No Strings (during a song called The Sweetest Sounds that up until I saw this episode I would have sworn was from Brandy's Cinderella.) WHen we flash back to present day, we see that little girl grew up to be Meryl Streep! Though not literally. Her name is Loretta and she's in Oliver's play.
In fact, this season is full of guest stars so far, besides the illustrious Meryl. Paul Rudd is back as Ben Gelroy, who dies on stage, is revived, then dies again, for real, in the Arconia. Ashley Park plays an actress named Kimber, and Jesse Williams aka Jackson from Grey's plays the documentarian, Tobert.
Mabel was feeling a little left out, with her guys doing the play together, so when Ben shows up dead in the building, she's a little excited to have an excuse to hang out with them for one last hoorah before her aunt sells her apartment and she has to move out of the Arconia. She also has a personal connection to this crime, and talks to a version of Ben she watched on TV when she was younger. He gives her surprisingly sage advice, such as, "The people who figure their shit out right away are boring."
However, of course, they fumble it almost right out of the gate. Charles and Mabel go to investigate their lead suspect and end up chained up in his basement.
While they're stuck, Mabel tells Charles why she's so invested in this murder, that Ben's show Girl Cop, as silly as it was, was her comfort show after her dad died, and something she shared with her mother. We also find out Charles is part of the reason Ben is an asshole as an adult.
Meanwhile, Oliver as a heart attack and hallucinates about his friends, and for a moment it looks like we might get Selena Gomez singing on screen, but she ends up doing the Fosse sing-talk instead. It's still a very fun scene.
I'm excited this silly little murder mystery show is back and I can't wait to see what hijinks our pals get up to next.
---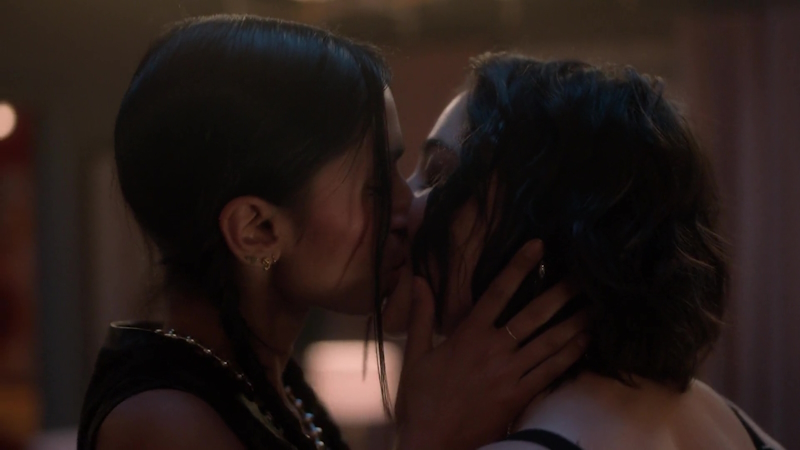 Last season, when Zaara broke up with her then-girlfriend, Yazmine, it was because she came to Cal U with a dream of becoming a doctor and their relationship was serving as a distraction. But as her infatuation with Drea has grown, there's been no worry about distractions or even any indication that Zaara's doing anything, including going to class. She does, however, have time to immediately text Drea after their date to inquire about a second date. But Drea doesn't text back…not immediately or in the two days following their date…and Zaara is heavy in her feelings about it. But then when Drea posts pics from a recent photo shoot, Zaara shifts from sad to BIG MAD.
Andre shifts, immediately, into BFF-mode, assuring Zaara that she did nothing wrong, while Annika chastises her for being too thirsty. The rest of the crew weighs in and the consensus is that Drea's just playing games and Zaara should avoid this relationship at all costs. But Zaara refuses to listen and texts Drea again ("what in the fresh lesbian hell?" Annika asks). When that text elicits only a heart emoji, Zaara decides to respond with some gameplay of her own: a suggestive selfie of her with another girl that she posts to bait Drea into responding. Unsurprisingly, it works but then when Zaara invites Drea to join the crew at the bar later, she demurs.
But who's already at the bar when Zaara and her friends arrive? Drea. She barely greets the crew, instead making a beeline for the girl who appeared in Zaara's earlier picture. She invites the new chick — who she later discovers is Zaara's sister, Nova — to share a drink and, meanwhile, Andre pulls Zaara aside to warn her that Drea is a walking red flag.
Later, the group gathers around and Nova learns that Zaara's been modelling streetwear recently. She chides her sister for not stay focused on her pre-med studies but Zaara admits that she's not sure that's what she wants to do anymore. One of the most frustrating things about this iteration of grown-ish is how it fast-forwards past the messy evolution. If Zaara's reconsidering her dream of being a doctor that would've been an interesting storyline to see, rather than having it just pop up here with no pre-text.
A fight breaks out between the sisters and everyone shifts uncomfortably as the sisters argue…well, everyone except Drea. She interjects, insults Nova and invites her to focus more on her own life than Zaara's. Later, Andre's aghast at what happened but Zaara insists that Drea's behavior was in defense of her and she appreciated it. Andre encourages Zaara to see how Drea's bringing out the worst in her and finally she starts to see the light.
But when Drea shows up at her door for the break-up talk, Zaara reconsiders…and, instead, kisses Drea and pulls her into her bed.
---
The Chi 601-602: "New Chi City" and "Mo' Douda, Mo' Problems"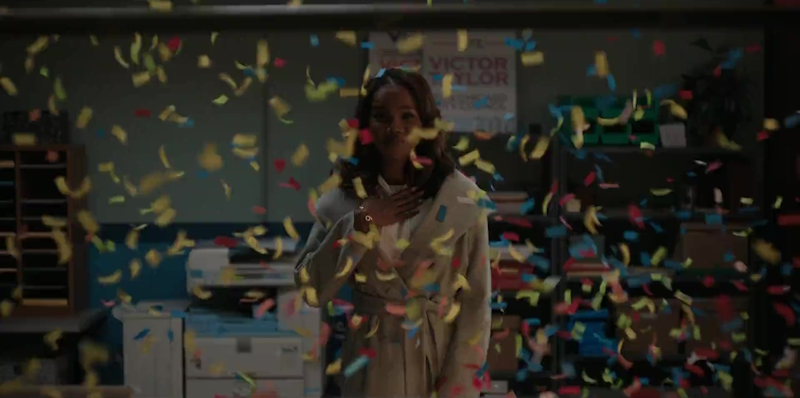 It's been nearly a year since we spent time in The Chi — which debuted its sixth season last week — so let's recap where we left things: in an attempt to curry favor with voters, Victor spent the bulk of last season pretending he was in a relationship with Tierra while keeping his actual relationship — with Fatima, a black transwoman — behind closed doors. But when Fatima threatened to leave Chicago to chase her own happiness, Victor admitted his deception at his campaign kick-off. He invited voters to get to know the real him, the one that was falling in love with Fatima. Meanwhile, Nina and Dre spent the season working through the fallout of Nina's infidelity. By season's end, they were happy and adopted Lynae even as Nina's son, Kevin, sought emancipation.
Season six picks up months later, with Victor still in the throes of his campaign and, as it happens, currently in the throes of passion with Fatima. With Election Day looming, Victor worries about what the future holds if he doesn't win. Fatima assures him that life will go on, regardless of the outcome, but the candidate doesn't feel comforted by that fact. At his campaign office, Victor confronts his manager, Quincy, about hiding his falling poll numbers. Quincy admits that they have a steep hill to climb — what with Victor lying about his relationship, being caught on video beating a kid up and being a gangster in a past life — but that if they create a viral moment, they could still win this race.
The viral moment that saves the campaign? A video of Victor changing his shirt. As the TV Team's resident bisexual, I understand the allure of seeing Luke James' abs but, honestly…this is so ridiculously stupid and deeply unserious.
(Have I mentioned lately that I hate campaign storylines? Because I do, I hate them so, so much. They're always so bad. This is why people don't understand how government or campaigns work!)
Meanwhile, Nina and Dre are still adjusting to their new reality. Kevin returns home to raid the refrigerator and pantry for supplies for his new place and, shockingly, Nina lets get away with it. If the campaign storyline weren't still ongoing, their indifference to Kevin's emancipation would be the most unbelievable storyline on The Chi.
Nina, Dre, and Victor's world collide when Lynae's brother, Jamal, returns after a stint behind bars. Jamal approaches Victor and asks for an opportunity to reconnect with his sister. Victor's understandably reluctant — after all, he saw Jamal kill a man right in front of him — but he leaves the decision to Lynae and her adoptive moms. Nina and Dre are hesitant, they don't want Lynae dealing with the trauma of Jamal disappearing again. But Lynae decides to see him, hoping that he's sincere about having changed. I wish I shared her confidence.