After my initial Covid infection in March 2020, before Long Covid had a name, before I had any clue what kind of irreparable damage the virus had inflicted on my body, I lost my ability to read books. Now, of course, we know it's not uncommon for people to develop neuro-cognitive issues after being infected with Covid, but all I knew was that one of the most important things in my life — reading stories and imprinting myself on a zillion characters traversing endless adventures — had been ripped away from me. I was bed-ridden and without my lifelong greatest comfort. I tried books written for middle schoolers. I tried books I'd read a dozen times before. I couldn't hold the words in my head, I couldn't follow them from page-to-page. I began spiraling, head-first, into a deep depression, when a dear friend of mine suggested Casey McQuiston's Red, White & Royal Blue. I'd never read a queer romance novel before; I honestly didn't even know queer romance stories really existed outside of fan fiction. But, after not being able to finish a single book in months, and worrying I'd never be able to do it again, I opened up RWRB and read it straight through.
Prime Video's rom-com adaptation of the beloved novel lands today, and while it was obviously never going to be able to replicate the magic of McQuiston's words for me, it sure did fill my gay heart with joy. For the uninitiated Red, White & Royal Blue follows the First Son of the United States, Alex Claremont-Diaz, as he finds himself falling in love with Prince Henry of England. It's classic enemies-to-lovers stuff, and classic fairy tale stuff too, but with way more canoodling and full-on sexy times.
The two lads are forced together when the press picks up on the fact that they kind of hate each other, especially after they accidentally destroy a cake at a royal wedding. Press opportunities and state gatherings give way to text messages, then phone calls, then frantic secret making out all over the White House and various UK palaces, before they're found out and forced to grapple with both their sexual identities and their feelings for each other. Alex is bisexual, Henry is "gay as a maypole" according to Henry himself. President Ellen Claremont is endlessly supportive of her son; the Royal Family, less so.
The film really holds true to the spirit of the book, especially the sweetness and sexiness of Alex and Henry, but, like all McQuiston's brilliant novels, there's no way so much beautiful plot and gloriously three-dimensional side characters can fit into a classic rom-com structure. It hits the high points, though it does have to accomplish a lot of that through montages. Taylor Zakhar Perez (Alex) and Nicholas Galitzine (Henry) are endlessly charming, and their chemistry carries so much of the movie. Plus, the movie packs plenty of punch with its supporting characters by casting big names like Uma Thurman as President Claremont.
Although, for me, the real star supporter is Sarah Shahi as Claremont's Chief of Staff, Zahra Bankston. The scene where she finds out about Alex and Henry is one of my favorites in the whole movie. Plus, because so much of this story is about the political press, I am ecstatic to tell you we get special guests Rachel Maddow and Joy Reid reporting on Alex and Henry like they're real people! A hoot! Also, it feels to me like McQuiston had to be at least somewhat involved in casting because trans Indian-American actress Aneesh Sheth plays Amy Gupta, Alex's personal Secret Service agent, and queering every character in sight is kind of McQuiston's thing.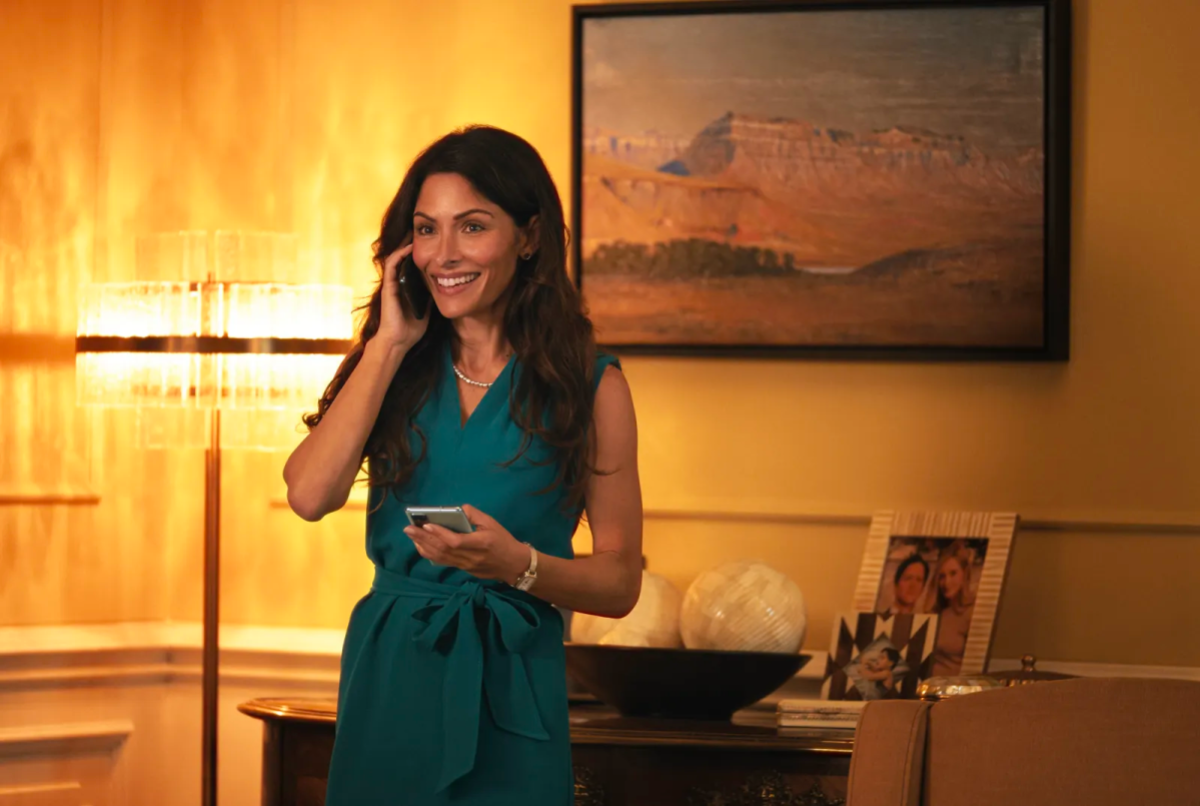 If I had to complain about the screen adaptation, my main gripe would be, well, the green screens, which are everywhere. And the fact that the characters don't have a whole lot of room to breathe as the film shuffles them quickly through the paces of the story to try to keep up with the book.
But you know what? I don't actually want to complain about this movie just like I don't want to complain about Heartstopper. The fact that these are gay stories getting very formulaic straight story treatments is actually pretty dang radical! Especially at this moment in time when so many gay and trans kids are facing so much persecution, much of it from the literal state itself, and we need as many Happily Ever Afters as we can get our hands on. That's what allowed my brain to latch onto Red, White & Royal Blue, I think. The promise of a love that not only comes out victorious, but also hopes for forever. My brain knows that story better than any other because I've been chasing it in fiction my entire life, and because I found it in the real world. Red, White & Royal Blue told me a narrative I already knew, but in a way I'd never heard, and the comfort of that healed me in the way only stories can do.