Bravo Dykes, assemble!!!! Perhaps you have been wondering why I haven't yet wandered into the waters of the ongoing rumors about queer country music singer Morgan Wade and Real Housewives of Beverly Hills OG Kyle Richards possibly being in a relationship together. Listen, I've left these rumors to the Bravo gossip accounts to obsessively document and try to prove. Over here at Bravo Dyke Headquarters, we try to stick to things that unfold in the main text — a.k.a. on screen rather than the secondary text of social media. If Morgan shows up in the next season of Beverly Hills, you better believe I'll be all over it.
But now, I simply must dive in. Because a full-length music video for Morgan's song "Fall in Loe With Me" starring Kyle Richards as her MILFy next door neighbor who she has a torrid suburban summer affair with? Yeah, we're gonna count that as main text.
As a brief overview: When Morgan started showing up more and more in Kyle's Instagram life earlier this year, certain queer viewers went…hmmmm. But Kyle's marriage to Mauricio has always seemed like a bedrock of heterosexual stability — easily one of the last Bravo marriages anyone thought would ever change, up there with Lisa Vanderpump and Ken Todd. Then, there were shocking reports of a potential separation between Kyle and Mauricio, reports the couple denied.
Kyle and Morgan then went live on Instagram to shoot down rumors of their courtship. Kyle says she became obsessed with Morgan's music, listened to it on repeat, followed her on Instagram, and then received a DM from Morgan asking why she'd followed her. From there, an intense friendship was sparked. Morgan and Kyle then further denied the dating rumors by saying that actually they are merely going to play lovers in an upcoming music video of Morgan's.
Well, that music video is here. And I'm here to break it down for you beat by beat. I gotta say, even though it does seem like Kyle and Morgan are leaning into the rumors for playful effect, it doesn't really work toward making it seem like there's NOTHING going on?!?!?! While they are "playing characters" in the video, I shall refer to them as Morgan and Kyle below for the sake of clarity.
We open on Morgan quite literally UNLOADING A U-HAUL. Do we think Kyle already knew jokes about U-Haul lesbians prior to hanging out with Morgan or did Morgan have to tell her? Also, it's hard to make a shot of a U-Haul even gayer, but Morgan has accomplished exactly this by making the first box she lifts be the one labeled BARBELLS.
There's a lot of Desperate Housewives-esque horny suburban voyeurism happening in this video, starting with this opening sequence of Kyle watching Morgan unload her U-Haul from afar.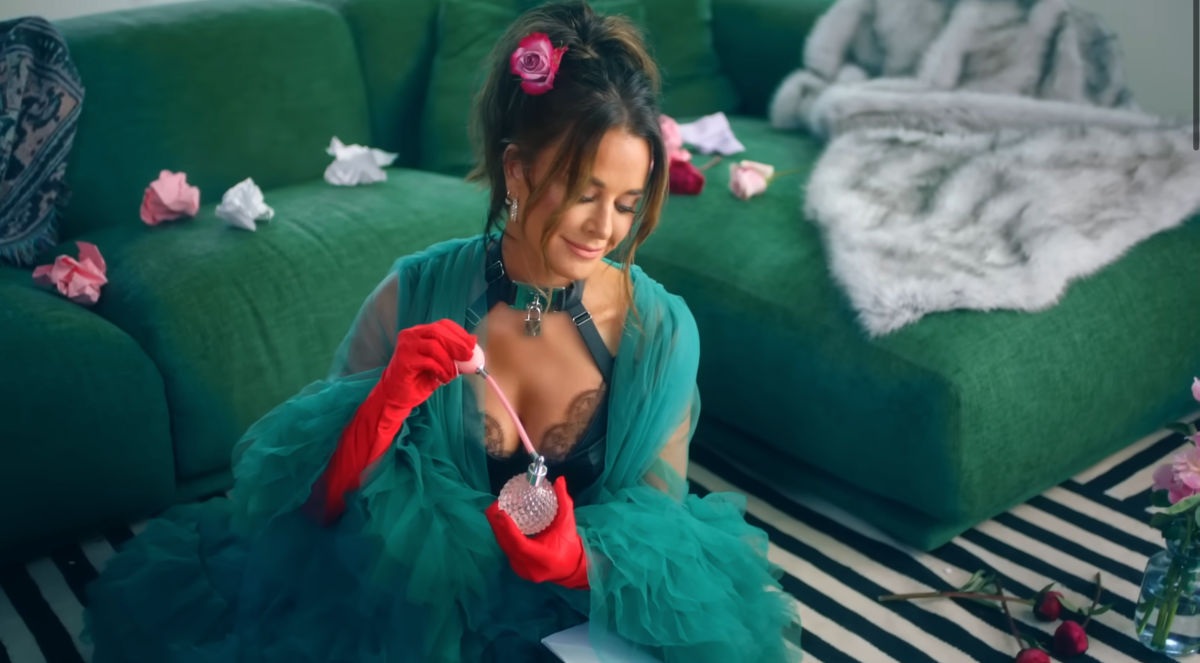 Apparently, she likes what she sees. Because next thing we know, Kyle is click-clacking in her red gloves on the keys of a vintage typewriter, presumably writing a love note. The crumpled pages around her suggest she has gone through many drafts of said love note. She has to get this right! She spritzes it with perfume, seals it with a kiss, draws on a heart on the envelope with lipstick. She wants this letter to smell and taste like her. She's also wearing a lock on her neck, and I have a feeling a certain new gay next door might hold the key to unlocking it.
Let's go directly from sending and receiving one love note to taking a bath together SURE WHY NOT. The whole point of this video is fantasy, right?! The neighbors bathe together and also blow bubbles…while IN a bubble bath? Seems like too many bubbles if you ask me.
Now Morgan must simply take to the page and pen a song about taking a bubble bath while blowing bubbles with her new neighbor. I assume the song is called "Bubbles." But what is Kyle doing next door whilst this songwriting sesh is transpiring?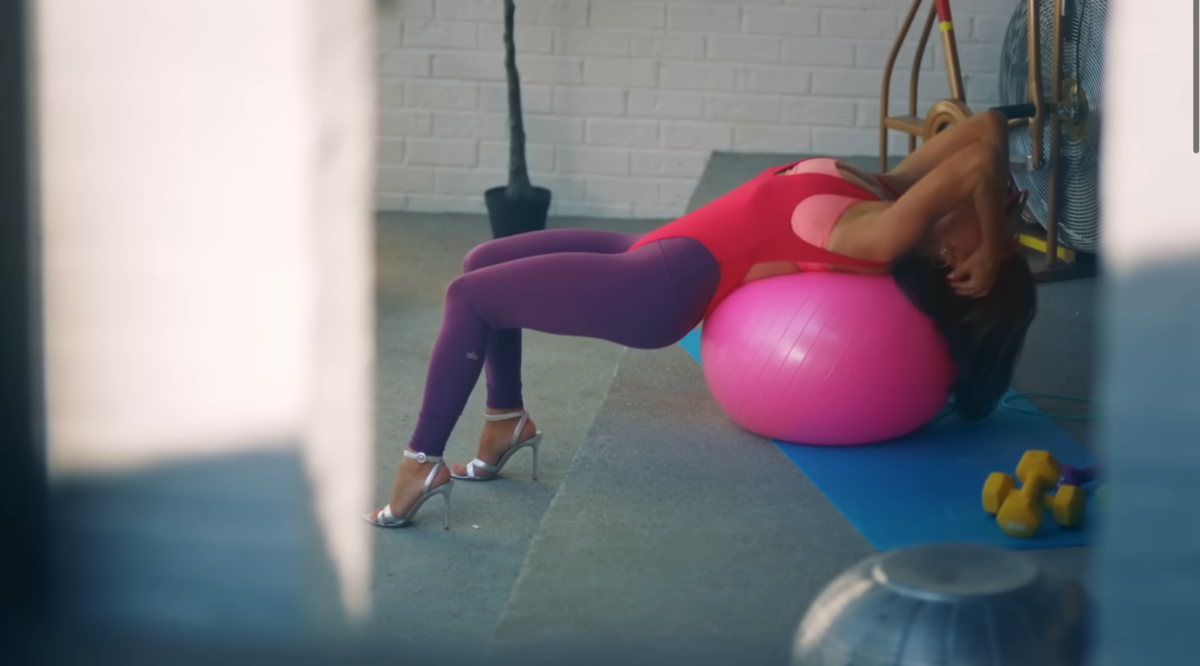 WORKING OUT SENSUALLY IN 80S GARB AND HIGH HEELS. Obviously. Now it's Morgan's turn to watch.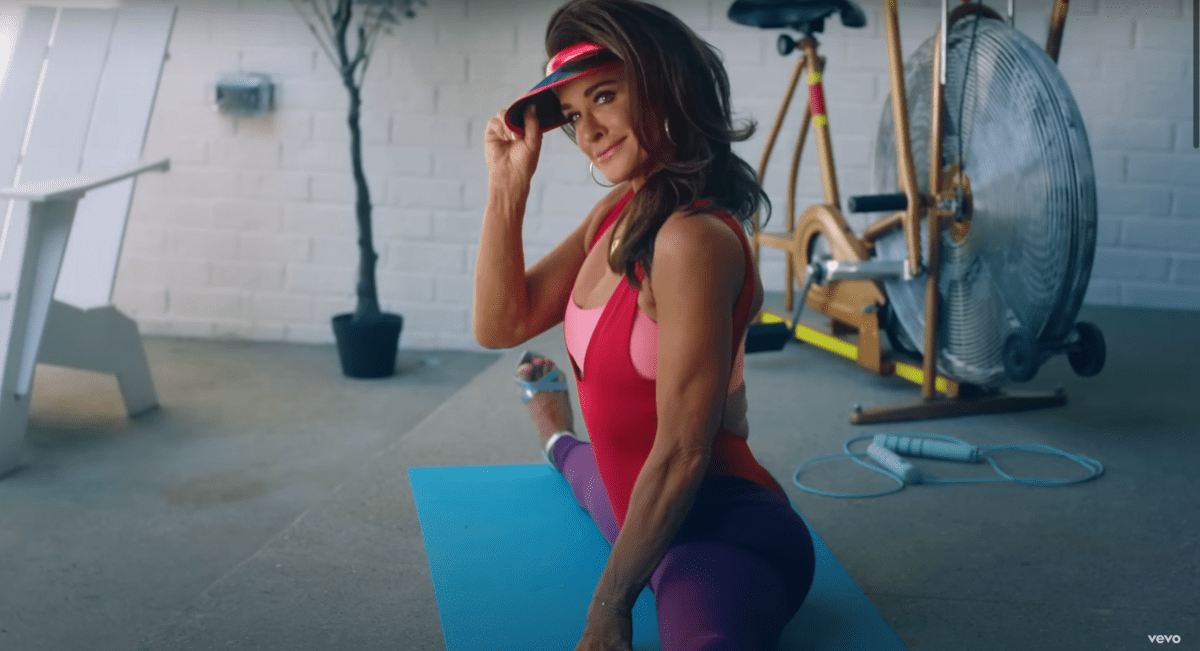 And it seems Kyle likes to be watched, as she makes direct eye contact while tipping her workout visor (?) in Morgan's direction. She's also in the splits, which as anyone who has seen early seasons of Beverly Hills knows, is Kyle's go-to move when she's wasted (along with swinging her ponytail around).
Next is the part of the music video where EVERYONE IS WET.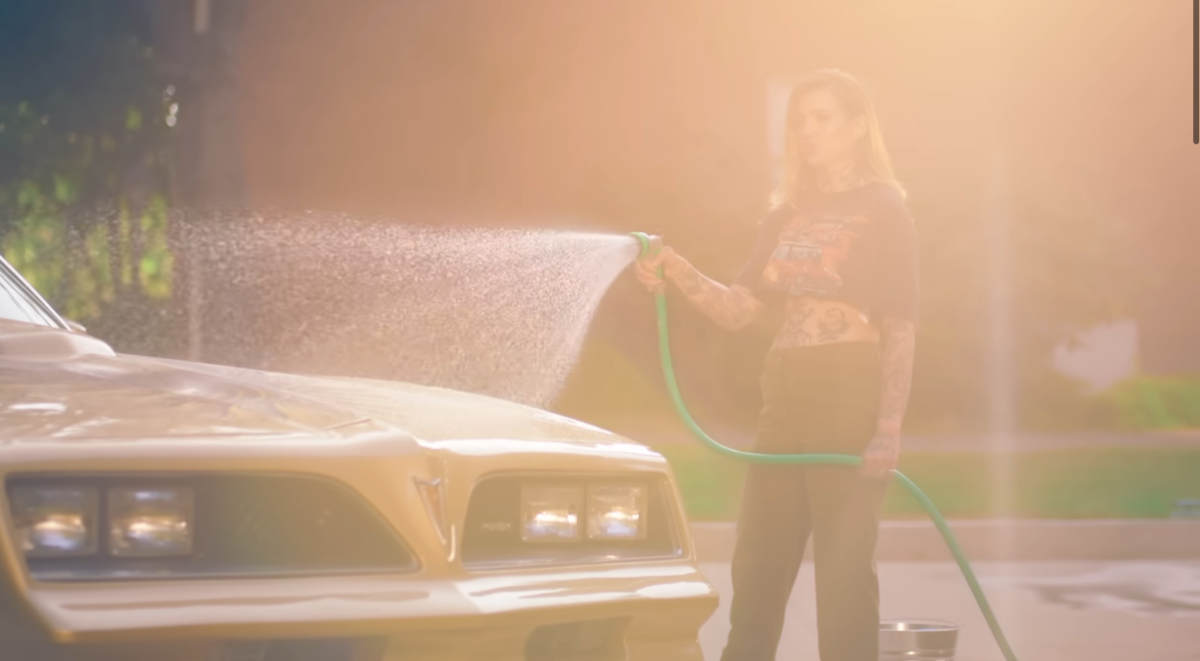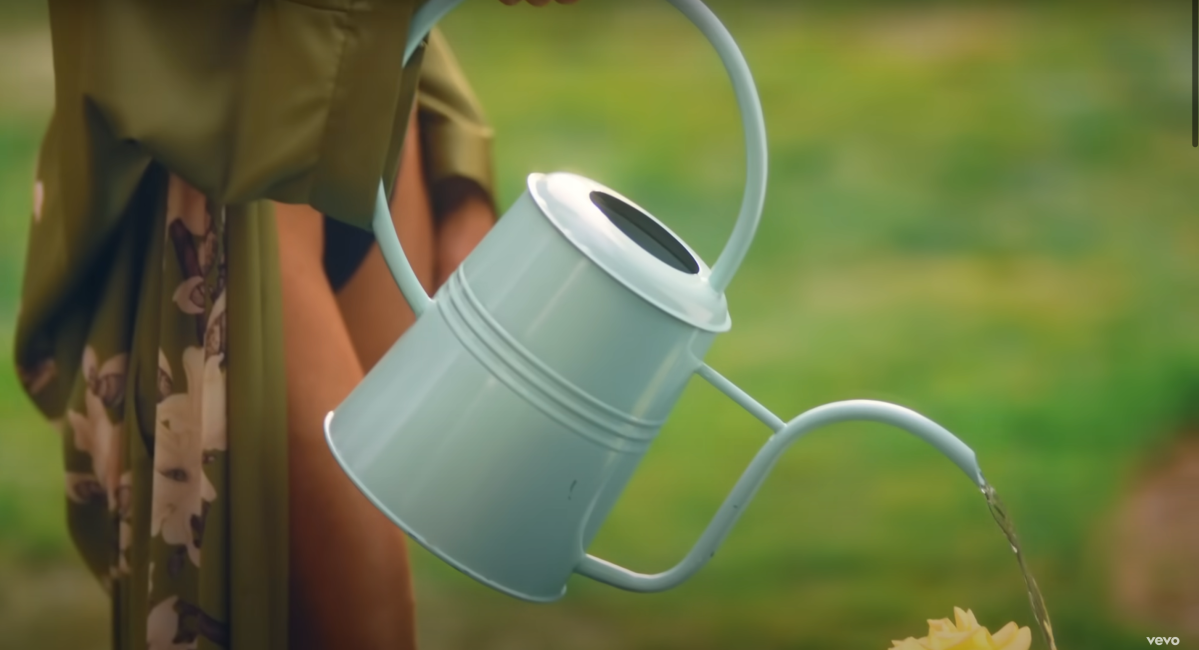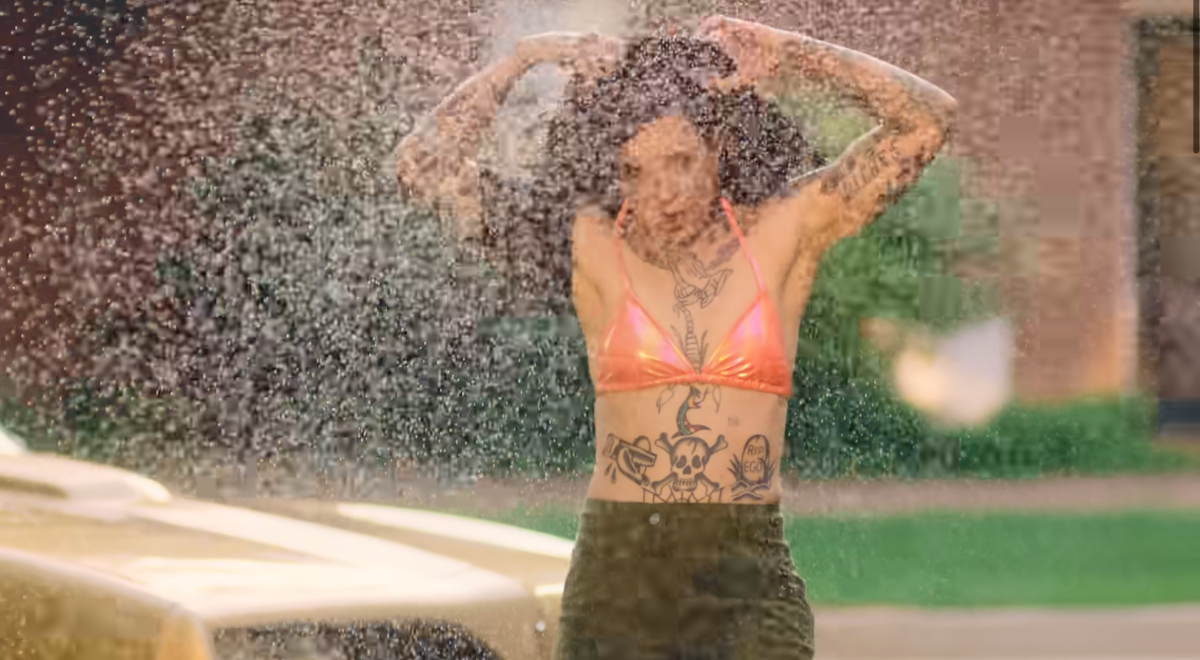 Just, like, literally wet. Water everywhere.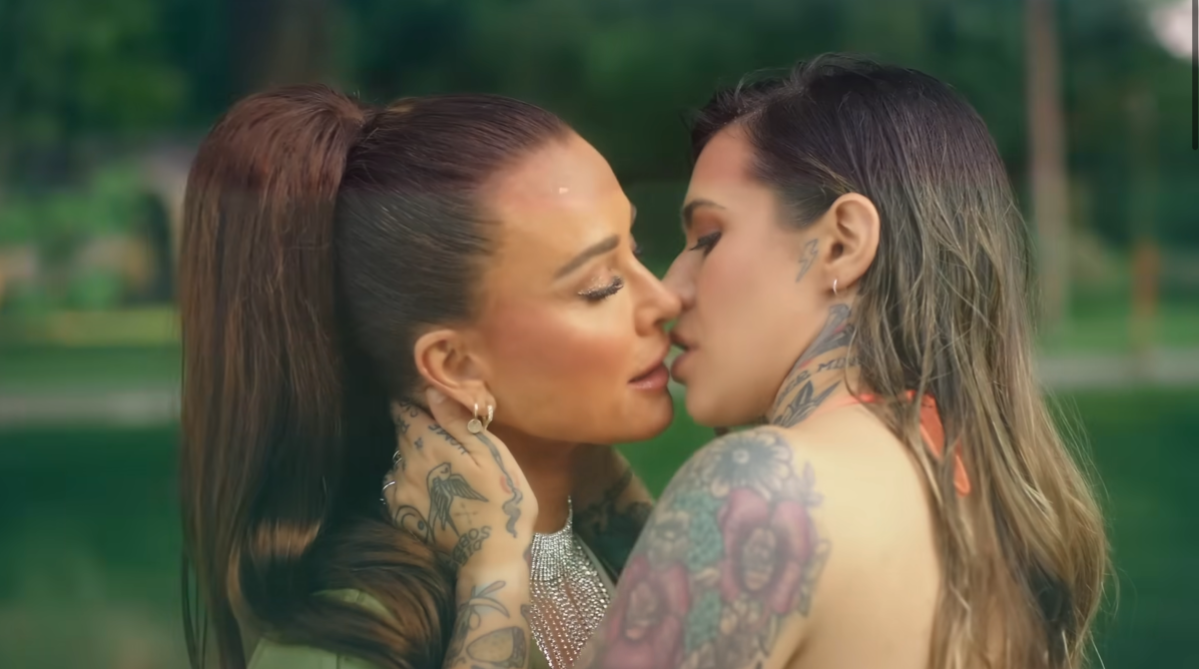 Then Morgan pulls Kyle in for the first of several almost-kisses in the music video. Can I get didactic for a moment? I think that if there's a rumor you're dating someone and you want to be cheeky about those rumors by starring in a sexy lesbian fantasy music video together then…why not just go for the actual kiss at that point? The fact that they just let their lips HOVER over each other instead of actually committing makes it seem, to me, like the rumors actually have MORE validity? And to actually kiss would be to enter the space of the "real" affair (if it really were happening). DOES THAT MAKE SENSE? AM I OVERTHINKING THIS?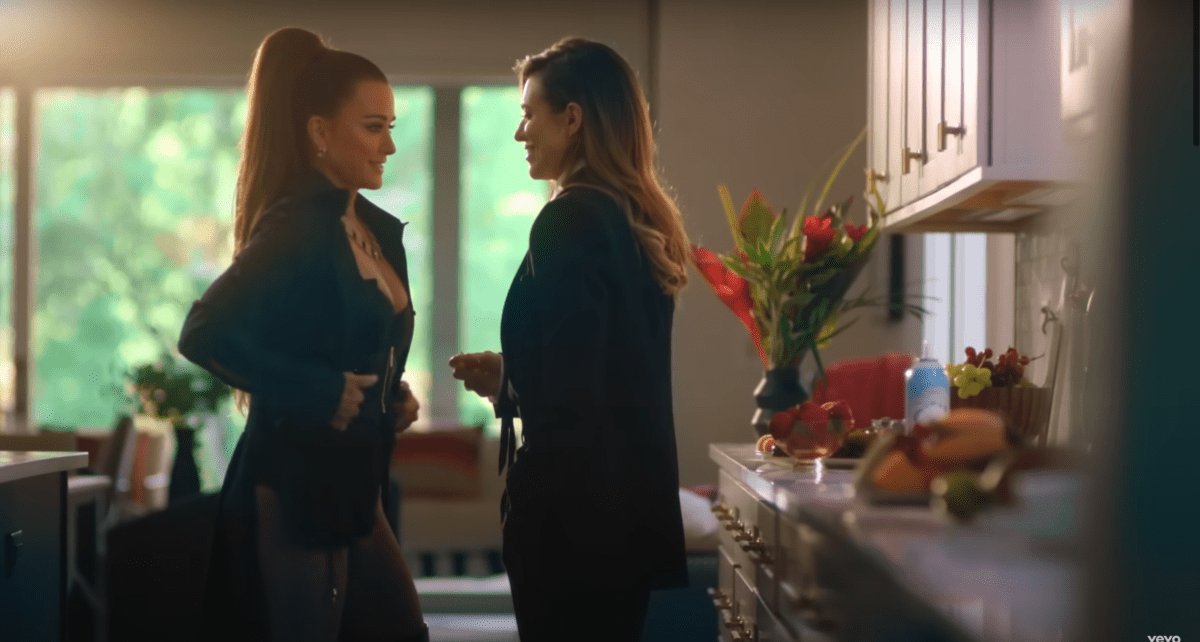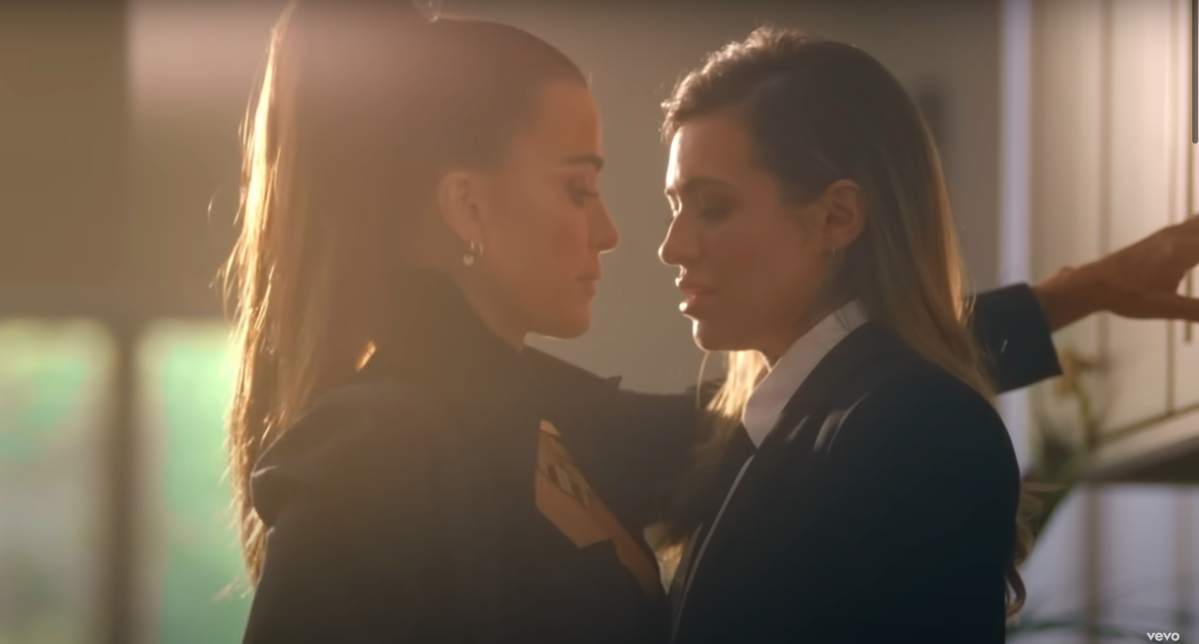 Now we're in the kitchen, but I don't think any cooking is going to happen! Nope, just an array of fresh fruit fed to each other. Brings on a whole new meaning to GIRL DINNER. Also, more almost-kissing.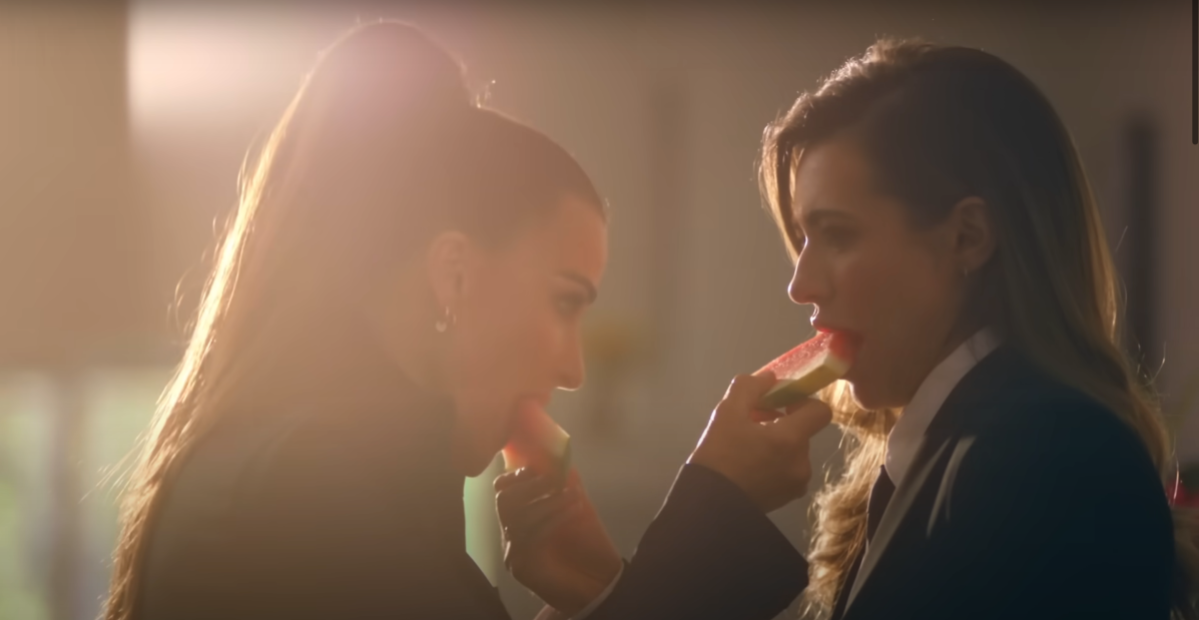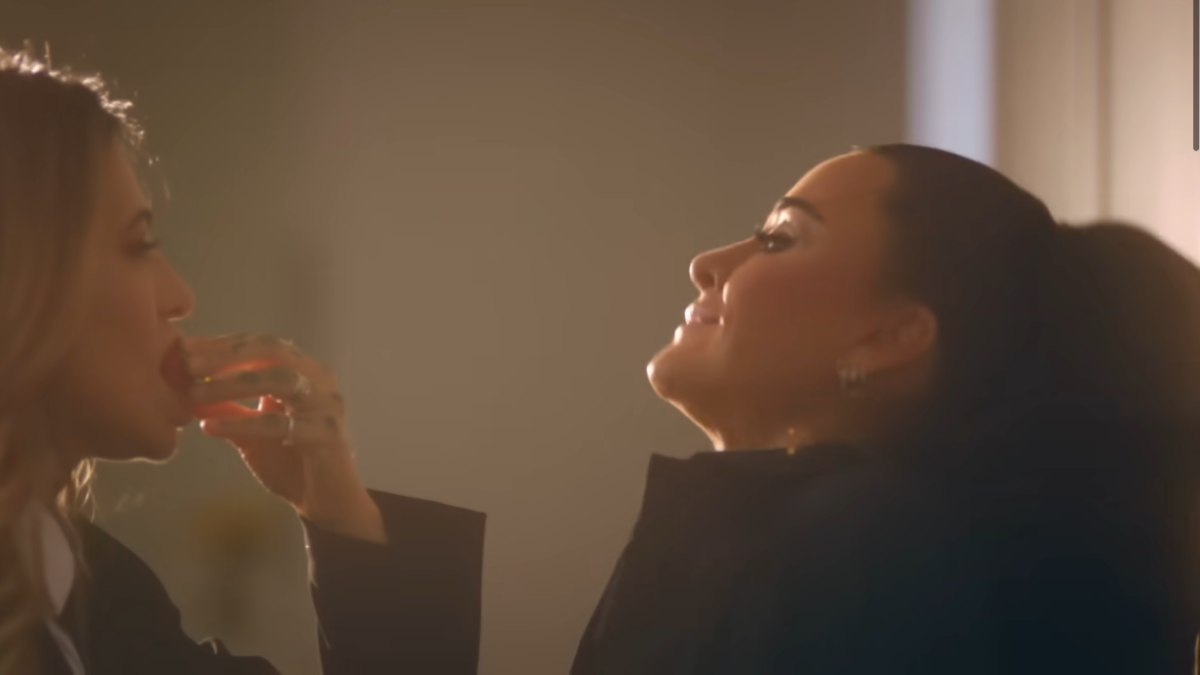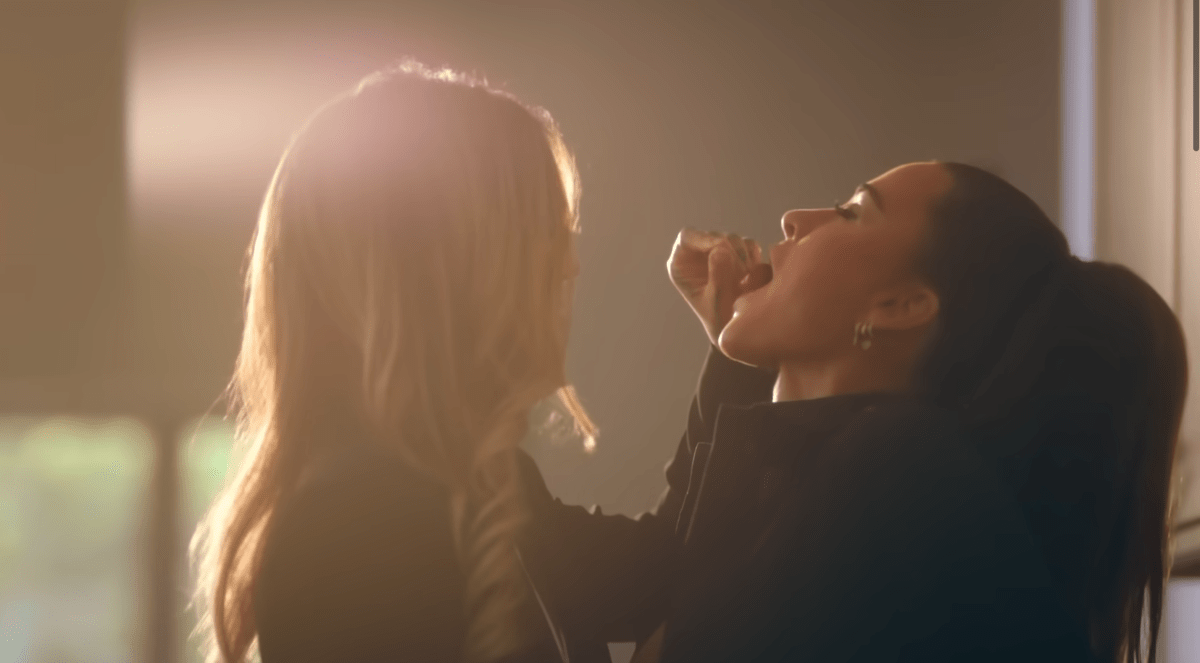 I, too, love fruit.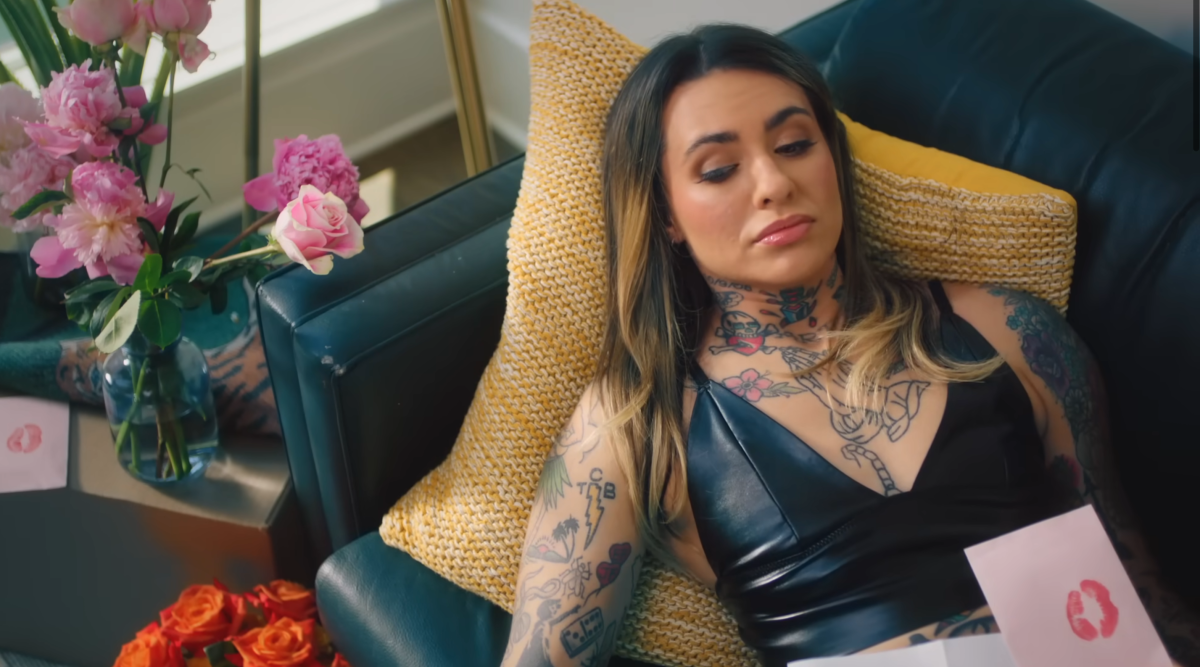 Then Morgan wakes up on her couch, implying this was all a dream? But also is surrounded by kiss-sealed envelopes? So was it a dream or was she just really tired from all that fruit-feeding they did together and therefore needed to take a quick nap at home????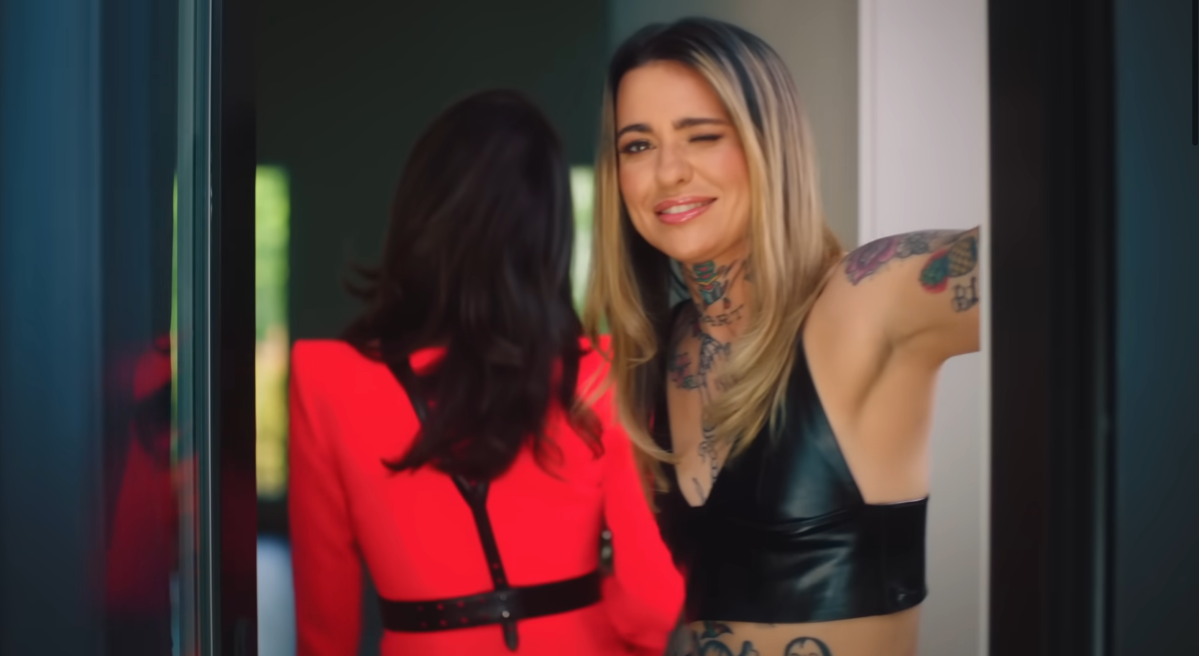 Kyle comes over in a chest harness, and Morgan winks at the camera. And yes, I GET it. I know they're both trying to squash the rumors by literally playacting the rumors out in the fantasy space of a music video steeped in fantasy. I know the wink is meant to tell us we're all very silly for thinking any of this is REAL.
But tell me if I'm wrong: It really feels like it's accidentally doing the opposite! I've seen Kyle in the Halloween movies; she's not that good of an actor! And yet…here she is…acting…quite…awards worthily. And even if this is just an extreme version of queerbaiting, it works! I'm baited! And not even mad about it because the country camp laced with homoerotics feels made specifically for me! And if Kyle (54) and (28) do end up in an IRL gay age gap relationship, that'll just be the cherry on top. Speaking of top, Kyle once said she'd be one if she were in a gay relationship:
this is the best thing that has ever happened to me!!!!!!!! pic.twitter.com/9EWq5YICRk

— kayla kumari upadhyaya (@KaylaKumari) December 13, 2015
(If you're wondering if I have an archive of Gay Things That Have Happened or Been Said on Bravo Shows on hand at all times, I do. I do indeed.)
And if the rumors ARE true, I'll have to admit Kyle wasn't even on my Housewives Who Might Have a Late in Life Queer Awakening bingo card!!!!!!!!!!!!
You can watch the full video here: