Hello, it is I, the person that sends you astrology girls a screenshot of my co-star chart when you ask me questions about my sun, moon, and rising. A lot of you aren't here for it and instead, want me to send you my worksheets from You Were Born For This along with a certified birth certificate and a note from my mother.
I may not know that much about astrology but what I do know is that Taurus loves a vibe. My astro homies who are pretty dedicated to the art have been telling me all the ways that I am a true Taurean Queen. Aside from my feeling that things would just be best if we do them my way, I love a chill and perfectly curated moment. Music is often attached to those moments, it's what helps get in the mindset and — ride that perfect vibe.
I've been exploring new ways to enhance those vibes and the one that I've attached to the most is crystals. My neighbor and homie, Indra, has been one of my guides when it comes to diving into that world. She is so well versed in all things crystals, astrology, potions, and more — it's in her blood. So I pulled out some albums that I pop on when I'm feeling some type of way, and before the night of the full moon, she matched it some crystals that she thought would help me ride the vibes after the last track plays and the record starts to scratch.
Indra: Crystals aide in storytelling and connection. Crystals have meaning, they carry energy and transform that energy into something else. People want to say crystals can't actually do anything and question their validity. I believe things have a meaning to them when you put one to it — and crystals aren't any different.
---
The Album: Bruiseology – Waitresses
The Vibe: Trouble
The Crystal: Tigers Eye
Shelli: When I play this album, it's a Beauty Bar kinda night, and most of y'all know exactly what I mean when I say that. I want a weird night that starts as early as 9 and I'm going to take the longest route possible to get to where I need to be. If I don't meet a girl that smokes cloves non-ironically, it has not been a successful night.
Indra: Tigers Eye is one of my favorite stones and the one I carry daily. It's intensely unapologetic and urges direction to be taken unclouded by emotions. Honestly? This album and stone is a bit of a wild card pairing. It helps dispel anxiety and promotes balance when deciding what you want most and helps in making basic decisions.
---
The Album: 'Round about Midnight – Miles Davis
The Vibe: Remembrance
The Crystal: Black Tourmaline
Shelli: My granddaddy meant the world to me and he passed when I was really young. He gave me some of the things I love most: whiskey, baseball, and breakfast. I also got all his records when he died, even though I wasn't able to appreciate them all. I play this album when I want to think of him and when I want to say thanks for passing his good taste down to me.
Indra: Like taking a sip of your favorite whiskey after an emotionally stressful day, black tourmaline can help to replace any tension you've had with clear, rational thought. It's a stone of protection, especially against energy vampires. It wants to give you guidance that fits your best interest.
---
The Album: If you love me, let me know – Olivia Newton-John
The Vibe: Sweetness
The Crystal: Rhodochrosite (and a little Quartz of course)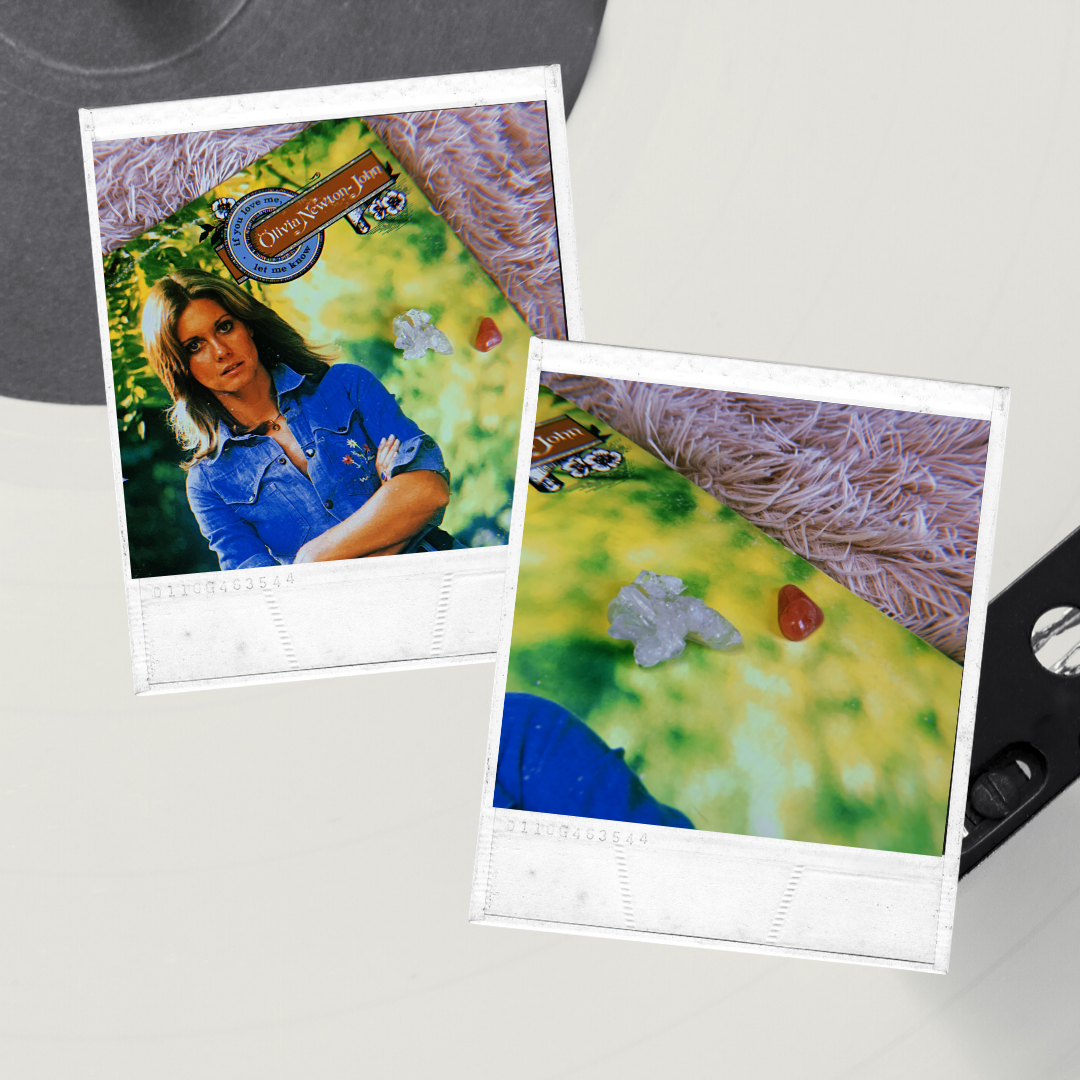 Shelli: This album is so pure and sweet and down-home it's ridiculous. It's that windows open, clean your house, call your mama and say hi kind of album. I'll watch Sweet Home Alabama after listening and cleaning while I drink Sweet Tea that I got delivered from McDonald's –– EXTRA ICE.
Indra: If Olivia Newton-John herself were a crystal, this would be it. Bubblegum pink, kinda heart-shaped, and exuding sweetness that could *almost* be described as cloying.
This crystal is all about a cheerful outlook, emotional healing, and embracing the tender and soothing side of love. Paired with a particularly powerful quartz cluster, this energy is amplified and can be channeled to be a sort of universal healing. This album creates the sort of mood to allow space for cleaning out physical trash just as this crystal pair can help clear emotional baggage.
---
The Album: Unforgettable – Les & Larry Elgart
The Vibe: Charming
The Crystal: Selenite Wand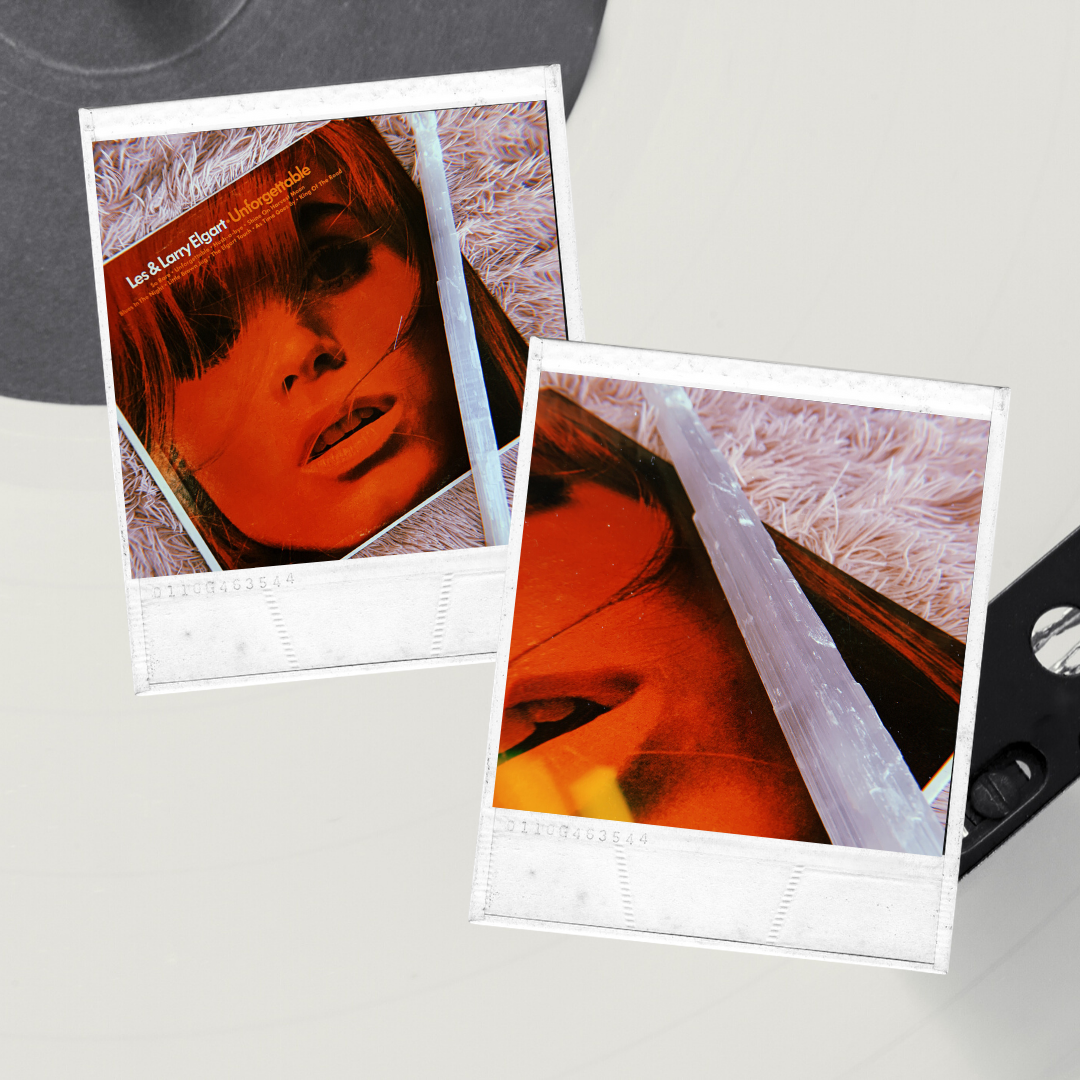 Shelli: I will make a drink that is way too strong and put it in a cup that it does not belong in. You'll look super hot on my couch, and I'll be all, "Wanna hear this album? It's weird but hot, and also my grandad gave it to me." I want you to listen to it, make out with me, and then post a cryptic tweet about our night that I will dissect with 3 different group chats.
Indra: You ever look at the full moon in all her glory? She'll incite sensuality and serenity at the same time. This album and the crystal Selenite, have the same effect on me.
Selenite (named after one of three lunar goddesses in greek mythology) is amazing in that it calms, and makes what was once confusing, very clear. Have a crystal you need to charge? Put it on your selenite. Have a lot of chaotic or crazy energy causing you stress? Selenite will clear that up. It's basically like a restart button of crystals!
---
The Album: Care For Me – Saba
The Vibe: Renewal
The Crystal: Moldavite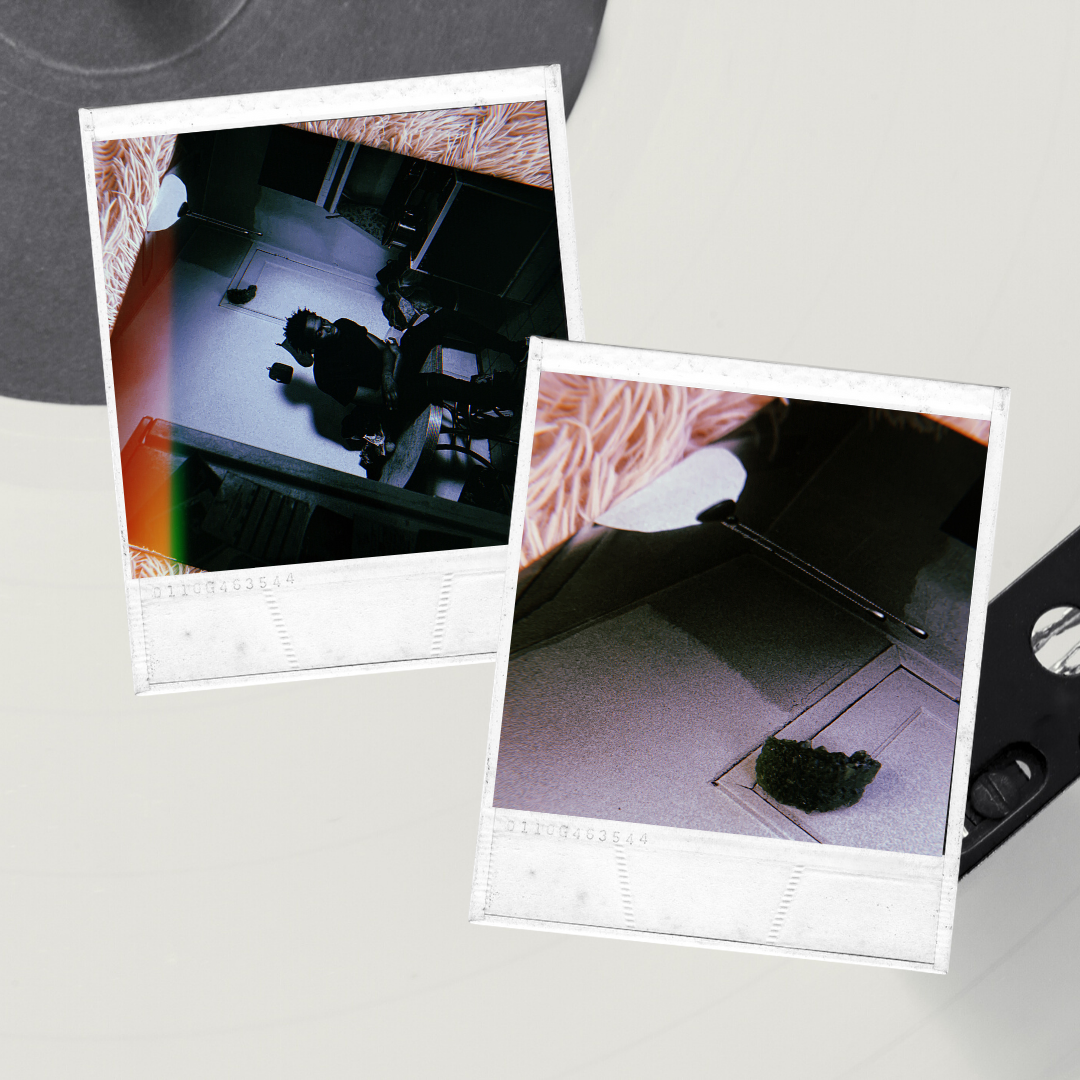 Shelli: I sometimes need to be reminded that it's okay to vulnerable, something that I've been told many other Tauruses have a problem with. I've talked about this album at length and it's meaning to me but every time I need to really feel, at an intense level, I put this on, and it never lets me down.
Indra: Much like Saba's album, this stone is not for the faint of heart.
Moldavite is extraterrestrial, the product of some meteoric action. It's known in folklore as the "emerald that fell from Lucifer's crown before he was cast from heaven," it makes sense that this stone is used for spiritual transformations. It feels like a coming-of-age gemstone, but specifically for trauma.
This is the one stone I have that scares me a little — I keep it separate from all the others. Moldavite is here to remind you that you've felt trauma, you've experienced something so dark it caused a shift in who you are. It's not here to make you feel it again, but to remember that shift and to respect it.
---
The Album: Quadrophenia Soundtrack
The Vibe: Cool 
The Crystal: Green Calcite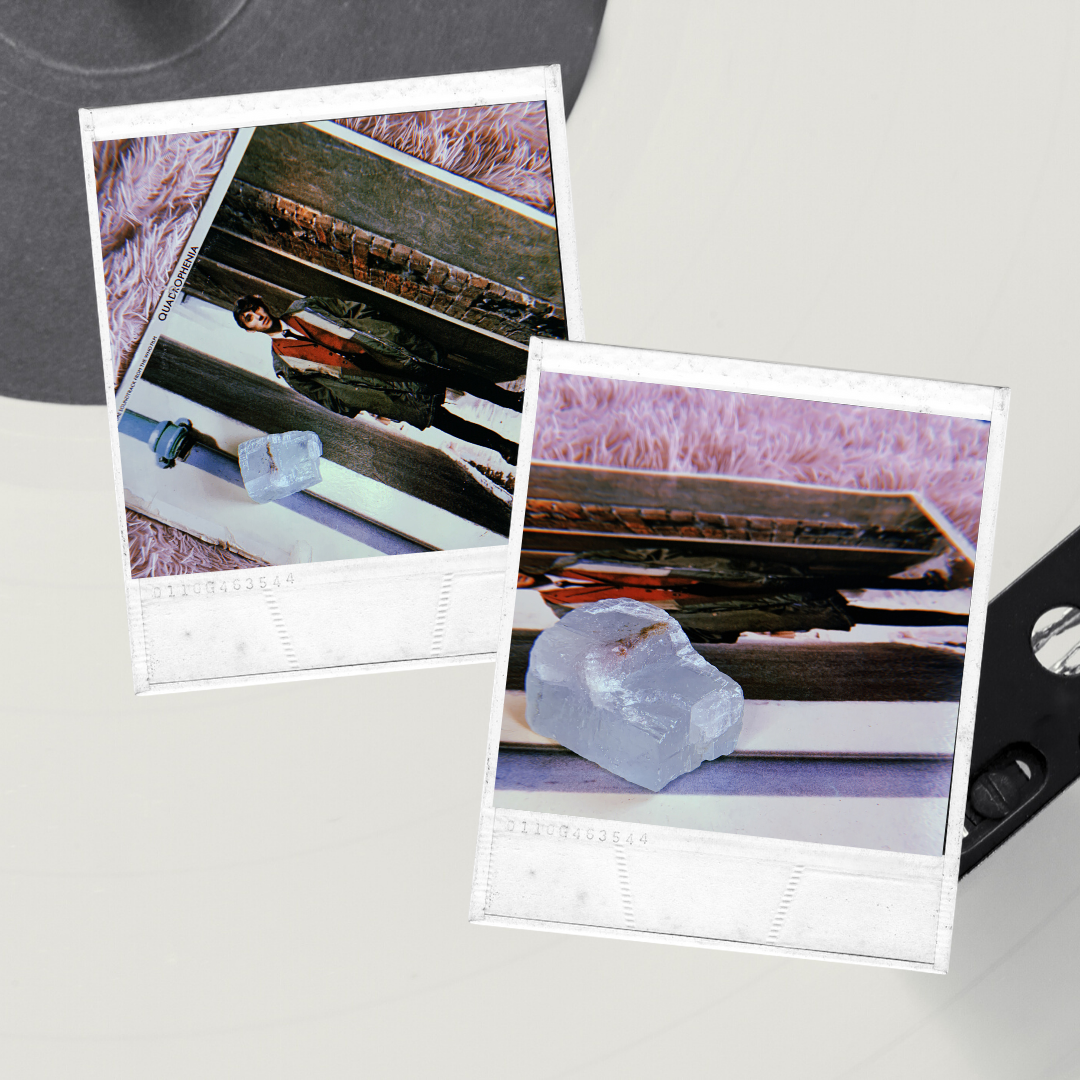 Shelli: I saw this movie in a film class in high school and never forgot it. It's a weird hype up record for me, the songs all make me think of moments in the film where the characters were just effortlessly cool. They were going to do whatever they wanted and that was always dope to me.
Indra: Sleek and smooth, the translucent pale green of this stone makes it as cool as sea glass. Calcite is here to take what's drab and dreary about your day and give it the technicolor treatment — it's known to promote positivity and bring vitality.
---
The Album: We got it from here…Thank you 4 Your service – A Tribe Called Quest
The Vibe: Powerful
The Crystal: Blue Kyanite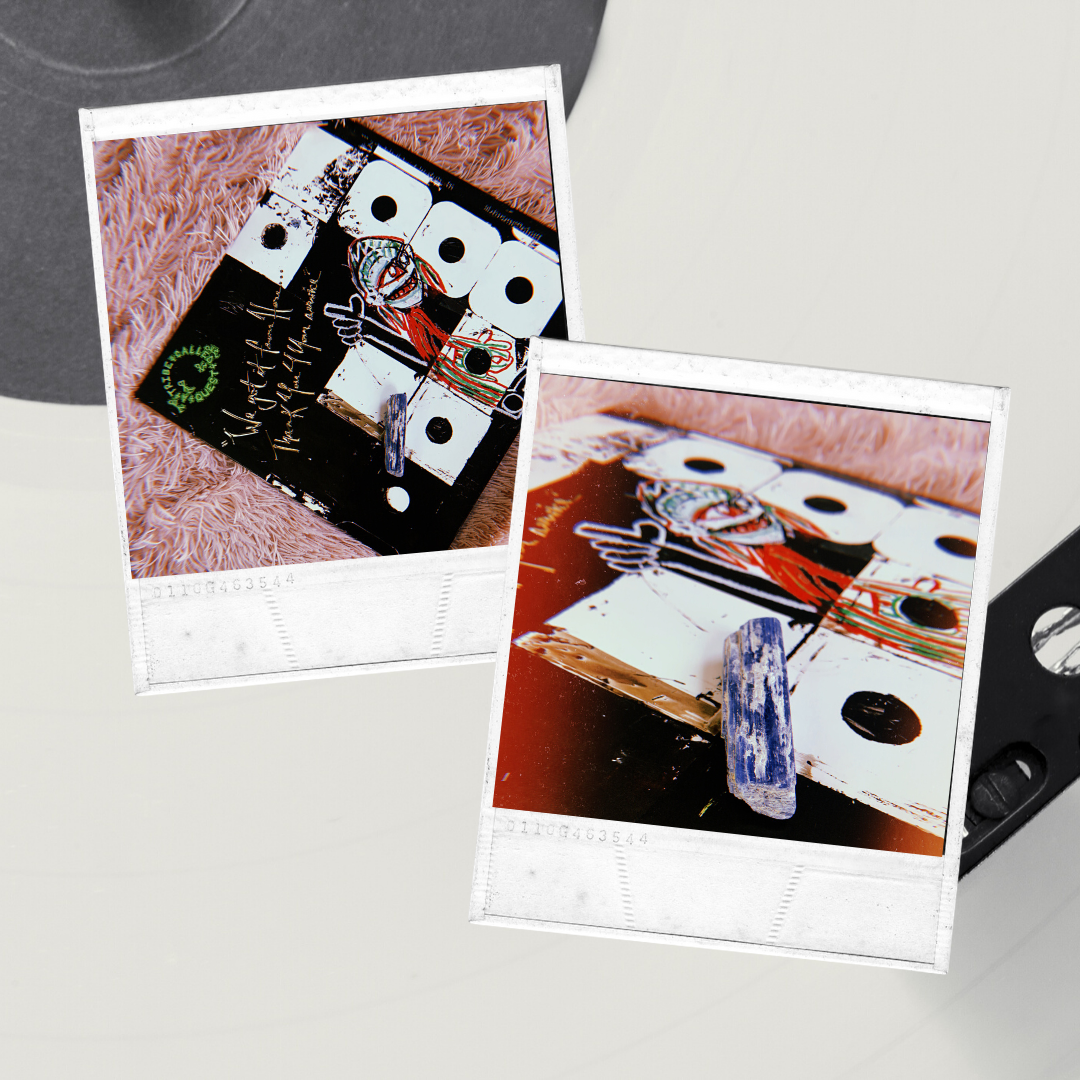 Shelli: What I have to say matters even though a lot of the time the world wants me to think differently. What I feel is valid, how I feel is valid and I don't need you to speak for me. It can be hard but this group, this album, and the bass that runs through it give me the power to command attention when I need it.
Indra: Kyanite helps promote better communication and self-expression by creating quick connections in your mind so as to speak your personal truth. Blue kyanite is a very powerful, high-vibrational stone. The most fitting stone for a group who has always told their truths.
---
The Album: Lemonade – Beyonce
The Vibe: Confidence
The Crystal: Citrine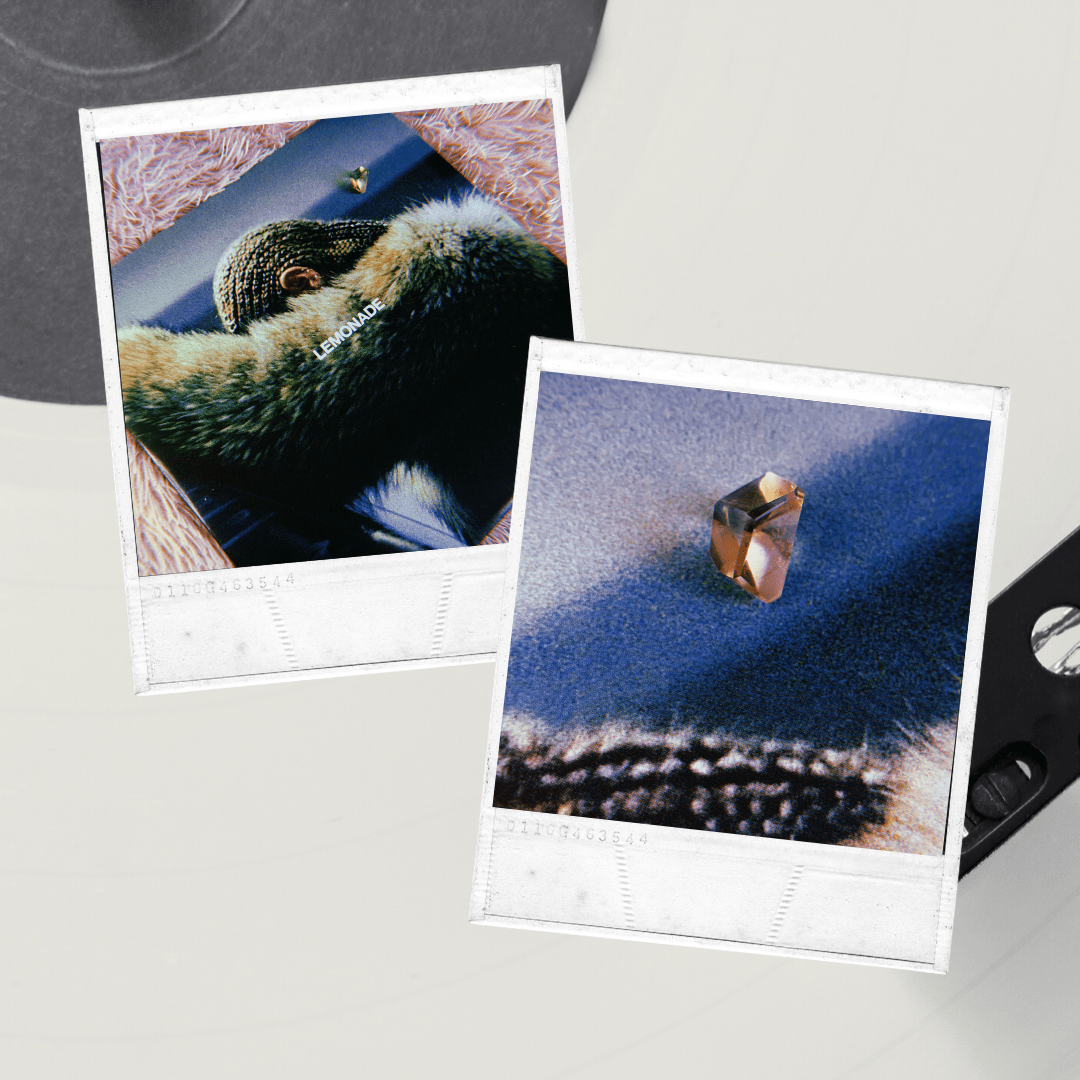 Shelli: I want to give you the reminder that I don't need you, I may want you — but I don't need you. I want to dance around my apartment as the confidence grows in me with every track. I want to reward myself for doing the work I needed to do to be the woman I am today. Also, I listen to this album when I randomly think about when I was cheated on, that shit was wild but she got through it :)
Indra: "Like a refreshing glass of lemonade, Citrine can bring a quick, energetic pick-me-up to those who use it with diligence and respect."

This crystal, gifted to me by my sister, is my most precious stone. Citrine is an energizing gemstone that is most powerful when used for manifestation, strengthening love in friendships and mentors, and inspiring confidence.
When I listen to Lemonade I immediately think of this stone. The empowerment and self-love in each song that eclipses the pain, betrayal, and self-doubt. I think of Beyonce at the Grammys in 2017 dressed as Oshun, the Yoruba goddess of love, sensuality, and fertility. Just as Lemonade was a cultural reset, so is citrine.
---
So much love to Indra (find her on Twitter here) for working on this piece with me and letting me tap her powers once more! I've shown you mine now you show me yours. What are the crystals in your collection that speak most to you?