I was thrilled to get an email in my inbox recently about the amazing graphic novel My Favorite Thing Is Monsters by Emil Ferris:
Hi Casey!
Saw your tweet and thought I'd send a quick email asking for more books like My Favorite Thing is Monsters! #JustFinishedReading (yes, I know I'm behind!) and then was devastated to find out that it's going to be another year until the second volume comes out!! So thought I'd ask you for some similar reads in the meantime! Graphic novels would be ideal, but I'd take regular books too. Thanx!
Charlotte
My Favorite Thing Is Monsters was one of the best books I read it the year it came out. (Check out the Autostraddle review here). I am so excited to track down some similar books for Charlotte and you all in this month's Ask Your Friendly Neighborhood Lesbrarian. For anyone who hasn't read My Favorite Thing is Monsters, here's a quick run-down on this unique book: it's a (fictional) graphic diary of Karen Reyes, a 10-year-old living in 1960s Chicago. It has INCREDIBLE, intricate visuals, all done unbelievably with ballpoint pen! It has a dark feel, both in the fact that young lovable baby dyke Karen is obsessed with monsters and horror movies — she draws herself as a monster and doodles copies of horror magazine covers — and that she's dealing with some real life dark stuff like poverty, cancer, sexual assault, and the Holocaust. Some of these themes are present in her own life, and some are part of the life story she's investigating: her neighbor Anka, a Holocaust survivor who has been murdered. Here are 8 more graphic novels and comics with mind-blowing art, queerness, and dark themes.
Bury the Lede by Gaby Dunn and Claire Roe with Miguel Muerto
This psychological thriller with words by Gaby Dunn and illustrations by Claire Roe and Miguel Muerto has dark themes aplenty. Madison Jackson is a freshly minted reporter working for her hometown newspaper, the Boston Lede. She's young, ambitious, and dying for a big headline. Naturally, when she hears about a horrifying murder on her police scanner, she rushes to the scene for the scoop. She doesn't expect to find and form a relationship with the prime suspect, a celebrity socialite accused of murdering her husband and child. When Dahlia Kennedy is being held in prison and will only speak with Madison, the journalist is forced to entangle the web of lies, truth, privilege, and corruption to figure out what really happened. Check out this exclusive sneak peek (including illustrations!) on Autostraddle.
Skim by Mariko Tamaki and Jillian Tamaki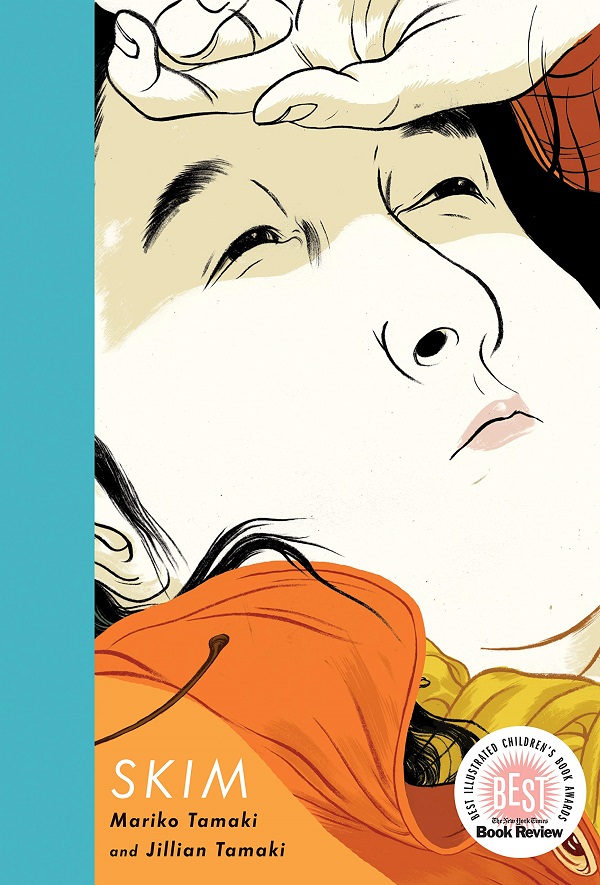 Skim is, in my books at least, an undeniable queer YA classic at this point. Brought to life by the brilliant team of cousins Mariko Tamaki and Jillian Tamaki, Skim is both the title of the book and the nickname of the main character, Kimberly Keiko Cameron. Kim is a teenage Wiccan goth with depression and a crush on her eccentric hippie English teacher Ms. Archer. When a student at Kim's school dies by suicide, the whole school is talking about it. The popular girls are forming a "celebrate lifewp_postsclub and the guidance counsellors are trying to make everyone learn about the cycle of grief. Kim's just trying to get by. This is a subtle and moving book that never simplifies the complex feelings and experiences of (queer) teens.
If you loved the horror aspect of My Favorite Thing Is Monsters, you are going to really be into this gothic horror / fairy tale story. Carroll illustrates using only the striking colors of red, black, and white; this, of course, makes the blood really stand out. A cat-like woman arrives at a castle, to find (and kill) the vampire Countess who lives there. She's not the first to investigate the castle to uncover its horrors, but she hopes to be the first person to make it out alive. But she is not prepared for everything hiding in the castle's nooks and crannies. Things are not as they seem — for either the narrator or the Countess. Eroticism, violence, and horror come together to make a mysterious and twisty tale that is as beautiful as it is terrifying.
Death Threat by Vivek Shraya and Ness Lee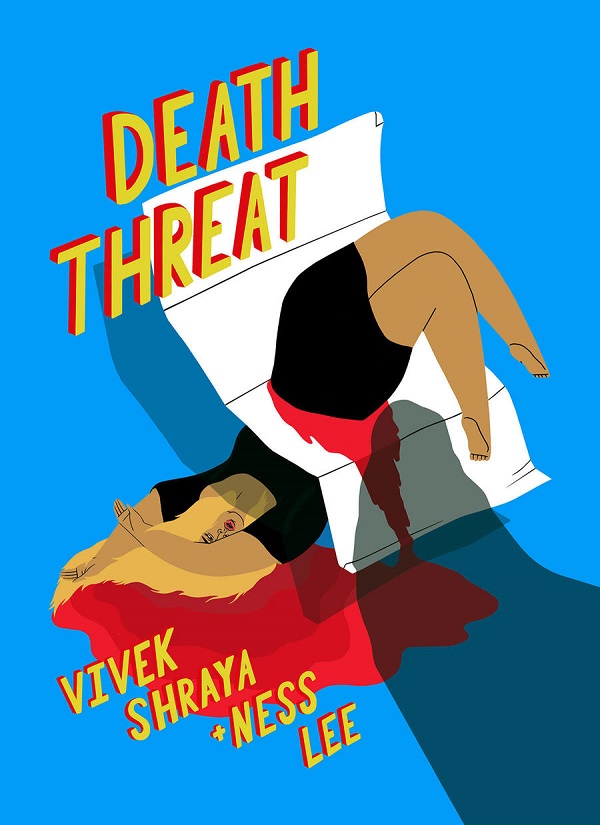 It might be hard to believe anyone would deal with receiving transphobic hate mail from a stranger by making a graphic memoir about the experience, but Vivek Shraya has done just that. Teaming up with visual artist Ness Lee, Shraya brings to life both the disturbing and graphic emails that she received in 2017 and her responses to them. Lee illustrates with bold, bright, often primary colors that illustrate the pressure, unease, and intense emotions to surreal and heartbreaking effect. The result is an unflinching, stark portrayal of what it is like to be a trans woman of color on the internet and the vicious hate that can grow in the context of online anonymity. At the same time, the book is a fascinating metacommentary on turning hate and harassment into art.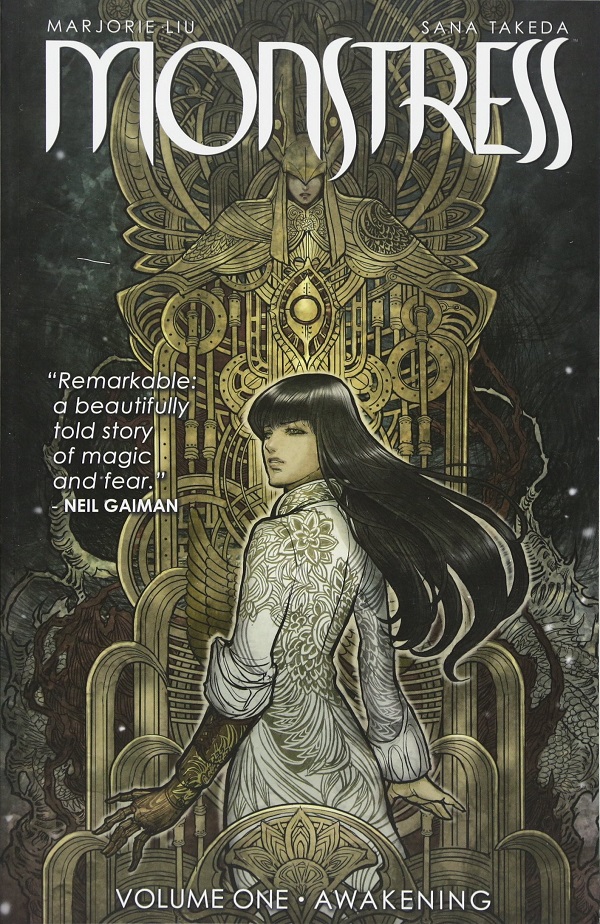 Words by Marjorie Liu and illustrations by Sana Takeda combine to make a completely unique steampunk tale. Set in an alternate history of matriarchal 1900s Asia, this is the first volume of an ongoing comic series (there are 3 more collected volumes to enjoy after this one). Maika Halfwolf is a teenage survivor of a war between humans and their supernatural enemies, the Arcanics. On top of dealing with her traumatic past and an oppressive and dangerous present, she also shares a psychic link with a powerful monster. Maika is a compelling (anti)-heroine who vacillates between being the hunter and the hunted, afraid of her own power yet also hungry for it. The story is dark, gritty, and complex with intricate, art deco-infused art to match. You can look forward to a queer relationship between two very morally grey ladies.
For fans of the sheer epicness of the story and art in My Favorite Thing is Monsters, The One Hundred Nights of Hero is a perfect next read. Set in a magical medieval world, this story is a kind of folk tale, which is a frame narrative for many other folk tales. Cherry is married to Jerome, a wicked villain who makes a horrific bet: if his friend Manfred can seduce Cherry within 100 nights, Manfred will win Jerome's castle — and Cherry. But Cherry's lover and maid Hero is a member of a secret storytelling group, and she has a plan. She will distract Manfred with a different tale each night for 100 nights. Both Cherry and Hero's story and the myths Hero tells will surprise and delight, as well as make you cry.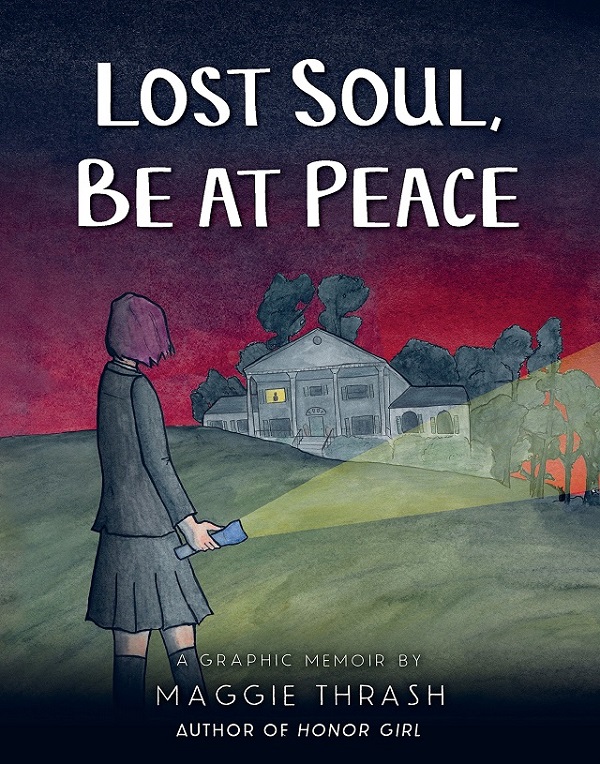 Thrash's follow-up to her debut graphic memoir, Honor Girl, is a departure from what you might expect. This story takes place a year and a half after Maggie Thrash realized she was gay at summer camp. Now she's in grade 11, depressed, and flunking her classes. Her mom is pretending that her daughter didn't come out as a lesbian and her dad is a mostly absent workaholic. Her cat, the only thing Maggie cares about who seems to love her back, has gone missing. In the walls of Maggie's big house. As Maggie searches for her cat, it begins to feel like she's looking for more than just her pet.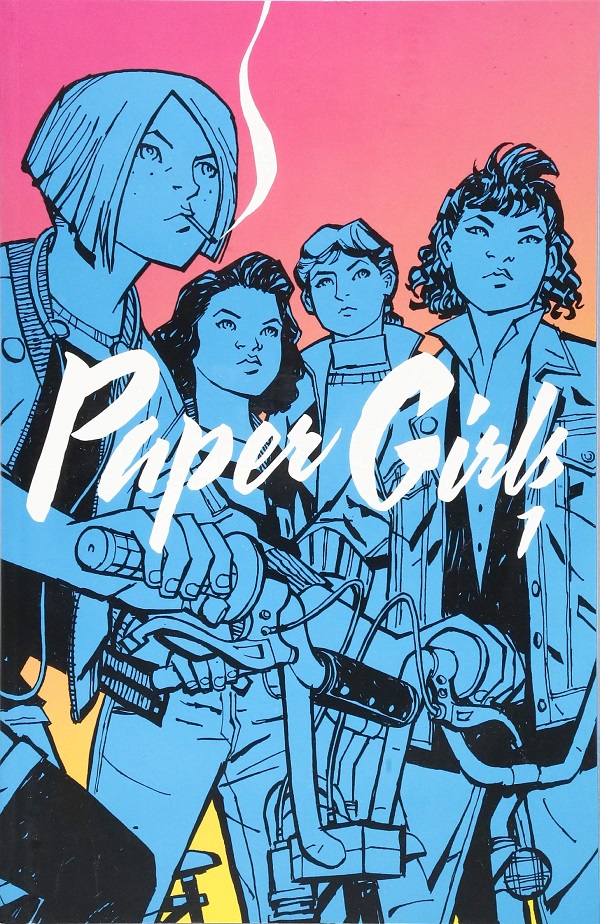 Set in Midwestern 80s suburbia, this first volume in the ongoing Paper Girls series is a strange mixture of suburban drama, 80s nostalgia, supernatural mysteries, and feisty tween girls. Think: Stranger Things but centred on girls and with more than one character of color! The story begins in the early hours of Halloween, 1988. Four 12-year-old newspaper delivery girls uncover the biggest story of all time. Be prepared to be knocked off your readerly feet when you begin this series, as you're thrown right into the complicated thick of things. This includes time travel and all the confusion multiple timelines and past selves and present selves create. But the mystery, the promise of queer representation, and Chiang's beautiful 80s-washed art should keep you reading to find out more.
---
Have you read anything that compares to the perhaps-incomparable My Favorite Thing is Monsters? Have any other queer horror books to recommend? Tell us about them in the comments. And keep those lesbrarian questions coming to stepaniukcasey [at] gmail.com or leave a comment below. I'd love to help you out in a future column!