images via shutterstock.com
Out and Visible: The Experiences and Attitudes of Lesbian, Gay, Bisexual and Transgender Older Adults, Ages 45-75 is a new study by Services & Advocacy for GLBT Elders (SAGE), which draws attention to the everyday realities and struggles of the older LGBT community.
We talk a lot about how our intersecting identities affect our lives and the way we interact with the world, and when we talk about age, usually it is in the context of young LGBT people. Rarely do we hear about age as older generations experience it. "Out and Visible" paints a clearer picture of the lives of LGBT older people, and demonstrates how the issues we often talk about in a general LGBT context affect the oldest members of our community. Kira Garcia at SAGE spoke to the importance of the report:
"This is a report that's really important because it begins to fill in gaps in some of the missing data around the lives and experiences of LGBT people as they age. It helps to quantify some of the things that we've already known for a long time about LGBT aging, which is that we do age a little bit differently than our non-LGBT counterparts. We are much more likely to live alone, we are much less likely to have children. LGBT people are also more likely to struggle financially and be concerned about how they are going to support themselves in retirement. So it's really exciting to have some of that data in front of us to help us tell that story with real facts and figures to attach to some of the anecdotal information we've had."
The report focused on the 45-75 population, which SAGE Senior Director of Public Policy and Communications Robert Espinoza said gives insight on, "the attitudes and experiences of LGBT older people through various stages of older adulthood — as early as age 45, when planning for the future is essential and concerns about aging begin appearing for many people, and as old as age 75, when many people are living their lives as elders."
Here are some key takeaways from the report: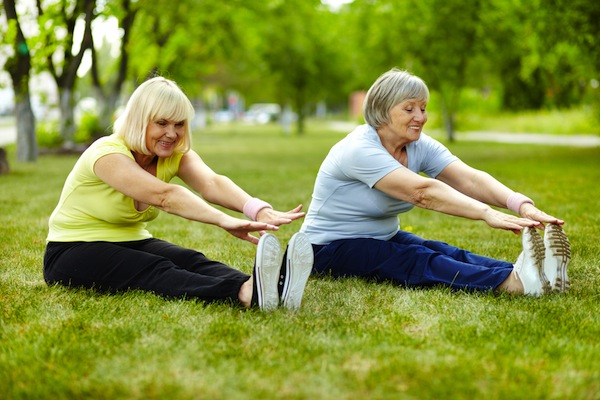 1. There are at least 3 million LGBT People Over 55 in The US, and that number will double in 20 years
The over-55 population in general is growing because the Baby Boomers are getting older, and as we go through generations, more and more people are coming out at later ages, or reaching retirement age having been out for much or most of their lives. This means that resources for LGBT older people are going to be in higher demand than ever before, and that healthcare and resource providers for older people will be interacting more and more with LGBT populations. In order for LGBT people to be able to age with dignity, we are going to need more resources, and those resources must be adequately prepared to serve the unique needs of our communities.
---
2. 51% of Older LGBT People Are Very or Extremely Concerned About Their Financial Futures
Did you read about the new report from LGBT MAP and the Center for American Progress about economic struggles faced by LGBT families? It showed us how legal discrimination and exclusion of LGBT people from financial benefits afforded to non-LGBT people lead to higher rates of poverty and less financial stability in the LGBT community. 29% of LGBT families were "thriving financially," as opposed to 39% of non-LGBT families. The report showed that LGBT families typically have less savings to absorb a financial hit, and even if they do make it to retirement without a financial crisis, the finances just don't add up: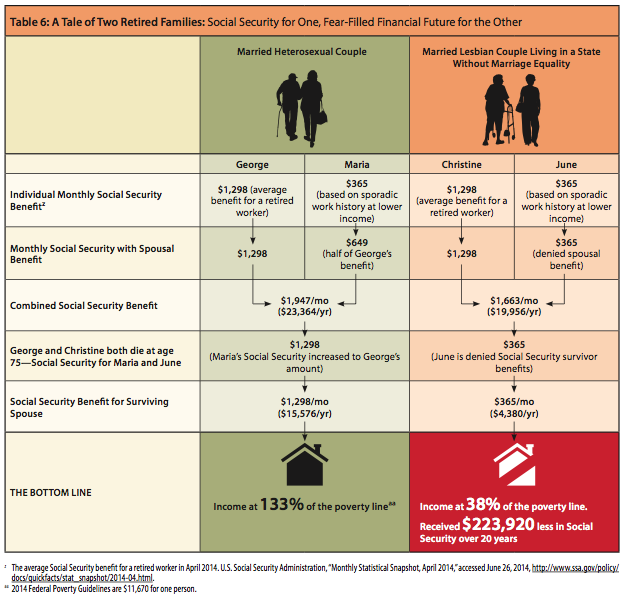 In many ways, "Out and Visible" picks up where that report leaves off, outlining all the ways in which financial instability predictably follows LGBT people into their later years. 51% of LGBT older people reported feeling very or extremely concerned about "having enough money to live on," comparing to 36% of non-LGBT people. This statistic reflects a world where 42% of LGBT older people anticipate that they will outlive the money they have saved for retirement (as opposed to 25% of non-LGBT people), and where most older people are concerned about cuts in Social Security, Medicare or Medicaid benefits. To help secure their financial future, many LGBT older people anticipate working "well beyond" retirement age in order to survive, though even this avenue is a worse bet for LGBT older people than their non-LGBT counterparts, because of the lack of legal protections against employment discrimination.
---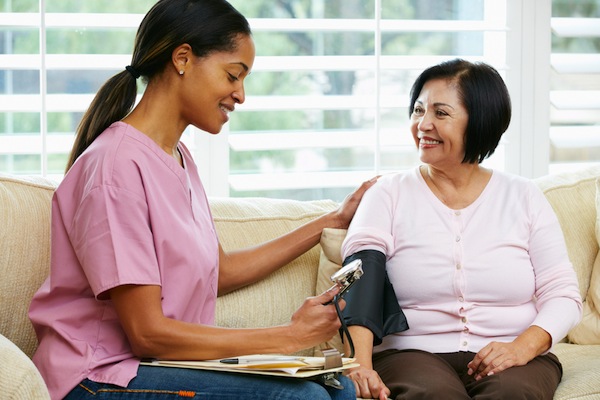 3. 2/3 of Older Trans People Worry About Being Denied or Having Limited Access to Medical Treatment
LGBT older people face significant health disparities, which the report notes, "have been linked to a lifetime of stigma, discrimination, violence and victimization; higher poverty rates; a lack of access to LGBT-competent providers; and low rates of health insurance coverage."
The lack of LGBT-competent providers keep many older LGBT people from disclosing their sexual orientations and gender identities to their primary care providers and other healthcare professionals, for fear that they would face judgement or receive inferior care.
These barriers are particularly significant for transgender older people. 44% of transgender older people worry that their relationships with healthcare providers would be negatively affected if their gender identities were known, as opposed to 20% of LGB older people, and two thirds of transgender older people worry about being denied or having limited access to medical treatment as they age. SAGE also noted that older Hispanic LGBT people are more concerned than their African American and white counterparts about receiving poorer quality care if they disclosed their sexual orientation or gender identity.
---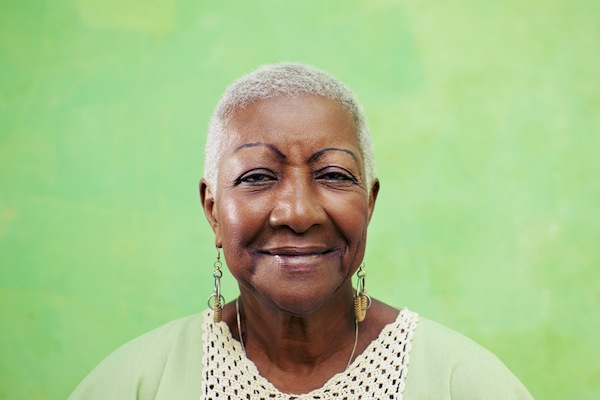 4. 24% of LGBT Older People of Color Experience Housing Discrimination
Housing is an issue for LGBT people that is almost exclusively discussed in relation to LGBT homeless youth. However, you will probably not be surprised when I remind you that there is not a queer housing fairy that brings the keys to a stable housing situation to every young LGBT person on their 18th birthday. For many LGBT people, obtaining safe and adequate housing is a struggle throughout their adult lives, and this is no different for older LGBT people who are already struggling more with financial instability than their non-LGBT counterparts. Obtaining housing is a challenge because of economic issues and discrimination: 25% of older transgender people and 13% of older LGB people reported having faced discrimination while searching for housing on the basis of their gender or sexual orientation. Older LGBT people of color also reported more frequent discrimination on the basis of race than non-LGBT people of color — 24% versus 18%.
While it is common for affordable housing facilities to exist for older people, many older LGBT people don't utilize them for fear of discrimination. In recent years, organizations in various cities like Philadelphia, Minneapolis and Chicago have established several affordable housing facilities specifically for older LGBT people, but that's hardly enough to meet the demand — 78% of survey respondents said they were at least somewhat interested in LGBT-friendly affordable housing options.
---
5. 34% of Older LGBT People Live Alone and 32% Fear Growing Old Alone
Older LGBT people often don't have traditional family networks to support them, and mainstream support for elders is typically designed to work with traditional family structures, assuming that kinship networks will be made up of spouses, children and grandchildren. This creates situations in which many LGBT older people have limited support systems as they age. Garcia noted,
"34% of LGBT older people in the survey live alone. And that's compared to 21% of non-LGBT older people. That's a huge proportion of our population. That has really big implications for older people as they age. It can lead to a phenomenon called "social isolation," which is exactly what it sounds like, and that in turn can lead to some really bigger challenges: health challenges, depression. It can mean that it's harder for people to get the healthcare they need, or to get out of the house at all."
Living alone is only one of many barriers LGBT older people face to finding community in their later years. Many LGBT older people who do have family networks are isolated from them or worry about burdening them, potentially preventing them from seeking support: 48% of transgender older people and 32% of LGB older people reported worrying about being a burden on their loved one. Others reported that they "struggle to find community in LGBT spaces, where youthfulness is revered and older people are less embraced." Many older people also seek community through volunteering, part-time work, travel and leisure activities. However, many older LGBT people (1/3 of transgender people and 27% of LGB people) report feeling that work or volunteer activities would close to them if people knew about their sexual orientation or gender identity.
Some respondents noted faith communities as places where they found support. 26% of African American respondents and 23% of transgender respondents said people from their churches or faith were part of their support network.
---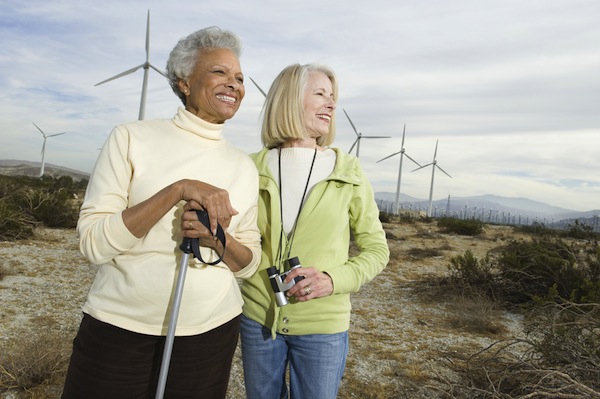 6. 21% of Older LGBT People are Concerned About Losing Physical Attractiveness
Nearly twice as many older LGBT people than non-LGBT older people are concerned about losing physical attractiveness as they age. While this may seem an odd metric to note, it gives important insight into older LGBT people's outlook and quality of life, reflecting profound concerns about physical decline, aging and remaining independent. LGBT older people of color reported feeling more concerned about maintaining physical attractiveness than their white counterparts: 34% of Hispanic respondents and 22% of African American respondents reported concern, as opposed to 18% of white respondents.
---
7. Twice As Many LGBT Older People See Themselves As Mentors Than Non-LGBT Older People
The fact that so many of our communities' older people see themselves as mentors has, according to the study, "profound implications for civic organizations and businesses seeking to bolster their engagement, volunteerism and activism." It also has profound implications just for younger LGBT people. What this means is that if you are a young LGBT person moved by these numbers, and you want to change the outlook for older LGBT people, they are ready for you. Go to your local LGBT center and ask an older person what they're reading. Invite the older neighbor you spotted at pride to come to your Autostraddle potluck. Meet your great aunt's gay friend and talk with them about gender. Open your LGBT center events at your university to staff and faculty. If there's housing or a center for LGBT older people in your community, make sure you flyer there for your queer events. Try to make your organization one where youthfulness and agedness are embraced.
---
Of course, changing the situation for older LGBT people doesn't all fall on the young LGBTs, or the old LGBTs, or the LGBTs in-between. Community, government and health organizations that serve older people need to get better at providing services that LGBT adults can access. For example, SAGE recommends healthcare providers integrate questions about sexual orientation and gender identity into their intake procedures to help people feel less stigmatized when they disclose. We also need more legal protections across the board to prevent employment and housing discrimination, which would protect LGBT people later in life, and would also contribute to economic security in the earlier years of life, better-situating LGBT people to be financially prepared for retirement.
To find out more about the report, resources for older LGBT people or how you can get involved with supporting older LGBT people, visit SAGE's website.