Hello, just as an introduction: Still not over the whole Hillary Clinton being the Democratic nominee for president situation. Has the magnitude of it set in, or maybe the incredible realization of how casual it is right now that a woman is running for president on a major party ticket? I hope so! Because we're starting from there.
I've been seeing a lot of conversations online in the last two weeks about the women who shaped the path Hillary Clinton is now charting new ends to. There was Shirley Chisholm, who ran for president. There was Geraldine Ferraro, who was a VP on a major party ticket. I mean, I wrote an entire post about the women who had run for president throughout time, including Eileen F*cking Myles, because women running for the highest offices in the land is kind of my bag.
But it's not just those women and firsts that matter. Women taking up space in politics means women taking up space at every level of the political world and in every branch of government, in every state and in every city. That's what these six queer and trans women did. In my last installment of Rebel Girls, I briefed you on some of the badass glass ceiling crashers currently serving in office who are queer as f*ck. These six women came before them.
In what we all know by now is a sea of straight white men, these women dared to be out, loud, and proud when they were elected or appointed to office. And in doing so, they made history. These women were firsts on a national level. These women should be in history books. These women should be your new heroes.
Let's do this thing. (As always. in ABC order.)
---
Althea Garrison
Althea Garrison was the first trans person ever elected to a state legislature. She was elected to the Massachusetts House of Representatives in 1992 as a Republican and served one term there. If she had it her way, though, she would have served a hell of a lot longer: Garrison ran in 1982, 1986, and 2000, 2006, and 2010 for State House; ran for Boston City Council seats in 1991, 2003, and 2005; ran in 2001 to be Boston's mayor; and ran in 2002 for State Senate.
---
Deborah Batts
Deborah Batts currently serves on the U.S. District Court for the Southern District of New York, but she made history in 1994 when she became the first-ever openly LGBT African-American federal judge. (Bill Clinton appointed her to a vacant seat in 1989.) Her major cases include a toxic air pollution case related to the 9/11 attacks and also an unauthorized sequel to Catcher in the Rye, because that shitty book haunts us all.
---
Elaine Noble
Racking up more LGBT history points for Massachusetts is Elaine Noble, who was elected in 1975 and then served two terms in the state's House of Representatives — making her the first openly gay candidate ever elected to a state legislative body. She was an LGBT activist as well as a politician, and braved a lot for her historic win: destruction of her campaign office and car, harassment of her supporters, and even stray bullets hitting windows. In overcoming those adds, she took her place in LGBT history as the second ever LGBT person elected to office, period, and the third openly LGBT elected official of any sort — including those who had come out in office. She later sought a seat in the US Senate and a Cambridge city council seat, but both times was unsuccessful. Oh, right, and she dated Rita Mae Brown for a while, NBFD.
---
Joanne Conte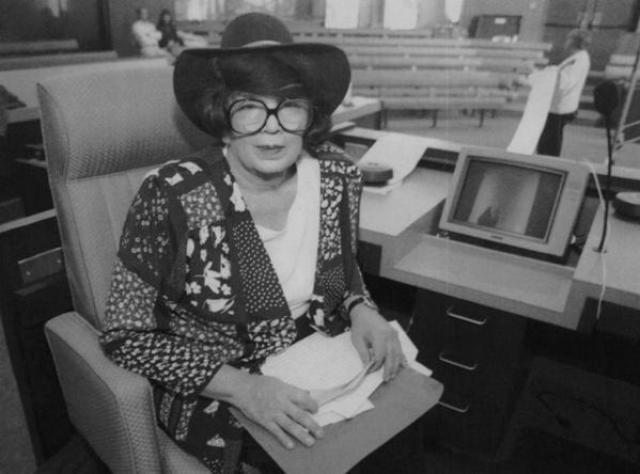 Joanne Conte, the first openly trans person to be elected to a city council in the nation's history, served on Arvada's City Council for four years. She identified as a "raging activist" and wanted to make government more accessible and transparent. Unfortunately, pressure put on her by a tabloid to out herself as trans ultimately scrapped her political career, although not for lack of trying: She fought like hell to appear on the ballot for the Colorado House in 1994 after initially being denied a spot, although she then lost the campaign. On the bright side, she was able to then dedicate herself to her activism again — and ultimately did a hell of a lot to pave the way for the trans women who would and still will come after her.
---
Kathy Kozachenko
Kathy Kozachenko won a seat on the Ann Arbor, Michigan city council in 1974, making her the first openly gay human to run for political office in the United States and motherfucking win win win no matter what. (Bonus points will be awarded for her party affiliation: the Human Rights Party.) Nancy Wechsler, who we will meet in a few seconds, served before her and came out while in office — but didn't run as an out lesbian, whereas Kozachenko did.
---
Nancy Wechsler
Nancy Wechsler came out as a lesbian while serving on the Ann Arbor City Council in 1973 at the age of 23 after an anti-LGBT hot mess at a local business. She didn't seek re-election after coming out, paving the way for Kathy Kozachenko who we met a few sentences ago, and instead became a professional lesbian writer. All of this is to say that I am very proud to announce that Nancy Wechsler seems like she could be my soul twin.